Highlights From The AI Summit San Francisco 2017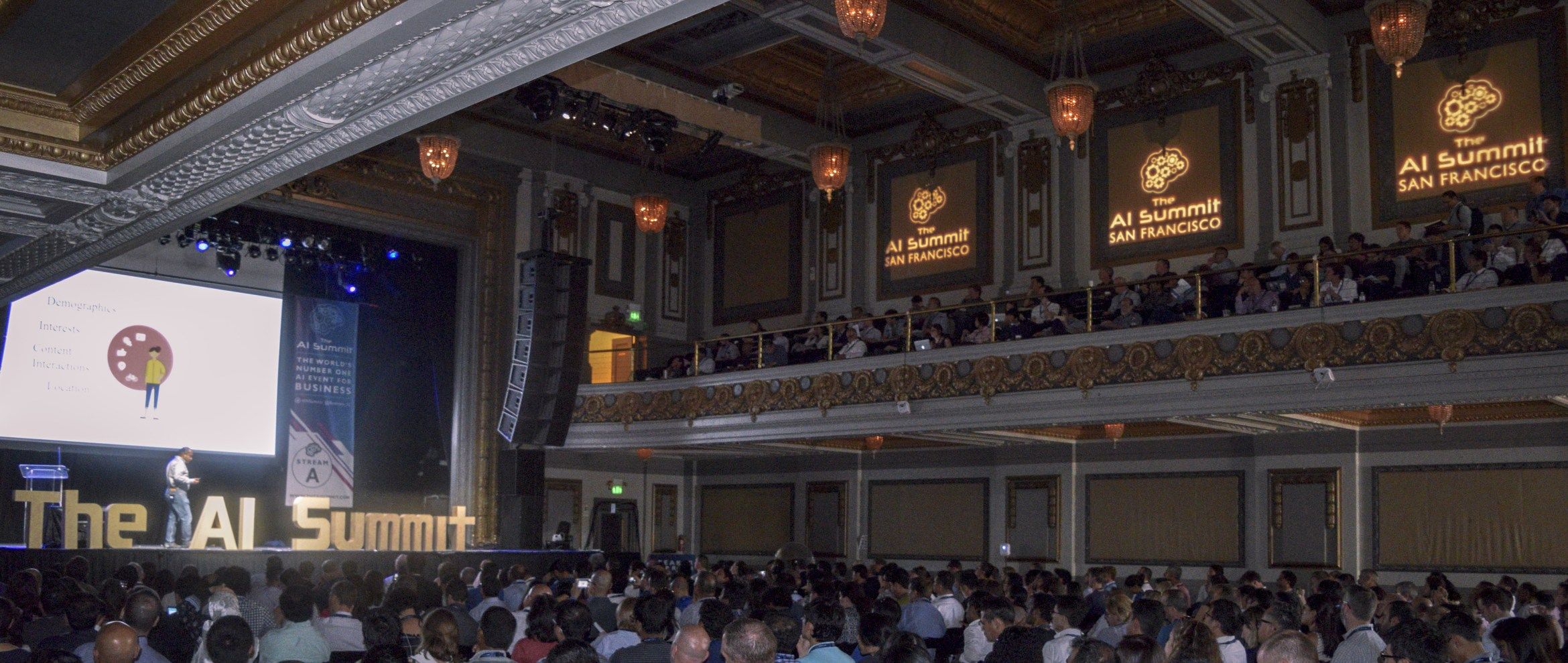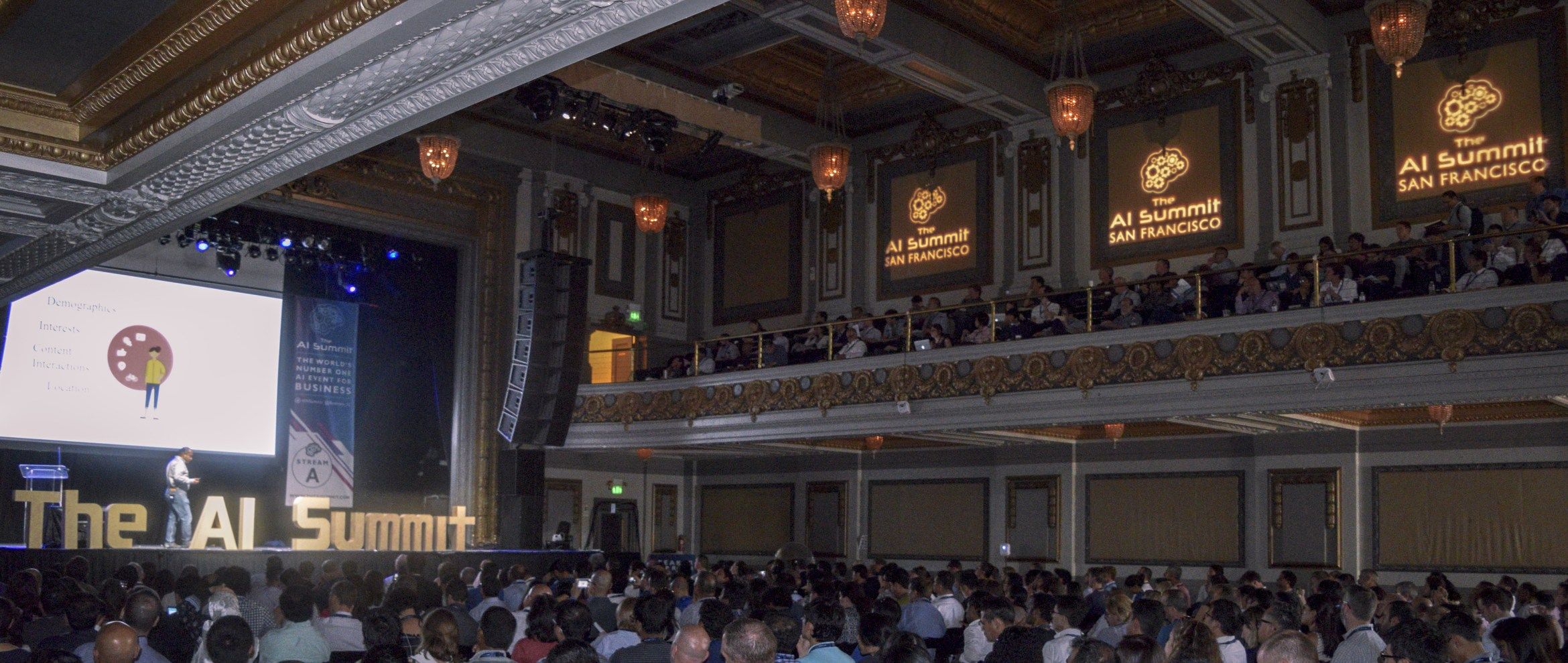 You'd be forgiven for mistaking the atmosphere in downtown San Francisco on September 28, 2017 for the 90 degree heatwave that struck that late September day. The buzz surrounding the Regency Ballroom on the opening day of The AI Summit was palpable. Thousands of delegates from some of the world's leading tech firms, start-ups, and major corporations had descended upon the city to engage with the cutting edge of technological development.
With keynote speeches, technical demonstrations, and over 12,000 networking meetings, the levels of engagement among the delegates with the thought leadership and AI technologies on exhibit was high.
Senior Crowds of over 2,000 at Stream A
@SwamiSivasubram leads discussion on how @awscloud are leading #machinelearning for all. Catch swami at stream A now #AISummit pic.twitter.com/MXpquTJiKT

— AI Business (@Business_AI) September 27, 2017
"My mission at @NVIDIA is to help us adopt #AI and #deeplearning everywhere possible." – @ctnzr #AISummit pic.twitter.com/uiO7EcH9Gj

— NVIDIA AI (@NvidiaAI) September 27, 2017
Stream A, The AI Summit's thought leadership stage, was jam-packed throughout the day. Drawing crowds of often over 1,200 delegates, it was the platform for broad, forward-looking approaches to AI, and presented a number of case studies for the application of AI within business and enterprise. The seniority of the audience here was a testament to just how rapidly relevant AI and machine learning is becoming within the C-suite, and the ideas shared on-stage were clearly capturing the inspiration of industry leaders.
Many of the questions and conversations surrounding the Stream A events were focused on providing a clear articulation of how AI and machine learning technologies can deliver ROIs for businesses today. This was reflected in keynotes such as that of Josh Sutton, Global Head of Data & AI at SapientRazorfish, who argued that attendees could 'become cognitive' and rapidly transform their operations today. Pegah Ebrahimi, COO of Global Technology Banking at Morgan Stanley, meanwhile delivered an excellent fireside chat exploring different strategies for getting the C-Suite onboard with AI projects.
Across the course of the day, it became clear that there is a need for practical business applications of AI today. "I think the AI Summit specifically provides tremendous value in that it's really focused around business and making these innovations available in businesses. That's a kind of focus I have not seen at other conferences, and I think it provides a really valuable overall contribution," Magnus Hyttsten, Senior Developer Advocate for Google TensorFlow, told AI Business during an exclusive interview.
"Around the world, most AI and machine learning events tend to be technically focused or purely research focused. Actually getting this technology out to businesses is really the next thing we need to focus on in order for machine learning to grow up and be something that you can use in the real world," Magnus argued. "Even though it might seem like there are many barriers to adopting AI right now, there are actually many, many use cases out there now that companies can actually approach using existing technology. I think we've just started to scratch the surface of a more business-oriented deployment of machine learning."
Super excited to learn about personalizing product recommendations from @facebook 's @DinkarJain #AISummit #AI pic.twitter.com/42BpUN2m3i

— Nadine Schubert (@pinteration) September 27, 2017
"Exploration or value creation?" What will AI do for your business? @cbcurran @PwC #AISummit #business pic.twitter.com/fVQkvckFYm

— AI Business (@Business_AI) September 27, 2017
David M. Smith captivates the #AISummit's over 2,000 #AI leaders from around the world with @Microsoft's #CognitiveComputing. @revodavid pic.twitter.com/2o3vTAdXBO

— Marvin Stone (@MarvinStone) September 27, 2017
Stream I: CxOs, Meet The Experts
Experts on the all-star panel at #AISummit.@Genpact @VoyagerLabs @WysdomAI @AutomationAnywh @OneCarlyle @PwC @Element_AI @Tractica#AI pic.twitter.com/IB4hxhkxVj

— Marvin Stone (@MarvinStone) September 27, 2017
The business perspective of the Stream A events was accompanied by case-specific examples of how organisations could use AI today. Leading data scientists, CIOs, and CTOs of major corporations alike offered attendees greater insights into the real case studies and business applications of AI technologies.
The Summit's first technical panel, 'AI Beyond The Hype', saw experts from Genpact, Voyager Labs, Wysdom.AI, Automation Anywhere, PwC, Element AI, Tractica, and The Carlyle Group come together to look at AI in relation to practical case studies in order to demonstrate the real, pragmatic ROI applications that their organisations are using today.
Surabhi Gupta, Director of Engineering at Airbnb, demonstrated how Airbnb has for some years been using machine learning to improve machine learning and offer ultra-personalized travel options to their users. AI Business recently caught up with Surabhi in a Q&A, where she provided exclusive insights into the real-world value of machine learning:
"As these technologies continue to grow, it is critical that we learn and work together so that when we build the best technology, it has the ability to improve lives, build communities, and further human connections."
Hui Cheng, head of robotics research for https://t.co/vMhbOUcMVP, speaks at the #AISummit in San Francisco https://t.co/JF8ChiXe2G

— JD.com (@JD_Corporate) September 27, 2017
David Newman of Wells Fargo explains how AI is more than just deep learning. Another great talk at the #AISummit pic.twitter.com/chUtmkhlJC

— Josh Sutton (@JoshSuttonAI) September 27, 2017
"The AHA moment for the client is oftentimes seeing how #AI can be used in an applied sense for their own org." @AnandSRao #aisummit pic.twitter.com/ncr6H3Jrf2

— PwC Digital Services (@PwCDigital) September 27, 2017
Stream S
Jean Marc Mormessin Kicks off stream S! "How to develop your #AI commercialisation approach" @konicaminolta #AISummit #businesses pic.twitter.com/pmWixGOr3q

— AI Business (@Business_AI) September 27, 2017
In what is perhaps the most hands-on element of The AI Summit, Stream S gave delegates the opportunity to attend workshops and roundtables that not only examine AI use cases at the granular level, but train them directly in how they can deploy the technology in their organisations today. These included 'Architecting Disruption' with experts from IBM, lessons on scaling AI across the enterprise with C3 IoT, 'An Introduction to Deep Learning Concepts' with Amazon Web Services, and much, much more.
Ekta Sahasi, VP of Konica Minolta's US Business Innovation Center, argued earlier this month that business leaders need clear use cases and strategies to solve business problems.
"Most—if not all—enterprises recognise that AI will fundamentally transform their business in the coming years. However, not all business leaders understand what to do with this information," she said.
"To some extent, there is a 'fear of missing out' that drives some companies to define an AI strategy simply for the sake of having one. In reality, these strategies should not start with AI, but with a core business challenge." Jean Marc Momessin, New Ventures Lead at Konica Minolta, provided business leaders with the tools to do exactly this in his workshop detailing how businesses can develop their own AI commercialization approaches.
The AI Summit Expo Hall
In the expo area, it was a different story altogether. Companies from all sectors set up booths where attendees could witness live demos and network first-hand with the people making AI work for everyone. Facial recognition tools scanned punters' emotions (and ages), robots roamed the hall, and live tech demos took place on stage in the Demo Zone for anyone to attend. The atmosphere was truly alive here. The expo area served as the Summit's bustling networking hub, where attendees could speak directly to the companies that have been working with AI for a number of years in order to make connections and learn from their experiences first-hand in order to better approach their respective business challenges in the future.
Hanging out at @Business_AI's #AISummit in #SanFrancisco today? Stop by booth H37 to meet the LumiFam. Get a demo! Grab some swag! pic.twitter.com/TRm1Qk5sZ4

— Luminoso (@LuminosoInsight) September 27, 2017
This article was originally published here.
AI
digital transformation
Events
Related
Our Digital Disruptors