Interview with Celeste Giampetro, VP of Marketing at PebblePost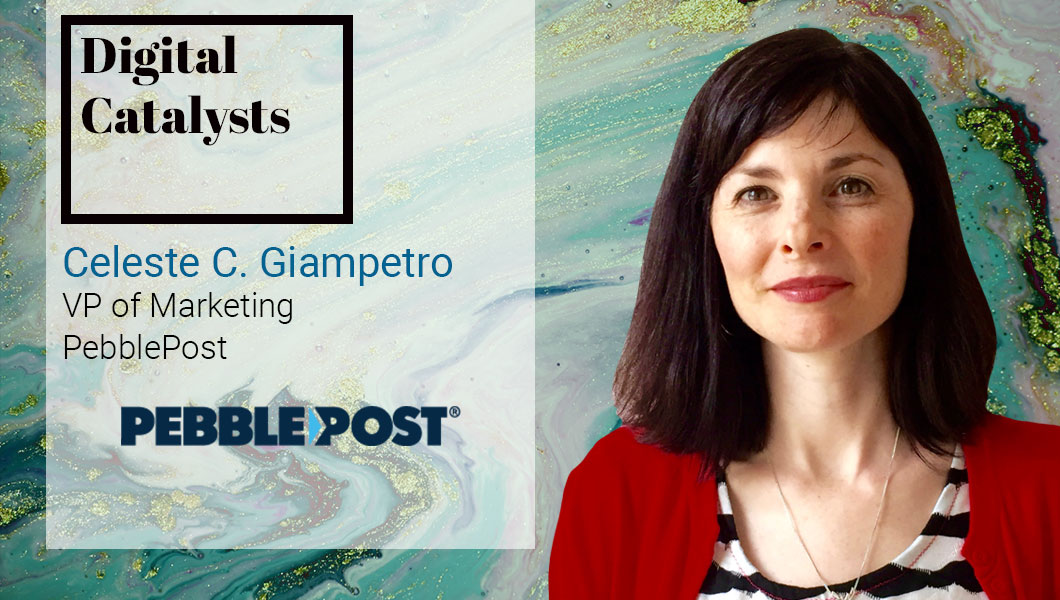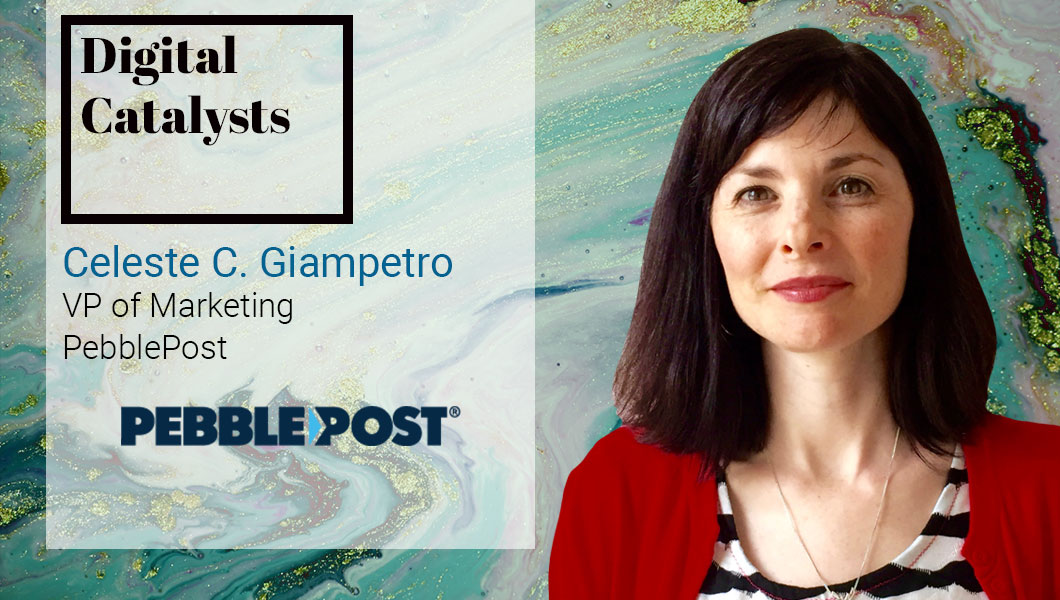 In this interview, Celeste Giampetro, VP of Marketing at PebblePost describes the union of the "brains and brawn" for digital programmatic and direct mail and suggests why marketers need to move beyond metrics while focusing on acquisition and retention. Celeste brings two decades of marketing strategy and messaging for leading media and digital solutions. Celeste holds an M.A. in English Literature from Columbia University and is an avid patron of theatre, voracious reader and wanna-be playwright / sous chef
TDE: Tell us about your product/business and your specific role?
Celeste Giampetro: PebblePost invented Programmatic Direct Mail®. We transform online intent into dynamically rendered, personalized direct mail that's delivered into postal hubs within 12-24 hours every day. Many marketers have told us that we created the first new channel since Search and Social. We like to think that we've married the brains of digital's programmatic data processing with the brawn of direct mail as a response and conversion driver. As VP Marketing, I'm charged with raising awareness of and educating the market about our disruptive solution as an alternative to the often annoying and disrespectful nature of digital advertising.
TDE: What is the core issue your product/technology aims to address and what sets it apart from the other players in the market?
Celeste Giampetro:
Two words: respect and relevance.
Our founder Lewis Gersh built a portfolio of 35 companies involved in targeting and retargeting, and pioneers of programmatic services. From his vantage point, programmatic digital has achieved enormous success but eventually efficacy erodes. Some consumers exhibit banner blindness, tuning out display ads. Others find it creepy that ads are following them from site to site and across devices. But mostly, the technique is simply overused and abused in his words. And the result is disrespect for the consumer by overwhelming her with irrelevant messages.
Programmatic Direct Mail® by its very nature and design is respectful of the consumer's time, attention, and space. Because we start with a consumer's expressed online intent, Programmatic Direct Mail® is relevant to that consumer's expressed interests and needs. The consumer decides when, if, and how to act on that piece of Programmatic Direct Mail® instead of being harassed and hounded to "Buy Now" on every screen and device.
TDE: What's the one industry, sector or role that your technology is most relevant to?
Celeste Giampetro: We are a martech platform so marketers are our core audience. We serve several hundreds of B2C marketers across retail, travel, financial services, and education.
TDE: What are some of the common challenges your customers approach you with?
Celeste Giampetro: Acquisition and retention. Each requires a distinct strategy. Many technologies claim to help marketers target prospects and customers separately but that's often not the case as the metrics are blended. By contrast, PebblePost can positively target existing customers for acquisition, and for retention, we exclude those loyal existing customers so the brand is left with a true pool of potential buyers to communicate with.
TDE: Using technology to effect transformation usually starts with a transformation of beliefs and mindsets. How do you consult enterprise clients and help them make that important shift in mindset to move ahead on a particular project or implementation?
Celeste Giampetro: Programmatic Direct Mail® is an easy concept to grasp for enterprise marketers. We're combining the programmatic power of right person / right time / right message with the proven performance of direct mail. We don't really encounter much resistance as those who aren't using technology are going to find it difficult to compete.
The one area we educate marketers around is the lifespan and attribution window of Programmatic Direct Mail®. How consumers interact with our solution is totally different from digital. On average, we see conversions two weeks after Programmatic Direct Mail® is sent. In some cases, we've seen conversions more than 60 days out. As our CEO likes to say, "No one tapes a banner ad to the fridge." The longevity of a Programmatic Direct Mail® impression, the staying power of a physical reminder that moves from place to place within the home and is exposed to multiple members of the residence — those are key differences from digital advertising.
TDE: What present or upcoming technologies you think have the maximum potential to accelerate enterprise digital transformation?
Celeste Giampetro: AI and ML.
TDE: What's your go to resource – websites, newsletters, any other – that you use to stay in touch with the explosive changes happening in the digital space?
Celeste Giampetro: AdExchanger, IAB, Marketing Daily, Ad Age, ANA, etc.
TDE: Read a good book lately on digital transformation that you'd like to recommend to us?
Celeste Giampetro: I read a lot of fiction in my downtime as everyone needs a break from digital once in a while. I will recommend one book that touches on transformation of the science fiction kind. The Power by Naomi Alderman knocked my socks off. I missed my subway stop many times because I was so engrossed. Without giving too much away, The Power imagines a world where women's bodies become weapons. It's dynamite.
For more DX insights follow Celeste on LinkedIn.
Related
Our Digital Disruptors