Interview with Christopher Cabrera, Founder and CEO, at Xactly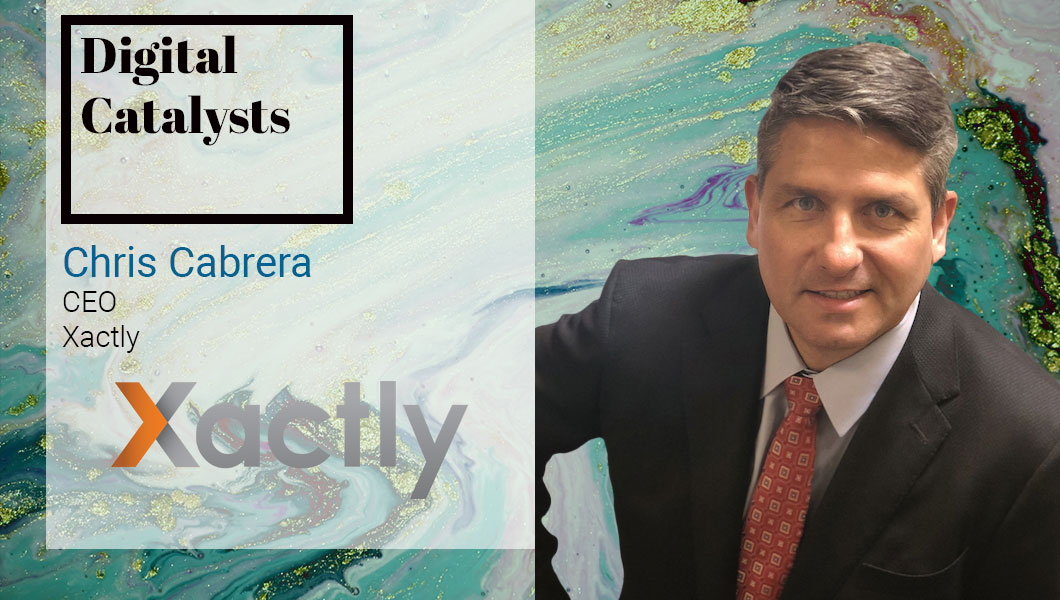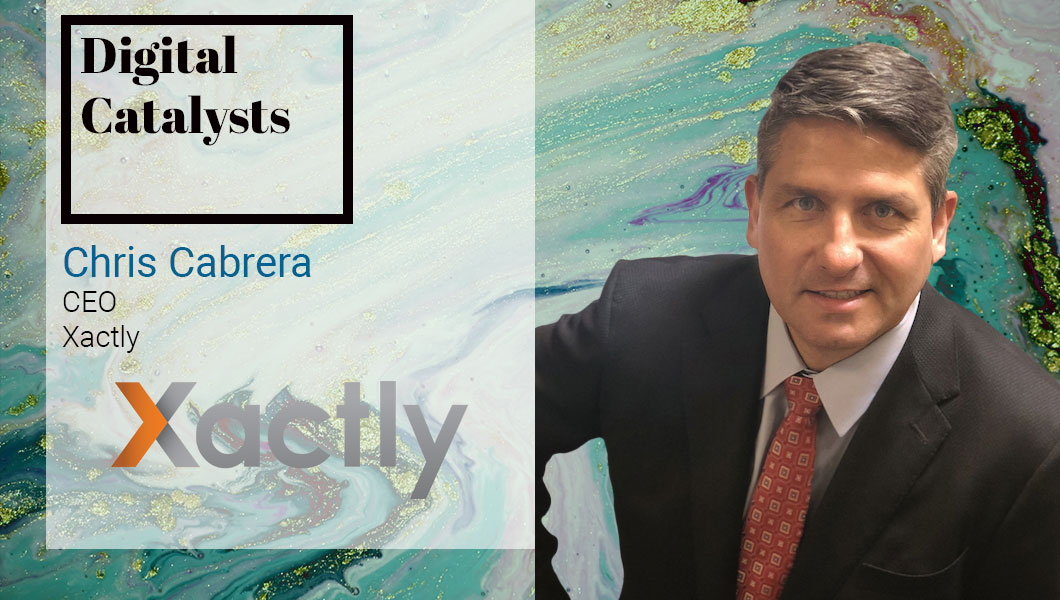 Chris Cabrera founded Sales Performance Management (SPM) company Xactly in 2005. Since then, he has led the company from startup to IPO and now private equity, while amassing major customers from Salesforce to Louis Vuitton to Hyatt. Cabrera is a known expert on SPM, compensation, commission, and employee motivation. Prior to founding Xactly, Cabrera was SVP of operations at Callidus Software, where he acquired 100+ customers, grew annual revenues, and led a successful IPO. He authored Game The Plan and co-authored Xactly Sales Compensation for Dummies. He holds a B.S. and M.A. in business administration from the University of Southern California and Santa Clara University, respectively
TDE: Tell us about your product/business and your specific role?
Christopher Cabrera: Xactly is a category leader in the sales performance management space. We offer businesses the necessary tools for sales planning, managing, and incenting, which allow them to optimize their internal sales operations and efficiency — all things that ultimately impact the growth and revenue of a company. You wouldn't show up to a test without a pen or pencil in hand, and the same mindset should go for sales. To succeed a business must equip itself with the proper tools, and for sales, those tools are Xactly's suite of products. As CEO, I oversee all facets of the company — from product development to company culture. It is my job to lead the company through whatever challenges we face and use my decades of knowledge in the industry to help navigate that path forward.
TDE: What is the core issue your product/technology aims to address and what sets it apart from the other players in the market?
Christopher Cabrera: Today, 73 percent of companies use spreadsheets to track compensation and, on average, only around 53 percent of salespeople meet their quotas. Our products help solve those issues and more. Our cloud-based suite of products is comprised of tools for planning, managing, and incenting sales organizations, and include quota and territory planning, incentive compensation management, and predictive analytics. Over the past two years, we've widened our focus from incentive compensation management (ICM) into the broader sales performance management (SPM) category, and made three key acquisitions that have enabled us to build a more holistic suite of tools.
TDE: What's the one industry, sector or role that your technology is most relevant?
Christopher Cabrera: Any company with a sales department could benefit from Xactly. We work with companies of all sizes, within every industry and vertical. Xactly's products can be an integral part of any company that is employing a sales team or applying incentives to drive results. One unique part of Xactly's offering is a proprietary AI and machine learning-powered tool that predicts employee attrition — a problem that every business encounters. With this technology, business leaders are able to assess an employee's likelihood of leaving and determine how to proceed, potentially preventing the attrition altogether. With employee turnover costing businesses an average of six figures due to ramp time and lost revenue, this is a simple and easy way to save money.
TDE: What are some of the common challenges your customers approach you with?
Christopher Cabrera: One of the greatest issues in sales departments is 'shadow accounting.' The term refers to situations in which salespeople must use precious hours of the work week to make sure that their pay is calculated correctly. Because so many companies are still using spreadsheets to keep track of compensation, manual entry is required and errors are common. Xactly eliminates the need for shadow accounting since salespeople can be confident in knowing that they will be compensated accurately and can also receive real-time updates throughout the pay period on their status. While shadow account is a big problem, it is only the tip of the iceberg in terms of the problems Xactly can solve. Territory planning, benchmarking across teams and industries, expense forecasting, quota capacity planning, tax compliance technology and more — Xactly has a tool for every company to improve efficiency.
TDE: Using technology to affecttransformation usually starts with a transformation of beliefs and mindsets. How do you consult enterprise clients and help them make that important shift in mindset to move ahead on a particular project or implementation?
Christopher Cabrera: When it comes to educating businesses about SPM, one thing that is beneficial for us is that many of our customers are using cloud-based software in other parts of their business. Their finance team may be using cloud-based financial software, or their HR team may be using cloud-based HR software. Their sales team may even already be using CRM software. But then when it comes to assigning quotas, planning territories, or managing incentive compensation, they're still operating out of spreadsheets. So for many of them, once we point out that this seems behind the curve, they understand that already at some level. Still, some customers have a hard time letting go of spreadsheets! When you have a system that mostly seems to have been working, people can be reluctant to adopt a whole new way of doing things. For these customers, I think the most compelling argument for SPM implementation is the research that shows that what sales departments are doing right now just isn't working: 53% of sales reps are missing quotas and 63% of companies miss revenue goals. When we talk about it like that – and what organizations stand to gain from using SPM software – the benefit feels much more tangible.
TDE: Give us an example of an enterprise meeting a digital transformation goal through your product?
Christopher Cabrera: Sales performance management is one of the biggest challenges for organizations today. To stay competitive, sales leaders need data to be more knowledgeable about their customers and teams, but also the technology to automate core processes, like territory planning and commissions to ensure efficient growth and error-free payouts. For example, with Cox Automotive, which employees more than 30,000 people in more than 100 countries, we're helping them reinvent their entire sales compensation program. The company did not have the right processes in place to ensure it was growing efficiently and sustainably. There was a lack of integration between database sources, leading to discrepancies, time-consuming manual data uploads and reconciliation efforts and an inability to glean analytics due to poor rules-based configurations that prevented transparency as well as underutilized analytics reporting. As a result of using Xactly, Cox was able to free up more than 170 hours of administrative time per pay period, resulting in $2.1 million in savings. The company is using that time to build out new strategic initiatives that open up new revenue streams. What's more, the improved user experience has led to higher sales rep engagement.
TDE: What present or upcoming technologies you think have the maximum potential to accelerate enterprise digital transformation?
Christopher Cabrera: As an organization, we're investing significant energy and resources into AI. Most recently, we expanded our AI capabilities and deepened our partnership with Salesforce, introducing new integrations with Salesforce Einstein, which allows data from the Xactly platform to be introduced into the Salesforce Cloud.
TDE: What's your go to resource – websites, newsletters, any other – that you use to stay in touch with the explosive changes happening in the digital space?
Christopher Cabrera: My go-to source for business-focused news and information is The Wall Street Journal, Harvard Business Review and The New York Times. As much as possible, I try to keep close tabs on LinkedIn influencers in both the sales and SaaS space. I also look to industry conferences, such as SaaStr, which are full of great ideas that are raising the bar on transformation throughout the industry.
TDE: Read a good book lately on digital transformation that you'd like to recommend to us?
Christopher Cabrera: One book that I have on my radar to read is Digital Impact by Brian Sommer which outlines the inevitable challenges faced as organizations reinvent processes and business models for the modern era, and presents a framework to help organizations negotiate the complexity of digital transformation initiatives.
Related
Our Digital Disruptors