Interview with Jacky Noons, CEO, at 3 Men Movers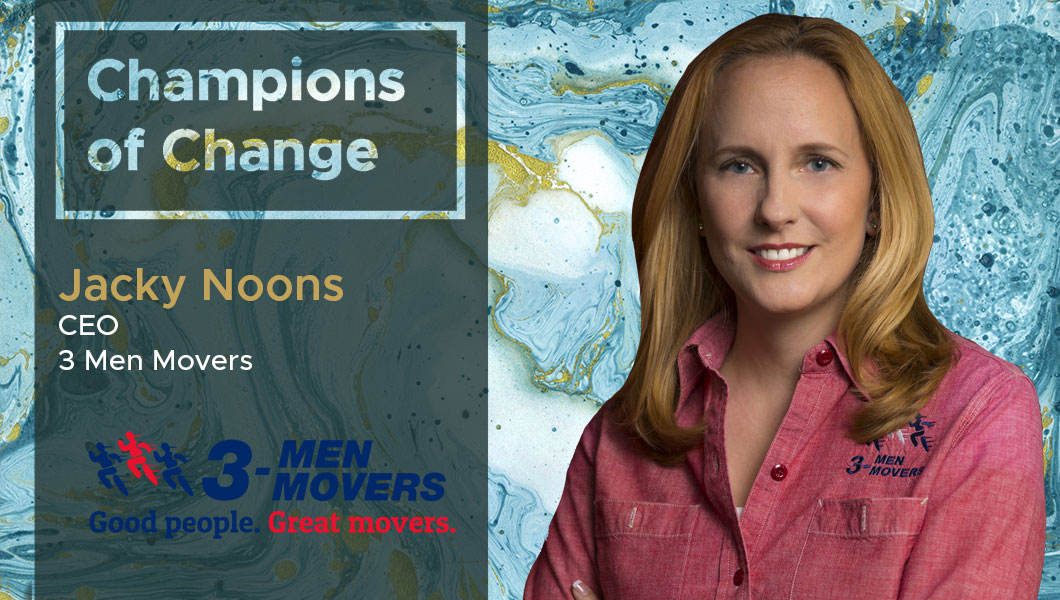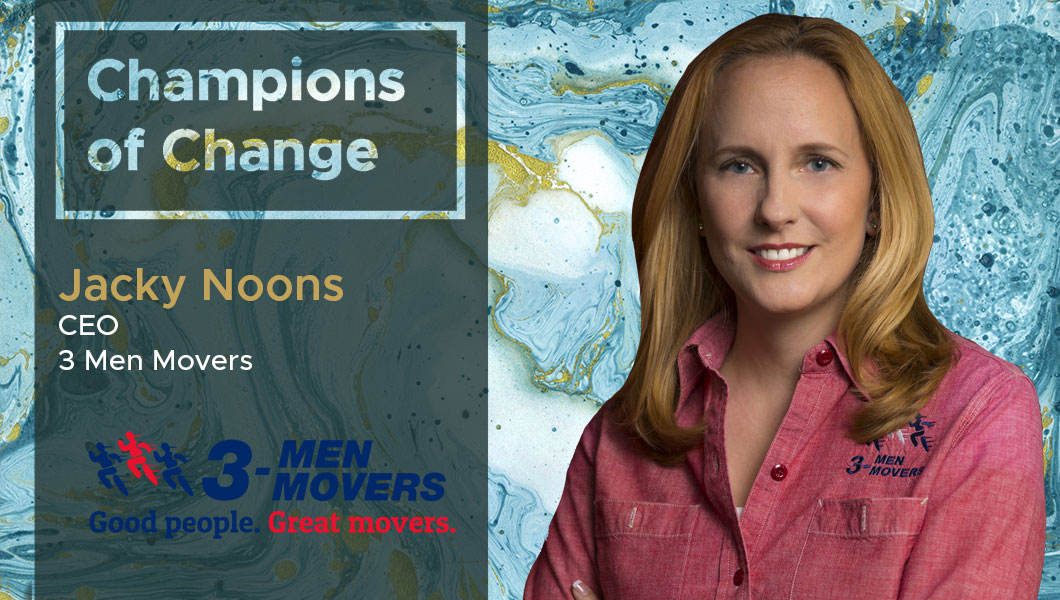 Jacky Noons grew up working in a multitude of crazy family businesses.  She is quite sure her parents broke every child labor law. She received her undergrad from the school of hard knocks and her MBA from Rice University. She took over 3 Men Movers in 2003 and has grown it from a mom and pop business to an over 30-million-dollar company that operates in multiple locations and leverages cutting-edge technology in a traditional industry. Recently she was named as one of the top female business owners by the Houston Business Journal and won the National Enterprising Woman of the Year Award. When she is not leaping buildings in a single bound, she is running the most innovative moving company, 3 Men Movers, and is involved in many community outreach programs and mentors young business owners. 
TDE: Thank you so much for taking our questions! Tell us a little about your business and its history?
Jacky Noons: 3 Men Movers is a moving and storage company that was started in 1985.  Our headquarters are in Houston and we have locations in San Antonio, Austin and Dallas. In 2018 we did over 30,000 moves. Boring, right? Guys moving furniture has to be one of the most low-tech types of companies around. But, several years ago, we decided to bring technology to the moving industry. From that point on, taking a very low-tech industry and adding technology has been a market separator for us.
TDE: What are your thoughts on the current pace of digital transformation in your industry?
Jacky Noons: It has been slow, but now I am seeing technology begin to make its way into the industry – mostly on the safety side. Personal injury lawsuits are driving up auto insurance policies in the trucking industry. Trucking companies are looking to technology for help to increase safety accountability with drivers. Fleet management systems not only track your fleet, but can also notify you if someone is driving in an unsafe manner. This data coupled with gamification is a great resource to increase safety on the road. There are a lot of cool systems you can get off the shelf.
TDE: What do you feel is the one technology trend within your industry that cannot be ignored?
Jacky Noons: Technology brings lots of great things to the industry, but the trucking industry can actually cause deaths due to distracted drivers. Drivers looking at their cell phones while driving is increasing the number of accidents on the road and insurance rates. There's lots of rumbling about autonomous trucks which could lead to less accidents. It is an interesting concept and I think it will be widely embraced in the near future. People are predicting that many truck drivers will be left jobless. I think that even with autonomous vehicles, at least in the near future, you will still need someone in the cab. Luckily for us, they haven't created a robot to move furniture yet. Until they do, people will still need movers. When they do have this type of technology, you better believe that we will be an earlier adopter if it means better service for our customers.
TDE: Have you used technology for managing a) field team operations, b) sales/channel management, c) shipment tracking, d) employee engagement, or e) customer retention? What has been your experience?
Jacky Noons: We use technology in all aspects of our business. Being a trailblazer in bringing technology to moving means that we have a whole department of coders creating technology to solve issues. This isn't technology that we can buy off the shelf.  Everything is custom and everything is integrated. It isn't cheap. We have dedicated many resources to this and it is part of our long-term strategy. We have patents pending on technology that make the online booking process better for the consumer and gives them more choice and control over their move.
TDE: How integrated is your customer experience- from sales to operations to delivery tracking? Do your customers have access to a common portal?
Jacky Noons: Unfortunately, our customers do not have a common portal at this at this time. We are measured in how we go about releasing new technology to our customers because their information is private and we respect that. We have to take into consideration our customer's privacy. Reid Hoffman, the founder of LinkedIn said, "If you are not embarrassed by the first version of your product, you've launched too late." That is the way Silicon Valley operates and it has created lots of great products for society by pushing technology out quickly. We are a bit old school around here. We have learned from facebook which grew without taking privacy into consideration, and we are rolling out customer access slowly to ensure our customer's data is secure. Currently, we have a common portal in the works that will be released with our t's crossed and our i's dotted.
TDE: How paperless are your operations? Do you feel any part could be digitized and if yes, which?  
Jacky Noons: We are completely paperless and we were one of the first moving companies, if not THE first moving company, to embrace cloud technology and remove paper invoicing. At the time this wasn't off the shelf technology and we had to innovate and custom build the software to do this for us. Now you can buy it off the shelf relatively inexpensively. We dumped a considerable amount of resources in launching paperless invoicing with cloud technology before our competitors.
TDE: In the next quarter which part of your business are you focusing on? Which part of your business can be further optimized using technology?
Jacky Noons: We are working on a customer portal and better features to enhance our online booking experience. We want to make it even easier for people to serve themselves. We still have relocation specialists on the home that can help customers, but if a millennial wants an online experience, we offer that too. We want to make sure we have options to serve people in the way they want to be served.
TDE: Do you view & use a common management dashboard to check the health of your business?
Jacky Noons: Yes we have live dashboards with key indicators specific to each department.
TDE: How do you keep yourself updated? What are some of the websites or magazines or apps that you subscribe to or read regularly?  
Jacky Noons: If you want the latest and greatest info on technology, you don't look toward getting it from the moving industry. Therefore, I read information about technology trends in the travel industry, online shopping, and other forward-thinking B2C companies.
TDE: What's your favorite social network – Instagram, Facebook, LinkedIn or Twitter?
Jacky Noons: I have accounts on Instagram, Facebook, LinkedIn, and Twitter but I find it all a bit "surface". I'm in my 40's so I stick with Facebook to keep track of family members and old friends. I am not much into social media but I also know that it is important for businesses to engage with their customers through social platforms. Personally, I prefer to read in-depth articles on a subject instead of a tweet. I wish there were a better option, but at the moment it is the only way I can keep up with what my 85-year-old mom is doing. I have to watch that one!
For more DX insights, follow Jacky Noons on LinkedIn, Facebook and Instagram
Related
Our Digital Disruptors