Interview with Val Morozov, Vice President of Products at MaxBill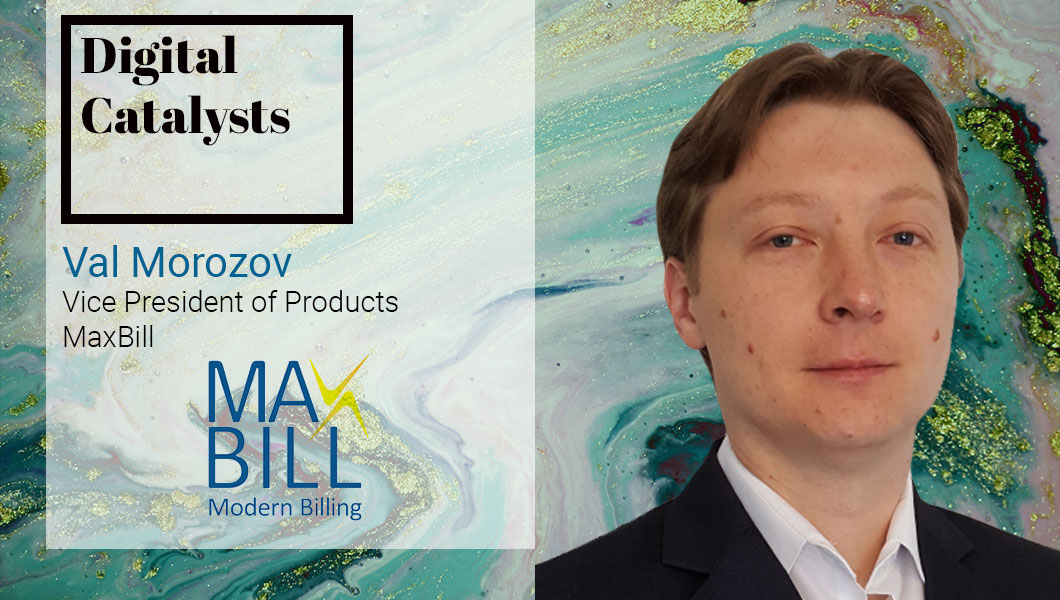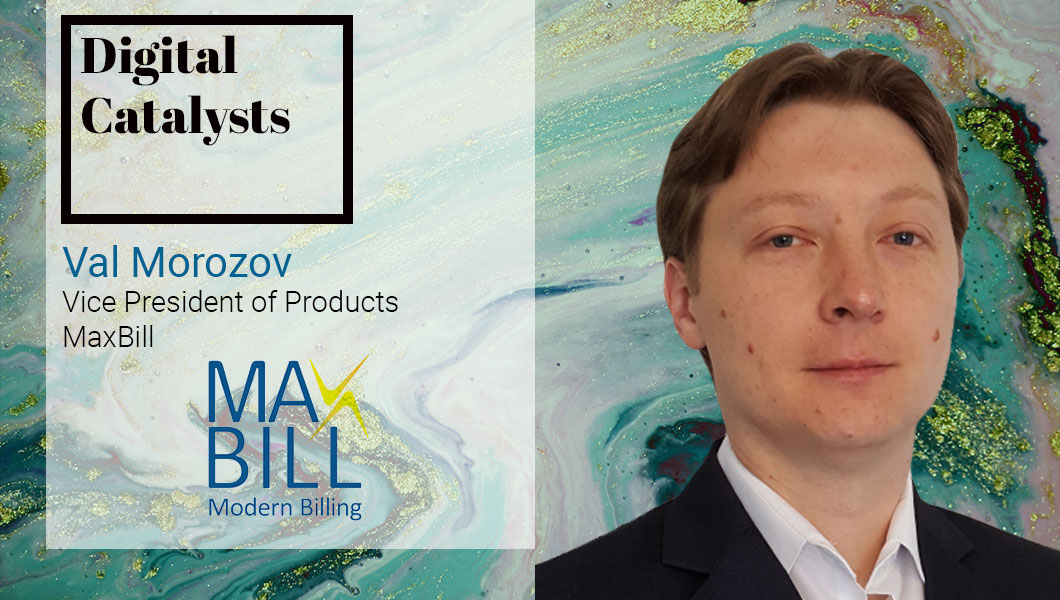 Val Morozov is the Vice President of Products at MaxBill, the provider of Modern Billing solutions for service providers worldwide. Val is responsible for defining and promoting the company's product management strategy
TDE: Tell us about your product/business and your specific role?
Val Morozov: We work with service providers in competitive markets around the world to help them implement their innovative business models. Our MaxBill solution is our main offering and it provides a modern framework for service providers to build competitive advantages from their billing and service delivery. The company was founded in 1996 and our clients come from many different vertical markets. We are strong in the telecommunications, utilities and online gaming sectors. My role as Vice President of Products is to define and promote the company's product management strategy. I work closely with new and existing clients to assure that our solutions deliver the best practices required for the needs of their operations and vertical markets.
TDE: What is the core issue your product/technology aims to address and what sets it apart from the other players on the market?
Val Morozov: Our objective is to deliver a modern billing infrastructure that serves as a business enabler for each of our service provider customers. We achieve this by aligning the functionality of our MaxBill solution with the billing and service delivery operations of each client. There is a need of integrating business processes across data silos and internal company operations. Our solution gives service providers the best practices for their business vertical, covering all the essentials concept-to-cash elements. In other words, we provide ready-to-use tools for building and improving new business processes derived from the operational data insights. These automated and real-time business integration techniques create efficient workflows that improve billing and service delivery operations. For us, this is a logical approach and we see that it delivers strong value to our customers and partners. In addition, from what we see, it is rather unique as most of our competition focus on features and functionality and not business value.
TDE: What is the one industry, sector, or role that your technology is most relevant to?
Val Morozov: Service providers are the most relevant space for us. Within this overall service provider space, there are numerous verticals that we serve. As a company, we have been in business for over twenty years now and, during this time, have worked with a full range of service provider customers. Traditionally, we are strong in the telco and utilities sectors. In recent years, we have also gained a lot of traction in online gaming and are now working with many of the well-known online gaming platform providers and operators.
TDE: What are some of the common challenges your customers approach you with?
Val Morozov: Billing can be complicated and we are approached by service providers with many different pain points. Generally speaking, a digital transformation of some capacity is required to solve many of the issues faced by our customers, both new and existing. Many customers want to reduce the operational complexity of their billing and service delivery processes. Another common issue is being able to efficiently expand the overall business capacity by adding new services and reconciling with the third parties that enable these new services. The solutions to many of these problems involve the data critical component of our MaxBill solution for delivering a contextually-driven engagement. The effect is reverting from an inside-out approach to an outside-in approach for the engagement. This approach delivers clear value to the customer.
TDE: Using technology to effect transformation usually starts with a transformation of beliefs and mindsets. How do you consult enterprise clients and help them make that important shift in mindset to move ahead on a particular project or implementation?
Val Morozov: Typically, each new billing project has an important business issue that needs to be solved. For example, a service provide may want to improve customer loyalty by preventing a bill shock and assure complete transparency on all expected charges. This business issue should always be addressed first in order to quickly maximize the business value of the project.
This approach should be followed at every stage of the project. The alternative of focusing on features and functionality will only migrate existing data to same inefficient business processes. This offers no value to the service provider and generally leads to long projects that go over budget and do not achieve their objectives.
TDE: Give us an example of an enterprise meeting a digital transformation goal through your product?
Val Morozov: We have a good example from the online gaming space that we can share. Online gaming operators typically rely on third party developers to supply attractive new games for their customers to play. These third party developers prefer to supply their games to online gaming operators in various revenue sharing agreements. Not too long ago, a prominent online gaming operator approached us about expanding the capacity in which the company is working with its third party developer partners. At the time, this online gaming operator was using a spreadsheet to manage its business relationships with its partners and cumbersome manual input to calculate revenue sharing payments for each partner. This situation created severe limitations on the business agreements the company could enter into with each partner. For this online gaming operator, we implemented the partner management and reconciliation capabilities of our MaxBill solution. These capabilities created an automated framework for managing the details of a contract with each developer partner.  With MaxBill, these contracts can now be based on multilayered, high volume agreements with complex threshold pricing. The solution we provided with its automated processes has greatly expanded the business capacity of this online gaming operator. Equally as important, all revenue sharing calculations are fully automated and require no manual input.
TDE: What present or upcoming technologies you think have the maximum potential to accelerate enterprise digital transformation?
Val Morozov: Artificial Intelligence is a technology we are applying during our digital transformation projects to further automate business processes and decision making. For example, we have customers in some vertical markets that are applying AI-driven applications on customer data to predict consumer behaviors. These predictions are leveraged to automate the offering of new services or promotions to customers. Another example is that some customers are using AI to run various "what if" scenarios based on large volumes of data to determine the best pricing and package for new services taking into consideration business agreements with third parties.
The use of AI for analyzing large volumes of data for business intelligence and automating operations has the strong potential for benefiting service providers.
TDE: What's your go to resource – websites, newsletters, any other – that you use to stay in touch with the explosive changes happening in the digital space?
Val Morozov: There are a number of publications that I follow and enjoy reading among them are science and technology publications from the media group Springer.  I also find attending industry events and interacting directly with others in the industry to be useful.
TDE: Read a good book lately on digital transformation that you'd like to recommend to us?
Val Morozov: I recently finished a book titled Architecture for Blockchain Applications by Xiwei Xu, Ingo Weber, and Mark Staples. The books presents a thorough study of the application areas for the blockchain technology and analyzes the key factors to decide for what use case this technology can provide the best solution. The book makes for good reading and I recommend it to understand where this technology can be applied.
For more DX insights, follow Val Morozov on LinkedIn and Twitter
Related
Our Digital Disruptors