Interview with Talal Shamoon, CEO at Intertrust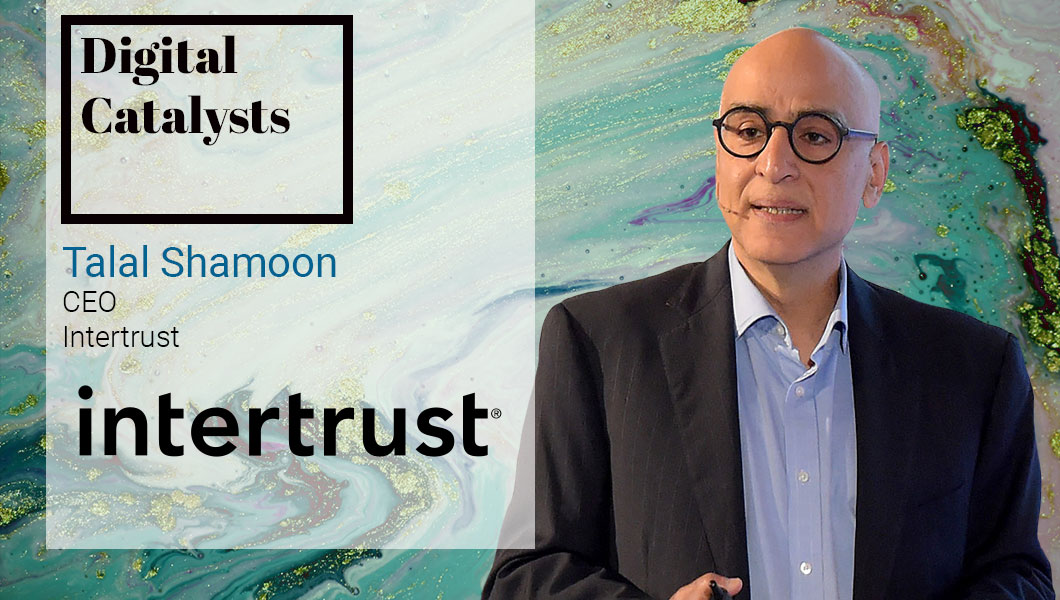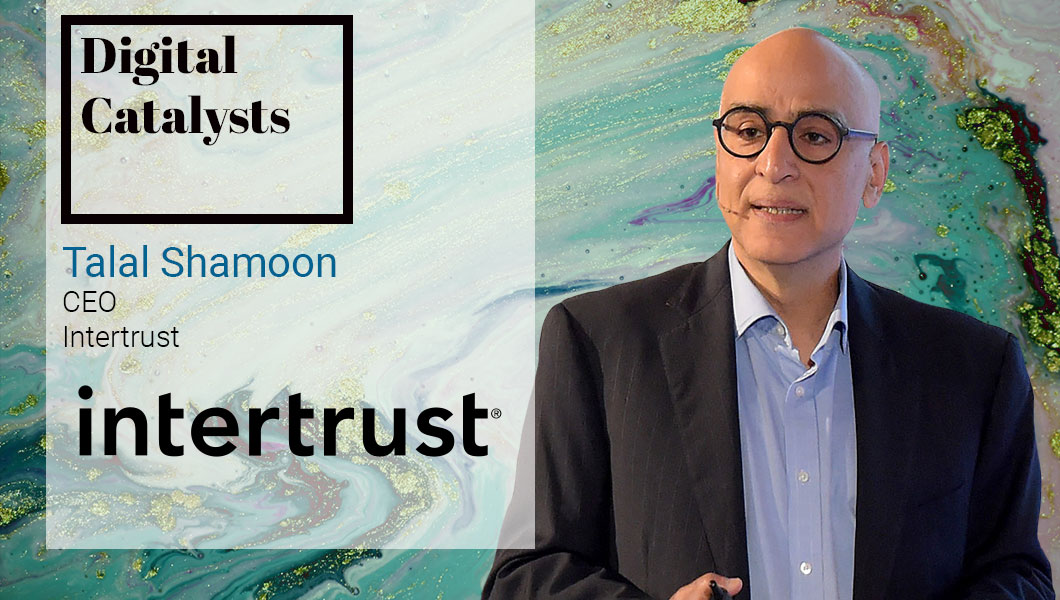 Shamoon joined Intertrust in 1997 as a member of the research staff, and then held a series of executive positions, including Executive Vice President for Business Development and Marketing and became Intertrust's CEO in 2003. As an early pioneer of Digital Rights Management technology in the late 90s, he led Intertrust's business and technology initiatives in the entertainment and media market, which established the company's leadership in that space. Prior to joining Intertrust, Shamoon was a researcher at the NEC Research Institute in Princeton, NJ, where he focused on digital signal processing and content security. Shamoon sits on several company boards – he is a member of the board of directors of Intertrust, whiteCryption and Kiora, and he chairs the board of directors of Planet OS. A recognized inventor and published author, Shamoon holds B.S., M. Eng., and Ph.D. degrees in electrical engineering from Cornell University
TDE: Tell us about your product/business and your specific role?
Talal Shamoon: I am the CEO of Intertrust. Intertrust provides products and services that allow people to manage their data and software securely, wherever they go. We do this by persistently protecting and managing the data, not the machine or the wires they live on. Intertrust is known as the inventor of Digital Rights Management (DRM) technology, which Intertrust originally launched for the entertainment industry, and is now active across all verticals including: energy, auto and healthcare.
TDE: What is the core issue your product/technology aims to address and what sets it apart from the other players in the market?
Talal Shamoon: Intertrust solves the problem of data interoperability within and between enterprises, and between enterprises and consumers. As more companies use distributed computing, IoT and mobile devices, and the cloud pervasively, the old method of locking machines in a room and owning the wires doesn't work. We provide software that protects data wherever it goes, and more importantly, allows users to manage it via digital rules, that are applied in protected processing environments. This allows users within an enterprise, and between enterprises, to exchange, trade and process data without worrying about breaches, misappropriation, etc. Also, we allow our users to comply with laws like GDPR, digitally on data, wherever the data goes and whoever uses it on our platform.
Intertrust is unique in three ways:
We are experts in this area. Having invented the DRM field (which our products are based on) in the early 90s. We hold a seminal patent position in the area.
We do only one thing – provide software for secure interoperability. We are neutral, we don't compete with our customers, we don't try to upsell them hardware, other software or consulting.
We have an amazing team across the planet. With a full blown research lab with a Turing Prize winner on staff. We have world-class developers and expertise in numerous areas, ranging from secure systems to big data processing, and a list of industry leaders as partners.
TDE: What's the one industry, sector or role that your technology is most relevant to?
Talal Shamoon: Intertrust revolutionized the entertainment and media industries over 20 years ago, by providing Digital Rights Management technology that allowed studios to distribute audio and video on the Internet. Today, our technology enables any vertical where data-driven business models are pivotal. Most of our current users are involved in the energy industry, where our technology is being used to build data driven business models, data exchanges, renewable energy data management ecosystems, smart home cloud services and virtual power plants. We see new opportunities emerging in insurance, auto and eventually healthcare.
TDE: What are some of the common challenges your customers approach you with?
Talal Shamoon: The biggest problem facing traditional enterprises, who place their data in the cloud, is a fear of losing control. The typical reaction we see is for IT people to "fight the last war", by building walls around cloud-based data. While we understand and respect the will to protect sensitive information, the Internet is not about walls, it's about inclusion and sharing. Intertrust has created a way for enterprises to strike a balance between sharing and control – a security and data management layer, called Intertrust Modulus. Modulus simultaneously protects cloud-based or on-premise data, while allowing enterprises to share and exchange it, within a company, with partner companies, analytics providers and even with competitors. With Modulus, companies can do things like create trusted intermediaries, transaction auditing clearing houses, and data exchanges. They're free to send data into governed trusted intermediaries, or leave data in place and use our powerful Traveling Trusted Computation™ feature to send analytics and ML to protected data.
TDE: Using technology to effect transformation usually starts with a transformation of beliefs and mindsets. How do you consult enterprise clients and help them make that important shift in mindset to move ahead on a particular project or implementation?
Talal Shamoon: Most of the companies Intertrust works with are being disrupted by the Internet. Not only are they facing new entrants into their markets; but because of internet penetration and IoT, their traditional defenses against competition don't work on the Internet. We show our partners that by using our technologies, on the device and in the cloud – via Modulus – they can not only digitize their value chains and move to the cloud easily; but actually stake out commercial digital real estate in the cloud. Defending their business and attacking competitors effectively. They quickly understand that the new levels of automation, not only represent a platform for higher margins and growth, but also that by seeing their businesses through a data-driven lens, they can actual improve efficiency and gain scale more easily.
TDE: Give us an example of an enterprise meeting a digital transformation goal through your product?
Talal Shamoon: One of my favorite examples is our partner DigiKoo. DigiKoo is a wholly owned subsidiary of German energy leader, Innogy. They are a trusted digital intermediary, built on Intertrust's Modulus platform, that allows planners to make rapid fire decisions about energy grid infrastructure enhancements, like deployment of solar energy, placement of car chargers and so on. While Germany has undergone a revolution in the energy sector over the last eight years, new regulations around competition practices, privacy (GDPR) has made rapid flow planning more difficult, due to the separation of grid operators into over 800 entities. Prior to deregulation, putting solar in a neighborhood was solved with a few phone calls and meetings. But with hundreds of parties owning data, that needs to be cross analyzed, and with laws, like GDPR, forcing new practices in data handling, this became prohibitively complex. Innogy created DigiKoo to solve this problem. It is a trusted third party that uses our Modulus platform to collect and manage data from all of these providers in a manner that respects the various regulations and laws. Allowing planners to make decisions in minutes that help to advance Germany's march towards a renewable energy future.
TDE: What present or upcoming technologies you think have the maximum potential to accelerate enterprise digital transformation?
Talal Shamoon: The confluence between secure data rights management in the cloud and secure, authenticated IoT devices is where it's at right now. The plumbing is in place, but without the proper security infrastructure in place, the pump won't pump. Enterprises will hold back and not use their cloud-based assets and IoT devices in the way they should. The challenge is that you can't lock everything up the old-fashioned way. That's too constraining and will slow people down. At Intertrust, we believe we've found the right balance. The market will determine if we're right or wrong. One of the really interesting challenges people will face in this world is how to securely authenticate trillions of connected devices. Devices that are made by different people, but need to function as one. Traditional techniques for doing that were made for a world of millions of computers, and will have a hard time scaling for tomorrow's world with legacy technologies. Our researchers are working on highly scalable authentication technologies that will solve this problem and extend our already scalable authentication infrastructure.
TDE: What's your go to resource – websites, newsletters, any other – that you use to stay in touch with the explosive changes happening in the digital space?
Talal Shamoon: I like to look at the web as a single news source – I use several news readers like Google News, Flipboard, Apple News and, oddly enough, Facebook to find stories of interest.
For more Dx insights, follow Talal Shamoon on LinkedIn and Twitter 
Related
Our Digital Disruptors