Interview with Johnny Russo, AVP, Digital Marketing and Ecommerce at Mark's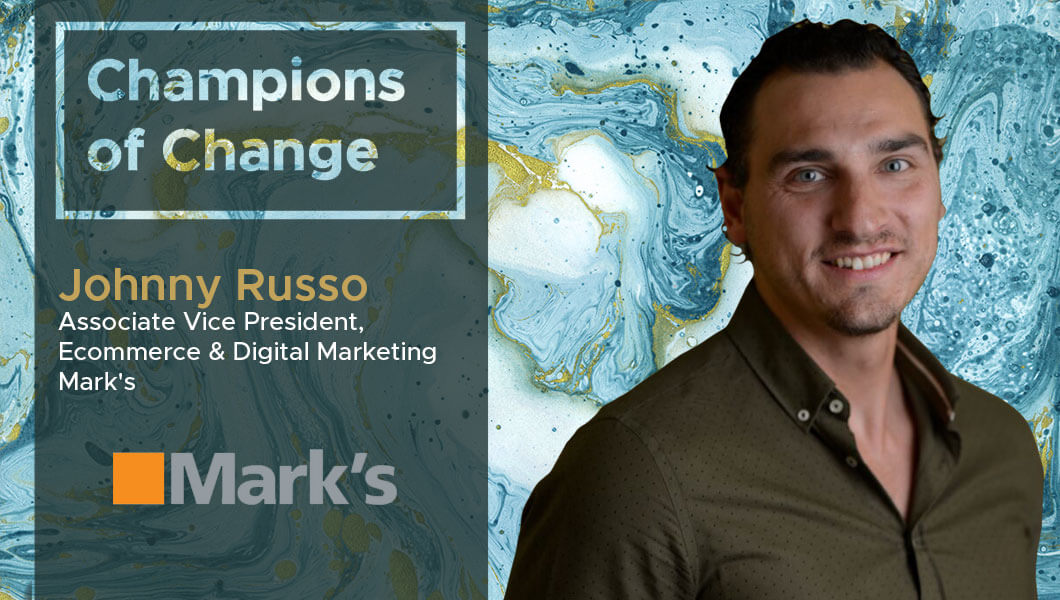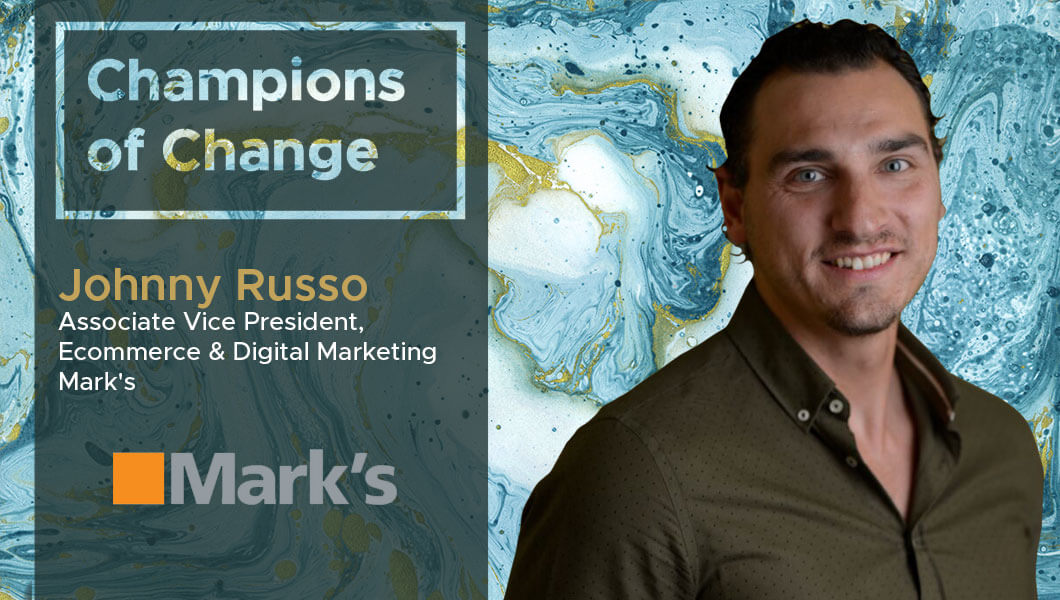 In this interview, Johnny Russo, Associate Vice President of Digital Marketing and Ecommerce at Mark's elaborates on a digital-first retail strategy and essential pillars for successful digital transformation. He discusses why change management is absolutely critical for DX success and how technology can then add to efficiency. Prior to Mark's, Johnny worked at Bentley Leathers Inc. relaunching the fully responsive Bentley Ecommerce experience in 2015. Before that, he worked in similar capacities for Mexx Canada and Buffalo David Bitton, overseeing everything from digital marketing, ecommerce, social media, operations, customer service, web design and digital analytics. Johnny has over 13 years of Digital Marketing and Ecommerce experience in the retail, manufacturing, mobile, and software sectors and has spoken at numerous industry events, and is on the Board of Advisors for Etail Canada, National Retail Federation's (NRF) Digital Council, Retail Council of Canada's (RCC) Ecommerce Advisory Board, and on the Board of Directors of the Calgary Marketing Association. Johnny is obsessively trying to optimize and improve upon the online and omni-channel customer experience
Thank you so much for taking our questions! Tell us a little about your business and your specific role?
Thanks for asking me to be a part of this series. Mark's is a leading apparel retailer in Canada. Known as L'equipeur in Quebec, Mark's is part of the Canadian Tire Corporation. Mark's has 380+ stores in Canada, making it one of the largest retailers in Canada. I am the Associate Vice President of Ecommerce and Digital. So if you break it down, my team gets traffic to the site, tries to convert it online or send traffic into our stores, and we help ensure the post purchase journey meets and exceeds the demands of the customer.
When did you first realize that you had an issue that needed a digital solution? What was the nature of the problem you set out to solve?
I don't know if there was just one moment. A few years ago, Mark's was a very traditional retailer. So media was very much print, TV, and newspapers. Social Media and Digital Media budgets were very small. The Digital team was not developed. Our site was lacking functionality. And not a lot of emphasis was placed on Ecommerce.
Fast forward 3 years, and Mark's budgets have significantly increased in Digital, and Digital now has a seat at the table. We're close to becoming a digital-first retailer. And along the journey, we've won several awards for Email, best-in class Omni-Channel retailer, customer experience, etc. So it's been a nice pat on the back for the team that we're headed in the right direction.
So I don't think it was necessarily a problem we set out to solve. It was more a realization that the time was now for our Digital Transformation to commence.
What were the challenges you faced at the time as you began the process of evaluating solutions?
For our Digital Transformation to succeed, there were a few pillars we needed to build, some mid-course, others that we still may add. But for us,
the main pillars are: People, Partners, Culture, Education, and Data/Change Management.
So the challenge was understanding each of their impacts, and how to build those pillars, while not forgetting that you still need to drive sales and traffic. So embarking on a Digital Transformation, and still having the team focusing on driving revenue, can be a challenge, but you all become stronger for it. Agile and scrum have also been helpful. We have a lean team, so getting stuff done quickly is paramount, and cross functional communication is vital.
What did the final solution look like and what were the broad benefits that it delivered?
I don't know if a Digital Transformation is ever complete. So we are definitely not finished, and we're definitely not close to the finish line. It's a long journey, and a challenging, yet fun process. I think the benefit was beginning to be thought of as a retailer truly embracing Digital. And when you think about the customer perception, the brand perception, and even recruiting talent, that is hugely important in today's competitive retail market.
What were some of the key elements that were responsible for the project's success? What processes have you found useful for implementing digital technologies?
The odds are that there's a percentage of people at a company that don't like change. And I've never seen a Digital Transformation succeed without change.
There's got to be change. That's the whole role of a transformation – to change, to evolve, to adapt. So culture plays an important role in Digital Transformation, and the speed at which it takes place.
Technology is an enabler in that speed and transformation. But without change management and a culture that embraces change and does not hang on to status quo thinking, technology won't be useful. So the process then becomes, use change management to create buy in, and layer on technology to become more efficient, or do something better.
What was your biggest takeaway from this project?
How crucial getting buy-in from different departments and different leaders is. It's not just about the Digital and Ecommerce teams setting a course and doing it ourselves. That's impossible and will fail. So the biggest takeaway for us was ensuring everyone's voice was heard, and making sure everyone was updated on our plans, including our external partners (i.e. vendors), who are an extension of our team.
What's next for you on your digital roadmap?
I think looking at the mobile space, and seeing how people are interacting and shopping on our sites, and how to make it even better. There's a big discussion on responsive vs native apps vs progressive web apps (PWAs). I'm in the PWA camp. I think in the next 2-3 years, most sites will be running on PWAs. It's the next evolution of mobile web. The challenge becomes that most organizations have finally embraced responsive and invested in that mobile experience. But the industry is changing so rapidly, that it may be time to invest (again) in mobile. So prepare your budgets.
Another thing to look at is the post purchase journey. How do you keep and retain the customers you already have, through loyalty, incentives, and excellent customer service. As budgets get tighter across retail, we have to play more in the retention space than the acquisition space. So keeping your customers coming back gets all the more crucial.
What's your go to resource – websites, newsletters, any other – that you use to stay in touch with the explosive changes happening in the digital space?
Great question. I use Feedly to curate all the content I want to read. I try to keep the list up to date. I have about 20 resources in my Feedly account. My go-to sites are: L2, Internet Retailing, Chief Marketing Technologist, and Retail Dive.
Read a good book lately on digital transformation that you'd like to recommend to us?
Hacking Marketing
by Scott Brinker. It's a must read for all organizations looking to outpace their competition through efficiency. It's about taking agile practices into the Marketing world.
Related
Our Digital Disruptors