Interview with Alain Leroy, SVP GSC Strategy & Transformation at Schneider Electric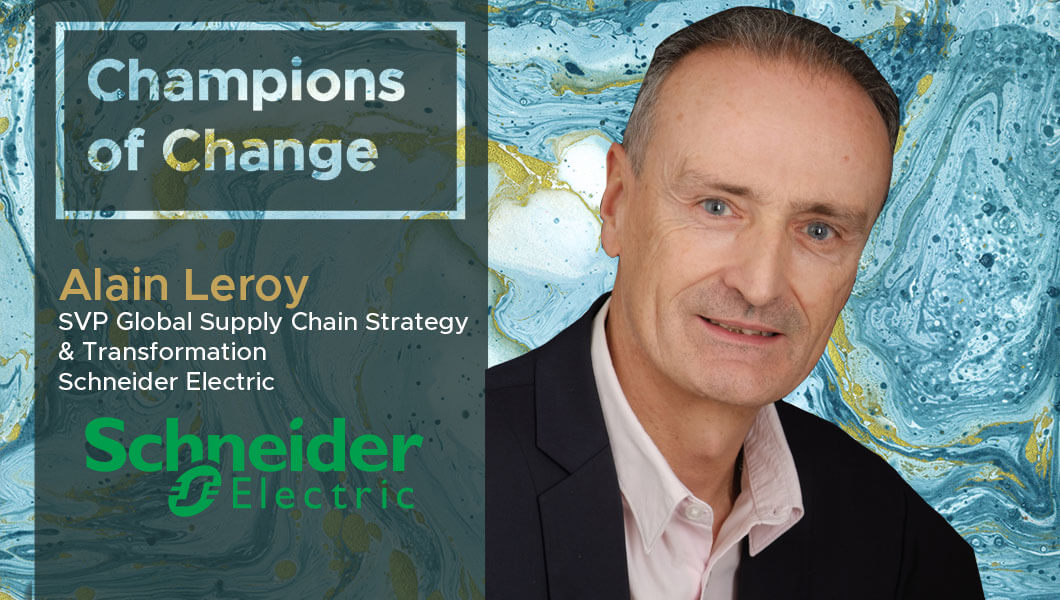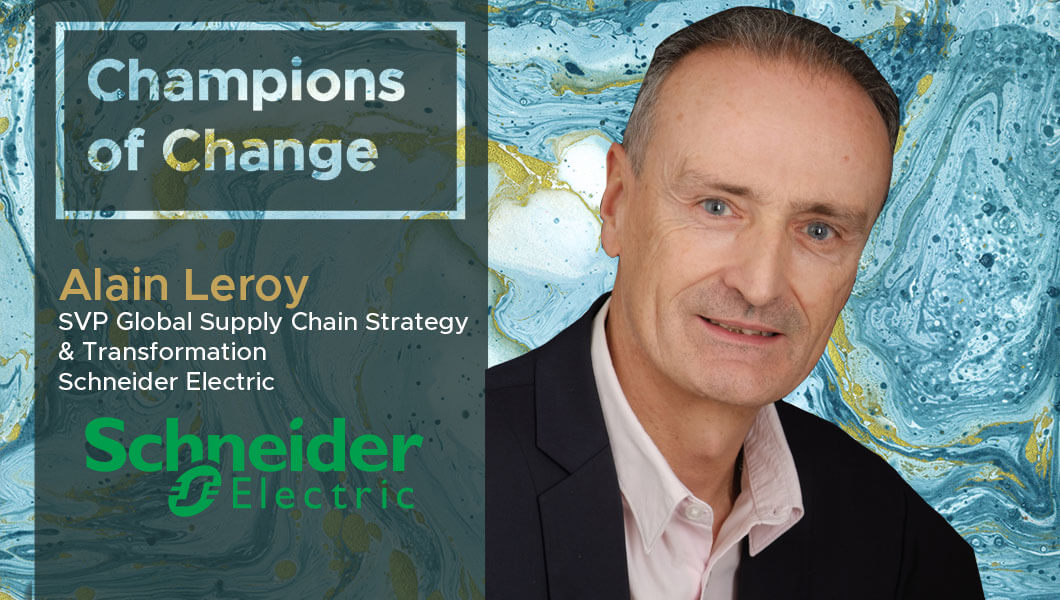 In this interview, Alain Leroy, SVP Global Supply Chain Strategy & Transformation at Schneider Electric, discusses the six digital accelerants for a sustainable supply chain strategy, the importance of management's support for the success of a digital transformation initiative and how an agile approach can help. Alain has been with Schneider Electric since the past 32 years. In his current role, he is responsible for leading the Supply Chain strategy and its transformation globally. Prior to that, he served as the Supply Chain SVP for Schneider Electric's Retail Division. Alain also has a rich experience working on Lean Manufacturing, Plant Management and Supply Chain Management in different countries. An engineering graduate from ENSAM, Alain completed leadership development with MESA Research Group, the School of Inspired Leadership and the INSEAD.
Thank you so much for taking our questions!  Tell us a little about your business and your specific role?
I'm the Senior VP for Supply Chain Strategy & Transformation at Schneider Electric, global specialists in Energy Management and Industrial Automation with $30 bn in  sales. Our large supply chain network includes 202 factories, 98 Distribution centers over 44 countries.
When did you first realize that you had an issue that needed a digital solution? What was the nature of the problem you set out to solve?
It wasn't exactly an issue we were hoping to resolve. Our ambition was to derive benefits from the digital solutions available to further improve our supply chain and be the first in this space to bring about this change. This is what drove us down the path to digital transformation of our supply chain operations. So, in early 2017 we redefined our new supply chain strategy to get the complete benefit of digitization in order to provide more value to our customers – we launched our Tailored Sustainable Connected 4.0 supply chain, which is structured around six digital accelerators:
Source: Our supplier web portal which connects our suppliers to Schneider Electric.
Make: We have implemented our customized software solution 'EcoStruxure', which enables us to manage buildings, power, IT, grid, machines and plant to provide improved efficiency and better visibility.
Schneider Electric EcoStruxure™ Platform Overview
Deliver: Besides implementing smart distribution centers using EcoStruxure, we're also developing digital delivery capabilities. Also, we monitor all distribution flows through a Transport Control Tower.
Plan: In addition to SIOP (Sales, Inventory, and Operations Planning), we are developing an Execution Control Tower to analyze end-to-end demand and consumption, enabling us to be more responsive to changing demands.
Care: This part of our smart supply chain initiative includes two core components:
Care for the planet – This is in keeping with Schneider Electric's promise to integrate sustainability in all aspects of our operations be it energy savings, circular supply chain or any other.
Care for the customer – We have decided to focus on end to end quality assurance: collecting quality data all along the process to build a full traceability for better visibility for our customers.
Today is Earth Overshoot Day meaning we are using 1.7 Earths in 2018. We are using more ecological resources than nature can regenerate. Learn how we can reverse this trend with active energy management and commercial technologies for major end markets: https://t.co/lT5R924BPd pic.twitter.com/8dUGx1nFRl

— Schneider Electric (@SchneiderElec) August 1, 2018
Innovate: To encourage innovation in all our operations, we have set up a Centre of Digital Innovation (CODI). Those working in this team test technologies relevant to our domains like supply chain logistics, manufacturing, artificial intelligence, machine learning. If the innovation is found appropriate, then we look at implementation and integration, otherwise move onto the next proof of concept quickly.
What were the challenges you faced at the time as you began the process of evaluating solutions?
The challenge was to move fast and find the best technical solutions. So, we built a team with a leader for each of the digital accelerators, and got a strong support from our own Schneider Digital organization. We started this journey with the idea of:
think big (strategy), but start small (pilots) and move fast (replicate results).
With these principles, we've been able to evaluate many solutions and select the best to implement and scale fast.
What did the final solution look like and what were the broad benefits that it delivered?
Our factories are smart, connected to suppliers thanks to an internet portal, delivering through smart DC and interacting digitally with customers. All operations are monitored through a comprehensive end-to-end control tower!
By August, we had 50% of our procurement spend going through our supplier portal, 35 factories now have performances monitored by EcoStruxure plant and power, and all flows to the customers are monitored by a transport control tower. We expect over 20% efficiency improvement.
What were some of the key elements that were responsible for the project's success? What processes have you found useful for implementing digital technologies?
A clear strategy validated by the top management to begin with, a small central team highly competent to chalk down the plans, and giving complete empowerment to the local teams for implementation. We are only at the beginning of this journey, but the momentum has been very good.
What was your biggest takeaway from this project?
Trusting your team is the key to speed and scale.
The agile approach – accept proof of concept, try fast, fail fast and move to next works well across all industries.
What's next for you on your digital roadmap?
We are working on an end-to-end execution control tower from suppliers to customers and an extensive end-to-end quality assurance system.
What's your go to resource – websites, newsletters, any other – that you use to stay in touch with the explosive changes happening in the digital space?
Our CODI has been the best way to keep in touch with the technology innovations market and identify newer ideas, as they scan through all channels of information.
Read a good book lately on digital transformation that you'd like to recommend to us?
Nathan Furr – "The Innovators method: Bringing the lean start-up into your organization"
Related
Our Digital Disruptors