Interview with Alen Paul Silverrstieen, President & CEO at Imagination Park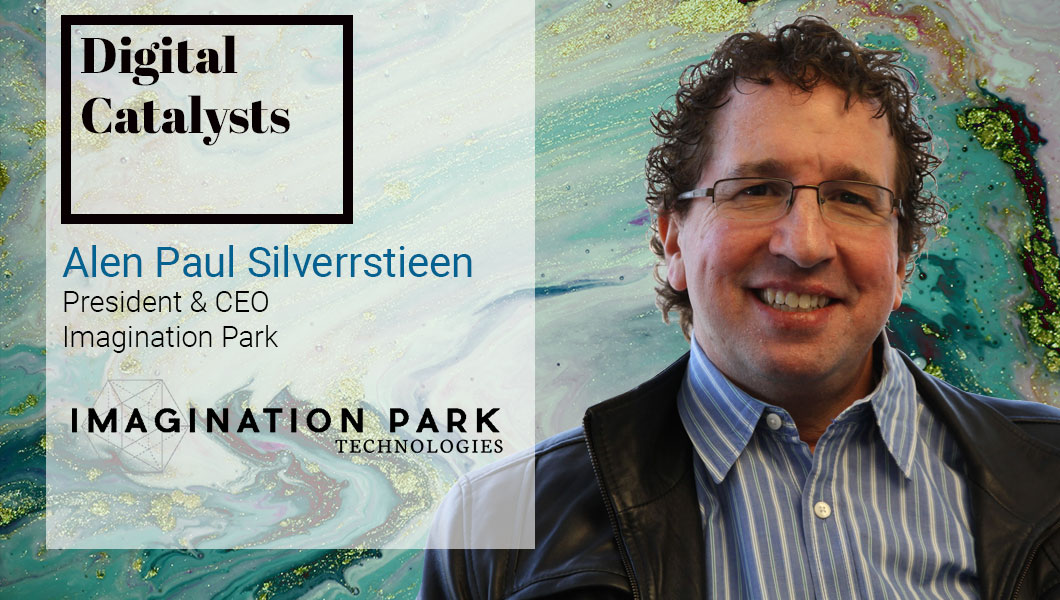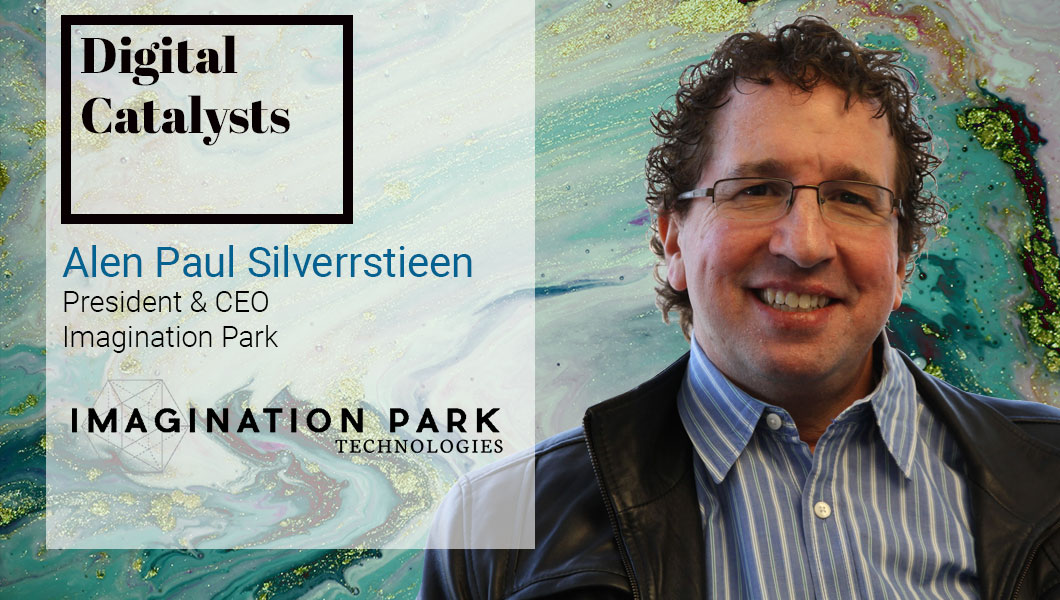 Alen Paul Silverrstieen is a global serial entrepreneur with over 20 years' experience and is the current CEO and founder of Imagination Park Technologies Inc., an augmented reality cloud enterprise platform. Previously, he founded Recruitment USA/India software firms which leveraged artificial intelligence and machine learning to optimize job candidate sourcing. Alen Paul has also represented one of the leading Indian post-production studios and contracted over 60 Hollywood movies in the past five years. Alen Paul is known as one of the pioneers of North American prepaid communications leading his company to an IPO on NASDAQ within three years and executing license deals with MLB, Marvel, NHL, Led Zeppelin, and many others
TDE: Tell us about your product/business and your specific role?
Alen Silverrstieen: Imagination Park Technologies Inc. (CSE: IP) (OTC: IPNFF) is an augmented reality (AR) cloud platform that enables businesses of any size to create and implement their own AR campaigns with no programming or technology experience. Every organization, from professional sports franchises to small retailers, can develop interactive AR campaigns that blend the real and digital worlds. Customers simply point their mobile device at logos, signs, buildings, products, landmarks and more to instantly engage videos, information, advertisements, coupons, 3D holograms and any interactive content hosted in the cloud and managed using a menu-driven portal. Integrated real-time analytics means that all customer interaction is tracked and measured in real-time. The AR Enterprise platform supports both IOS and Android mobile devices and upcoming wearable technologies. As the CEO, I oversee the daily operation of the business including sales, marketing, and maintain communications with the board of directors, shareholders and employees.
TDE: What is the core issue your product/technology aims to address and what sets it apart from the other players in the market?
Alen Silverrstieen: Mobile Augmented Reality is a gamechanger as a new digital communications channel, similar to when websites became popular a few decades ago. Imagination Park has developed a self-service AR enterprise platform, which allows any company to create an augmented reality campaign in minutes without the need for a programmer or technical team at an affordable price. These dynamic campaigns can include AR Stories (AR scavenger hunts), sweepstakes and even donations for fundraising. Each AR engagement can reward consumers instantly with trophy cards, such as coupons, e-digital collectibles and unique content. Companies can drive new revenue opportunities while capturing consumer data with full analytics reporting. With Apple, Google, Facebook, Microsoft and Amazon spending millions on AR research and products annually, our AR platform makes it easy and affordable for any company to take advantage of this exploding digital communications channel and engage consumers with a minimal investment and no technical resources.
TDE: What's the one industry, sector or role that your technology is most relevant to?
Alen Silverrstieen: Advertising and marketing agencies are at the front of the battleground for consumer activation and engagement with brands and sports teams focusing on measurable ROI for marketing campaigns.  Agencies, in the past, had been focused on leveraging websites, then social media, as new marketing platforms. Now comes mobile augmented reality which can utilize an estimated four billion plus mobile phones around the world. According to Statista, the digital advertising revenue worldwide is expected to achieve $330 billion annually. AR has a unique advantage to provide direct consumer interaction with focused campaigns which can be dynamically managed and reported. Augmented reality advertising and promotions are immersive and engaging, which generates emotional connections with consumers. By providing a mobile interaction, consumers enjoy brand messaging similar to a gaming experience. Ultimately, this builds brand awareness, which is being shared on social media and conveys a positive message to the target audience. Using AR to bring logos to life with video messages or animated objects provides a dynamic platform to continually convey a corporate message and/or the benefits of a product or service effectively and easily. Augmented reality uses a mobile app installed on your iOS or Android device. When consumers point their phone at a trigger (such as an object, sign, logo, picture, image or a GPS address), the app delivers content overlaid on the real world that person can see by looking at their phone. Consumers can then view or retrieve coupons, messages, commercials, logos and videos that support the sponsorship campaign.
With Augmented Reality, agencies can:
Bring a catalog, print advertisement, or brand package to life by using AR to offer special content, videos and even coupons.
Use an AR story (scavenger hunt) to encourage consumers to engage with a brand throughout a physical or digital location and enter a sweepstake to win a prize.
Advertising and promotional content can easily be changed anytime to promote specific campaigns, seasonal programs, or other special engagement opportunities.
Although many agencies know how to develop great brand campaigns, they struggle with measuring and documenting how effective they are for clients. Imagination Park's XenoPlay™ mobile app can provide agencies with activation details about who has viewed their ads, duration of engagement, and location of experience, for example. Agencies can send those details to their clients for further campaign fine-tuning and enhancement. Comprehensive AR platforms capture all of the analytics and data of each consumer AR engagement including email addresses as well as where and when they activated. Companies can then use that information to deliver coupons to be redeemed or provide further interaction with customers or potential customers. AR delivers an engaging sponsored experience, starting inside a physical location and then extending to the outside world long after the consumer has left. Ad Agencies need to start engaging immediately with AR with their clients as it is about to grow exponentially as a proven digital communications channel for the future.
TDE: What are some of the common challenges your customers approach you with?
Alen Silverrstieen: Brands and companies are looking for new effective activation methods for consumers to further develop and grow revenue and long-term digital relationships. Social media has become the primary channel for ongoing interactions, but that is becoming oversaturated with "noise" which dilutes the messaging and limits potential for a deeper interactive engagement. Augmented reality is positioned to become the new digital communication platform to customize unique marketing campaigns directly leveraging mobile phones. Campaigns can be measured in real-time and the true ROI per activation can be monitored and reported.
TDE: Using technology to effect transformation usually starts with a transformation of beliefs and mindsets. How do you consult enterprise clients and help them make that important shift in mindset to move ahead on a particular project or implementation?
Alen Silverrstieen: Augmented reality is new to many prospects in our target vertical markets of sports, advertising, retail, and fundraising. Besides educating decision-makers on the ROI benefits of AR, use-case examples specific for their target audience, and demonstrating client references, it is important to develop a proof of concept opportunity to work together to truly understand and measure the potential ROI for their company or brand.  Imagination Park Technologies works closely with clients to meet their budgetary requirements as we develop on initial AR activation programs that can expand further as targeted results are achieved. Usually once these businesses see a demo, we can see their wheels spinning as they recognize the capabilities that will help them solve their challenges. When they see it in action, their mindset almost automatically gets to the implementation process.
TDE: Give us an example of an enterprise meeting a digital transformation goal through your product?
Alen Silverrstieen: Imagination Park Technologies provided the Mall of America Holiday Augmented Reality Experience in December 2018 that told a holiday story using the XenoPlay™ mobile app, with a series of AR experiences. The goal was to provide a new interactive engagement to holiday shoppers and have them share it on social media. Visitors were able to discover AR experiences throughout Mall of America on their mobile phones. Each experience incorporated the oversized toy décor to tell part of the holiday story that the mall placed throughout its 5.6 million square foot property during the holiday season. Upon completing the story, guests were rewarded by engaging with the entire AR experience and the opportunity to enter to win a shopping spree at Mall of America. These engagements were designed to encourage guests to share their experiences on social media and visit more locations than their typical mall visit.
TDE: What present or upcoming technologies you think have the maximum potential to accelerate enterprise digital transformation?
Alen Silverrstieen: The enterprise workplace will begin transitioning to a hybrid environment of utilizing augmented reality and mixed reality to improve productivity, enhance employee training, and develop new marketing activation programs. By implementing mobile augmented reality, advertising and marketing will greatly enhance consumer engagement through gamification.  AR provides unique interactions while capturing consumer data in real-time during the marketing campaign. AR will become an important platform opportunity for brands and sports teams to directly increase revenue opportunities and measure the results instantly. Event locations, stadiums and arena can use Imagination Park as an entirely new platform to sell advertising space on, couponing, sampling or brand awareness.
Augmented reality also has the potential to revolutionize the way employees are trained in assembly and manufacturing. This is particularly true when it comes to occupations that involve the handling of industrial equipment and machinery. When beacons and cloud data are tied to fully augmented reality, it enables an effective way to identify where a physical object is. An AR-assisted environment will allow workers to interactively learn and train in a safe and controlled setting that allows for simulating real-life scenarios in a guided learning environment prior to putting them in live production settings. Additionally, augmented reality and mixed reality will be leveraging artificial intelligence (AI) to improve consumer engagements and increase marketing campaign effectiveness at the retail POS. AI can monitor and predict AR digital coupon redemption while providing insight for coupon performance improvement. A standard AR retail experience can be a consumer pointing their mobile phone at a sign, product tag, or display, which will trigger a video, information or complimentary sales options. By leveraging data of initial AR proof of concept engagements, brands can adjust campaigns in real-time to increase the effective ROI. For example, AI can monitor the activation effectiveness in real-time and provide recommendations to improve less consumer engaged AR experiences. Ultimately, AI can manage the AR campaigns and report back in real-time the engagement analytics on a dashboard.
Using AI chat bots, AR experiences can provide the next level interaction to the activation. For example, sports team can create an AR hologram of their mascot who then can become the stadium/arena concierge for fans. Fans can verbally ask questions of the AR 2D/3D object through their phones and the AR mascot, leveraging an FAQ database hosted in the cloud, can provide real-time audio responses. For example, a fan can ask "where do I get a hamburger or buy a bobblehead" and the AR AI Chatbot can provide the best location response instantly. That is AR at the next level and can be delivered today! With an AR mobile device engagement, our enterprise cloud-based AR platform captures all the campaign analytics such as AR activations, location, time, device, unique user, and other related consumer user data.  Leveraging machine learning, companies can dynamically adjust their campaigns to increase active engagements per user by feeding in consumer behavior results through the models to predict best received AR experiences which result in an optimal "call to action". By fine tuning active AR campaigns, the company ROI can be increased incrementally for the campaign duration and increase the effectiveness of future ones.
AI will also further integrate with AR in the future to personalize the AR experiences as people experience the world around them. AR will be transitioning from mobile devices to wearables (i.e. headsets) in the next 5 years, and as people walk through retail and city environments, personalized advertisements and promotions will be delivered directly to their lenses powered through the mobile device blue tooth connection. That is bringing us to the environment similar to the Tom Cruise movie, Minority Report. 
TDE: What's your go to resource – websites, newsletters, any other – that you use to stay in touch with the explosive changes happening in the digital space?
Alen Silverrstieen: There are several highly regarded tech-focused media outlets including Techcrunch, TheNextWeb, and Wired which provide timely and succinct updates on augmented and mixed reality.  Recently, Wired published a comprehensive futuristic article on augmented reality by Kevin Kelly which is a must read for anyone in the AR/MR/XR marketplace. I also check Twitter daily searching #AugmentedReality #AR for competitive announcements and new technology use cases for potential clients.
TDE: Read a good book lately on digital transformation that you'd like to recommend to us?
Alen Silverrstieen: The Fourth Transformation Paperback – December 7, 2016  by Robert Scoble  (Author), Shel Israel
When Imagination Park Technologies made the strategic decision to develop a self-service SaaS platform for businesses to create their own augmented reality experiences, I performed a significant amount of industry research and found The Fourth Transformation one of the best books at the time on AR. It does an excellent job explaining the landscape, technical terms in easy to understand language as well as current and future augmented reality applications in existing and new vertical market opportunities. I have recommended this book to many people to develop a fundamental knowledge of AR and the next frontier for this amazing interactive and engagement technology.
For more DX insights follow on LinkedIn
Related
Our Digital Disruptors