Interview with Anthony Reynolds, Chief Executive Officer, at Altify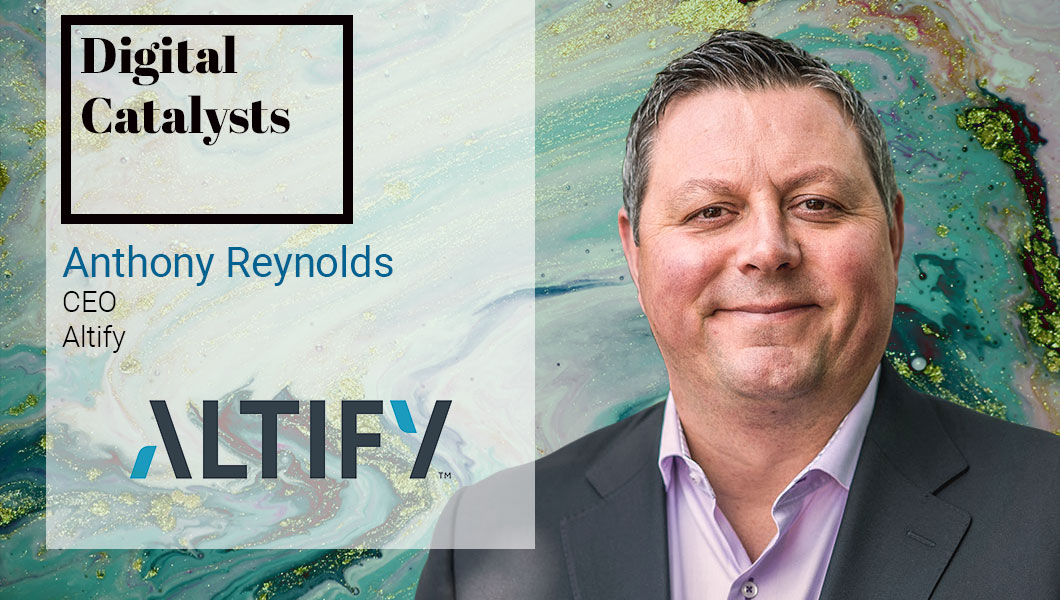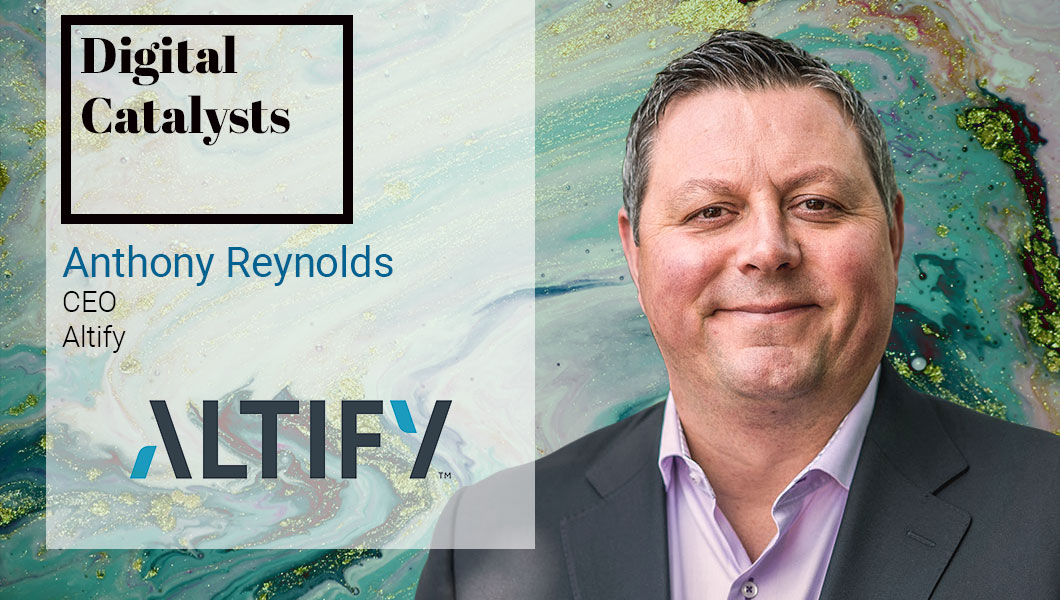 Prior to Altify, Anthony was the Executive Vice President and Chief Customer Officer at Anaplan when the company grew from 250 to 650 employees. He also served as a General Manager and senior executive at SAP and Business Objects. Anthony is on the Board of the Los Gatos and Saratoga Recreation and resides in Los Gatos, California. He holds an MBA from the University of Cambridge in England and a Bachelor of Commerce and Business Administration from the University of British Columbia in Canada. 
TDE: What is the core issue your product/technology aims to address and what sets it apart from the other players in the market?
Anthony Reynolds: The core challenge for Chief Revenue Officers and sales leaders in B2B complex selling is how to deliver a great experience to their end customer. Customers today are highly educated, empowered and they expect vendors to deliver value and business Impact. The Altify approach  ensures that both companies and customers gain more value from commercial relationships using data-driven insights, guided selling and AI integration for the full revenue team. CRO combines sales strategy and best practices, sales methodology, and augmented intelligence to create a modern approach to sales that puts customers at the center of the business.
TDE: What's the one industry, sector or role that your technology is most relevant to?
Anthony Reynolds: Our main focus is the office of the Chief Revenue Officer or whoever owns the revenue number or large B2B companies selling complex products and solutions.
TDE: What are some of the common challenges your customers approach you with?
Anthony Reynolds: Customers come to Altify because they need help with account Planning or with deal execution and forecasting challenges. When companies need more pipeline, they get focused on account planning. When they see deal velocity decreasing and have challenges with win rates and deal size, often this points back to gaps in process, methodology and overall pipeline management. We often see issues with forecast accuracy, which points to the need for better methodology and qualification. Many times we discover our customers need help to completely transform their sales process and go to market model. Transforming these processes includes implementing a data-driven approach that augments human intelligence with AI, activating the full revenue team, and building a repeatable model driven by guided selling.
TDE: Using technology to effect transformation usually starts with a transformation of beliefs and mindsets. How do you consult enterprise clients and help them make that important shift in mindset to move ahead on a particular project or implementation?
Anthony Reynolds: Change is hard for any organization, so we work with our clients to help them to evolve into a customer first mindset for customer revenue optimization with focus on mindsets, skill sets and toolsets to help them deliver long term success.
Changing Mindset: Changing mindset in the sales organization and the revenue team is really about an evolution in how to think about the customer. We help companies move from an inside-out "what am I going to sell today" mindset to an outside-in mindset of "what problem is the customer trying to solve, and how can we help?" Once everyone gets focused on the customer's desired needs and outcomes, they are much more likely to craft the right solutions and unlock long term value for the customer and their organization.
Building the Skill Sets: Great selling is really about understanding the customer – their people and their problems. Altify's CRO approach is about building skills and delivering coaching in the application to help every level improve their execution and their performance. Methodology is a key part of the equation to help organizations speak the same language around accounts and opportunities to better qualify, navigate and execute based on how the customer wants to buy and what they need.
Enabling Tool Sets: Making change stick and delivering outcomes requires the team to collaborate and tht behaviors and best practice get reinforced in daily behaviors. Altify's CRO apps live natively in Salesforce, so sales and the extended revenue team use them everyday. And our augmented intelligence guides the team with account planning and deal coaching to everyone get better.
TDE: Give us an example of an enterprise meeting a digital transformation goal through your product?
Anthony Reynolds: Autodesk has been on a multi-year journey of sales transformation. They were a pioneer of CAD software, and their market has evolved to Business Information Management (BIM). Essentially, if you design and make things, from office buildings to technology to movies, it's likely it was designed using Autodesk. As their business has expanded, it has also transformed from on-premise to cloud, and from perpetual licensing models to subscription. We've worked with them over the last several years on their journey to become a customer company. Autodesk is a great example of a company who has navigated this transformation while also growing and expanding their business both organically and through acquisition. What Autodesk has found is that when utilize methodology, consistent process and technology as part of a revenue optimization strategy, they see higher win rates and larger deal sizes. For example, when they apply consistent sales methodology in the form of their "critical six" qualification questions that they capture in Altify, their win rate on those opportunities goes up by 84% across all deals. And in larger deals where they can identify three mentors or supporters, their win rate in $1M+ opportunities goes up 137%. These dramatic improvements in sales execution are excellent examples about what's possible with customer revenue optimization strategy.
TDE: What present or upcoming technologies you think have the maximum potential to accelerate enterprise digital transformation?
Anthony Reynolds: In the sales industry, enterprise digital transformation is going to be a combination of better data and better management. Companies are too quick to grab the shiny new tech and drop it into their sales processes without actually understanding if that tech is a difference maker, or just another interruption to workflow. AI is a great example of present and upcoming tech that can accelerate digital transformation, while also hindering a company's ability to elevate its sales strategy. Simply having AI does not guarantee success, which is why better management is going to be just as important: do leaders of revenue teams understand which pieces of tech will help their team, or are they looking for a quick fix? Another thing that is interesting – and a direct reflection of the recent Tableau acquisition by Salesforce – is data visualization. For most, there is a huge gap between having data and understanding what that data is telling you. It's not only important for internal revenue teams, but can be a driving factor for customer communications as well.
TDE: What's your go to resource – websites, newsletters, any other – that you use to stay in touch with the explosive changes happening in the digital space?
Anthony Reynolds: I'm an avid reader and read a variety of websites, newsletters and blogs, but we're fortunate to have some of the biggest and most successful companies in the world as clients. This includes not just tech companies like Workday, Autodesk, Tableau and Software AG, but also companies like CenturyLink, GE, JCI and BT. Some of the best insight I get is from senior leaders talking to me about what they are evaluating, what moves the needs and where to pay attention.
TDE: Read a good book lately on digital transformation that you'd like to recommend to us?
Anthony Reynolds: I'm biased here, but the best read on digital transformation for revenue teams is Digital Transformation in a Customer First World, by Donal Daly, our founder here at Altify and currently on our board. This books has a tremendous about of depth for anyone trying to get their arms around digital transformation and what it means for sales teams. The other book I'd recommend is Leaders Eat Last, by Simon Sinek. For all the excitement, disruption and innovation in the marketplace, business, and certainly selling in B2B is all about the people.
For more DX insights, follow Anthony Reynolds on LinkedIn and Twitter
Related
Our Digital Disruptors