Interview with Aoife McIlraith, Senior Global Director of Marketing and Search Services at Lionbridge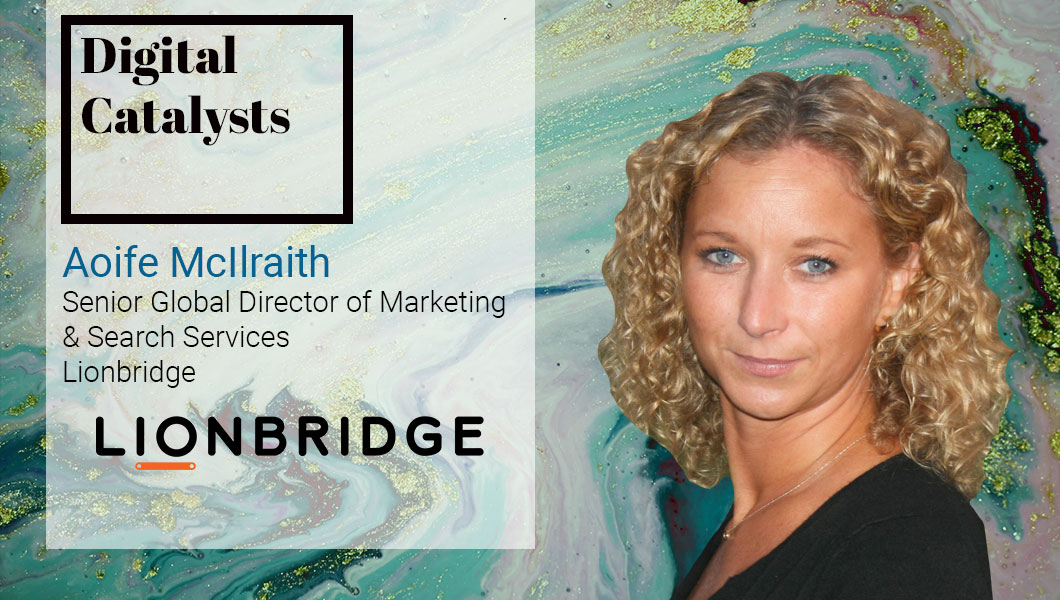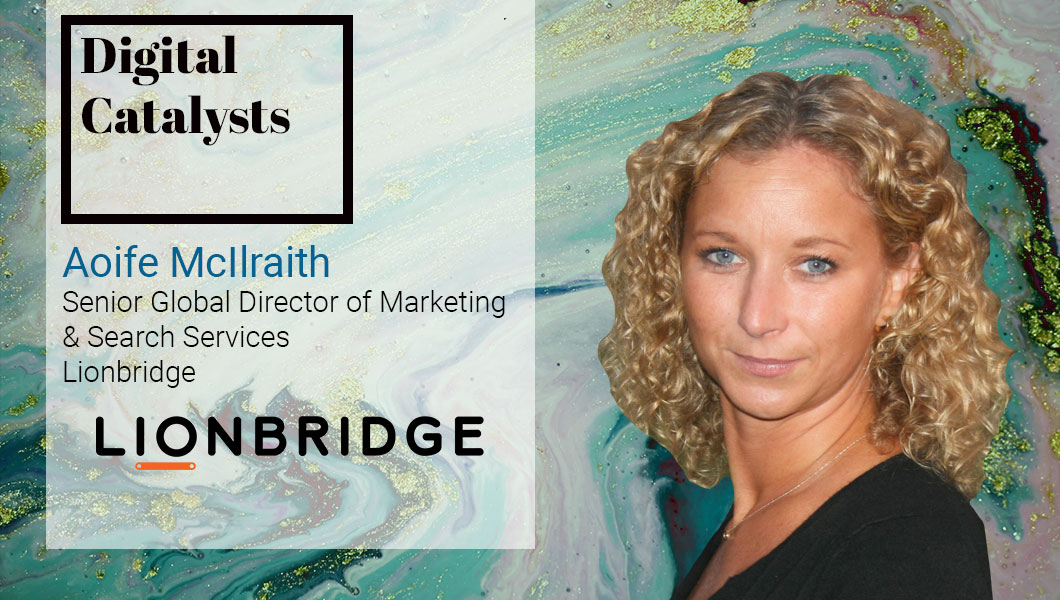 Aoife McIlraith, Senior Global Director of Marketing and Search Services at Lionbridge, talks about navigating today's complex digital world and the trend of digital assistants and voice search and their impact on organizations with global audiences. In addition to her role in marketing, Aoife is a programmer and developer, providing a powerful and unique understanding of technology and digital marketing to Lionbridge customers. She has spoken at numerous international marketing conferences, most recently being at DMEXCO and the Sirius Decisions conference on the dramatic global rise of digital assistants and voice search. Before joining Lionbridge in 2011, Aoife worked in both, B2B and B2C marketing, technology, public relations and communications positions in San Francisco and the Ireland. She has postgraduate degrees and certifications in web science technologies and digital marketing from National College of Ireland and the Digital Marketing Institute
TDE: Tell us about your product/business and your specific role.
Aoife McIlraith: Lionbridge is one of the world's most trusted globalization platforms, with our core offerings focusing on marketing, testing, translation, machine intelligence and localization.
As the senior global director of marketing and search services at Lionbridge, I provide consultancy to clients of all sizes, within all verticals, to help them navigate the complex digital world. This includes digital globalization, digital transformations, multilingual global marketing and global campaign strategies.
I help define global best practices and campaign strategies for content adaptation, localization and optimization for digital publishing to enable brands to surface the right content, to the right local audience, in the right place, at the right time.
Ultimately, I work with brands to enable seamless globally optimized content delivery processes for an omni-channel user experience.
Along with multilingual content strategies, we match that to content discoverability services. We help brands create and localize content that will resonate with local markets, but also create search strategies to ensure that their content is also indexed, ranked and found – this is what makes us valuable to our clients.
TDE: What is the core issue your technology aims to address and what sets it apart from the other players in the market?
Aoife McIlraith: Companies seek to build meaningful relationships with customers across the globe. This means engaging them in their native languages while guaranteeing messaging remains on-brand and highly relevant to their target audience.
The breadth of our offerings is unique because we can use our technology and services to provide traditional translation of websites and marketing collateral, and also transcreate company products (like video games, clinical trials, legal documentation, etc.) and develop a strategy for their digital marketing tactics.
We're a one-stop shop for multilingual digital marketing, translation, localization and testing to help companies achieve cultural resonance in more than 300 languages by leveraging our network of 500,000 experts in 5,000+ cities.
TDE: What's the one industry, sector or role that your technology is most relevant to?
Aoife McIlraith: Lionbridge specializes in gaming, life sciences, finance, legal, consumer goods and e-learning. A major trend we're seeing is a demand in strategies for digital assistants and voice search. If a company wants to engage a new audience in a different language, we can help them, regardless of their industry or sector. We partner with our clients to audit their current digital content based on performance and resonance. Then we apply our best practices, technologies and services to create a new digital strategy.
TDE: What are some of the common challenges your customers approach you with?
Aoife McIlraith: While the needs and industries may diverse, we're seeing an increase in customers seeking help in implementing marketing strategies within the multilingual voice search space. It's not a surprise, as their consumers are frequently using digital voice assistants more and more, demanding information and product recommendations instantly.
We're helping our clients seize this opportunity with our global digital marketing services team. We're providing strategies that will help clients rank higher within voice search results and optimize future content to be searchable through digital assistants.
Overall, we make sure our customers aren't leaving opportunities (and sales) on the table by helping them apply best practices in content and SEO to engage audiences on new channels.
TDE: Using technology to affect transformation usually starts with a transformation of beliefs and mindsets. How do you consult enterprise clients and help them make that important shift in mindset to move ahead on a particular project or implementation?
Aoife McIlraith: We have always instilled in our customers the importance of a globalized, customer-centric mindset and how this opens doors to new opportunities for their business. Our counsel and services enable global companies to think about the bigger picture and allow them to scale their offerings to reach just about any market in the world.
TDE: Give us an example of an enterprise meeting a digital transformation goal through your technology?
Aoife McIlraith: Outside of voice marketing, we have provided the data to train one leading voice assistant system AI applications in 300+ languages, including 450+ dialects and indigenous languages spoken in remote areas of the world with limited available speakers.
TDE: What present or upcoming technologies do you think have the potential to accelerate enterprise digital transformation?
Aoife McIlraith: I believe voice search technology will continue to transform business and the way companies not only reach their consumers, but how they truly build a personalized brand experience. The industry is set to be worth $3B in the next two years and the market shows no sign of slowing, especially with the worldwide smart speaker sales volume having expanded upwards of 187% in the last year.
Voice Commerce is already big in the U.S. with Alexa leading the way, however this has not scaled globally yet. Brands have the chance to be positioned in front of customers ready to purchase whatever their devices suggest to them.
Some brands have been quick to take advantage of low-hanging fruit and ranking for voice searches made in English. However, with only 20% of the world speaking English, the lack of multilingual results has left billions of potential customers without an answer when they ask a digital assistant a question.
As long as global brands continue to adapt and use companies like Lionbridge to strategically reach consumers in untapped markets, this technology will accelerate change.
TDE: What's your go to resource – websites, newsletters, any other – that you use to stay in touch with the explosive changes happening in the digital space?  Read a good book lately on digital transformation that you'd like to recommend to us?
Aoife McIlraith: I have a great network – the top global search and digital experts that I have very active discussions with, especially when there is a search engine algorithm update! I also find a lot of real time changes through Twitter and search for topics insights on LinkedIn. I sign up to get communications directly from brands and watch some forums for certain topics.
For websites I tend to look for certain sites that relate to digital channels and this may change depending on topic and region. For global SEO I go to Moz and searchengineland, in the U.K. I've found great content on Digital Doughnut. For technology news, I usually go to TechCrunch or tech news vlogs. For global data and white papers, GlobalWebIndex and Econsultancy produce some really great insights.
As digital practices are always changing, I do a lot of research on Google around a new topics and review lots of different source information.  I ultimately filter all the information to decipher if these developments, products, channels or services will actually drive change or have a global impact for our customers.
For more DX insights follow Aoife McIlraith on LinkedIn and Twitter
Related
Our Digital Disruptors