Interview with Ashruti Singh, Director of Marketing at SAP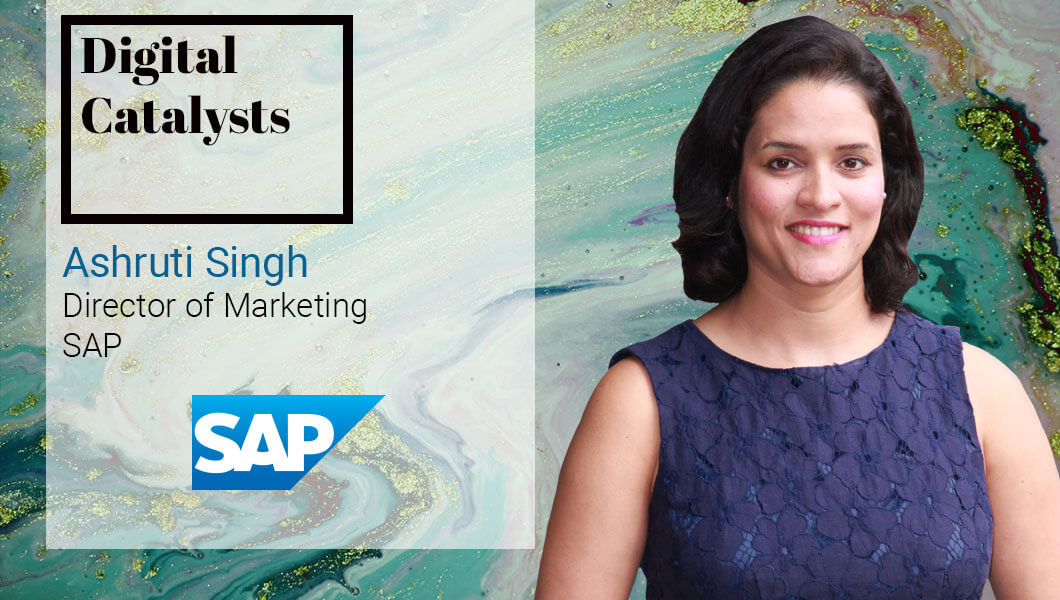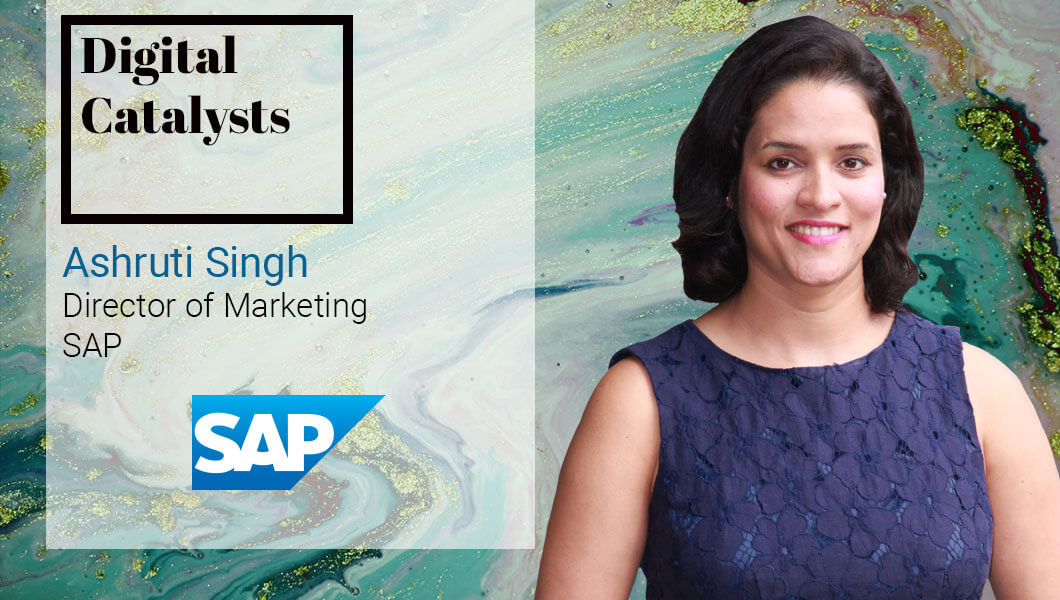 In this interview, Ashruti Singh, Director of Marketing at SAP speaks about using tech platforms to 'out-innovate' the competition and how initial quick wins should be celebrated as part of a larger strategy in DX. Ashruti Singh is a seasoned business professional in technology and telecom industry currently working on SAP's innovation engine – SAP Cloud Platform. Prior to this role, she has been assisting start-ups with product management and marketing strategies to successfully take their unique products out to the market.
Tell us about your product/business and your specific role?
SAP Cloud Platform
is an open enterprise platform-as-a-service (PaaS) offering that delivers in-memory capabilities, core platform services, and unique microservices for building and extending intelligent, mobile-enabled cloud applications. The platform is designed to accelerate digital transformation by helping customers quickly, easily, and economically develop the exact application you need – quickly – without investing in on-premise infrastructure. Based on open standards, SAP Cloud Platform offers complete flexibility and control over your choice of clouds, frameworks, and applications.
I'm the Director of Marketing at SAP and have over 15 years of experience in product management and marketing in the high-tech industry. I am currently leading marketing for UX services and development tools on SAP Cloud Platform. I also have a rich previous experience in telecom industry of go-to-market planning, product management, marketing as well as corporate strategy.
What is the core issue your product/technology aims to address and what sets it apart from the other players in the market?
There is no doubt that the world at large is undergoing massive disruption and it's impacting every aspect of our lives. Over the last years "digital native" companies have changed traditional industries, with the phrase "getting Ubered" becoming part of every company's lexicon. More and more enterprises are viewing themselves as software companies than ever before.  As per a KPMG study 72% of CEOs see the next 3 years as more critical for business than the last 50 years!
Cloud-based enterprise applications powered by advanced technologies are the central nervous system of the intelligent enterprise of the 21st century. SAP is at the forefront of platform-led innovation. Using SAP Cloud Platform our customers deliver continuous innovation – to out-innovate and stay well ahead of competitors. There are many reasons why SAP Cloud Platform addresses Digital Transformation demands, here is how.
First, cloud computing, analytics, mobility, IOT are the technology pillars of digital transformation. There is a growing set of "next generation" technologies such as blockchain, machine learning, VR/AR and natural language processing that Digital Transformation projects will encompass. Moreover, customers do not know how these technologies will evolve and be put to use in the next few years. SAP Cloud Platform provides them a common enterprise platform for all the breadth of services of now and of the future, so customers can fail-fast with DX projects.
Secondly, one of the challenges of a DX project is heterogeneity of solutions and technologies, full range of demanding requirements for various dimensions of the project. SAP Cloud Platform offers a set of abstracted and integrated tools and services that inter-operate and accelerate digital transformation projects. We give developers the tools they need to quickly develop new apps, not sys-admin tools for provisioning a Virtual Machine on a hyperscale vendor.
Third, core enterprise resource planning processes or supply chain management processes have a critical role to play, but you must be able to integrate seamlessly with these new digital technologies. SAP Cloud Platform provides excellent integration with SAP systems – with hundreds of pre-built integration flows across many of our on-premises and SaaS applications.
Last and the best, SAP Cloud Platform is a PaaS offering with business context. SAP is known for its industry knowledge and ability to automate business processes. If we pick one of the SAP Cloud Platform services, let's say Machine Learning, we are driving automation even further for processes involving large data sets and unstructured data. For example, on accounts receivable processes to eliminate duplication or human errors.
What are some of the common challenges your customers approach you with?
SAP Cloud Platform is the open agility platform of SAP.
For a successful digital transformation customers need to modernize the IT core to drive down costs and increase efficiency and simultaneously experiment and innovate at the edge to create new business opportunities and value.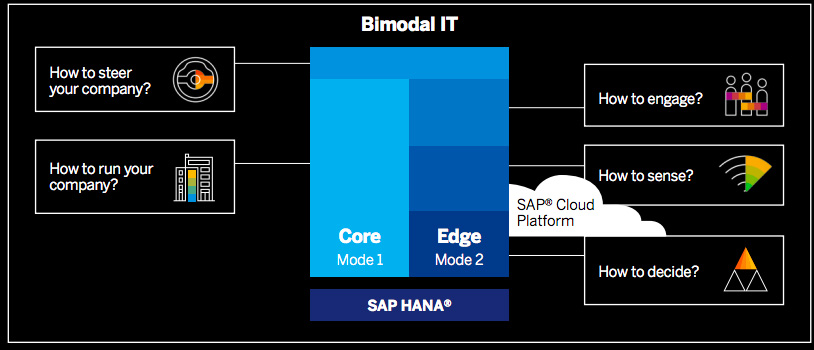 Modernize IT core to reduce costs, increase efficiency and innovate at the edge
Customers get to innovate without affecting their mission-critical applications. One such customer example showcases the challenges the customers addressed thorough the platform.
Sika is a big automotive and construction manufacturing organisation. Automotive and construction companies around the globe rely on Sika for their materials. They have built many sophisticated custom SAP Fiori apps to refresh user experience, these are integrated with a view of real-time stock levels, customer order details, and customer service tickets. They provide all this information together to their sales reps around the globe on a tablet and that helped them negotiate faster and better with their customers. Sales teams could comply with processes but still offer discounts right there and then, not having to go through offline paper work and time consuming accounting process. They are integrating with an IOT service for providing real-time stock levels. They had an accelerated development lifecycle because they built SAP Fiori apps with Build, a prototyping tool. Build is integrated with SAP Web IDE where the prototype created with Build can be moved to web ide and it gives you auto generated code to work on. The whole project took 8 weeks to implement and roll out!
 Discover the 3 use cases that Sika has created with SAP Cloud Platform
Using technology to effect transformation usually starts with a transformation of beliefs and mindsets. How do you consult enterprise clients and help them make that important shift in mindset to move ahead on a particular project or implementation?
Digital transformation of course extends beyond a group of technologies and also encompasses the implementation of practices and methodologies designed to create real operational changes. The first step of many transformational projects is to identify the problem correctly and you need to deliver some quick wins as a part of larger strategy. Only after some established success you can make necessary adjustments to change company's culture and get the right skills and technology in place. So bottom line, we see many customers embracing Digital Transformation as a series of small but critical DX project wins, not necessarily as a Big Bang of changing how the company does business.
Design phase of a project is the first step and we can safely say it is the most crucial of all. Identifying the problem right at the start is important both for the project's success and budget. Design-led development process sets many customers on the right path. There are many services and tools that help you get it right. My favorite one is BUILD, it is a design and prototyping tool service on SAP Cloud Platform. BUILD allows a non-technical user to rapidly capture ideas via uploaded images and bring them to life with hotspots for application interactions. You can validate your ideas within an organization by user studies that can be sent out to remote users and stakeholders for early feedback and get it right at the start of a project. BUILD has embedded Design Thinking learning and supports a Design-Led Development process.
Give us an example of an enterprise meeting a digital transformation goal through your product?
MAPAL is a digital transformation story in true sense. MAPAL is a leading provider of precision tools to the automotive, aerospace and High Tech industries, founded way back in the 1950s. Recently, it saw a new opportunity in the C-tool space. C-tools are items such as solid carbide cutters and precision clamping chucks, which are considered essential for many precision tooling businesses and purchased on a regular basis. Due to the high volume of transactions involved, the C-tool business generates massive amounts of data – process data, inventory data, master data – that is manually exchanged between parties across the tool ecosystem. MAPAL saw the opportunity to take collaboration across this ecosystem to a new level.
They built a "data highway" using SAP Cloud Platform where customers and suppliers would network and jointly maintain and use tool-related data based on clearly defined guidelines and access rights. c-Com combines all data related to a tool in a central SAP HANA database in the cloud where it is securely maintained across the tool's life cycle. This information is always up-to-date and can be accessed quickly and easily through the cloud solution. Users get an unprecedented, unobstructed view of every single tool and can use these insights to add value to the business in a variety of ways.
The procurement of tools can now be harmonized across locations, leading to a more cost-effective purchasing process and optimized stock levels. Users gain a better understanding of excess stock and shortage thus reducing or avoiding tying up capital in unused stock and production downtime. Furthermore, they are able to benchmark locations and to explore options for standardizing and fine-tuning processes. In turn, suppliers that have developed new services for their tools can offer them to customers via c-Com. They can document their test results and make them available to clients. API management technology ensures that connecting the open platform to a back-end system – either SAP or non-SAP software.
MAPAL managed tool data by digitally linking customers and suppliers, make intelligent IoT scenarios, and create intuitive and efficient apps. They even created a new organisation called c-Com to support the vision, distinct from their traditional business of manufacturing precision tools. They now have a virtual C-tool community that can exchange ideas and information – and this makes c-Com extremely sticky as the supplier of C-tools.  That is a complete transformation!
What's the one industry, sector or role that your technology is most relevant to?
I don't think there is any industry where we don't see growth in adoption of PaaS or SAP Cloud Platform including the most conservative industries such as Defence and Oil and Gas.
What present or upcoming technologies you think have the maximum potential to accelerate enterprise digital transformation?
Digital transformation initiatives have accentuated the gap between demand for new applications and roll out of new applications due to limited IT resources, methods and tools for the past. This gap needs to be squeezed; new development tools and processes and cloud native development will address these and accelerate the speed of development and delivery.
We often hear our customers talk about lack of development skills. Low code development platforms will help grow the addressable base of developers. These tools will achieve progressively enhanced levels of sophistication and simplicity for new age developers.
With cloud computing and infrastructure, container-native development is an imperative and there will be a focus on improving developers ability to work with cloud-based data stores and application services. Specialized tools and capabilities will emerge to help developers understand the dependencies and relationships between different constitutive containers and expeditiously debug applications that are composed of a multitude of containers.
What's your go to resource – websites, newsletters, any other – that you use to stay in touch with the explosive changes happening in the digital space?
My favourite websites which are always inspiring are McKinsey & Company, Sloan Review and Knowledge@Wharton.
Read a good book lately on digital transformation that you'd like to recommend to us?
Not books, but I would like to recommend a few articles that explain digital transformation very well and also show digital transformation failures – as I believe we all learn more from failure than success.
Related
Our Digital Disruptors