Interview with Bradford Behr, CTO at Tornado Spectral Systems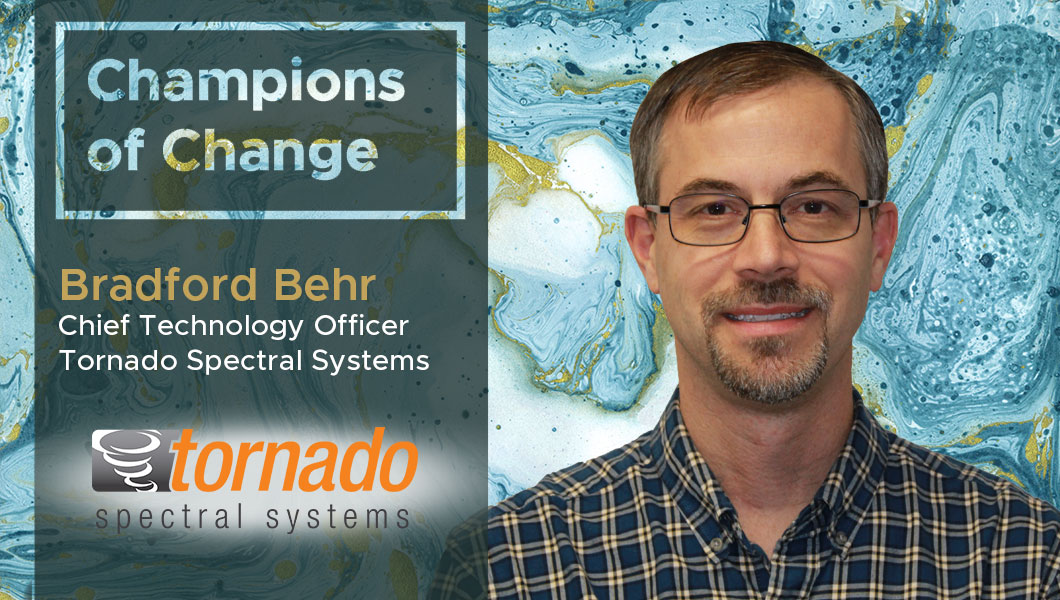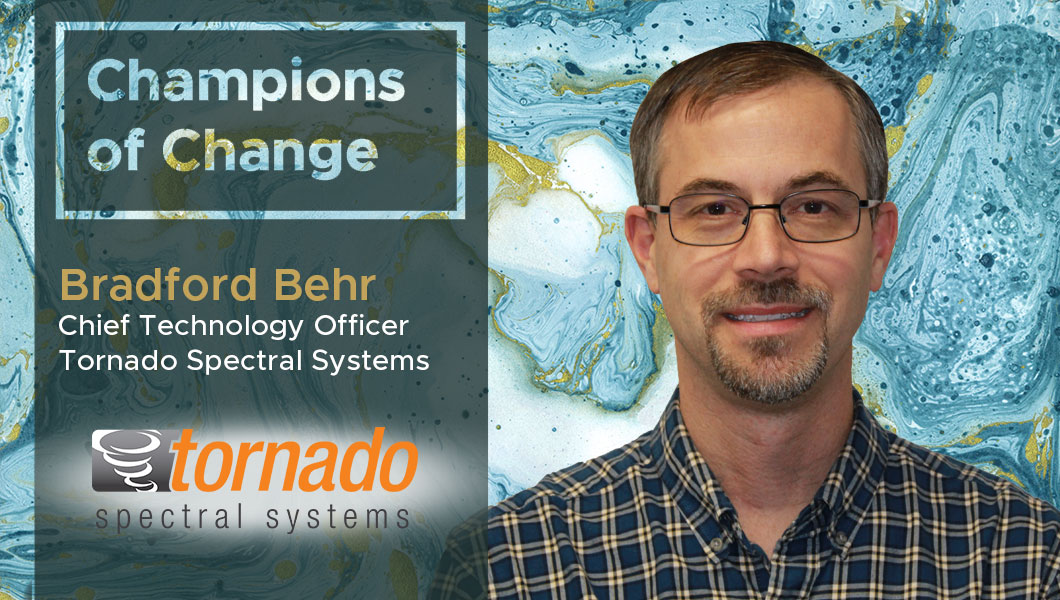 As Chief Technology Officer, Bradford Behr is guiding the company's technology development roadmap and identifying potential additions to the intellectual property portfolio. In his prior role as TSS Senior Optical Scientist he was responsible for optical engineering and system architecture for many of Tornado's prior and current spectroscopy products including the HyperFlux™ PRO Plus 785 and OCT-Prime. Dr. Behr received his BA in Astronomy from Williams College and his PhD in Astrophysics from the California Institute of Technology. He held postdoctoral research fellowships at The University of Texas McDonald Observatory and the U.S. Naval Observatory, pioneering new analysis methods and cutting-edge astronomical spectrometer designs for quantifying the chemical composition and dynamics of stars in our galaxy. Much of this work has translated directly to Tornado's advancement of the state-of-the-art for terrestrial spectroscopy applications such as real-time monitoring and industrial process analytics
TDE: Thank you so much for taking our questions! Tell us a little about your business and its history?
Bradford Behr: Tornado Spectral Systems is a Toronto-based startup that designs, manufactures, and sells optical spectrometer systems, primarily for Raman spectroscopy. Our company was incorporated in 2013 after our HTVS (high-throughput virtual slit) technology was invented and proven in the lab by our research group at the University of Waterloo. In a nutshell, Tornado's HTVS technology allows a spectrometer to collect 10 times more photons than the previous state-of-the-art equipment, which in turn improves the precision of the measurement of chemicals in a mixture. The Raman spectroscopy technique has been around for almost 100 years, but our innovation enables many real-time process monitoring applications that were previously impossible for Raman. Our systems can be used in the pharmaceutical and biopharmaceutical sectors, fine chemical production, petrochemicals, and any other scenario where you need fast, accurate, high-resolution measurements of molecular composition.
TDE: What are your thoughts on the current pace of digital transformation in your industry?
Bradford Behr: Raman instrumentation (and process monitoring in general) has significantly advanced since the early analog days. The development and adoption of digital CCD cameras for spectroscopy was a huge leap forward for many reasons, enabling data acquisition and analysis to happen quickly and automatically. Another key part of the puzzle is multivariate analysis (MVA) and chemometrics, the art/science of creating a mathematical algorithm to extract the important chemical information from the raw spectroscopic data. Our Raman analyzer control software outputs data in a standard format that can be read by any of the common chemometric software packages. Although our core HTVS technology is not inherently digital, it creates a stronger photonic signal so that the digital parts of the system (the CCD detector and the MVA algorithms) can work more effectively. With Tornado's spectrometers and technology, users can rest assured that they will get data with a higher degree of accuracy and confidence to support their findings and conclusions.
TDE: What do you feel is the one technology trend within your industry that cannot be ignored?
Bradford Behr: There has been enormous progress in the analytical instrumentation space as improvements are made to sensitivity, limits of detection, and accessibility. Our team has done a great job in monitoring what our competitors are doing and what the market trends are telling us. In order to harness a high degree of automation, we continue to invest in our SpectralSoft software, particularly making it communicate seamlessly with distributed control systems and high-level data management software. Without solid command & control software, our end-users would not be able to capture, store, process, and report on their Raman spectra and resulting real-time measurements. Smart software has proven to take our customers to the next level and therefore it's critical we have a powerful solution that can help filter out what you don't need and isolate what is relevant/important.
TDE: Have you used technology for managing a) field team operations, b) sales/channel management, c) shipment tracking, d) employee engagement, or e) customer retention? What has been your experience?
Bradford Behr: At Tornado Spectral Systems, we use a wide variety of systems and tools depending on the work involved. So far, our experience with most of the technologies has been quite positive. New programming languages, frameworks, and libraries are popping up all the time and it's important we evaluate what is needed and what isn't. By incorporating technology into our day-to-day, we are in a better position to integrate Tornado technology into new customer applications; improve sales and service; increase customer engagement; and have better overall communication. Tools like Microsoft Teams and Grand Avenue are an integral part of our everyday workflow.
TDE: How integrated is your customer experience- from sales to operations to delivery tracking? Do your customers have access to a common portal?
Bradford Behr: While we currently do not have a customer portal, in the future we might evaluate that possibility, although face-to-face and direct communication between our customers and our staff is usually preferred, given the nature of our business. One of the trends we have noticed is that both inside and outside sales teams are starting to blend. As a result, we have better access to data and information, allowing us to make more informed decisions. What this means for the customer is that they can easily reach out to our sales representatives and have them check on the status of their fiber optics, probes, software, etc. — all of the accessories which make our core analyzer system work for a specific end-user application.
TDE: How paperless are your operations? Do you feel any part could be digitized and if yes, which?
Bradford Behr: Going completely paperless would be cost-effective but we work in an industry where people continue to document and print everything due to regulatory demands. We are well aware that reducing paper lessens clutter and storage space and that electronic systems make it easier to quickly retrieve and process data than hard-copy systems. Our accounting and business management software is fully capable of being 100% digitized.
TDE: In the next quarter which part of your business are you focusing on? Which part of your business can be further optimized using technology?
Bradford Behr: Because we work in the process analytical instrumentation industry, we've seen that the current trend in Europe is towards heightened factory safety. Europe follows the ATEX directive, which places stringent limits on laser power and electrical power in potentially explosive atmospheres to minimize the risk of catastrophic events in a factory setting. Europe seems to be ahead of the United States in this respect. Tornado has identified this trend as yet another area where our technology provides an unbeatable advantage over our competitors, and we will be introducing new products which will incorporate safe low-power lasers to comply with ATEX regulations. This development opens the door to being able to install our spectrometers into any factory in Europe, even when flammable vapors or particulates are present. The HTVS technology is an advantage in this case as it enables high-quality measurements even at lower laser power.
TDE: Do you view & use a common management dashboard to check the health of your business?
Bradford Behr: There are several internal dashboards which the senior management team regularly uses, rather than a single unified dashboard. For example, our sales team is interested in viewing sales-specific KPI's whereas marketing is more interested in creating content and managing website traffic and trends. The ultimate objective is that we keep the information simple, provide context where needed, and consider how it will be viewed with our stakeholders. By doing so, our dashboards give us better visibility; allow for ongoing improvements; and judge our performance against our plan.
TDE: How do you keep yourself updated? What are some of the websites or magazines or apps that you subscribe to or read regularly?  
Bradford Behr: Photonics Media, Laser Focus World, and the AZO Network all have really good newsletters that they email out periodically, and I read them "cover to cover" for news on industry trends, new products, and new research. Industry-specific trade shows are also critical for staying up to date. Foremost among those are IFPAC, Pittcon, and SciX. There are lots of high-quality academic journals for research results, and I try to skim those to maintain awareness of new techniques and new technologies.
TDE: What's your favorite social network – Instagram, Facebook, LinkedIn or Twitter?
Bradford Behr: Personally, LinkedIn is the only social media platform that I use. Tornado has a Twitter channel, but I leave that in the capable hands of our Marketing team. Facebook and Instagram really aren't relevant in our sector.
For more DX insights follow Bradford Behr on LinkedIn
Related
Our Digital Disruptors