Interview with Bryan Gernert, CEO at Resonate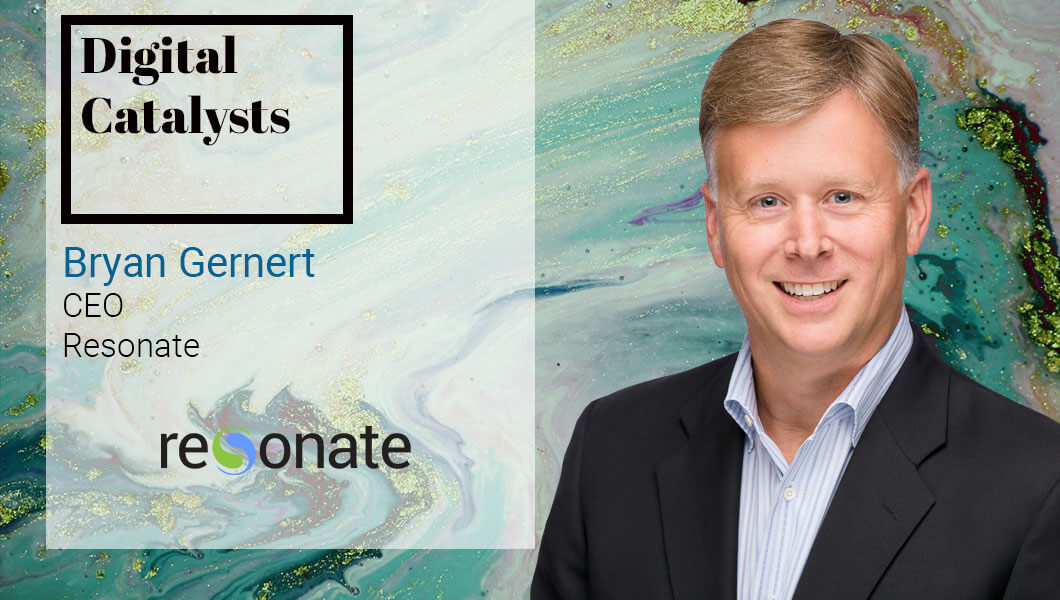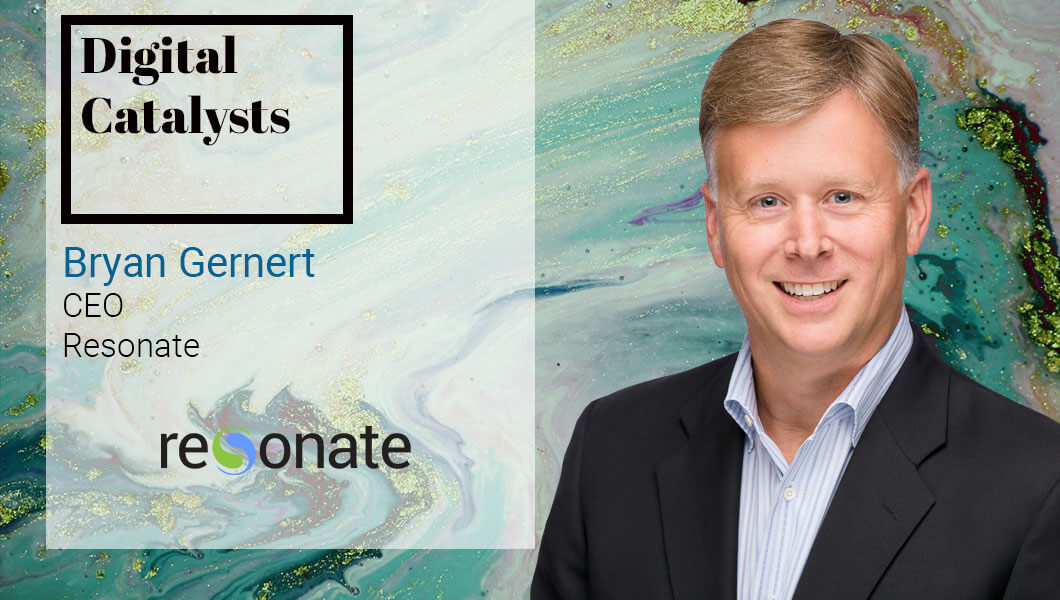 In this interview, Bryan Gernert, CEO at Resonate suggests the importance of extracting meaningful insights to drive "real" results and how consumers' 'digital footprints' are an invaluable resource for marketers. A proven business leader, Bryan has led businesses through periods of significant transformation and growth. Prior to Resonate, Bryan served as Senior Vice President and General Manager of the Americas for Cybertrust  and was an instrumental player on the executive team that orchestrated, negotiated and completed Cybertrust's acquisition by Verizon
TDE: Tell us about your product/business and your specific role?
Bryan Gernert: I serve as CEO of Resonate, a company that's focused on reinventing the Consumer Intelligence space.
There are a lot of companies that offer data on consumers these days, but our approach is a unique one. We recognize that consumers aren't just a set of criteria or a sum of their clickstreams. They aren't static. They are dynamic, complex humans. Resonate's platform and data insights are built around understanding what we call "The Human Element."
Our platform unifies trillions of digital and physical consumer touchpoints and more than 9,000 attributes to understand hundreds of millions of individuals—and we enable companies to tap into those insights and use them to engage with customers and prospects and measure those interactions, through an easy-to-use SaaS platform that's powered by artificial intelligence. We put powerful insights into action, so companies can drive results. This means we're one of a kind—traditional categories can't really contain us.
TDE: What is the core issue your product/technology aims to address and what sets it apart from the other players in the market?
Bryan Gernert: Marketing executives today have been asked to do the impossible. They need to find ways to create meaningful connections with increasingly distracted consumers. They need to be customer-centric and deliver a consistent experience across all channels. They've been given a MarTech and AdTech landscape with literally thousands of options. They have many sources of data. But how do they get to the meaningful insights and how do they use those insights efficiently and effectively across the marketing organization to drive real results – lower cost per acquisition, increased lifetime value, decreased churn?
That's where Resonate comes in. Our platform helps marketers to quickly and easily gain a holistic understanding of the person including the why behind their actions, through a single unified view that's dynamic—keeping pace with today's consumer. This empowers brands to connect more deeply with customers and prospects, across their lifecycle, and build what we call "unbreakable relationships."
TDE: What's the one industry, sector or role that your technology is most relevant to?
Bryan Gernert: The modern CMO and their team is our most traditional customer. These are the people who are tasked most heavily with operationalizing consumer understanding and translating that into revenue. The CMO is asked to be a marketer, a technologist, a data scientist and a revenue manager all at once. We get it. That's why we made it easy to bring insight into action via one platform. The Resonate platform can be used to enrich data sets they already have, like POS or loyalty programs. In this one platform, the marketing team can dynamically observe engagement. So marketers, marketing insights or intelligence, or even research are key personas. But brand marketers, digital marketers, media planners and product marketers can all derive value from the Resonate Platform.
Of course, as companies continue to evolve, we are hearing interest from a wider array of C-suite executives like the Chief Data Officer, the Chief Data and Analytics Officer, the Chief Growth Officer and the Chief Customer Officer. Consumer insights shouldn't live in a silo, and corporate structures are starting to reflect that. We most typically work within large B2C brand marketing organizations in retail, CPG, financial services and automotive and large strategy and media ad agencies. However, our clients span all kinds of industries, including the political and advocacy realm.
TDE: What are the ways to effectively use data to form a real-time profile of a target audience?
Bryan Gernert: The key word there is "real-time." That's where so many data solutions fall short these days. Traditional research companies provide static snapshots of customers that are instantly outdated. What marketers really need is a platform that combines the power of demographics, psychographics and other "traditional" criteria with insights based on digital and physical footprints. But then, most importantly, they need those profiles to be continually refreshed with survey data that uncovers the real motivations and values behind a consumer's behavior. Once you have that dynamic well of insights, you then need a platform that makes it actionable.
TDE: What are some of the common challenges your customers approach you with?
Bryan Gernert: We're often working with companies that require a deeper understanding of consumers and how to best attract and engage with them in order to reduce acquisition costs and increase revenue per customer. But as companies recognize that the Age of the Customer requires a strategy built on a better set of insights, we're seeing our platform be used to address challenges that go beyond executing more efficient and effective marketing campaigns.
We've been supporting leading brand executives who are leading their organization through a transformation—perhaps launching a new brand, or moving to a customer direct sales model. These customers want our understanding of their existing customers, prospects and competitors' customers, for segmentation, brand strategy, solution development, product marketing— you name it. They're using Resonate to develop deeper strategy and to shape their very businesses. We also play an important role in helping companies reduce churn and increase customer lifetime value. Leading advertising agencies use our deep consumer insights to win more business, develop more effective client campaigns and measure performance.
TDE: Millennials and mobile-first is a given. What digital technologies can brands struggling with mobile-first strategies use to pace up their mobility transformation and how should they go about aligning the implementation with their business goals?
Bryan Gernert: Consumers' mobile behaviors are a moving target. That's what's so challenging. The array of activities being performed on mobile devices broadens every day, and the challenge for brands is to understand what kind of engagements consumers actually want to have from advertisers on these most-personal devices. In that regard, brands must be leveraging smart cross-channel, cross-device platforms for their media activations, but those tools also need to be informed by rich data on consumer mobile device use and attitudes. Our ability to connect consumer touchpoints and inform them with deep understanding plays an important role in businesses that are trying to make the mobile-first pivot.
TDE: Give us an example of an enterprise meeting a digital transformation goal through your product?
Bryan Gernert: We worked with a luxury retailer that specializes in men's and women's watches that wanted to better understand their "best customers" and find more of them. They needed to develop a segmentation strategy and quickly and cost effectively engage those audiences. Resonate was able to help them identify their best customers and discover new audiences they could engage by tagging their website, emails and other media. Within just three weeks, a full segmentation strategy was developed.
The retailer also refined their media and messaging strategy based on our deep consumer understanding that starts with The Human Element, the why that drives the what. This helped them better engage their different premium audiences. As a result, the company saw an 84 percent increase in their website visitors and, most importantly and impressively, a 102 percent increase in purchase conversions. This is how we bring insights into action to drive bottom-line results.
For more DX insights follow Bryan Gernert on LinkedIn and Twitter.
Related
Our Digital Disruptors