Interview with Chandra Ambadipudi, CEO of Clairvoyant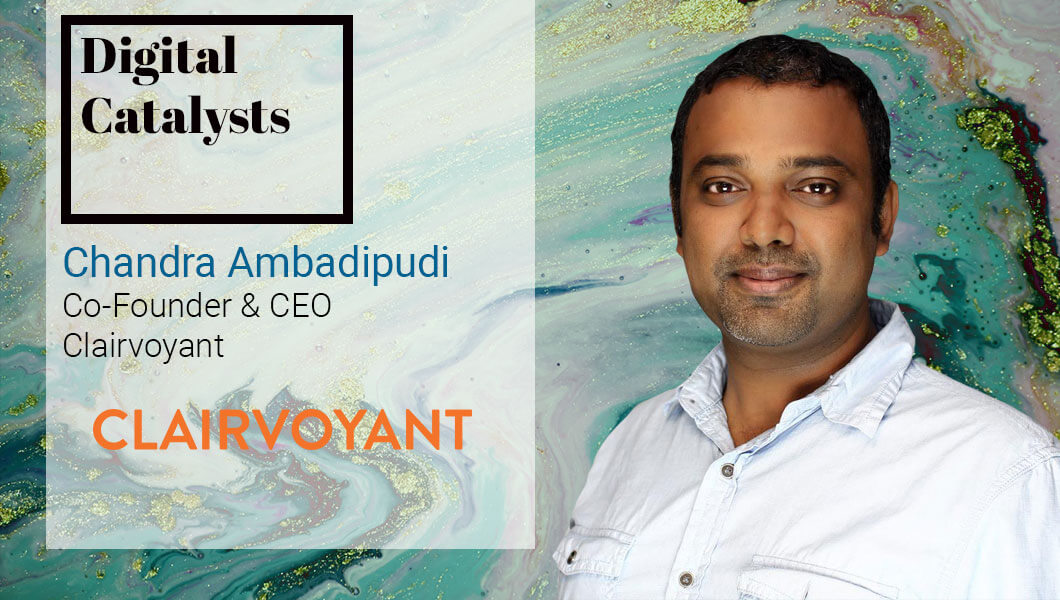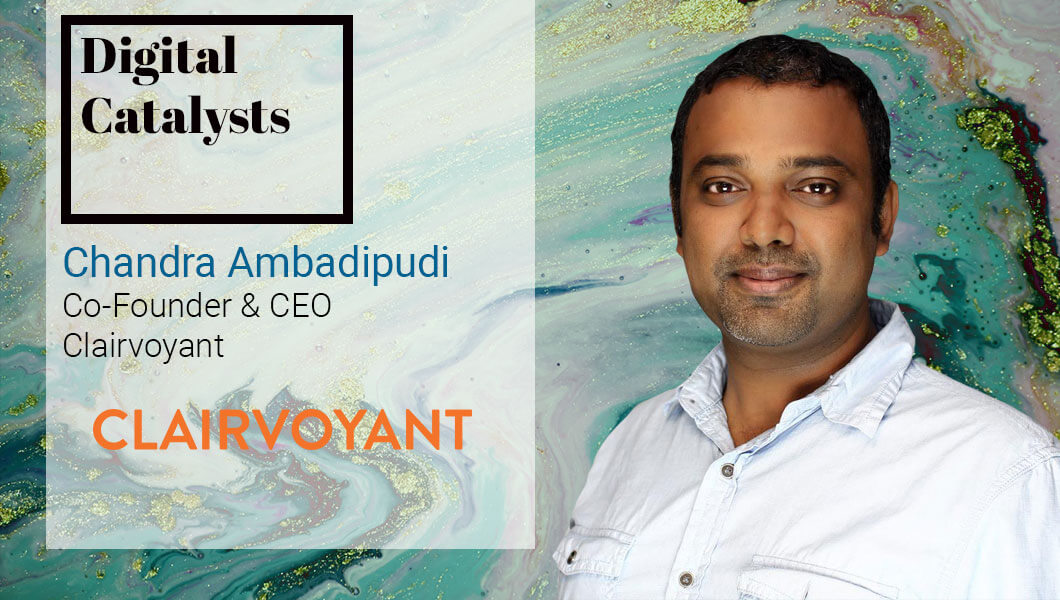 In this interview, Chandra Ambadipudi, CEO of Clairvoyant sheds light on monetizing and maximizing value from big data and how to ensure data remains secure while transitioning to big data solutions. Chandra in his current role as the CEO of Clairvoyant, co-founded the company in 2012 and has driven the company to become a leading big data player with several Fortune 500 customers today. A highly motivated senior leader in software engineering with a proven track record, he also co-founded BlueCanary Data, a predictive analytics company focused on higher education
TDE: Tell us about your product/business and your specific role?
Chandra Ambadipudi: I founded Clairvoyant in 2012 with 3 other technologists and currently serve as the CEO. Clairvoyant started as a analytics company building products for the higher education sector, focusing on working with universities to understand student recruitment and retention.
Today, the company specializes in building big data solutions for enterprises and provides technology consulting and services globally. Clairvoyant supplies managed services, big data and analytics consulting, enterprise application development, and product design for the Hadoop ecosystem to some of the world's largest brands.
Our team consists of highly accomplished technologists with a passion for designing and building scalable platforms and we have years of combined experience in enterprise product development and strategic consulting on big data platforms and implementation. My role as CEO is to ensure that we continuously deliver on this goal and stay ahead of the technology curve while ensuring the satisfaction of our clients.
TDE: What is the core issue your product/technology aims to address and what sets it apart from the other players in the market?
Chandra Ambadipudi: Clairvoyant provides solutions that address inefficiencies in the storage, accessibility and utilization of actionable data. We do this by building innovative products using big data, analytics, and the cloud.
Clairvoyant's experienced and battle-tested big data teams provide deep expertise and services around building, implementing, deploying, and managing big data software solutions. The company uses well defined tools and processes, and has specific expertise in Hadoop implementations, which is a key differentiator and value add for clients.
In addition, Clairvoyant supports the latest open source projects and provides maximum flexibility for clients with a la carte support coverage and ability to ramp up or down services as an extended arm of clients' in-house teams.
Along with competitive pricing, Clairvoyant also offers onsite and offshore support for 24/7 coverage and has experience in global delivery across multiple locations around the world.
TDE: What's the one industry, sector or role that your technology is most relevant to?
Chandra Ambadipudi: We work with clients across multiple industries, but we focus on financial services and healthcare.
With #digital disrupting the way industries function,the future of banking lies in harnessing the power of #blockchain for enhanced #customerexperience & #cybersecurity.Kogni,a #datasecurity tool can help those adopting blockchain address their challeneges https://t.co/n3LQOgviTR

— Clairvoyant (@teamclairvoyant) September 18, 2018
TDE: What are some of the common challenges your customers approach you with?
Chandra Ambadipudi: Some of the common challenges our customers come to us with is how to best monetize and maximize value from big data. We also help them develop a systemic approach for managing the tools and platforms so that they can effectively leverage the value of their data. Other challenges are keeping the data secure while transitioning to big data solutions and ensuring that the systems in place are compliant with regulations.
TDE: Using technology to affect transformation usually starts with a transformation of beliefs and mindsets. How do you consult enterprise clients and help them make that important shift in mindset to move ahead on a particular project or implementation?
Chandra Ambadipudi: Regular communication with our client base is a key component of our business model, whether it's getting them to understand our thinking to collaborate with the problem at hand, or exploring different solutions, we engage our clients to ensure complete satisfaction over the course of a project.
TDE: Give us an example of an enterprise meeting a digital transformation goal through your product?
Chandra Ambadipudi: Boingo, one of the leading Wi-Fi companies in the world and the largest indoor DAS (cellular) provider in the U.S., came to us with the goal of minimizing data loss and reaching a faster querying speed. This enterprise was able to achieve their digital transformation goal by reducing data loss by 80%, increasing querying speed by three times, and developing a structured representation of required logs.
TDE: What present or upcoming technologies you think have the maximum potential to accelerate enterprise digital transformation?
Chandra Ambadipudi: I think there's a lot of potential in artificial intelligence as it continues to advance and become more integrated within enterprise platforms.
Artificial intelligence, along with other up-and-coming technologies, such as virtual reality, hold promise in bolstering the Internet of Things network that is defining how we connect and exchange data.
TDE: What's your go to resource – websites, newsletters, any other – that you use to stay in touch with the explosive changes happening in the digital space?
Chandra Ambadipudi: My go to newsletters are "10 things in tech" (Business Insider), "Fully Charged" (Bloomberg), and "Benedict's Newsletter" (Benedict Evans at a 16z).
TDE: Read a good book lately on digital transformation that you'd like to recommend to us?
Chandra Ambadipudi: The Digital Transformation Playbook by David L. Rogers. This book really taps into how to turn your data into assets and how to build platforms that will ensure your business keeps up with today's digital pace.
For more DX insights follow Chandra Ambadipudi on LinkedIn.
Related
Our Digital Disruptors