Interview with Colin Lawlor, CEO at Sleepscore Labs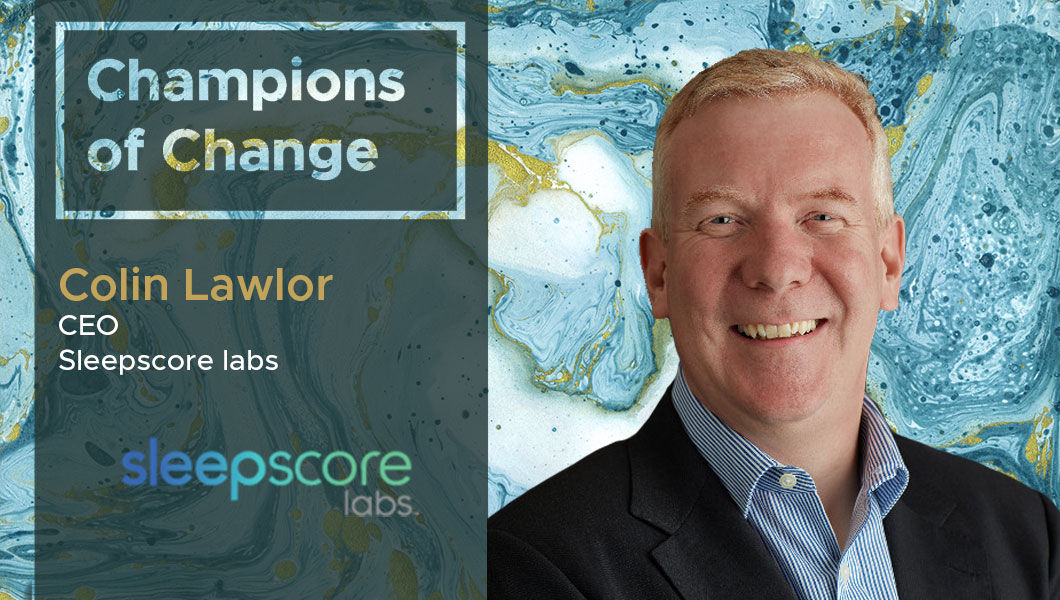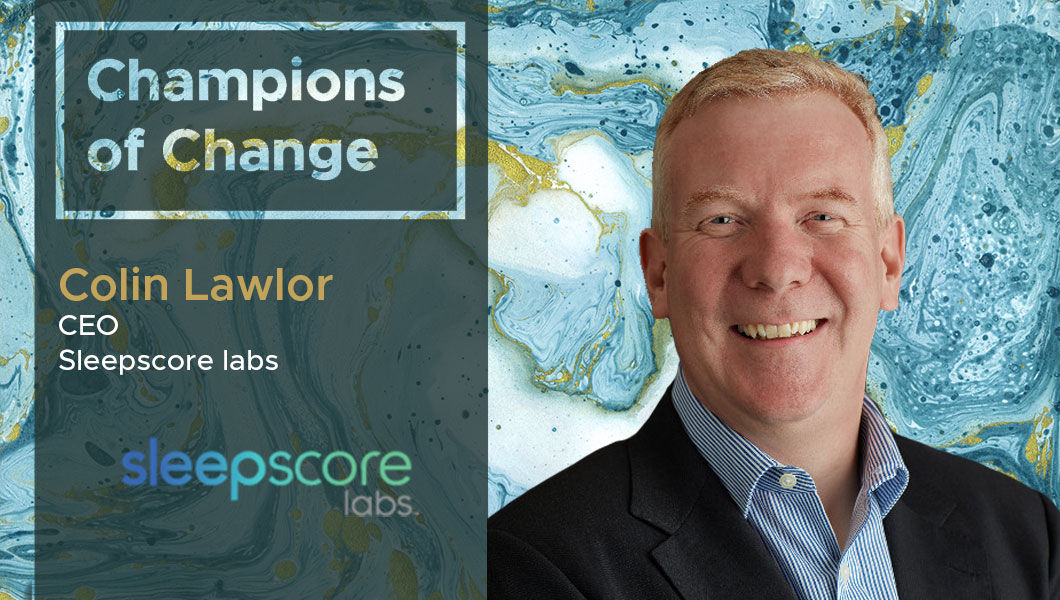 Colin Lawlor, truly believes that SleepScore could change the world by changing the way we sleep. As a 10 year veteran in the sleep medical devices industry and someone who understands the impacts of sleep disorders, Lawlor has worked tirelessly to advance the science around sleep improvement. During his tenure at ResMed, BiancaMed, Bio-Medical Research Ltd, and now as the leader of SleepScore Labs, Colin has focused on how technology can help people learn about, understand, and improve their lives through sleep. He has been instrumental in leading the vision to make SleepScore Labs the most trusted name in sleep by launching the world's most accurate sleep app and bringing expertly tested and scored sleep products to consumers through the SleepScore Store. Originally from Ireland and a graduate of Trinity College Dublin, Colin is keenly aware that while a pint of Guinness may be "good for you," having one too many will definitely impact your sleep
TDE: Thank you so much for taking our questions! Tell us a little about your business and its history?
Colin Lawlor: We're the sleep company changing the world by changing the way people sleep. We do this with the world's more advanced sleep improvement system. Nearly half the adult population experiences poor sleep every week. But with a myriad of products and services promising a cure, it's hard for them to know which ones will work for them. We developed a platform that connects the dots by enabling people to understand their sleep and find solutions that are proven to be effective for their sleep. Sleep has been shown to reduce the risk of major chronic diseases, from Type II Diabetes, cardiovascular disease, depression and even Alzheimer's. Helping people to live a healthier life through better sleep has been our motivator.
After studying millions of hours of sleep for over a decade, we founded SleepScore Labs in 2016. We're a joint venture between ResMed, Dr. Oz and Pegasus Capital Advisors L.P, with headquarters in Carlsbad, California, and an office in Dublin, Ireland. We utilize SleepScore™ technology powered by ResMed™ to provide the most accurate and advanced sleep improvement system for consumers along with data insights, product evaluation tools and technology licensing opportunities for companies developing products and solutions in the sleep industry. 
TDE: What are your thoughts on the current pace of digital transformation in your industry?
Colin Lawlor: The current pace of digital transformation is speeding up – particularly in healthcare. Today, consumers are more and more empowered, and technology enables them to become highly involved in their own health care and associated decisions. But we believe,
to manage anything, you need to measure it.
That has been a key problem in sleep health. Everyone on the planet sleeps, but because sleep takes place while we're not conscious, we can't really recall or describe it. We developed the SleepScore App so that almost everyone in the world can understand their SleepScore for free.
There are a lot of trackers and apps which promise many things in sleep, but our key differentiation is built around grounding everything in sleep science. Science is the only way to avoid the 'snake oil' out there. SleepScore sonar technology is able to measure biomotion for exceptionally accurate sleep measurement. Our algorithms make science-backed recommendations including sleep advice and appropriate product choices from our curated and validated SleepScore Store. As your sleep improves, the technology in SleepScore continues to monitor your improvement and adjusts advice and recommendations accordingly.
TDE: What do you feel is the one technology trend within your industry that cannot be ignored?
Colin Lawlor: Let me talk about a technology trend which we need to be very careful about – AI. Artificial Intelligence is clearly a buzzword right now. We have to be careful because the science and some of the data collected is often suspect. This has been an unfortunate trend in some consumer sleep trackers using AI, causing a higher risk of inaccurate recommendations and advice being provided to consumers. I prefer to think in terms of 'Augmented Intelligence' – where we utilize these exciting new tools with accurate data sets alongside real scientific expertise to truly transform health. That's why we've invested millions of dollars and 13+ years of research and development in our technologies.  Our technology has been extensively tested and validated versus the gold standard (polysomnography or PSG which is conducted in an accredited sleep lab) using our own datasets and also validated in peer-reviewed scientific publications.
TDE: Have you used technology for managing a) field team operations, b) sales/channel management, c) shipment tracking, d) employee engagement, or e) customer retention? What has been your experience?
Colin Lawlor: With the anonymous data we collect, we're able to advance the science in the world of sleep as part of our mission to help the world sleep better. Customer retention and engagement are very important to the growth of SleepScore Labs. We have several customer retention strategies in place that we promote in the SleepScore App, to our SleepScore Max customer base, in general emails and specific campaigns. Examples:
We have added Sleep Polls (fun and engaging weekly questions)
Sounds for Sleeping
Smart Alarm that wakes you at the optimal time in your sleep cycle
Rise Up with Better Sleep corporate sleep programs
Social Good – Sleeping Children Around the World – for every night someone tracks their sleep, money is donated to SCAW to provide bed kits for children in need around the world because we recognize that a day or hope begins with a good night's sleep and there are those in this world who don't even have a mattress to sleep on.
TDE: How integrated is your customer experience- from sales to operations to delivery tracking? Do your customers have access to a common portal?
Colin Lawlor: We offer a customer portal where SleepScore users can access the features and sleep statistics in the cloud from anywhere. We also provide tracking numbers to customers for all product shipments.
TDE: How paperless are your operations? Do you feel any part could be digitized and if yes, which?
Colin Lawlor: We pride ourselves on being primarily paperless. Our digital focus with our apps and our marketing strategies allow us to keep paper to a minimum.
TDE: In the next quarter which part of your business are you focusing on? Which part of your business can be further optimized using technology?
Colin Lawlor: We are focusing on scaling and reaching the many millions of people experiencing poor sleep and the ones trying to improve their sleep. We have built the platform that truly connects the dots from tracking, to discovering, to improving their sleep. The more data we collect, the more we can help people improve their sleep. With this platform in place, we're ready to help millions of people understand and improve their sleep and make product recommendations that are right for them.
TDE: Do you view & use a common management dashboard to check the health of your business?
Colin Lawlor: We utilize Power BI dashboards to keep close tabs on our app engagement, subscription, and download rates. This allows us to make meaningful and targeted changes that can help our users get more out of their app experience. We also utilize a variety of analytics tools to manage the health of our e-commerce presence as well as our corporate site. Additionally, we use Microsoft Dynamics to manage our customer service to ensure we're as responsive as possible to customer comments and questions regarding any of our products.
TDE: How do you keep yourself updated? What are some of the websites or magazines or apps that you subscribe to or read regularly?  
Colin Lawlor: In addition to The Digital Enterprise, I regularly read McKinsey's Digital Blog, TechCrunch, Venture Beat, MedGadget, The Harvard Business Review, The CTA Innovation Magazine, The Wall Street Journal and The Economist as well as a number of feeds from Apple News.
TDE: What's your favorite social network – Instagram, Facebook, LinkedIn or Twitter?
Colin Lawlor: Personally, I'm engaged mostly with Twitter and my favorite network is LinkedIn, which provides the most value for me. From a business perspective, SleepScore Labs is active and engaged with our followers on all four channels growing our following every day. We often use Facebook and Instagram to promote campaigns and giveaways.
For more DX insights follow on LinkedIn and Twitter
Related
Our Digital Disruptors