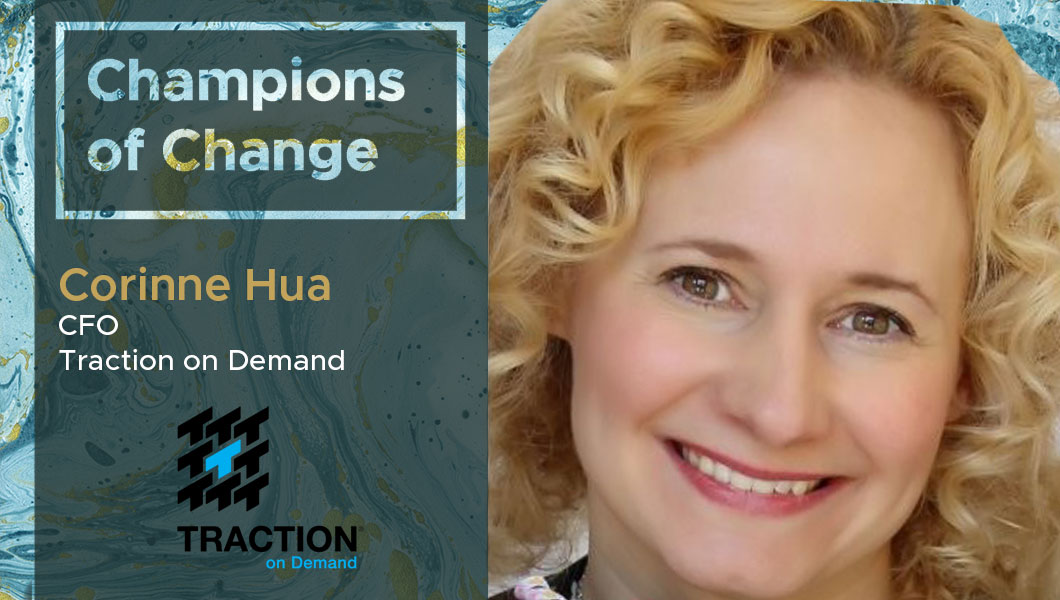 Corinne has been the CFO of Traction on Demand since 2015. Prior to Traction on Demand, she was the VP of Finance at Axia NetMedia Corporation where she oversaw Axia's North American and international financial operations. Prior to Axia, Corinne held senior financial positions at several fast-growing technology companies and was a VP Finance of US operations at CA Technologies. Corinne holds a BA in Economics from the University of Calgary. She loves travelling the world with her family, exploring new places, and capturing those memories from behind a camera
TDE: Thank you so much for taking our questions! Tell us a little about your business and its history?
Corinne Hua: Traction on Demand is the largest independent Salesforce consulting and implementation firm in North America. The company was founded in 2006, with the goal of helping businesses maximize efficiency, time and capacity through technology. In the past three years, Traction on Demand has grown revenue by 200% and increased its headcount from 150 to over 500 employees. We now handle more than 4,700 Salesforce implementations and provide professional services and cloud technology solutions to companies of all shapes and sizes, from some of North America's largest brands, to hundreds of mid-sized companies. This rapid growth brought new business complexity and pushed us to update our tech stack – adopting a solution that enables us to scale and improve visibility across the board.
TDE: What are your thoughts on the current pace of digital transformation in your industry? Do you feel overwhelmed with the prospect of introducing technology solutions to manage & streamline parts of your business?
Corinne Hua: Our goal at Traction on Demand is to help companies keep up with the digital transformation happening across industries, and embrace new technologies that improve productivity and directly impact the bottom line. While these changes can appear daunting, digital transformation maximizes efficiency, accuracy, improves scalability, provides visibility, and enables new levels of productivity across departments. What's equally important is that it usually improves the employees day to day operations. Having the right tools to get the job done can benefit everyone.
TDE: What is the one technology trend within your industry that cannot be ignored?
Corinne Hua: Companies of all sizes are moving to the cloud, an initiative that is essential to creating a scalable business. In addition, companies across industries are in search of technological systems that work harmoniously. For example, at Traction on Demand, we used to use Quickbooks in conjunction with our Salesforce system. It was ineffective, and meant significant manual work (to the tune of two full-time employees spending 24 hours over the course of three days for routine invoicing as a result of double data-entry). Now that we use a financial management software that is cohesive with our Salesforce implementation, our manual work has significantly decreased.
TDE: What has been the most significant technology integration/implementation so far, at your organization? Why? (could have impacted your employee efficiency, customer satisfaction, profit margins etc.)
Corinne Hua: Switching to a system that is able to integrate with Salesforce and the rest of our tech stack has had the biggest impact on our organization. Integration, combined with reliable, accurate, real-time financials were important stepping stones in achieving a big goal of ours: mobilizing our financial team as strategic decision makers – rather than simply remaining "number crunchers" responsible for monthly closes and annual reports. During a major moment of  transformation for our company, Sage Intacct supported our expansion and made it possible to scale and maintain complete visibility into our financials (i.e. financials can be accessed in real-time). Since implementing Sage Intacct, we grew our revenue by 200%, increase headcount from almost 300 to over 500 employees, added an office in Asia Pacific and launched 4 product companies, in part as a result of improvements in insights and scalability. We've been able to reduce manual processes while providing new forecasting accuracy and insights for more confident decision-making.
TDE: Do you have a dedicated in-house IT team? What are some of the challenges your IT team and employees faced before, during and after bringing in this solution? How did you resolve them?
Corinne Hua: Yes, we have an in-house IT team that was heavily involved in selecting a financial management software that would integrate well with our existing software. For a data-driven company, it was essential to all departments that we have accurate data, and we didn't with our previous solutions. Before implementing Sage Intacct, we were using untrustworthy, inconsistent, out-of-date data that took away from our data-driven decision making. Plus, we lost productivity by spending so much time reconciling our data. The implementation process was smooth, with Sage Intacct helping every step of the way, and serving as a partner throughout the process. Our implementation of Sage Intacct was actually how we were able to open an additional office in Jaipur – it provided us the data and information we needed to do so, a move we made specifically to address the IT talent shortage in North America and ensure we had 24 hour support. Now our IT team is focused on building additional applications that integrate seamlessly. With our biggest financial management challenges solved, we're able to invest time in building out our infrastructure.
TDE: What's the internal technology challenge your organization aims to resolve in the immediate future? (could be internal workflow/workforce automation or having internal operations such as CRM, HR, Inventory powered by front end mobile apps)  
Corinne Hua: A primary reason we selected Sage Intacct over other financial management software options was because of its API and its ability to integrate with other solutions we employ. We've integrated Sage Intacct with Salesforce, and no longer have to deal with frustrating data disconnects. Following implementation, we are now focused on applications for HR, payroll, and time and expense management that will work seamlessly with Sage Intacct. We are also continuously improving how we leverage Sage Intacct.  There is always opportunity to improve and the combination of our growing business and Sage Intacct's product development, there are lots of areas to improve.  Two items high on the list of priorities are reporting and dashboard improvements. The desire for real time information for making decisions constantly pushes us forward.
TDE: From an external viewpoint are you considering using mobility solutions/mobile apps to promote/sell your products online, or to promote/sell your products to your dealers and allow them to order online?
Corinne Hua: Because we sell services to mid and large customers this is not a priority for us.
TDE: How do you keep yourself updated? What are some of the websites or magazines or apps that you subscribe to or read regularly?  
Corinne Hua: There is so much information available to all of us, that it can be overwhelming.  I find that I need to be discerning on how I spend my time and I try to balance it between deeper knowledge, often found in books that gives me a chance to focus on something important and articles or podcasts that I can absorb while I'm on the go, and allow me to keep up to date on current events and changes or events in our industry or provide insights or inspiration on a relevant topic.
TDE: What's your favorite social network – Instagram, Facebook, LinkedIn or Twitter?
Corinne Hua: I have a strong preference for LinkedIn but each have a purpose and can keep me connected.  What I enjoy about them is that they can give me an easy way to connect better face to face as they are a conversation catalyst to a deeper conversation, which may otherwise stay at the surface.  For example, when I know someone's company has recently announced a new milestone, I can ask about their involvement in that and what it means to them on a day to day basis. It all comes back to building relationships with people and finding things that can improve those relationships.

For more DX insights follow Corrine Hua on LinkedIn
Related
Our Digital Disruptors