Interview with Gopi Koteeswaran, CEO at LatentView Analytics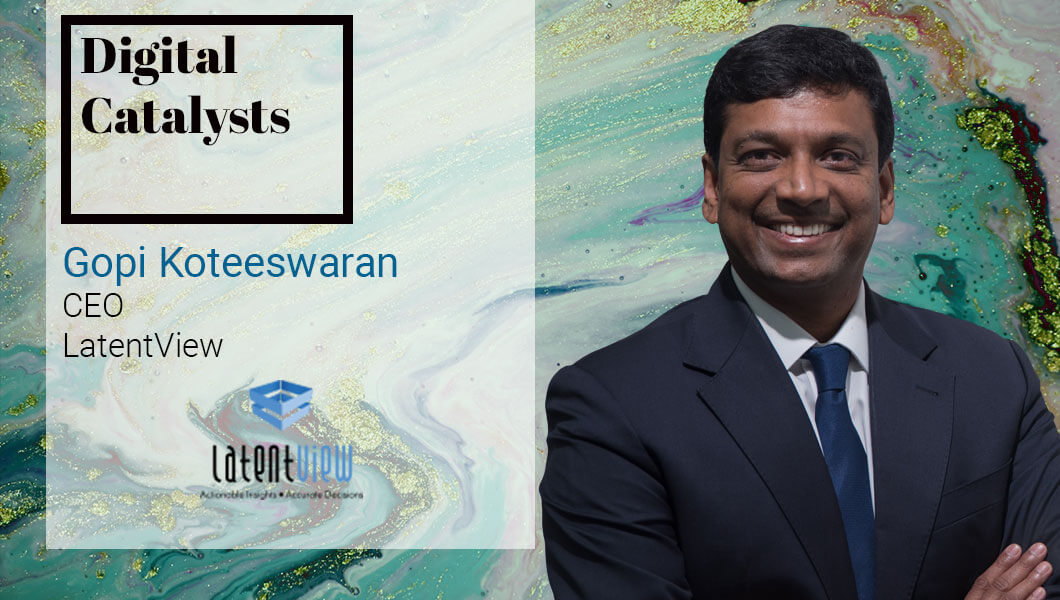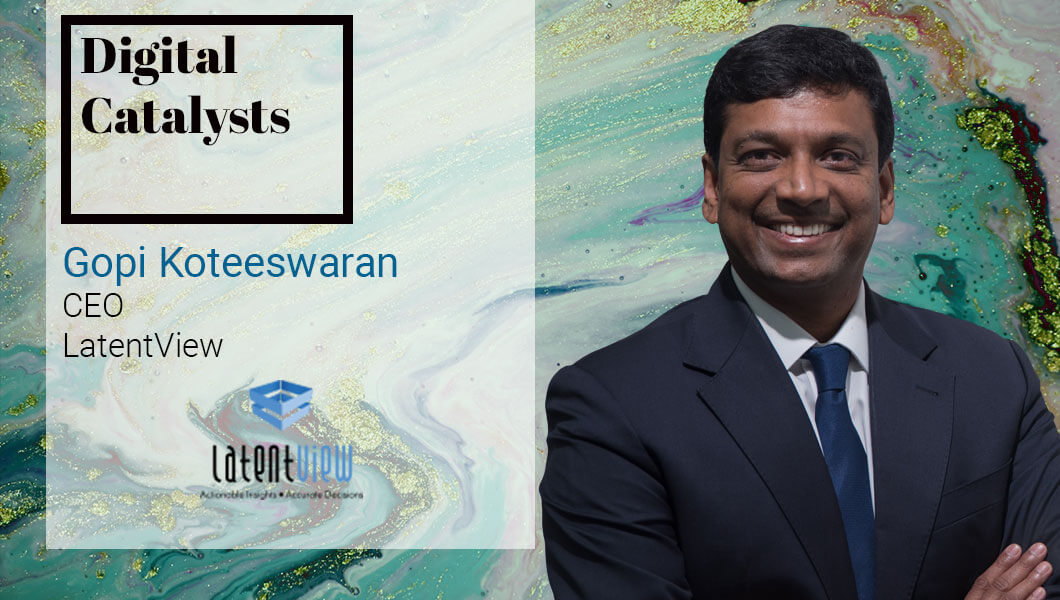 In this interview, Gopi Koteeswaran, CEO at LatentView shares his thoughts on the accelerated use of data analytics, the need for a continual state of transformation and securing a competitive advantage in a rapidly changing and challenging market. Gopi has a history of leading global companies to positions of strength in geographically diverse markets. He began his career as a brand manager with Johnson & Johnson where he worked for a decade. When not leading a dynamic team of data analysts, you will find him scuba diving in remote locations around the world. Gopi has a degree in Mechanical Engineering and an MBA from IMD Switzerland.
Tell us about your product/business and your specific role?
LatentView Analytics is a leading global data and analytics service provider that helps companies turn data into actionable insights to gain competitive advantage. Clients leverage LatentView Analytics to harness the power of Artificial Intelligence and Machine Learning to transform their business processes, drive innovation and enhance customer experience.
Every custom solution we build starts with a strategic blueprint that maps out how the solution will be used effectively in business and how analytics outputs will power business decisions.
Our company philosophy is: Business + Data + Math + Technology = Actionable Insights. LatentView Analytics is a trusted analytics partner to some of the world's most recognized Fortune 500 brands in the CPG, financial services, high-tech, retail, media & entertainment, and automotive sectors. As CEO, my role is to ensure that we continuously deliver on this earned reputation, as well as focus on overall company strategy.
What is the core issue your product/technology aims to address and what sets it apart from the other players in the market?
LatentView Analytics offers "point" solutions to complex business problems that are close to business processes by using predictive analytics, statistical analysis, modeling and forecasting in solutions relating to, among other things, social media analysis, customer insights, campaign performance management, and product innovation/uplift. The core issue that LatentView Analytics addresses is the need for businesses to extract meaningful value from an increasing volume and variety of data from multiple sources.
LatentView Analytics is a software and services firm with both consulting-led and packaged IP in the advanced analytics/big data space. It has 20+ proprietary analytics solutions the company uses to accelerate time-to-insights under categories such as marketing analytics, customer analytics, business analytics, risk analytics, HR analytics, and supply chain analytics. LatentView Analytics also provides data management services and has expertise in engineering robust data ecosystems on the cloud.
What's the one industry, sector or role that your technology is most relevant to?
LatentView Analytics clients include Fortune 500 companies in the CPG (consumer packaged goods), BFSI (banking, financial services, insurance), high-tech, Retail, healthcare and other sectors. The single unifying role that LatentView Analytics plays across all industries and sectors is advancing digital transformation with the goal of monetizing and maximizing the value of data assets most efficiently across the entire enterprise.
Another critical role that we play is helping companies harness the power of artificial intelligence and machine learning to transform their business processes, drive innovation and enhance customer experience.
What are some of the common challenges your customers approach you with?
Businesses today are faced with digital transformation and an accelerated use of data analytics. LatentView Analytics is helping enterprises make business decisions through its analytics consulting services and by building solutions that leverage artificial intelligence and machine learning to fuel predictive and prescriptive analytics, data strategy and optimization.
Enterprises also come to LatentView Analytics with the challenge of aligning their data with modern analytics technology architectures either for data stored on premise, or as they migrate data to the cloud with limited internal expertise and resources. LatentView Analytics specializes in unconventional data sources and cloud-based ecosystems and also provides data engineering services to address this.
Using technology to affect transformation usually starts with a transformation of beliefs and mindsets. How do you consult enterprise clients and help them make that important shift in mindset to move ahead on a particular project or implementation?
LatentView Analytics understands that most companies already have in place an analytics program, at various maturity levels. However, companies today realize the imperative to be in a continual state of transformation. This means that there needs to be high levels of agility in operations to meet changing market needs, and a much faster time to ROI on these analytics investments.
The process LatentView Analytics takes with enterprise clients has the benefit of being collaborative with internal teams and vendor partners. The process is fluid and scalable, as it delivers measurable and positive results for ongoing projects in real-time rather than merely adapting to market trends.
LatentView Analytics uses a customized roadmap that moves clients across the analytics maturity quadrant. This allows us to grow with our customers as their digital acumen increases. By setting up Centers of Excellence (CoE) that are unique to the vision and strategy of our customers, we are well positioned to demonstrate ROI on analytics spend. Our approach to Digital Transformation Analytics is collaborative and has near term positive business outcomes – helping our clients gain the competitive edge in a rapidly changing and challenging market.
Give us an example of an enterprise meeting a digital transformation goal through your product?
For a leading FMCG player, LatentView Analytics built an integrated digital marketing dashboard with metrics across paid, earned and owned media that enable cross-channel, cross-brand and cross campaign comparison to glean deeper marketing insights. This helped reduce the test cycle for campaigns by 25%, thus resulting in 8% lower cost per campaign.
For a global record company, LatentView Analytics built an intuitive and actionable visualization tool that provided insights into category and geography wise underperformance and identify the causal factors, to drive improvement. This helped achieve the forecasted sales numbers much faster, saving ~30% in analysis and turn-around time (TAT).
7. What present or upcoming technologies you think have the maximum potential to accelerate enterprise digital transformation?
While they have become buzzwords, artificial intelligence and machine learning have great potential to transform how companies do business. A combination of advances in algorithms, data proliferation, and tremendous increases in computing power and storage has propelled AI from hype to reality. AI has become a strategic priority for businesses today. Gartner predicts that by 2020 AI will be one of the top five investment priorities for more than 30% of CIOs globally.
Artificial Intelligence has the capacity to disrupt markets through the creation of innovative new services and business models, by bringing to the table actionable insights that would otherwise be lost in massive amounts of data.
It sees patterns in data that even trained professionals can miss. Much of that data is unstructured data (e.g. data generated by written reports and business documents, videos, photos, social media posts, e-mail messages, etc.). It allows you to understand customer behavior and expectations, and accordingly devise strategies and plans that address their individual needs – all this with a precision and foresight that wasn't possible even a few years ago.
Forward looking organizations are putting to use artificial intelligence and machine learning technologies to automate important but manual and time-consuming tasks, thus allowing their employees to focus on higher-value activities. Business leaders are also leveraging AI to glean new insights, transform decision-making and enable improved business outcomes.
What's your go to resource – websites, newsletters, any other – that you use to stay in touch with the explosive changes happening in the digital space?
In addition to the usual industry blogs, forums and websites, I pay close attention to academic conferences like ICLR (International Conference on Learning Representations) and also follow a number of blogs by technology professors and universities to stay informed about innovations at the academic and research community.
Read a good book lately on digital transformation that you'd like to recommend to us?
I am currently reading New Power – How it's changing the 21st century and why you need to know by Henry Timms & Jeremy Heimans. The quick thesis is: "For most of human history, the rules of power were clear. To get ahead or get things done, you mastered 'old power', which is closed, inaccessible, and leader-driven and jealously guarded. Today, however, we have seen the rise of 'New Power' made by the many rather than the few, open, participatory, peer-driven and fed by our world of ubiquitous connectivity."
Related
Our Digital Disruptors