Interview with Graham Stubbs, CEO at Diona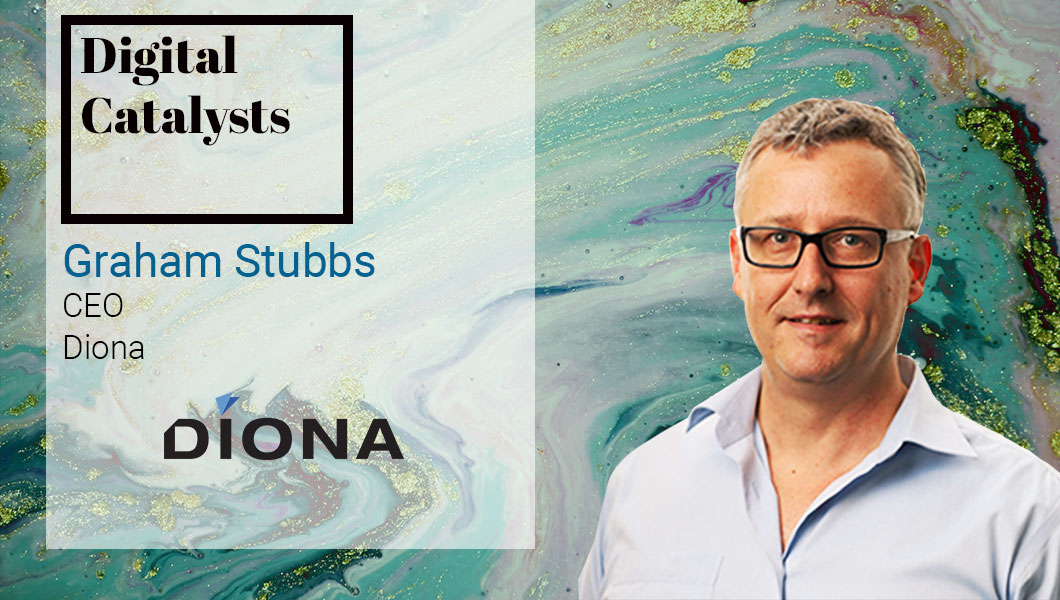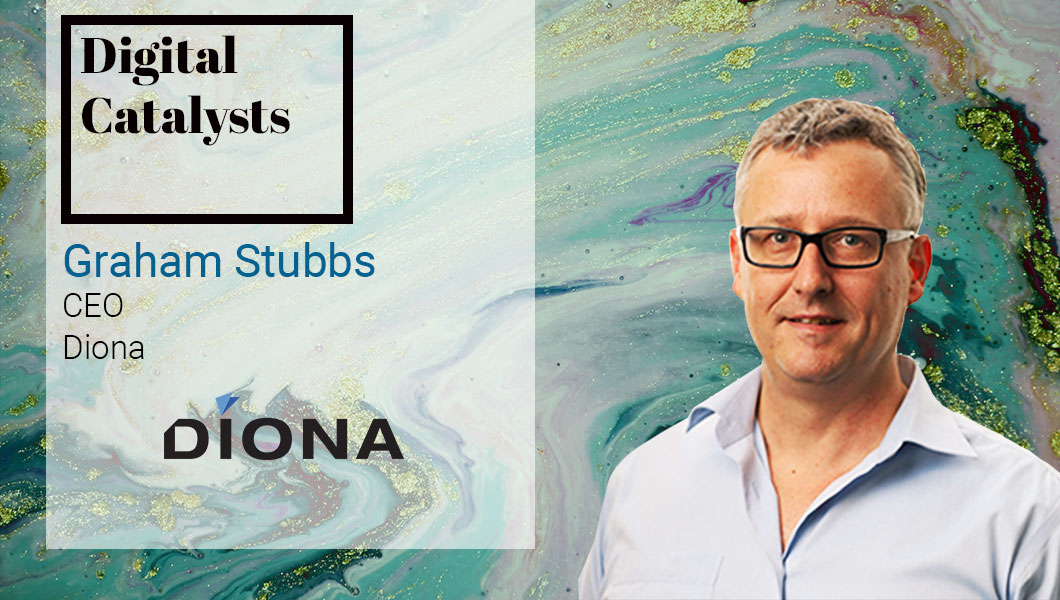 Read Graham discuss how Diona enables governments to meet changing user engagement expectations, essentials for a mobile-first strategy and how a successful digital transformation initiative has helped a client project savings of $18.7 million annually. Graham has more than 20 years' experience in Health & Human Services technology and has also held senior management positions at Oracle Consulting, EDS and several technology start-up companies in the San Francisco Bay Area.
Tell us about your product/business and your specific role?
Diona is at home in two worlds: casework and enterprise software. Born out of unmatched experience and passion for bringing mobile technology solutions to government Health and Human Services agencies across the globe, Diona is building a future where people can get the help they need—when and where they need it. Diona's enterprise mobility software, Diona Mobility, turns mobile devices—such as smartphones and tablets—into tools to achieve better business and social outcomes. Diona Mobility improves how employees work and collaborate by extending organizational systems and delivering real-time data directly into the field through a cloud-based platform that is secure, robust, scalable, and reliable. With deep domain expertise and a user-centered design philosophy, Diona delivers mobile solutions that solve real-world problems.
As CEO, I am responsible for the company's vision and strategic direction, growth, day-to-day operations, and engagement with stakeholders including customers, partners, employees and investors.
What is the core issue your product/technology aims to address and what sets it apart from the other players in the market?
Diona Mobility is a family of commercial off-the-shelf (COTS) enterprise solutions that brings together devices such as mobile phones and tablets with agency case management and eligibility systems. Diona Mobility helps people get the help they need—where and when they need it without having to travel to a social welfare office, wait on-hold, or wait in-line. They can digitally engage with government in the same way they expect in their everyday lives when using consumer technology, devices, and apps.
Also, government employees like caseworkers can focus on dealing with the issues at-hand in the field without resorting to copious amounts of paperwork, form filling and data entry.  Our solutions work across devices and operating systems such as iOS, Android, and Windows. They also work on-line and off-line and adhere to industry standard security and encryption standards to ensure data remains safe.
What sets us apart is a number of things –
First, Diona Mobility has been designed from the ground up for government agencies by people who understand the unique needs of government. Many Diona employees are former government social workers, and so our solutions reflect a deep domain expertise.
Second, Diona Mobility is a configurable commercial-off-the-shelf cloud-based solution.  No iOS, Windows or Android code is custom-coded on a Diona project. This means that our solutions can be deployed in days instead of weeks and months instead of years, depending on the complexity of existing government IT environments.
Our solutions are faster to implement and less costly to deploy than alternative build-from-the-ground-up project approaches, resulting in significantly less risk for government agencies.
What's the one industry, sector or role that your technology is most relevant to?
Government Health & Human Services. Our solutions have been deployed for citizen self-service purposes, as well as agency caseworker needs.
What are some of the common challenges your customers approach you with?
Government Health and Human Services agencies face numerous challenges in helping people they serve. First, people have high expectations in terms of how they engage with organizations. As consumers, they expect to able to bank, order a cab or book a restaurant, hotel, or air travel easily and without fuss. They have similar expectations now with how they interact with the government. People want to engage whenever and wherever they like without having to take time off work or hop on a bus. Government has a challenge in how it meets these growing user engagement expectations.
Second, caseworkers and social workers are frustrated with having to conform to antiquated, paper-based processes in the field while engaging with children and families and when dealing with complex social challenges. They certainly don't expect to spend 80% of their time on administrative, clerical work.
Mobile solutions offer government agencies a chance to transform how their employees work by leveraging innovative mobile technology to engage with people and families.
Finally, many government agencies are still dependent upon complex legacy systems built on old technology – many systems have been in place for decades. This means that agencies often struggle with how to deploy new technologies into their existing environments in a cost-effective way that has minimal disruption to the important business at hand – all the while ensuring that data is kept safe and secure.
Diona Mobility was designed to address these challenges.
What are some technical considerations for enterprises to ensure effective mobile device management (MDM), while keeping in mind a good employee experience and adhering to IT requirements?
While Diona is not an MDM company, we've seen customers such as the Arizona Department of Child Safety (DCS) incorporate mobile device management practices into its mobile solutions very successfully. For example, MDM is a critical piece of DCS' implementation of Diona Mobile Visits and Diona Mobile Investigations, both of which are used by child welfare caseworkers and investigators.
MDM ensures client data is private and secure, mobile solution updates are seamless, and department policies are enforced.
What digital technologies can government agencies struggling with mobile-first strategies use to pace up their mobility transformation and how should they go about aligning the implementation with their business goals?
In general I believe government agencies should always focus on solutions that are proven in their domain and work for other similar government agencies. Agencies should focus on solutions that are cost effective and provide high value, can be implemented quickly, and best take advantage of the opportunities these technologies present, can be configured and altered fast as requirements change, and are, of course, secure and robust. Government agencies should avoid projects based on developing code. Digital technology choices should always be made after conducting a thorough investigation and evaluation of the solution and a deep engagement with customer references.
Give us an example of an enterprise meeting a digital transformation goal through your product?
Arizona DCS—an agency with more than 2,700 employees serving more than 15,000 children—had been operating on a legacy Statewide Automated Child Welfare Information System (SACWIS) which limited caseworker efficiency and productivity in engaging with children and families.
DCS had three key challenges they needed to solve:
Legacy case management system, applications, and information were inaccessible, resulting in lost productivity;
Vital case notes and client data could not be updated in real-time, reducing worker efficiency; and
Paper-based information and files were vulnerable to loss or theft, potentially compromising client data security and privacy.
To extend the capabilities of the system, DCS implemented Diona Mobile Visits and Diona Mobile Investigations.
Utilizing mobile devices, 1,400 DCS caseworkers can now receive and deliver real-time data—anywhere, anytime, whether online or offline—through a government-cloud-based, secure, scalable, and reliable platform without the need for paper files.
DCS took an innovative approach to digital transformation by deploying a modular, "mobile first" strategy to implementing the new Comprehensive Child Welfare Information System (CCWIS) requirements. By enabling DCS caseworkers to adopt transformative mobile technology into their practice today, workers now can engage more productively with children and families in the field, paper-based processes are obsolete, and client data is stored securely and privately.
Thanks to its innovative strategy, DCS is projected to save $18.7 million annually in departmental costs and has boosted field access to its information system to 100 percent, improved caseworker efficiency by 20 percent, and increased caseworker time spent with children and families.
As a result, DCS was awarded a 2018 CIO 100 Award for implementing mobile technology innovations into its case management system using Diona solutions.
Related
Our Digital Disruptors