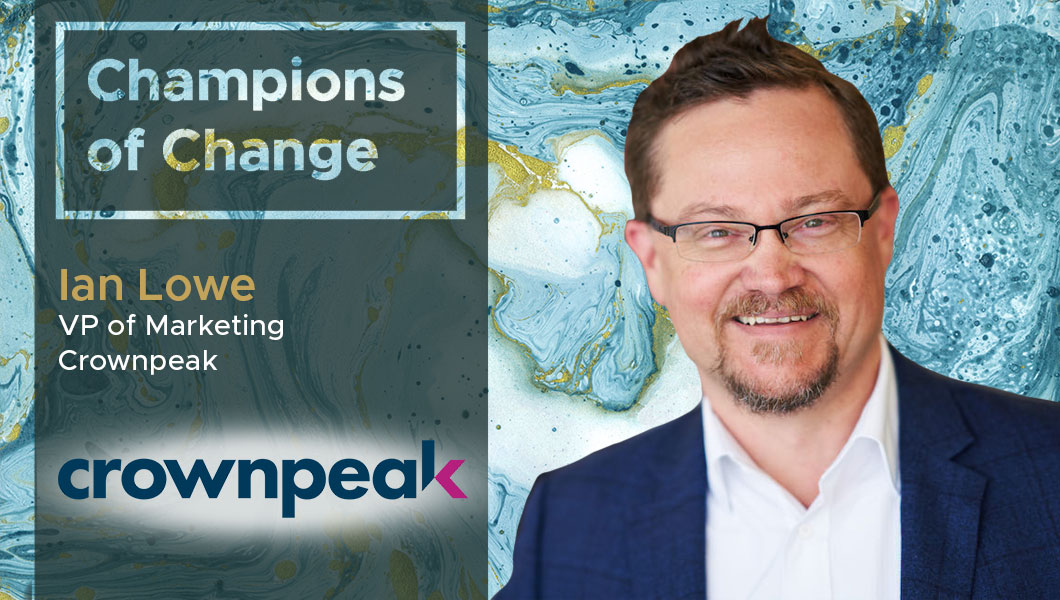 Ian leads Crownpeak's marketing and communications department and is responsible for generating demand and creating awareness. He's a marketing executive with 20 years of marketing and technology experience, with most of the last 10 years in the web content management space
TDE: Tell us a little about your business and your specific role?
Ian Lowe: Crownpeak is the world's only enterprise-grade, cloud-native Content Management System (CMS) platform. It is the only platform capable of delivering new sites for world-class brands in weeks instead of months. The digital marketing environment is becoming increasingly complex and Crownpeak's solutions provide marketers and customer experience professionals with the tools to deliver great experiences and maintain brand and regulatory compliance across all of their digital touchpoints. As the VP of Marketing, it's my job to let the world know about our products, but more importantly to talk to marketers about the best strategy to accomplish their goals. I've been at the intersection of marketing and technology for 20 years, and have spent the last 8 years in the digital experience space. What I've seen again and again is the frustration marketers have in just getting their job done – delivering experiences that matter to audiences they understand. At Crownpeak, I get to help them find the technology strategy that fits their digital strategy to deliver world class experiences in record-breaking time.
TDE: When did you first realize that you had an issue that needed a digital solution? What was the nature of the problem you set out to solve?
Ian Lowe: Crownpeak is a high-growth company and that means moving quickly and responding to both the market and our customers, faster. Increasing the agility of our already nimble team was a key focus as soon as I arrived. Luckily, our own Digital Experience Management (DXM) platform gives our digital channels great flexibility and agility and our Digital Quality and Digital Governance products ensure we maintain our standards even as we move quicker. A priority was making sure that our entire demand funnel and sales hand-off was seamless, and lined up with our sales motions, to ensure we were delivering quality.
TDE: What were the challenges you faced at the time as you began the process of evaluating solutions?
Ian Lowe: Today's martech market suffer from too much choice. There are literally thousands of companies and technologies fighting for attention to solve every part of the marketing lifecycle. Selecting the right technologies was vital. But the most critical step was to not think technology first. Determining our marketing and digital strategy first – putting the business before the tech – was essential. We develop the messages and experiences we want to deliver, consider the tools we have available and what else is needed – and importantly, what we do not need – and build out our solution from there.
TDE: What did the final solution look like and what were the broad benefits that it delivered?
Ian Lowe: Loosely coupled, best-of-breed technologies interlocked against a digital and marketing strategy focused on our audience. By using the best marketing and sales automation tools, we're getting the most value for our dollar that we can. And by using this loosely-coupled approach, we can move quickly in any tool, giving us that critical element of agility. And, our own technology running against our digital touchpoints to ensure quality, compliance, privacy and trust.
TDE: What were some of the key elements that were responsible for the project's success? What processes have you found useful for implementing digital technologies?
Ian Lowe: For all successful technology implementation projects it's essential that you understand your strategy and the end state you're trying to reach: what's the strategic objective of the project and process? Once you are clear on this you can then start selecting the right technology and data flow to implement it. Very often the challenge marketers have is they put tools in place without really understanding what the structure and end state is. It's vital to understand your strategy and then select the technology that supports your strategy, rather than expecting delivery on some kind of vendor promise. It's crucial to be practical in your decision-making. In terms of the process, this also refers back to those elements. First you need to define the strategy, then identify the data and technical flow of how you're going to implement, build the business processes around the technologies, and then finally implement the technology.
TDE: What was your biggest takeaway from this project?
Ian Lowe: What I've seen with projects in general is that very often marketers get excited about this new technology, they bring it into their stack and start using it, but they only end up getting marginal value out of it, because they haven't really built up the whole support case yet. They get seduced by the promise that the vendor gives them, without taking the time to truly understand the end state. Only by having a clear objective can they get any real value out of technology investments. It's key to always think about what you are trying to build. Have you thought about how it's going to be used, so it's going to operate to the best of its ability? Once this is established you can then go ahead and implement it to benefit your enterprise.
TDE: What's next for you on your digital roadmap?
Ian Lowe: Crownpeak has the advantage of being ahead in terms of having a really efficient demand engine with agility in time to market. Part of that is technology and part of it is organisational; it's about having a powerful combination of the right technology and the right people and processes. When those two come together then you have explosive outcome potential. As marketers we have a lot of objectives but the number one thing is demand. If you're not making your demand numbers then the CEO won't talk to you about anything else. So once you reach your demand numbers you open yourself up to all the other exciting stuff: awareness, brand, customer engagement and all the other interesting things that are part of the marketing mix.
TDE: What's your go to resource – websites, newsletters, any other – that you use to stay in touch with the explosive changes happening in the digital space?
Ian Lowe: The Stackie Awards and chiefmartec are great resources because you see how people are putting together their martech stacks. TechCrunch also allows you to keep up with new innovation and what new companies are thinking of. CMSWire, CMSC Media are also really informative publications.
For more DX insights follow Ian Lowe on LinkedIn and Twitter
Related
Our Digital Disruptors