Interview with Jeremy King, CEO & Founder at Attest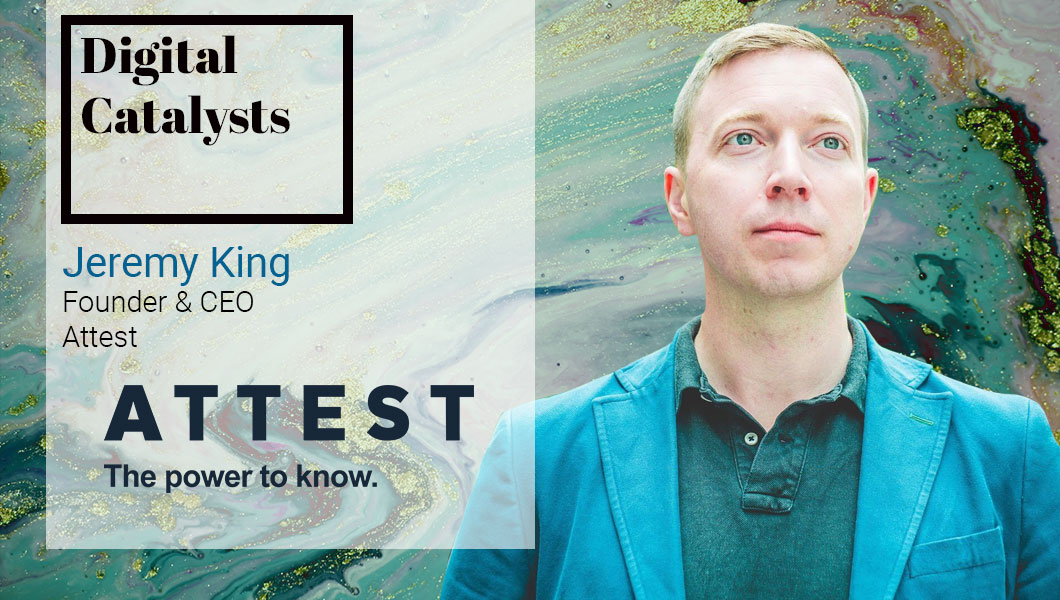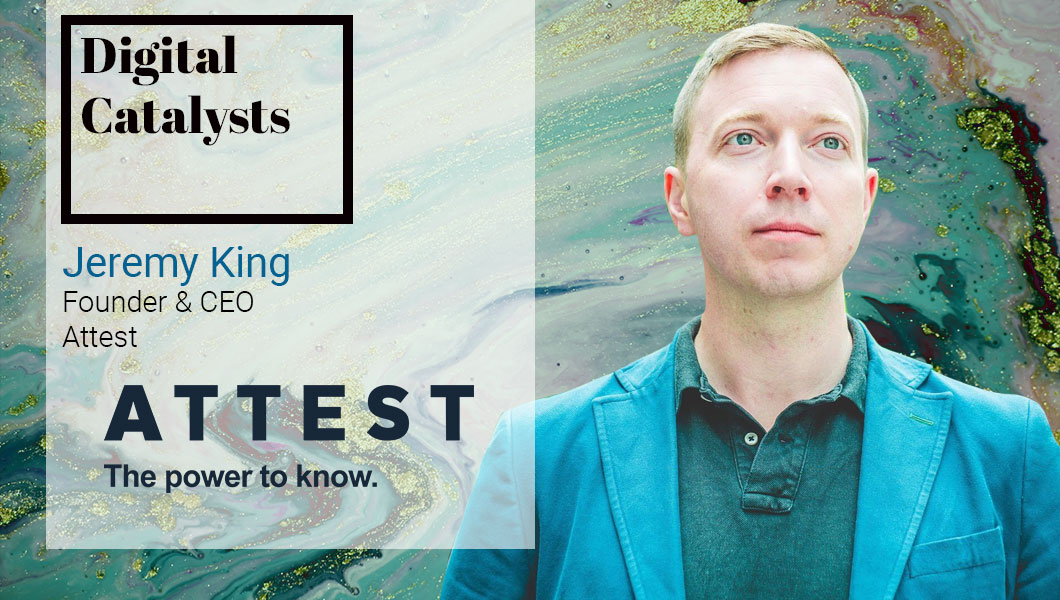 Jeremy King runs the show at Attest, particularly helping customers, adding new ideas, growing the team, and redefining how this industry works. Prior to founding Attest, Jeremy spent 9 years with McKinsey & Company, leading teams across almost every industry sector, in over 25 different countries. Originally a scientist focusing on genetics, ecology and behavior, Jeremy's notable interests include synthetic biology, mathematical simulations, and reef fish ecology (especially baby reef fish). With a strong background rooted in both strategy and science, Jeremy identified huge opportunities to improve how data and insights are used at organisations of all sizes. Jeremy is also the Chair of REAch2 Academy Trust, which helps to support and improve over 60 state primary schools across the UK. He holds an MBA from Harvard Business School
TDE: Tell us about your product/business and your specific role?
Jeremy King: Originally I was a scientist, with interests in synthetic biology and mathematical modelling of animal behaviour, so perhaps not the most classical route to becoming a tech CEO. The first 9 years of my career were with McKinsey & Company, where I worked in many exotic places and experienced many fascinating things, before founding Attest 3.5 years ago. Attest combines a personal passion for science and empiricism, with a very common and consistently observed business problem. All businesses are constantly seeking new edge, insight, and competitive advantages… it's just really hard to find! Scientists attack this problem with continuous testing of hypotheses and ideas, to consistently uncover new facts. Businesses really should have the same powers. Attest is the Consumer Growth Platform; it helps you unlock new levels of understanding and growth, with the consumers you need most. I lead the business, and I'm particularly involved in our growth strategy, organisation development and product innovation.
TDE: What is the core issue your product/technology aims to address and what sets it apart from the other players in the market?
Jeremy King: Great companies put consumers and data at the heart of every decision. Attest makes that simple and open for anyone at every business, continuously, at global scale. Business decision makers – across Marketing, Product, Brand, Innovation, Competition, Pricing and beyond – use Attest to constantly make better decisions and find consumer growth.  It's become quite easy to understand the customers you already have. What's missing is the customers you need, the target consumer groups you're missing. Your gaps. We don't believe that gaps or guessing are anywhere near good enough, so we've created a technology that gives anyone in every business the ability to gather rich consumer data and test their theories, assumptions and hypotheses at the click of a button. It's a very intuitive technology platform that gives businesses direct access to >100m consumers whenever they need it, so that businesses can use fresh, entirely customized data as part of ongoing decision-making whenever they need it (which we think is all the time!).
TDE: What's the one industry, sector or role that your technology is most relevant to?
Jeremy King: For Attest, it's less about industry/sector, and much more about functions. Attest is for anyone who is interested in 'growth'. For example, the unifying factor between the largest company CMOs and the hottest startups is that consumer growth sits at the core of their priority list. Growing awareness and share with consumers. Growing better products and propositions that suit those consumers more and match their evolving needs. Imagine how much more you could grow, and grow more accurately, if you had the right information to constantly unlock the best ideas and opportunities every time. Attest allows anyone to access the insights and information they need, to discover explore, and act upon these opportunities any time.
TDE: What are some of the common challenges your customers approach you with?
Jeremy King: Growth challenges come in many shapes and sizes, but there are usually three common issues customers immediately start using Attest to solve. The first is understanding market trends – emerging competitors, new themes, disruptive business models, changing buying behaviours – measuring what's changing and how to stay ahead. The second is around innovation – many companies have no shortage of great ideas, but often lack the ability to test/evolve them and discover which ideas will deliver the greatest reward. The third is competition – Why do certain consumers choose other products or brands? What's the variation by segment, product, price point or demographic? What are competitors doing well/badly that is/isn't working… which consumers are reacting, and why? …this is often the holy grail for many B2C businesses.
TDE: Using technology to affecttransformation usually starts with a transformation of beliefs and mindsets. How do you consult enterprise clients and help them make that important shift in mindset to move ahead on a particular project or implementation?
Jeremy King: Because our technology can do so many different things, we've found it helpful to give clients a taster of what Attest can help them achieve. Our core goal is to make it simple for clients to figure out how and where to embark on realizing some truly transformational developments. Once they realist how easy it is to use our platform, they naturally start to prioritize how and where else to get moving, and where else Attest can be valuable. It's important that we keep it simple – transformation can become a daunting prospect if embarking on too many new things in parallel. The key is to immediately deliver value, and make each next step easy, to unlock the next sources of growth for each Attest user. It's also crucial that we make our clients a part of our own transformation journey. This means constant learning – being humble about what our product can and should do better for clients, and constantly asking clients what else they're missing or trying to achieve next. Practically, we're constantly seeking direct feedback from existing clients and our advisory group whenever we're developing new features or making product choices. They help us to make our choices based on facts rather than instinct. In this way, we're taking our own medicine and doing exactly as we advise all of our clients to do.
TDE: Give us an example of an enterprise meeting a digital transformation goal through your product?
Jeremy King: Digital Wealth Manager, Nutmeg uses Attest as a business to dramatically alter how quickly it develops strong creative that resonates with each consumer segment. A statement from Nutmeg's Head of Business Intelligence, Greg Warnock: "Attest has allowed us to really be quite iterative in our testing, so right from our early ideas we put just the scamps (the sketches) out through it, get a steer as to whether the broad idea was working and each version through it's different finished formats we've re-tested. In the first case the marketing team have used the results in conversations with the agencies, going to the next version of the adverts, what's working and what's not working. Taking those scores to the executive team to convince them that the main messages are landing; that we're on to the right kind of ad idea and it's resonating with our target customers."
TDE: What present or upcoming technologies do you think have the maximum potential to accelerate enterprise digital transformation?
Jeremy King: I think it's far less about individual technologies, and more about how new technologies are used in concert. So many tools exist that aim to accelerate digital transformation… in many companies, already too many technologies and tools to actually be truly useful every day. It's harnessing the value of integration and cooperation between these new technologies that holds the greatest value, combined with true commitment to take action on the opportunities that the technologies unlock. Owning the instruments and hiring the concert hall doesn't create or play new music. It's so easy to try something shiny and new, but hard to make it stick and remain useful to what the business already does or is planning to do.
The winning formula is when you have a few clear technologies in mind – crucially where everyone involved understands the goals and is committed to act – and then getting technologies to work together (with each other and with everyday business), not in isolation.
Otherwise, all you have a series of pilots or innovations… a long list of good intentions, cool ideas and expensive proof-of-concepts, but certainly no real transformational change. Many fall into this trap when attempting innovation or transformation. Digital transformation needs to shift established habits, processes and mindsets, to take-on new approaches easily, then accelerate from there. It's the biggest product challenge we're working on right now, as we recognize how pivotal simplicity is to delivering true digital transformation across the entire enterprise. Digital transformation is almost always a human challenge at the root, and technologies are only one factor for success.
TDE: What's your go to resource – websites, newsletters, any other – that you use to stay in touch with the explosive changes happening in the digital space?
Jeremy King: SaaStr is full of great ideas, from quick pearls of wisdom from Jason Lemkin through to sharing the most advanced (or sometimes purely crazy) ideas in software. I'm also a big fan of the Ben Evans newsletter as a way of keeping up-to-date with new trends, as well as a regular reader of Simon Andrews's Mobile Fix.
TDE: Read a good book lately on digital transformation that you'd like to recommend to us?
Jeremy King: Prisoners of Geography; it's about the physical and human-made features that shape the modern world. The book is full of entirely new perspectives on very well-studied widely repeated problems, which is interesting in itself, and even more interesting when you reframe and try to apply some of those ideas to your most challenging business problems. A great source of inspiration, ideas and new angles.
For more DX insights follow Jeremy King on LinkedIn and Twitter
Related
Our Digital Disruptors