Interview with Jerrell W Shelton, President & CEO at Cryoport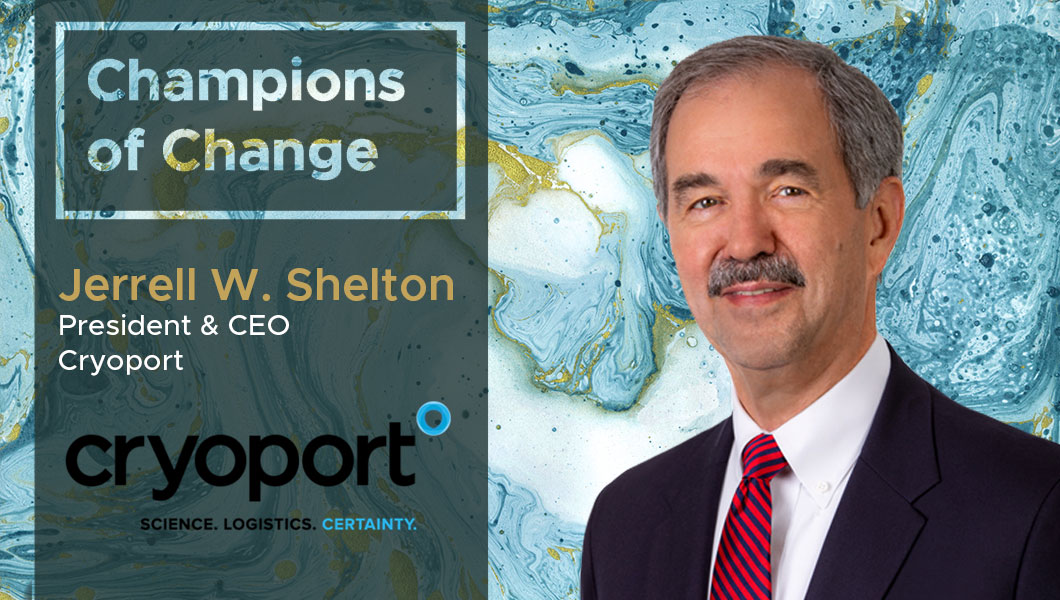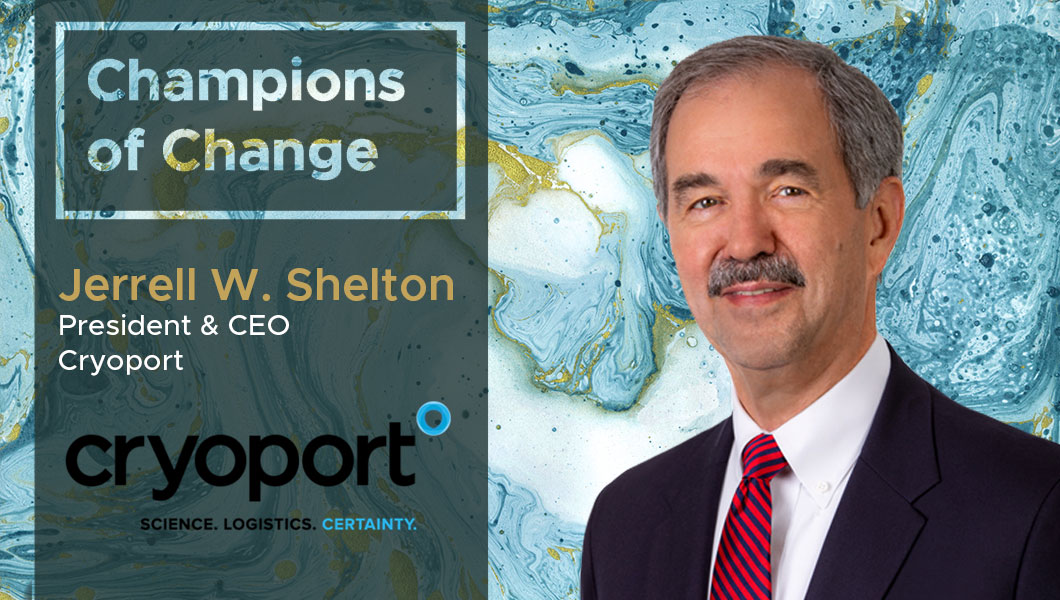 Jerrell Shelton has more than 30 years of executive and corporate governance experience across several industries including information services, telecommunications, manufacturing and distribution. Previously, he was a visiting executive at IBM Research, where his team created and developed WebFountain, a project contributing significantly to IBM's software strategy. He was also president and CEO of NDC Holdings, Continental Graphics Holdings, Thomson Business Information Group and Advantage Companies. Under his leadership, each of those companies achieved rapid revenue growth, improved profitability and increased shareholder value. Shelton holds a B.S.B.A. degree from the University of Tennessee and an MBA from Harvard Business School
TDE: Thank you so much for taking our questions! Tell us a little about your business and its history?
Jerrell Shelton: Cryoport is a trusted global provider of temperature-controlled logistics solutions for life sciences industry. We serve three markets: biopharmaceutical, reproductive medicine and animal health. We support the biopharmaceutical market with leading-edge logistics solutions for biologic materials, such as regenerative medicine, which includes immunotherapies, stem cell therapies and CAR-T cell therapies, etc. Cryoport's solutions are used by medical points-of-care, CRO's, central laboratories, pharmaceutical companies, biopharma manufacturers, university researchers and others. We support the reproductive medicine market by providing tailored temperature-controlled logistics solutions, primarily in IVF and surrogacy. And, we support the animal health market primarily in the areas of vaccines that enable more efficient protein production and cell-based therapies and reproductive materials for companion animals.
Cryoport's proprietary technology and information systems include Cryoport Express® Shippers, the Cryoportal™ Logistics Management Platform, our leading-edge SmartPak II™ Condition Monitoring System and various geo-sensing technologies, paired with unparalleled cold chain logistics expertise, which also provides 24/7/365 client support. This has helped make Cryoport the end-to-end temperature-controlled logistics partner that the life sciences industry trusts. Cryoport is dedicated to simplifying global temperature-controlled logistics for the life sciences through innovative technology, unmatched monitoring and data capture combined with our physical intervention support capability. Our services include consulting, delivering the most advanced temperature-controlled logistics solutions for the life sciences industry found anywhere in the world and providing vital information that provides peace of mind throughout the life of each logistics process as well as crucial information for scientific and regulatory purposes.
TDE: What are your thoughts on the current pace of digital transformation in your industry?
Jerrell Shelton: The digital transformation in our industry is pervasive and has been underway for over 25 years. I remember using acetates, in the 90's, for overhead projector presentations with the word "digital" in yellow to emphasize that "everything that can go digital will go digital and payments will be reduced to the lowest element." The digital transformation is still underway, and it is, I think, impossible to forecast when it will end. Whether it is communications, information technology, drone technology, smart cars, or smart phones, digital technology plays a vital role today and will continue to drive more developments into the foreseeable future.
In our industry, we are unique as we employ digital technology throughout our processes, and we are always on the outlook for new applications which will give us a greater competitive advantage and help us deliver on our mission of supporting the life sciences with the most advanced supply chain solutions at all times.
TDE: What do you feel is the one technology trend within your industry that cannot be ignored?
Jerrell Shelton: Cryoport is a support company with supply chain services that are crucial to the advancement of life sciences. Discovery, development and support of commercial solutions requires temperature control in order to control metabolic activity. We operate out of what I refer to as "buckets of tools": packaging, information technologies, monitoring, logistics expertise and bio-services. We offer thousands of possible solutions, but we know that our company and the life sciences industry we serve is in the earlier stages of development. The support requirements for life saving autologous and allogenic therapies in the future will be different than they are today.  So, we have to stay in what I call the "athletic stance", ready to move on all technology developments, whether Cryoport or the life sciences industry we serve, at any moment. Today, we have demands in all our buckets of tools, and we work constantly to balance out improving our effectiveness with efficiencies to better serve our markets in the short term and the longer term – and this always involves technologies.
TDE: Have you used technology for managing a) field team operations, b) sales/channel management, c) shipment tracking, d) employee engagement, or e) customer retention? What has been your experience?
Jerrell Shelton: It would be difficult for us to carry out our mission without technology. At Cryoport, we use technology in all the areas mentioned in your question. In our field teams, we use our proprietary Cryoportal™ Logistics Management Platform. In sales/ channel management, we use a CRM system. In shipment tracking, we use our leading-edge SmartPak II™ Condition Monitoring System which communicates with our Cryoportal™ Logistics Management Platform and our Logistics Managers. In employee engagement, we use Loopup, GoToMeetings, Skype for Business, etc. and in customer retention, we supplement the information we gather from other systems with anonymous customer satisfaction surveys. We are proponents of ever improving processes and procedures in order to advance our analytics. It is the analytics that allow us to develop trends, patterns and relationships which give us insights to further develop our business.
TDE: How integrated is your customer experience – from sales to operations to delivery tracking? Do your customers have access to a common portal?
Jerrell Shelton: Our customer experience is fully integrated. With the Cryoportal™ Logistics Management System as the backbone of our operations, we begin by entering orders into the Cryoportal™, which then generates all logistics related activities including work orders, shipping documents and customs documentation for over 100 countries. After orders are fulfilled, the SmartPak II™ Condition Monitoring System reports monitoring information in near real time back to the Cryoportal™. If anomalies happen, alerts are created for our Logistics Managers who, if necessary, determine the best solution for correcting the issue reported. Intervention of some type takes place on about 2% of our through put; most of the time it is communication over the internet or phone, but, in rare occasions, it is physical intervention. The products we ship include lifesaving therapies, commodities that are very valuable and, in some cases, irreplaceable.
TDE: How paperless are your operations? Do you feel any part could be digitized and if yes, which?
Jerrell Shelton: Cryoport, like most companies, is constantly moving toward reducing its dependencies on paper. How paperless is difficult to estimate, but we much prefer an as near paperless environment as we can achieve.
TDE: In the next quarter which part of your business are you focusing on? Which part of your business can be further optimized using technology?
Jerrell Shelton: As I have indicated, we are constantly working to optimize our business using the latest technologies. Our focus is over a longer horizon and we are constantly reprioritizing based on latest events in our fast-moving industry. Hardly any process in our business is changed within a quarter.
TDE: Do you view & use a common management dashboard to check the health of your business?
Jerrell Shelton: We use a number of dashboards to management our business. Having a common dashboard at a high level is a goal we are pursuing.
TDE: How do you keep yourself updated? What are some of the websites or magazines or apps that you subscribe to or read regularly?  
Jerrell Shelton: Staying updated in today's world is always a challenge. I use a variety of sources, industry newsletters, financial analysts, scientific journals, and industry meetings including: The Economist, The Wall Street Journal, The New York Times, NPR. In addition, my leadership team at Cryoport keeps me posted on important events, news and actionable items.
TDE: What's your favorite social network – Instagram, Facebook, LinkedIn or Twitter?
Jerrell Shelton: There is no doubt that social networks are important and impact our lives on a daily basis. Although we employ social media in our business, I am not personally a big user of social media. I use LinkedIn frequently followed by Twitter and Facebook. Recently, I have been exploring WhatsApp. In my opinion, social media will continue to evolve for many years to come.
For more DX insights follow Jerrell Shelton on LinkedIn
Related
Our Digital Disruptors