Interview with Jon Pulli, Co-founder & CEO at Turn 14 Distribution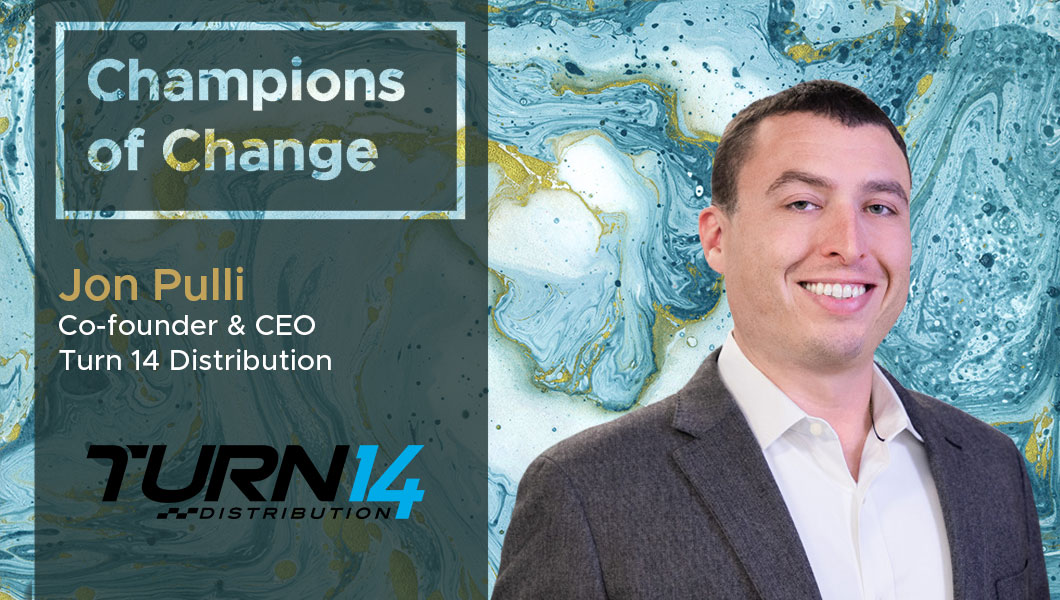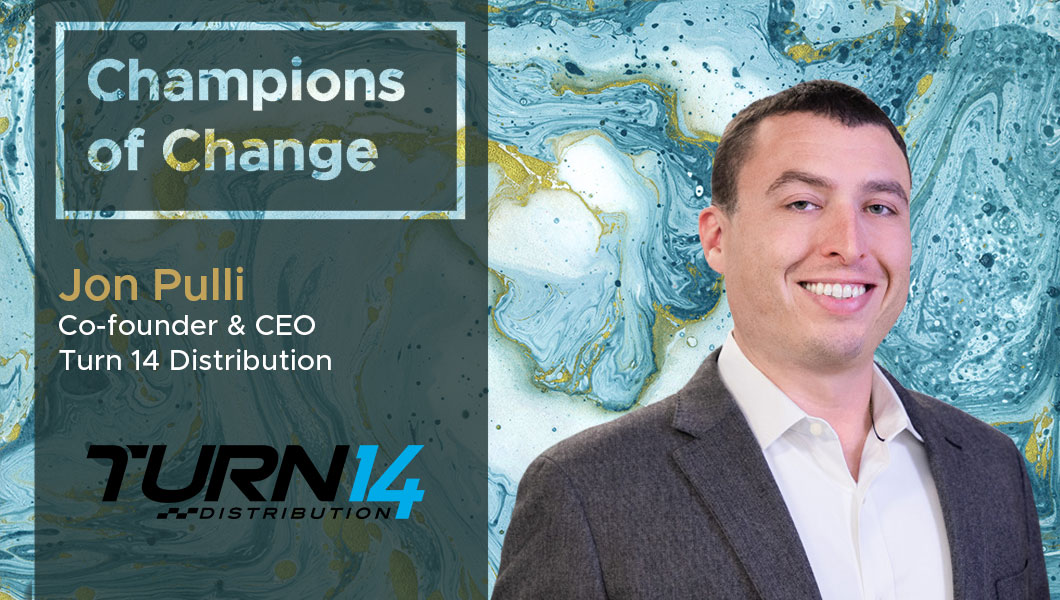 Under Jon's leadership, Turn 14 Distribution has reimagined automotive performance parts distribution for the modern marketplace. Jon's combination of entrepreneurial drive and systematic operation have allowed him to achieve sustained growth and long-term success for his partners. Jon's intense focus on the process of distribution has led the company to establish many industry-first innovations, which have fueled Turn 14 Distribution's impressive growth. Industry recognition of this leadership came when Jon earned the title of SEMA Gen III Innovator of the Year in 2018. During his junior year at Franklin & Marshall College, Jon co-founded JSC Speed, an automotive e-commerce retailer. Born into a family of entrepreneurs, Jon learned innumerable lessons that have successfully been applied to his leadership style at Turn 14 Distribution. Jon's life experiences have crystallized into central core values: maintaining work-life balance, establishing and maintaining meaningful relationships, and creating positive change in the world
TDE: Thank you so much for taking our questions! Tell us a little about your business and its history?   
Jon Pulli: Turn 14 Distribution is a B2B-only Performance Automotive distributor. Chris Candido and I, founded Turn 14 Distribution in 2007 when traditional distributors were unable to service e-commerce retailers.  Since its inception, Turn 14 Distribution has used its focus on technology as a competitive advantage.
TDE: What are your thoughts on the current pace of digital transformation in your industry?
Jon Pulli: The pace is constantly accelerating to meet the retailer's needs effectively. Cataloging niche auto parts lends itself to this transformation, because these are so data-intensive due to potentially hundreds of applications per part number. Sales are not consolidated into a few SKUs; they are scattered and fragmented over hundreds of thousands of SKUs. This dynamic in itself creates a plethora of opportunities to apply technology enhancements, both physical in terms of warehouse automation and intangible through the development of transparent supply chains, algorithms, data manipulation and consolidation tools. The greater a company's scale, the more lucrative transformation becomes because efficiencies pay larger and larger dividends.
TDE: What do you feel is the one technology trend within your industry that cannot be ignored?
Jon Pulli: EVs, or Electronic Vehicles, are exploding in popularity, while the automotive aftermarket is lagging behind the adoption of these as enthusiast vehicles. In my view, it's similar to the conversion from carburetors to fuel injection. Industry leaders are hesitant to embrace change, because a reshuffling of the deck could leave them in a lesser position. However, this change is coming whether industry leaders like it or not; it's exciting, and the automotive aftermarket should take the challenge head-on to make EVs enthusiast-friendly.
TDE: Have you used technology for managing a) field team operations, b) sales/channel management, c) shipment tracking, d) employee engagement, or e) customer retention? What has been your experience?
Jon Pulli: We use technology to manage our outside sales force through a proprietary visit reporting system. Our in-house development team designed a web application which allows inside sales representatives to request a customer visit from our outside sales team, who will then visit the customer as requested. The outside sales team can see all open requests and can also add requests themselves. Immediately after the visit, the outside sales team can get on their phone and fill out a field report with action items, pictures, and feedback for the inside team. The inside team is then notified and takes action if necessary. Once the visit is closed out and all action has been taken the report goes to Sales Management for review.
This system allows inside sales staff to direct outside sales staff activity, gives outside sales staff a clear to-do list, allows action to take place at lightning speed from the customer's perspective, and gives management a clear picture of the relationship between the inside and outside sales teams, which is especially important to assist in managing remote outside sales staff. We use our proprietary Dealer Portal as a unilateral order entry system.  We accept orders via Phone, E-mail, Website, EDI, API, and Fax each funneling through our web portal. Over the years, our systems have been adapted to our business needs, enabling them to process more and more automatically, with staff only needed to resolve errors. In the simplest terms, in 2010 we could handle 65 orders per order processing employee, and today we can handle 401 per employee through continuous process development and refinement of automated handling.
Turn 14 Distribution strings numerous processes together, which results in the following steps happening automatically once an order is placed:

Order is processed through the proper distribution center based on proximity and stock levels.
The order is split into boxes so that each shipping carton is separated out and can move independently.
Items are picked manually and dropped on a conveyor system, conveyor sorts items to put walls, packing stations, or to print and apply.
A label is placed on the package by a machine.
The box then travels to a shipping sorter where it is directed into the correct truck, once the package goes past the last scanner on the conveyor and into the truck the package has been shipped.
This all takes place with only one or two people ever touching the products, and results in a tracking number being emailed to a customer in as few as seven minutes after they click the check-out button!
Turn 14 Distribution uses an outside provider's system to allow employees to give each other pats on the back that their supervisor will see when it is review time. In addition, Turn 14 Distribution worked with Instagram's API to develop a Turn 14 Wall which is a TV in all Turn 14 Distribution locations that shows a wall of images with particular hashtags on them. This allows employees to bond and post work-related images to Instagram with the added feel of a live TV showing our communal interactions. It's a small thing, something we developed five or six years ago, but I mention it because it's often a large collection of small things that make the difference.
TDE: How integrated is your customer experience- from sales to operations to delivery tracking? Do your customers have access to a common portal? 
Jon Pulli: As a B2B enterprise, we have a goal of providing absolute supply chain transparency. We strive to act as the connection between manufacturers and retailers, as opposed to acting like a black box which many B2B distributors become. This starts with our Dealer, Vendor, & Employee Portals. To put it simply, we develop on one platform to accomplish three goals: to run the company, be a customer, or be a vendor. This results in a robust portal system with no area lagging behind. I will give just a few examples to highlight the power this methodology creates.
When we invested the time in the development of a robust Sales Reporting suite for our employees, we were able to make select reports viewable to vendors and customers. This gives them reporting suites of their own within our Portal.
When we began serializing every inbound item we received to improve accuracy, we also gained the ability for vendors to track down any individual item in our warehouse in a recall situation. Instead of sending back all instances of a particular SKU, we can send back just the offending items, which saves everyone time and money.
When we decided to scan, weigh, and dimensionalize every item we received on inbound, we also gained the ability to run box consolidation algorithms on orders while in an online shopping cart. This gives us the ability to provide exact and immediate shipping quotes to our customers. In B2B relationships, this is even more crucial because it then allows our customers to do the same on their e-commerce platforms.
TDE: How paperless are your operations? Do you feel any part could be digitized and if yes, which?
Jon Pulli: I am very proud to say that we are entirely paperless in all facets of our company. We have all records held electronically, all distribution centers are run on devices without paper, and everyone in our office has a computer.
TDE: In the next quarter which part of your business are you focusing on? Which part of your business can be further optimized using technology?
Jon Pulli: Our business is technology. Chris Candido, who is co-founder and Chief Technology Officer, runs our team of 14 developers. He has a project queue full of advancements that, unfortunately, I cannot share at this time.
TDE: Do you view & use a common management dashboard to check the health of your business?
Jon Pulli: We use dashboards for departments to show daily performance metrics designed to keep staff engaged and to reward them when they continuously excel. However, I prefer monthly or quarterly status reports from Department heads. I believe dashboards and metrics are great for tactical operations, but leadership should summarize and in doing so interpret data so we don't boil the proverbial frog. Technology is an important tool but it can't run a business for you, yet!
TDE: How do you keep yourself updated? What are some of the websites or magazines or apps that you subscribe to or read regularly?  
Jon Pulli: I digest a large amount of news and information that is passed along to me by our leadership team. This gives me a wide range of material which encompasses all different areas of the company's operations. With titles such as Modern Material Handler magazine, SEMA News, The Shop digital magazine, Frontstreet.media, to Harvard Business Review, The New York Times, and Bloomberg I try to stay diverse and avoid the regular read.  The one news outlet I watch regularly is Vice News.
TDE: What's your favorite social network – Instagram, Facebook, LinkedIn or Twitter?
Jon Pulli: I use Instagram regularly, LinkedIn to keep up with trends, am impartial to Twitter, and avoid Facebook. I don't like the insidious addiction possibilities with social networks, so I keep them intentionally at arm's length; I primarily use Instagram to keep up with family and friends who are far from home.
For more DX insights follow Jon Pulli on LinkedIn
Related
Our Digital Disruptors