Interview with Ketaki Shriram, CTO at Krikey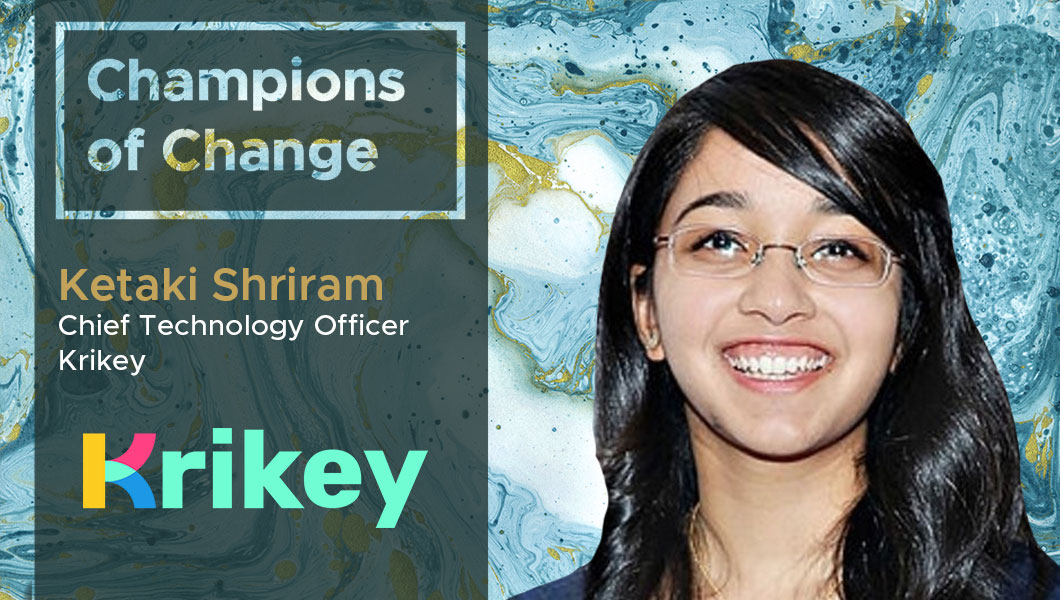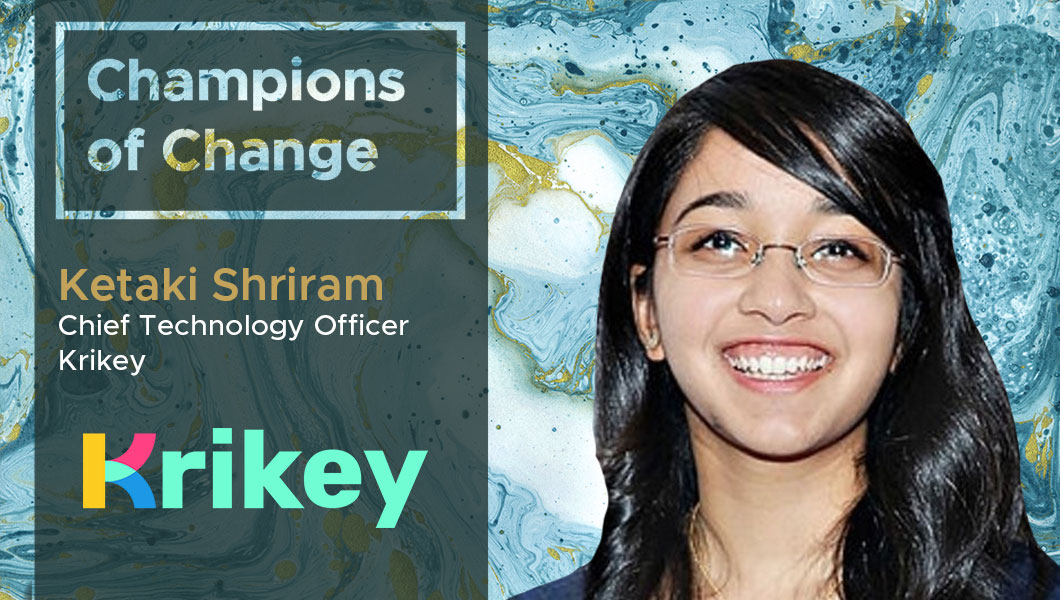 Ketaki Shriram is Chief Technology Officer of Krikey, a new Augmented Reality (AR) mobile application that enables users to create and share videos featuring 3D AR objects and characters that interact with the real world. Prior to Krikey, Ketaki earned her PhD in Virtual Reality in 2017, making her one of the few people and the youngest woman to hold this degree. During her PhD studies, she immersed herself in research for Google[x] on the Glass team and at Facebook's Oculus VR. She also published a number of research studies exploring the impact of sexual harassment in virtual worlds and how animals in a VR experience can impact people's awareness around the environment and conservation issues. Ketaki holds a BA, MA and PhD in Virtual Reality from Stanford University. Ketaki is a winner of the 2016-17 Magic Grant, in collaboration with the Columbia School of Social Work. Her work has been published in IEEE'S VR division & in the Journal of Social Psychological and Personality Science. Ketaki currently lives in San Francisco, CA
TDE: Thank you so much for taking our questions! Tell us a little about your business and its history?
Ketaki Shriram: Krikey is an Augmented Reality gaming app that launched on iOS and Android in October 2018. We are in 100+ countries and have the biggest multiplayer AR game catalog on the market with over 15+ games. Krikey recently partnered with Sony Pictures Entertainment for GOOSEBUMPS2: HAUNTED HALLOWEEN, building custom AR games featuring Goosebumps characters. Krikey is founded by my sister Jhanvi Shriram and myself and we have previously worked at YouTube, Facebook's Oculus and Google [x].
TDE: What are your thoughts on the current pace of digital transformation in your industry?
Ketaki Shriram: While AR experiences can be proliferated via HMDs, they have achieved varying degrees of success on mobile devices over the last three years. In particular, the advent of developer toolkits—ARKit from Apple and ARCore from Google—has provided a new foundation from which developers can create engaging AR experiences on mobile. These new developments have enabled three key features of AR experiences: social presence, degrees of freedom, and advanced computer vision. While the mobile AR market is still nascent, the ample number of developer tools—and methodologies to customize what they offer—make it easier for developers to navigate the landscape when building an engaging AR experience.
TDE: What do you feel is the one technology trend within your industry that cannot be ignored
Ketaki Shriram: Computer Vision is key to building a successful AR experience. Until now, most CV implementations were not possible on mobile and usually only explored in an academic context. Some key implementations that improve AR experiences include optical flow (tracking moving objects in the camera), object detection (identifying specific objects like a table or chair in the camera), and occlusion (hiding a digital object behind a physical object – for example hiding an animated character behind a real table in your room).
TDE: Have you used technology for managing a) field team operations, b) sales/channel management, c) shipment tracking, d) employee engagement, or e) customer retention? What has been your experience?
Ketaki Shriram: We have a very flexible team culture and many of our team members work different hours or from home so they can be with family. This means we have to be extremely organized and clear in communication with each other. We use JIRA to organize tasks, Google docs and sheets for notes, Google Calendar for scheduling, Google Video chat for meetings, Slack for text communication and Google Drive for organizing docs + other content. It is definitely a challenge but we are grateful for all of these tools that help our team stay organized.
TDE: How integrated is your customer experience- from sales to operations to delivery tracking? Do your customers have access to a common portal?
Ketaki Shriram: Our goal is to get a user into an AR game in under 3 seconds. From downloading the app (available on Google Play or the iOS App Store), to creating an account and launching an AR game in camera – the user pathway to an AR game has to be fast. This has taken months of hard work and A/B tests. We are excited about our current solution but always continuing to refine this onboarding process.
TDE: How paperless are your operations? Do you feel any part could be digitized and if yes, which
Ketaki Shriram: We are completely paperless!
TDE: In the next quarter which part of your business are you focusing on? Which part of your business can be further optimized using technology?
Ketaki Shriram:  As we enter Q2 2019 we are aiming to produce more narrative-driven games to give our users more immersive AR experiences.
TDE: Do you view & use a common management dashboard to check the health of your business
Ketaki Shriram: We have a dashboard built in Google's Data Studio that tracks key metrics. This is primarily used by the business development and marketing team. Our engineering team leads often also keep their own dashboards (in Mixpanel or Google Sheets) with data specific to their team's tasks.
TDE: How do you keep yourself updated? What are some of the websites or magazines or apps that you subscribe to or read regularly?  
Ketaki Shriram: The New York Times and Google News – we also subscribe to several industry-specific newsletters.
TDE: What's your favorite social network – Instagram, Facebook, LinkedIn or Twitter?
Ketaki Shriram: Our mission as a company is to entertain the world with Augmented Reality – and we hope to use AR experiences to bring people together. It's very easy to get buried solo in your phone even when you are with friends and loved ones – if we can use phones to bring people back together then we have done our job! Time truly spent with your friends is more valuable than time spent in an endless scroll.
For more DX insights follow Ketaki Shriram on LinkedIn and Twitter
Related
Our Digital Disruptors