Interview with Dr Mark Goldspink, CEO at The ai Corporation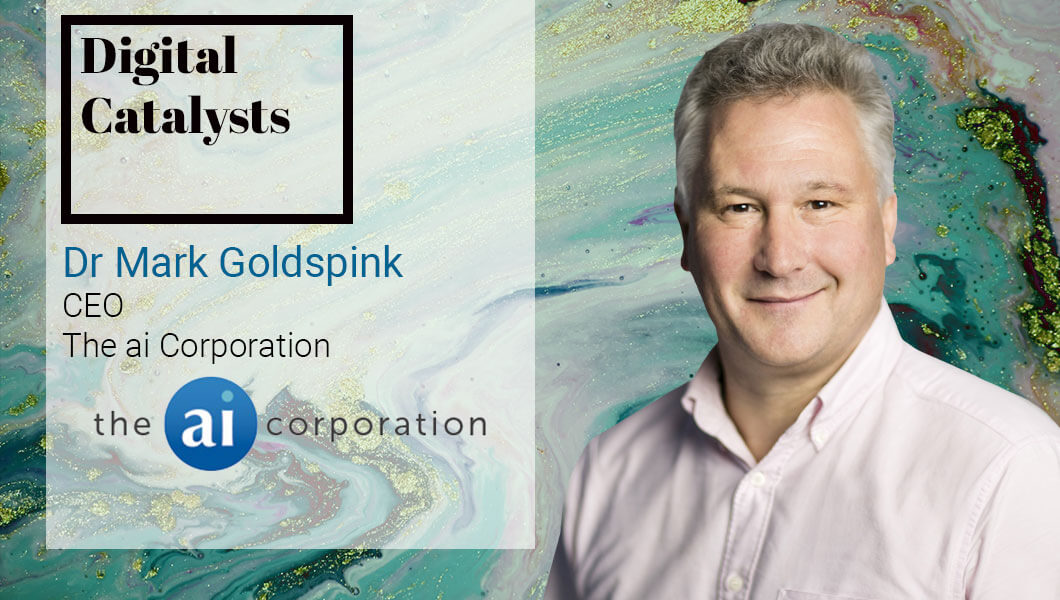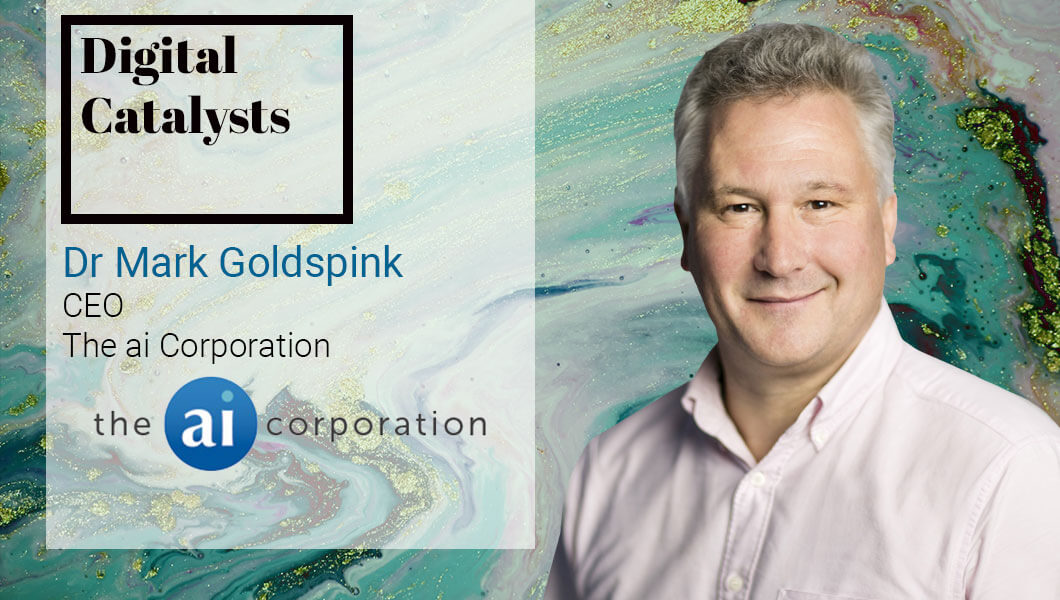 In this interview, Dr Mark Goldspink, CEO at the ai Corporation discusses innovative technology that can allow customers to take control, how data-driven decisions can help truly understand customers and the use of AI to manage data for 'digital' organizations
Tell us about your product/business and your specific role?
I am lucky to be the CEO of The ai Corporation (ai). ai was founded in 1998 and has a long and exciting heritage as one of the world's leading companies in fraud management. However, it was always a central part of our strategy to offer a much wider set of solutions. On that basis in 2016, ai purchased a payment gateway and in 2017, a card issuing platform in line with the demand of our customers.
For over 20 years, ai has provided solutions to some of the world's largest financial institutions, international merchants and other major payment service providers. Today, our unique self-service fraud detection solutions are considered by many industry "thought leaders" to be the best in the world. Our solutions, including our new "state of the art" machine learning/A. I, protect and enrich payments experiences for over three million multi-channel merchants, 100 banks and over 300 million consumer cardholders. We also monitor over 25 billion transactions and authorisations each year. These machine learning technologies are also flexible enough to be applied to other business processes that require detailed consumer insight for marketing or pricing.
As the payment value chain continues to converge, ai has positioned itself to take advantage of the evolution of the digitisation of payments, by exploiting our fraud and analytical capabilities. To support this ai's cloud-based payment landscape and European Money Licence, means we can provide a wider range of payment facilitator services for our business partners, allowing them the luxury of rapidly launching new alternative payment types into the market place. A truly end-to-end offering which uses "state of the art" machine learning to manage omni-channel payment transactions securely via a cloud-based platform.
I have worked in payments for over 18 years.  I spent 5 years at Retail Decisions as Managing Director, and then as Vice President for CGI Inc, working on some very large payment outsourcing opportunities including winning and managing large payment contracts worth over $500m. I spent my early career in the oil industry, so I always state my experience is from petrol to payments.
In 2013, I was lucky enough to start working with Ashley Head (who is highly recognised as a payment entrepreneur) on rejuvenating ai. I am now extremely fortunate to be working with a highly performing and ambitious team, all of who are driven by the vision of exploiting business value from real time payment data by using machine learning technologies
What is the core issue your product/technology aims to address and what sets it apart from the other players in the market?
The core issue is allowing our customers to take control – products and services that are easy to use and are purchased on a 'pay as you go' model. I believe there is nothing more frustrating for a customer than to outsource a service and then to become reliant on that 3rd party. To be honest, as someone who has spent many years in the sector of payment outsourcing, it really upsets me.
Outsourcing should help the customer, not hinder them.
I am proud of the solutions our teams develop and even though we have work to do, the strategy is starting to bear fruit. As an FCA approved expert in payments, fraud and risk management, we are already trusted around the world for developing innovative technology that allows our customers to take control and grow profitably with confidence. Stopping fraud and simply managing their omni-channel payments.
We have a long track record of providing solutions to some of the world's largest financial/payment institutions and international merchants. Our long-standing business partnerships are based on making things simple by providing self-service tools that allow our customers to take control of their business. Through our relentless focus on these tools, we constantly strive to help our customers create highly profitable returns.
Many of the 'competition' are product-only companies and not service-based businesses. They certainly don't run gateways and card/payment issuing platforms. As I said, we understand our customers pain points. We eat what we cook too, and we believe it is important to truly understand the pain points. To ensure we live by this approach, our research and development activities are proven on our own payment processing and issuing platform. This means that when it comes to release our products, they are operationally fit for purpose – unlike many of our competitors we don't carry out research and development on our customers, we carry it out on ourselves.
Our new outcome-based service model is the culmination of many months of hard work, of statistical calculations and focused live service from our alert management team. We can offer the new service because we are so confident in our man and machine learning technology; that after the initial base cost, we won't ask our clients for a penny more until we have achieved the promised performance – and that goes for all our clients who sign up to the new service.
We wouldn't be able to offer this service without our team of experts and the way they have integrated our machine learning tools into their day to day operations. ai's success is based on our clients being successful and this service exemplifies how committed we are on performance and becoming a trusted partner within our client's businesses. It also clearly focusses our research and development activities, because under a service-based model, it is in our best interests to develop practical and operationally sound products.
In summary what makes our globally available technology different, is the ease of use and the teams that design them, create them and sell them into the market. We create unique payment solutions that include our new "state of the art" neural / machine learning technology. We believe that humans should spend more time on complex decisions if machines take care of the rest and our solutions are designed with that premise in mind. All our 'best of breed' payment solutions are designed to help our clients grow profitably.
What's the one industry, sector or role that your technology is most relevant to?
Put simply, ai's "why" is to allow our clients to take control by developing common sense/practical payment solutions. To this end, we have long believed that data-driven decisions are the only way to truly understand our customers. The days of "gut feel" subjectivity, are being replaced by data-driven objectivity – and rightly so.
Nowhere more is this true than in the fraud prevention world – inevitably as businesses move more and more real-time, offer full omni-channel capability and accept more payment types, new solutions are required.
Over the past 4 years, we have moved from being a product only business to a service-based business – lumpy to smooth revenues. We have also expanded our range of solutions not only vertically within the fraud domain but horizontally across the payment landscape. The reason for making all these changes was very simple – to create greater business resilience.
This new unique end-to-end offering has been constructed to target a gap in the market place and is constructed around the following technology and business principles:
State of the art self-service business rules technology– allows customers to take control
Flexible and agile so new customer features could be deployed quickly
No CAPEX with "pay as you go" business model (controllable OPEX).
What are some of the common challenges your customers approach you with?
I think the most common challenge is the ability to provide cost-efficient solutions. Nowhere is this more apparent than if a customer is upgrading or replacing legacy technology. Creating a creditable business case based on swapping out old technology for new is never easy or compelling. On this basis, our customers are not investing for the short term but for the long term, they have to select a technology partner who gives them "future proofing" – a strong and sustainable vision.
In essence the customer wants scale and yet agility, at a cost-effective price – which is only reasonable as I would want the same if I was in their shoes. So how do you resolve this? It is not with technology but with creating long-lasting partnerships, which is something I could spend hours on.
Using technology to effect transformation usually starts with a transformation of beliefs and mindsets. How do you consult enterprise clients and help them make that important shift in mindset to move ahead on a particular project or implementation?
My view on this follows from above – the business partnership. As a technology partner, I believe our role is to always stay ahead. When I first came to ai, this was not the case, so the team have had to work hard to create world leading roadmaps. These roadmaps are generated from three very important sources, the customer, industry networks and conferences and finally our team of subject matter experts.
As well, as creating the capability as your question implies, you then must consult with the client. We do this by using a series of techniques both formal and informal. All these techniques are based around one important facet – clear and concise communication.
Give us an example of an enterprise meeting a digital transformation goal through your product?
I am lucky to say, I have many examples. Business transformation, as well as seeing my team develop, are the things that motivate me every-day. I have always been obsessed about how you can improve business processes using new technologies, all the way through my career. I was lucky enough to join an oil company that always encouraged business innovation.
In relation to your question, in 2002 I have helped WaterAid be one of the first charities to put a paperless direct debit on their website – I am proud of this achievement. In 2001, I helped "Who wants to be a millionaire" rollout their on-line franchise across the world with payments solutions.
In terms of ai, our fraud prevention technology, as stated, helps banks process their omni-channel payments including e/m-commerce everyday all around the world. Today we work closely with very innovative payment providers such as Zapper.com and ThumbZup. Our A.I. helps organisations combat fraud in ways that just weren't previously possible.
What present or upcoming technologies you think have the maximum potential to accelerate enterprise digital transformation?
The simple use of A.I to proactively manage data will be central to organisations taking digitalisation to a new, exciting level by increasing personalisation and driving deeper relationships between brands and their customers.
With accessibility across all channels becoming key, A.I. will be central to organisations looking to boost their bottom line.
The finance industry needs to embrace the latest technology as the focus increases on improving the customer experience. This means that all businesses now have no choice but to continuously improve their customer journey. A.I. is central to brands taking digitalisation to a new, exciting level. Ensuring they are accessible across all channels has become key and artificial intelligence is helping organisations boost accessibility and their bottom line.
Even the data collected by fraud platforms is being used for more than just identifying fraud. The data from fraud platforms can be utilised in many ways, for 'good', as well as 'bad'. For example, in analysing spending patterns amongst customer data and helping marketing teams to develop targeted marketing campaigns. Purchasing data can also help a brand identify customer segments and establish target markets for advertising.
There are many factors driving the requirements for effective A.I. solutions for payments and transaction processing. As technology evolves, online fraud is becoming more prevalent and damaging, with financial services and e-commerce companies especially vulnerable to attacks.
Modern fraudsters have evolved their ability to detect vulnerabilities in systems have always targeted those weak links – low hanging fruit. They are using new tactics too, such as distributed networks, big data and the dark web to locate vulnerabilities and maximize the associated risk. Fraudsters are also devising multi-dimensional tactics that inflict damage by sequentially compromising more than one point of vulnerability.
Organisations that want to defend themselves against these risks and thwart modern fraud attacks must be able to react in real-time. To do this, they need powerful solutions that are responsive and dynamic, yet still easy to use and integrate into their existing systems.
What is needed is a paradigm shift in the tools used to fight multichannel commerce and banking fraud. A.I. solutions can augment existing rules-based fraud management tools with self-learning algorithms, reducing 'false positives' by using big data to identify new fraud patterns. Ultimately, these capabilities enable managers to make better decisions related to fraud, and so significantly reduce fraud loss.
What's your go to resource – websites, newsletters, any other – that you use to stay in touch with the explosive changes happening in the digital space?
The payment space is full of so many excellent sources. It is an exciting domain to be in at the moment. I have many sources of information but probably the best is my network. I also work with an outstanding team, who are driven to keep ai at the forefront. So, between, my team, my wider network, online literature, the most important source is our customers. We are privileged to have highly informed business partners.
Read a good book lately on digital transformation that you'd like to recommend to us?
It is an unfair question – there's so much good material and some excellent authors. To be honest, I like the smorgasbord of information that you pick up from many sources and seeing how you can use that information to help your clients with better solutions.  It is an exciting time for businesses, with disruptive opportunities in virtually every market sector.
Related
Our Digital Disruptors