Interview with Nicole Latimer, CEO of StayWell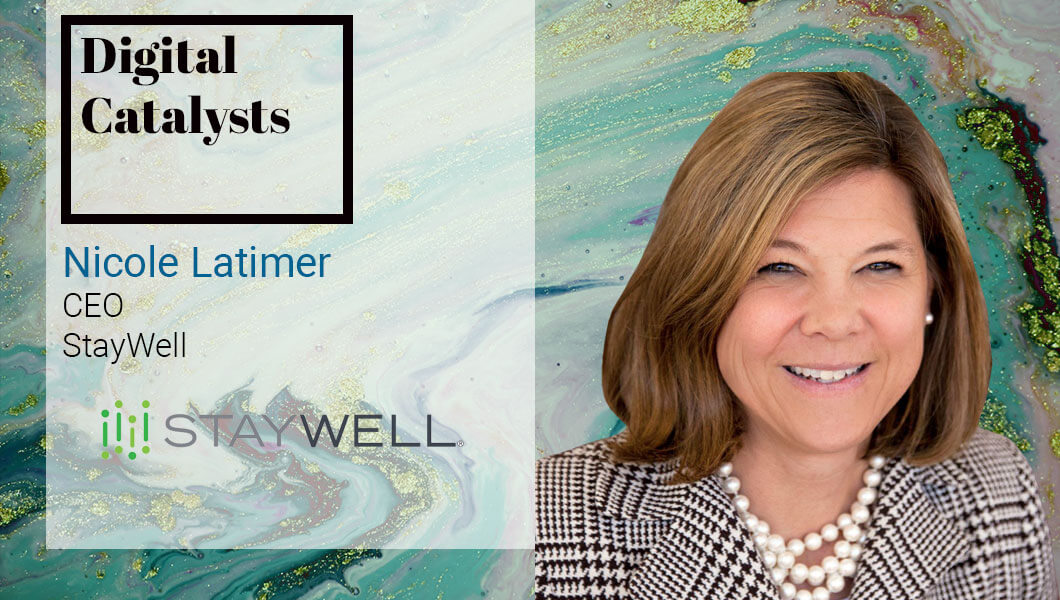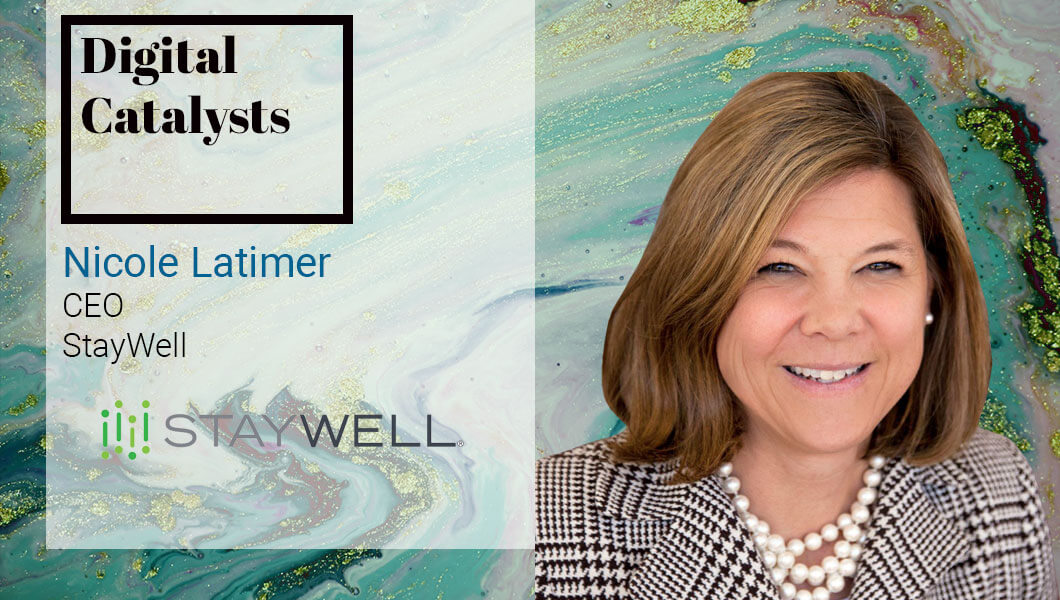 In this interview, Nicole Latimer, CEO of StayWell discusses how healthcare tools and programs foster a more productive workforce; she suggests how VR tech can bring a new dimension to combat stress for employees and shares her thoughts on the future of healthcare tech for the digital enterprise 
Tell us about your product/business and your specific role?
StayWell is a health empowerment company that enables populations to improve health outcomes through the science of behavior change. For more than 40 years, our company has been a pioneer in employer well-being and patient education solutions that lower risks and reduce costs. In my role as the CEO, I am responsible for StayWell's overall strategy and growth. My background includes population health management, health system growth strategies, and patient and employee education. I also have broad experience in SaaS development and delivery, having managed workflow and analytics applications designed for patients, analysts, clinicians and executives.
What is the core issue your product/technology aims to address and what sets it apart from the other players in the market?
At StayWell, we are taking on the toughest challenge in healthcare, which is managing lifestyle risks (obesity, stress, pain management, addiction, etc.). Currently, 30 percent of the total cost of healthcare is attributable to lifestyle risks, but they're some of the hardest issues to overcome because they require significant changes in individual behaviors.
However, we're working to overcome this with our innovative platforms and solutions—all of which are designed to empower individuals to take control of their own health. For example, our StayWell Platform—with innovative programs like our virtual reality (VR) guided meditation app—is proven to reduce workplace stress, increase productivity, improve sleep, assist and motivate employees to exercise and eat better and much more.
In addition, we have group coaching programs that educate people on nutrition and diet so they can ultimately manage their weight and make better overall health decisions. We also address some of the key preventable chronic conditions, such as diabetes, high cholesterol and high blood pressure, and have devices and programs that give individuals tips to better manage or reverse these conditions. While it's a highly competitive, fragmented industry, our core differentiator is that we're truly incorporating the science of behavior change into everything we do.
What's the one industry, sector or role that your technology is most relevant to?
We provide well-being solutions for individuals throughout every stage of their healthcare journey. We're touching every aspect of the healthcare ecosystem by providing benefits to individuals, employers, health plans and healthcare providers. It's a virtuous circle.
We enable and empower employees with the tools and programs they need to take an active role in their own health and well-being, which helps lower the cost of healthcare for employers, while fostering a more productive and engaged workforce.
For providers, the ability to deliver the right health information at the right time (e.g., stand-alone, via EHR, through a hosted site or integrated into the provider's site) helps reduce hospital readmissions and ultimately improves patient outcomes. Further, by continually educating individuals about their healthcare options through timely, personalized information, we help health organizations attract and retain more patients.
For health plans, we provide award-winning print and digital health content, in addition to a wide range of well-being solutions. We achieve the triple aim by seamlessly connecting health plans, doctors, health coaches, and case managers to their members to deliver programs, rewards, and resources that improve outcomes.
Your recent acquisition of Provata Health brings VR to healthcare with biofeedback and real-time insights to track population health metrics. How can enterprises draw out the best potential use for this in implementing better corporate wellness programs? How can healthcare brands use VR technology to go beyond mere great CX and add value to patient care?
Stress is one of the top health concerns today, and currently 49 percent of individuals are at risk for stress-related illnesses. In the workplace, job responsibilities are cited as the most common source of stress according to a recent study conducted among our book of business.
And stress takes a toll on more than just the individual—it impacts the entire workplace, as the more stressed an employee is, the more days he or she misses from work. In fact, according to the American Institute of Stress, the cost of work-related stress in the US is $300 billion annually. Further, behavioral-related disability costs have increased more than 300 percent in the past decade and account for 30 percent of all disability claims.
VR technology has been shown to bring down stress levels by combining this technology with mindfulness meditation. In doing so, employees are "transported" to relaxing environments, bringing a whole new dimension to the meditation experience.
In addition to stress reduction, increased productivity, heightened attention span and improved sleep, a growing body of scientific evidence also underscores the benefits of mediation for individuals undergoing treatments such as dialysis or chemotherapy. Not only can meditation sooth stress and anxiety associated with these forms of treatments, it's also clinically proven to help improve cognitive dysfunction often experienced by cancer patients.
As a whole, our VR platform is a great complement to our existing product portfolio, enhancing our competitive market position, while further empowering individuals to take active roles in their own health to achieve the best possible outcomes.
Grounded in scientific research, the solution has undergone 25 years of clinical trials and has been featured in 75 peer-reviewed medical publications. This technology is not designed to change just moments in time, but rather to change behaviors for life—and it's working. In fact, our VR technology has resulted in 32 percent fewer employees reporting work-related stress, 41 percent fewer employees reporting poor sleep quality and 95 percent reporting feeling healthier after the program.
All in all, it's safe to say that technology has demonstrated its success in helping people become happier and healthier.
What are some of the common challenges your customers approach you with?
On the employer side, the two most common challenges we hear from our customers are
1) how to reduce healthcare spend for employees, and
2) how to increase engagement and productivity.
This is where our solutions come into play. On the health system side, providers are consistently challenged to help keep patients both educated and informed. Because patients play a big role in their own individual healthcare, providers need to be adequately equipped with timely, personalized tools and education to drive these enhanced outcomes and encourage long-term continuum of care.
We offer Krames On FHIR technology that delivers health education materials at the point of care, saving time for clinicians, while creating a more personalized user experience. FHIR integrates directly into EHR platforms, giving health systems immediate access to suggested educational content on thousands of topics.
Our health plan customers also recognize the importance of education to help reduce health plan utilization and ultimately keep costs down. At StayWell, we offer digital and print population health education strategies for health plan members based on their specific needs, learning styles and preferences.
Give us an example of an enterprise meeting a digital transformation goal through your product?
Recently one of our large enterprise clients introduced wearables into its wellness program with the launch of a movement-based activity. The company asked us to design a program that all employees could easily participate in by using a Fitbit, which tracked how many steps they were taking per day.
Essentially, they challenged employees to walk 1,000,000 steps in a year to earn a $1,000 reduction in their insurance premiums for the following year. The program boasted a 75 percent participation rate and has changed the lives of numerous employees.
One of our health system clients also conducted a similar wellness challenge and achieved great results, particularly among their Medicare Advantage population. This program was interesting because many people believe individuals ages 65 and above aren't avid users of mobile technology. However, 88 percent of Medicare Advantage members reported better use of monitoring blood pressure and 83 percent reported reduced stress levels. In addition, 100 percent said they would participate in the program again, while 86 percent of commercial members are still using the program regularly.
Where do you see employee wellness and healthcare tech headed in the next couple of years? What 'digital' steps do organizations need to take to be ready to adapt to these changes?
In the next couple of years, I believe using technology to drive convenience for the employee or patient is going to be critical. We predict there will be less manual tracking of healthcare data and more automatic uploading of data into technology and wearables. For example, we already have cellular scales, blood pressure cups and glucometers. In today's society, everyone is wearing activity trackers because they conveniently track our steps, pulse, sleep patterns and more. Soon there will also be easier ways we can track things like our water consumption and the calories we consume.
In addition, voice-enabled technology will increasingly play a major role in healthcare technology, as a combination of voice and video allows for greater access to coaches, therapists, nurses, physicians, etc.
Today's consumers want a high-tech high-touch approach, so technology that's convenient but still provides the personal feel of being able to speak with experts throughout their journey will be essential.
At StayWell, our overarching strategy is to be the premier provider of lifestyle risk management programs for the entire healthcare ecosystem, so as consumer demands continue to evolve, so will our technology. To achieve this, we will leverage our 40 years of experience rooted in the science of behavior change and rich patient education assets, to capture end-user lifestyle data through our mobile-first platform and enhance coordination of care around lifestyle risk management through integration with EHRs.
Our vision is to provide individuals with the resources they need to manage lifestyle risks on their own, to facilitate data-driven discussions between individuals and their healthcare providers about lifestyle risks, and to arm providers with education and digital health programs to support their patients' management of lifestyle risks.
Related
Our Digital Disruptors