Interview with Patrick Tannous, President & Co-Founder at Tiesta Tea Company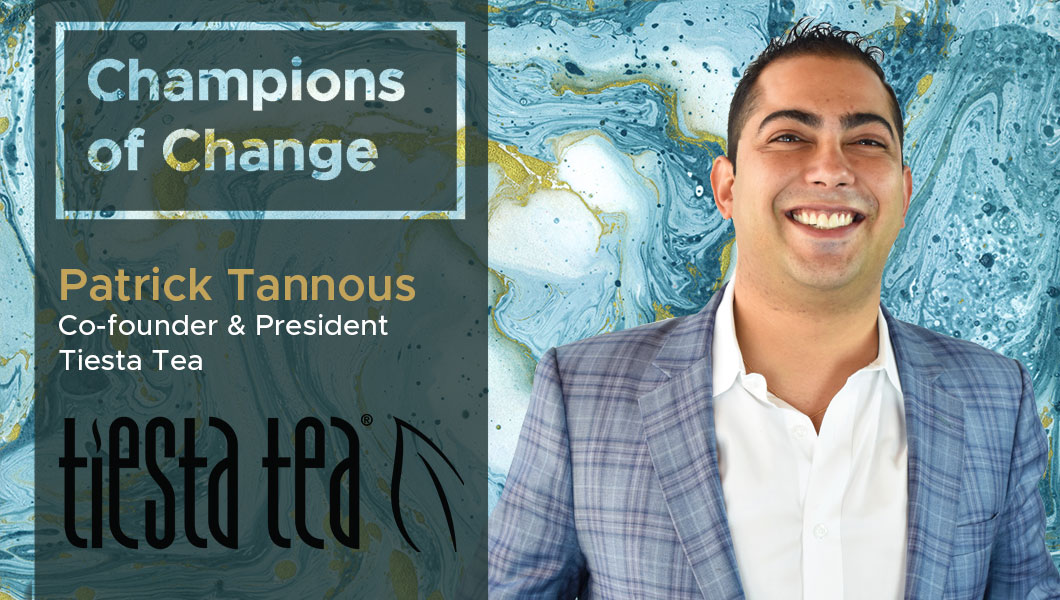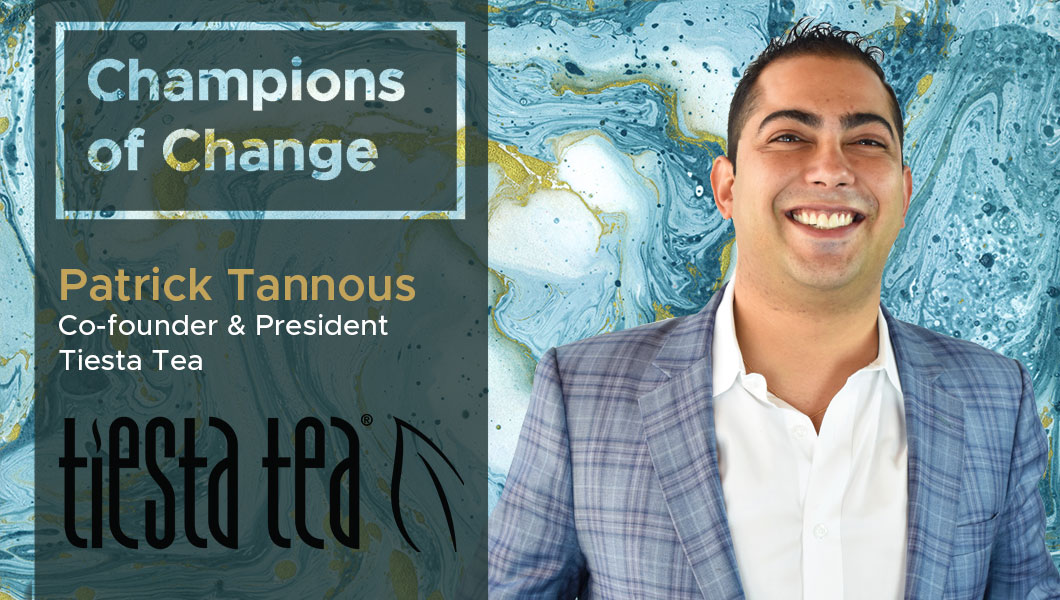 There's no second gear for Patrick when it comes to his passion, energy and the standards he holds himself and his business to. Everyday, Patrick puts 150% into everything he does and it shows through by him being listed on Inc.'s 30 Under 30 Rising Stars list of 2018. His high standards and care for people are not only reflected in the success of Tiesta Tea, but in the culture of the company and the comradery of his entire team. He followed his passion for entrepreneurship and his confidence in Tiesta Tea and dropped out of college to dedicate all his time and effort to Tiesta. In its early stages, Tiesta struggled to gain traction. He and his co-founder, Dan, packed their bags and traveled door-to-door visiting over 500 doors in New York, Philly, Seattle and Vancouver in a span of 20 days, trying to sell Tiesta Tea. That trip earned them enough customers to keep Tiesta alive and taught Patrick and Dan the best ways to sell their teas, which has helped them place their teas in over 8000 grocery stores nationwide amassing over 20 mm in sales since the company started
TDE: Thank you so much for taking our questions! Tell us a little about your business and its history?
Patrick Tannous: Tiesta Tea is a loose tea company founded in 2010. The company sources loose teas, spices, herbs and botanicals from all over the globe, and then we blend them into loose leaf teas and loose tea infused beverages. Our latest product line is a cold brewed bottled tea made with real loose leaf tea.
TDE: What are your thoughts on the current pace of digital transformation in your industry?
Patrick Tannous: It's massive. It's changed how people shop, and it's changed how businesses go to market. There are so many different ways to get in front of consumers now, and consumers aren't always shopping in the grocery store. Are you better off paying a $2500 slotting fee or taking those same funds and advertising on FB, Amazon or IG? Our customer isn't in the grocery store nearly as much as they used to be, so we use digital marketing as a way to reach them.
TDE: What do you feel is the one technology trend within your industry that cannot be ignored?
Patrick Tannous: Getting products delivered to your door with ease – delivery is taking over commerce. If you don't have a way to deliver, you're in trouble. It's a big challenge with heavier products and products with shorter shelf life, but it can't be ignored.
TDE: Have you used technology for managing a) field team operations, b) sales/channel management, c) shipment tracking, d) employee engagement, or e) customer retention? What has been your experience?
Patrick Tannous: Yes, five years ago we had to track everything manually, and it was terribly difficult and inefficient. Now we use technology and everything is streamlined. Companies have used the UBER model for things like field teams and merchandising and it's been a game-changer.
TDE: How integrated is your customer experience- from sales to operations to delivery tracking? Do your customers have access to a common portal?
Patrick Tannous: Our customer experience varies by channel, but it is pretty integrated. When someone orders, they immediately receive a confirmation email followed by an email that prompts them when the package ships/lands. We also have automation that communicates with the customer in hopes to show them something new or help them find something they didn't know we have. It all helps with upselling.
TDE: How paperless are your operations? Do you feel any part could be digitized and if yes, which?
Patrick Tannous: We use tablets, and scanners. We don't have much paper anymore. Printed invoices for pick and pack processing are the only paper we use.
TDE: In the next quarter which part of your business are you focusing on? Which part of your business can be further optimized using technology?
Patrick Tannous: Sales and marketing, we are making sure sales and marketing are more integrated through technology.
TDE: Do you view & use a common management dashboard to check the health of your business?
Patrick Tannous: Yes, salesforce.
TDE: How do you keep yourself updated? What are some of the websites or magazines or apps that you subscribe to or read regularly?  
Patrick Tannous: Flipboard, Entrepreneur, Business Insider.
TDE: What's your favorite social network – Instagram, Facebook, LinkedIn or Twitter?
Patrick Tannous: 1)IG 2)Twitter 3)FB 4)Linkedin

For more DX insights follow Patrick Tannous on LinkedIn and Twitter
Related
Our Digital Disruptors