Interview with Peter Sheldon, Senior Director of Strategy for Magento at Adobe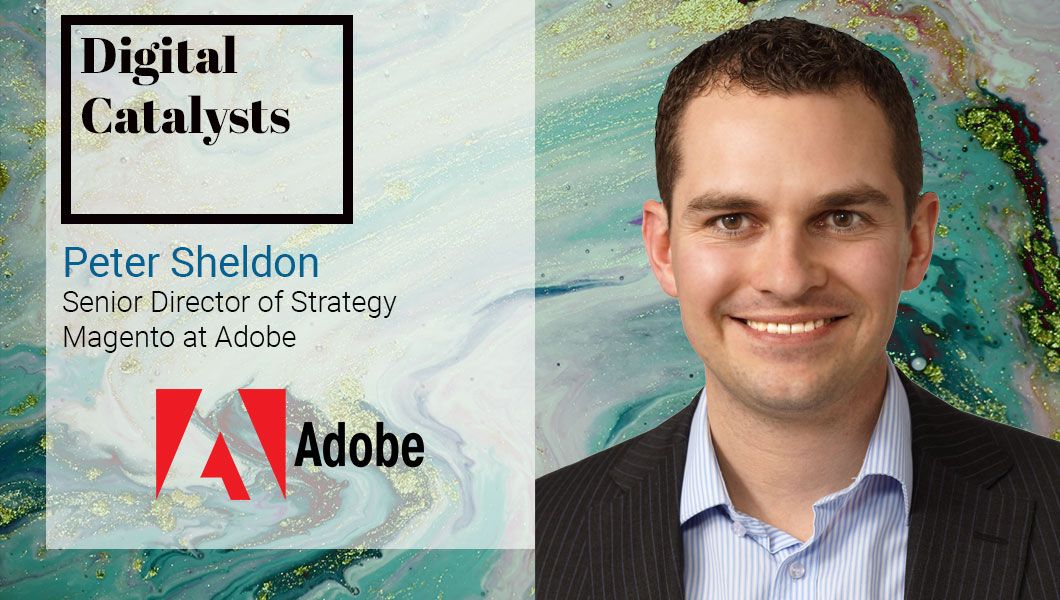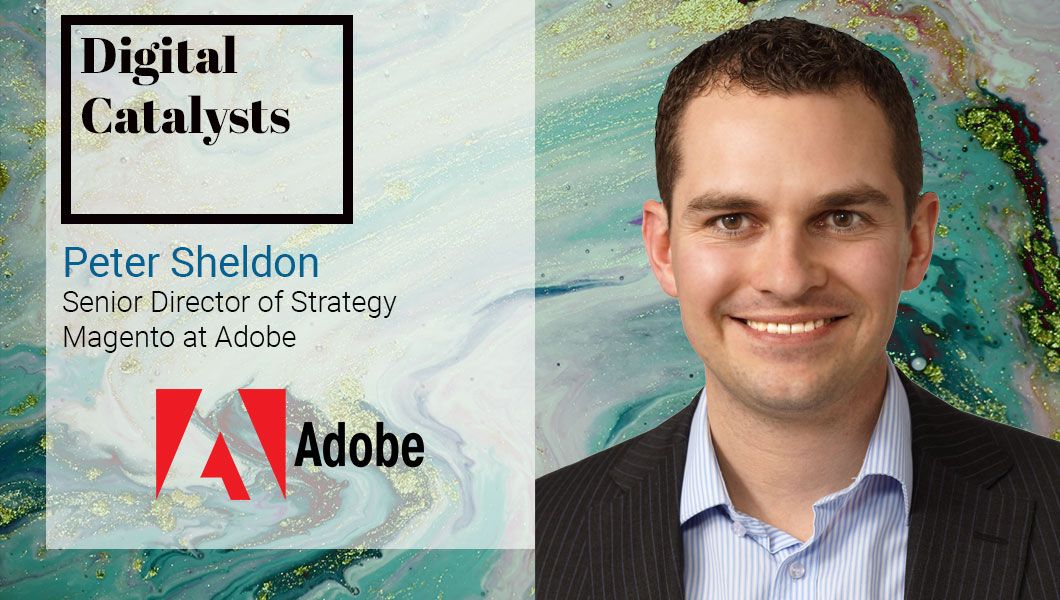 In this interview, Peter Sheldon, Senior Director of Strategy for Magento at Adobe discusses the role of technology in the future of commerce and elaborates on bridging digital and physical experiences. Peter is a well-known industry expert in ecommerce and omnichannel technology, having previously held the role of Vice President and Principal Analyst at Forrester Research, where he spent five years leading Forrester's global research on digital commerce technologies, helping to challenge the thinking and lead change for ecommerce executives undertaking major digital transformation and commerce technology programs. Today, Peter leads corporate strategy and growth for Magento, an Adobe Company
TDE: Tell us about your product/business and your specific role?
Peter Sheldon: Magento is the number one provider of cloud commerce innovation to merchants and brands across B2C and B2B industries who powered more than $155 billion in gross merchandise volume on the platform in 2018. Our open platform is supported by the industry's largest ecosystem of partners and developers, giving businesses of all sizes and across all industries the opportunity to be creative and go-to-market in highly differentiated ways. Magento was built to provide businesses with complete flexibility to customize, adapt, and innovate to meet the precise needs of their business, from front-end digital experience through back office supply chain management to integrations with other 3rd party systems. We like to say that anything is possible on the platform.
As senior director of strategy for commerce at Adobe, I oversee the future vision of the Magento platform, specifically with a view to how Magento will stay relevant for our customers today, while also ensuring that we are making the right investments in innovation and technology so that Magento continues to lead the market and grow faster than our competition through the next decade. I have the privilege of working with many talented individuals not just within our commerce business unit (Magento) but with the broader Adobe experience and creative cloud teams. Together we see commerce at the epicenter of digital disruption. The way both corporate buyers and individuals buy is rapidly changing. In the future, AI will drive purchase decisions, we will be able to virtually experience almost all products before we buy, and ownership models will completely transform away from perpetual to usage-based transactions. The pace of change is relentless and consequently the challenge of my role continues to both excite and drive me to push the boundaries of what Magento can do for our clients.
TDE: What is the core issue your product/technology aims to address and what sets it apart from the competition?
Peter Sheldon: Commerce is no longer just about the "buy button". Today, it's all about delivering an exceptional and seamless experience across all touchpoints and phases of the customer journey. Customers expect their interactions with a brand to be contextual, intuitive and highly relevant, but many companies today are still grappling with the complexity of delivering a consistent and differentiated experience with the customer wherever they want to engage.
To keep pace, businesses across all industries are now forced to transform and adapt their businesses strategies to align with the demands of modern consumers across digital and offline. They can only do that if they have a commerce platform that delivers the control and flexibility they need, whether that's bringing new products to market, opening new channels and business models or bridging digital and physical experiences.
Adobe and Magento address this need by equipping retailers with an omnichannel commerce platform that supports multinational B2B and B2C commerce, from order management and shipping to business intelligence and social media, all from a single instance. Merchants not only receive a platform with robust out-of-the-box capabilities, but also have access to a global ecosystem of partners and developers armed with the knowledge and specialized expertise to meet the needs of their business.
TDE: What's the one industry, sector or role that your technology is most relevant to?
Peter Sheldon: Again, this is where the sheer size and scale of our global 360,000-strong community comes into play, which is unprecedented for the industry. Unlike other SaaS-based solutions on the market that are limited to serving traditional online retail segments (apparel, general merchandise and luxury goods), Magento is architected from the ground-up to be open, flexible and uniquely equipped to meet the needs of businesses across all industries and business models.
We see huge demand in not only traditional B2C, but also B2B and non-traditional verticals, like healthcare, automotive, manufacturing, grocery and education. We work with a huge number of global brands who are divesting away from traditional wholesale and distribution models to build closer relationships with their end customers through the rollout of direct-to-consumer digital commerce experiences. The majority of our clients demand the ability to manage multiple business models, brands, divisions and markets all from a single platform thereby optimizing TCO and operational processes. The sheer size and diversity of the Magento ecosystem provides us with a presence across virtually every industry and geography. With Magento, it doesn't matter what challenges you're tackling in your business, or the unique systems you must work with, or the markets you're trying to break into, somebody, somewhere across our global ecosystem of 360,000+ developers, solution partners, technology partners and merchants has tackled it already.
TDE: Using technology to effect transformation usually starts with a transformation of beliefs and mindsets. How do you consult enterprise clients and help them make that important shift in mindset to move ahead on a particular project or implementation?
Peter Sheldon:
Technology alone will not reinvent a legacy business.
Digital transformation is hard, it requires a deep rooted understanding, courage and commitment from the C-suite. Digital transformation requires a radical re-thinking of decade-old business models and the courage to prematurely disrupt legacy cash cows. First mover advantage is key – if you don't have the courage to disrupt your business – transition to digital sales channels, digitize processes and re-think the customers experience through a digital-only lens then someone else (likely not a competitor you know today) will. Procrastination is not an option. "Wait and see" is no longer a viable strategy. We see a renewed urgency from our clients to push forward a digital agenda – it's now or never.
It all starts with reimagining their business from their customer's point of view and thinking about the most intuitive and seamless way they can add value to the customer's journey with their brand.
TDE: Give us an example of an enterprise meeting a digital transformation goal through your product?
Peter Sheldon: One client that's successfully embraced digital transformation is Canon Australia by shifting from simply selling products to engaging consumers around their passion for photography both online and offline. The brand offers consumers workshops and field trips with professional photographers who are part of its Canon Collective and enables consumers to experience its products through equipment rentals. In building direct relationships with customers through its online store, the brand has also partnered with key vendors to curate a broader assortment of photography-related equipment (e.g. tripods and cases) in response to customer interest. The brand also offers photography cloud storage and printing services. Aligning around their consumers' passion for photography has driven triple digit growth for Canon.
Another example is German footwear brand Gabor which has spent almost 100 years building a strong reputation for their comfortable, quality footwear. Every year, Gabor sells nine million pairs of shoes to 5,000 dealers in more than 60 countries. Gabor saw an opportunity to not only translate its legendary in-store experience to a digital web store, but to unify its decentralized inventory across owned stores, franchise operations, and multi-brand retailers. Gabor implemented a bold vision to harness the power of technology and offer consumers the widest possible range of products, shorten delivery times, and enhance customer service.
TDE: What present or upcoming technologies you think have the maximum potential to accelerate enterprise digital transformation?
Peter Sheldon: While mobile is nothing new, it has been a transformative force in digital business for the past decade, and really set the stage for the heightened customer expectations we see today. However, there is a renewed focus on mobile (smart phones in particular) given that mobile is now the primary tool through which B2B and B2C customers interact with a brand.
According to Adobe Analytics, during the 2018 shopping season, mobile traffic skyrocketed with over 50 percent of traffic originating from smartphones alone, yet mobile accounted for just 31 percent of revenue underscoring the fact that many merchants are still struggling to drive conversions and optimize experiences across channels and devices.
Progressive Web Applications (PWAs) have risen in prominence over the past year and serve as a powerful antidote to many of these challenges. While mobile apps have been hailed as the answer for mobile excellence, they are traditionally very expensive and hard to build, and most brands have struggled to realize convincing adoption rates as most consumers will only download apps from brands they interact with on a regular basis.
PWAs level the playing field for all brands to deliver highly personalized cross-channel experiences at a fraction of the cost. PWAs blur the lines between a mobile app and mobile site experience by equipping merchants and developers with a new front-end architecture that allows them to leverage open web APIs to build "app-like" experiences directly in the browser. PWAs deliver fast, engaging, experiences while boosting online conversions and enhancing the pervasiveness of the in-store experience.
Retailers, for example, can build contextual in-store capabilities into their PWA such as native integration with the device camera to scan shelf barcodes and integrated payments with Google and Apple Pay for in-store purchases. The benefit of PWA's in the store is that they are instantly accessible via the browser, fast and reliable. So retailers don't have to connect consumers to their in-store wi-fi to deliver a great mobile experience with their brand.
From boosted customer and in-store engagement and higher conversions to lowered development costs, PWAs should be at the center of a brand's digital transformation strategy as they offer unprecedented opportunities.
TDE: What's your go to resource – websites, newsletters, any other – that you use to stay in touch with the explosive changes happening in the digital space?
Peter Sheldon: I tend to gravitate toward technical blogs / new aggregation sites like Arstechnica and Techcrunch to keep up-to-date with how customers are experimenting with and adopting emerging technology. I also stay very close with the VC and investor community, paying special attention to firms like MagicLeap that receive substantial funding rounds during their "stealth" development phases. But more than anything, I rely on my community of connections. My most valuable learnings come from speaking to our customers and prospects. It never ceases to amaze me what innovations come out of our ecosystem and the audacious digital transformation visions our customers share with us.
TDE: Read a good book lately on digital transformation that you'd like to recommend to us?
Peter Sheldon: I find most books on this topic are great reminders of what has been achieved, but to really understand the art of what is possible we need to challenge existing conventions and actively identify experiences today that are in dire need of being digitally disrupted. One of my favorite examples is grocery shopping. I'd argue that no-one enjoys going to a grocery store – ever. In the next decade I expect online grocery delivery to not only become ubiquitous but to evolve into an autonomous state. We won't consciously buy groceries anymore, instead smart devices in our home (primarily our fridge / freezer) combined with AI and health monitoring devices will do all our meal planning for us and actively pre-order everything we need based on our household consumption trends, dietary needs and intimate insights into what is actually in our fridge or  pantry. Actually, going to the supermarket to buy groceries in 10-15 years-time will be analogous to using a rotary home phone – we will only vaguely remember why we used to do that. I'm not saying that we won't leave the house, but supermarkets will evolve into experiential venues where we go to take cooking courses, experience new foods etc, but we won't be roaming the aisle with a shopping cart anymore!
For more DX insights follow Peter Sheldon on LinkedIn and Twitter
Related
Our Digital Disruptors