Interview with Robert Tsao, Chief Product Officer at Jobvite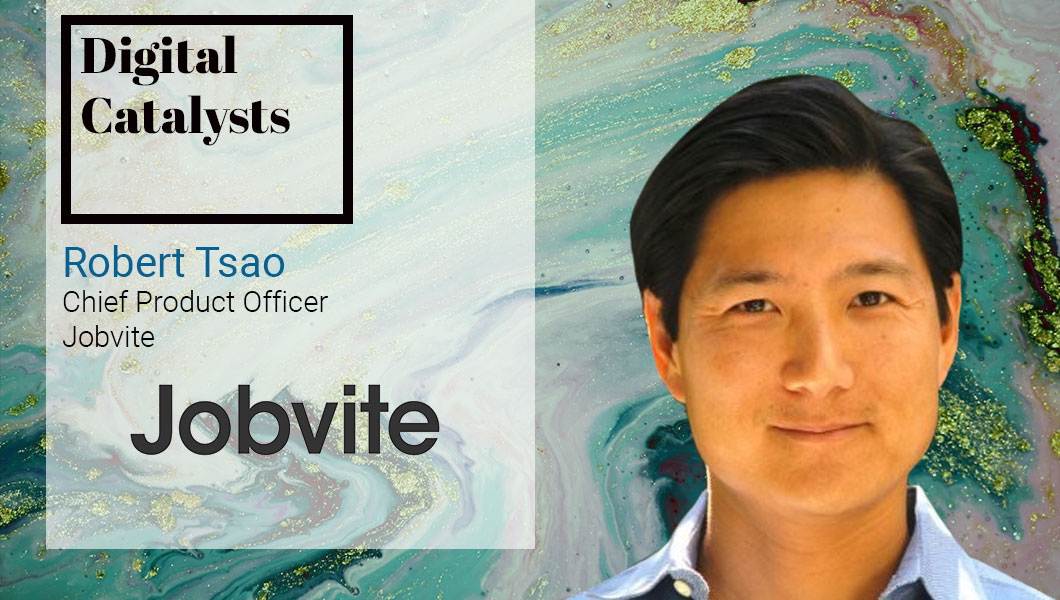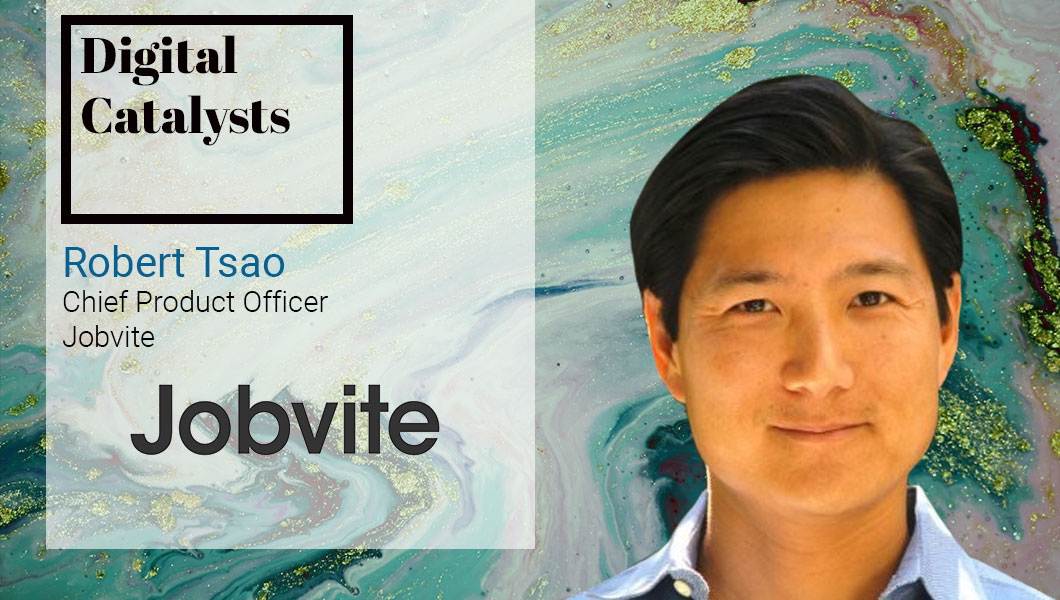 Robert has 20 years of experience building software and Internet companies, and has worked as an entrepreneur, strategy executive, venture capitalist, and investment banker. He founded Upmo and AirSurf, and worked at companies like Taleo, Meltwater Group, and Vertex Management (among others). 
This diverse work history has given Robert a multilayered view into how successful businesses operate, a tremendous asset when it comes to supporting Jobvite's continued growth. As Chief Product Officer, Robert oversees the development and execution of corporate strategy and proactively identifies opportunities to accelerate growth and profitability
TDE: Tell us about your product/business and your specific role?
Robert Tsao: Jobvite is a full service recruiting platform that helps thousands of companies across the globe source, hire and onboard incredible workers. As CPO, I oversee our talented product team, who are delivering the next wave of recruitment innovation and providing companies with the solutions needed to create amazing hiring journeys, from a candidate's first look to their first day.
TDE: What is the core issue your product/technology aims to address and what sets it apart from the other players in the market?
Robert Tsao: People are the lifeblood of a company, and recruiters are the heart that keeps talent pumping into an organization. Our goal is to provide those hiring teams with a true end-to-end talent acquisition solution so they can attract, engage–and ultimately hire and onboard–remarkable people more efficiently. Jobvite's platform leverages automation and intelligence throughout today's expanded recruiting lifecycle to improve efficiency and reduce costs, so recruiters can eliminate the tedious aspects of their job and focus on the more human elements of recruiting. We've also introduced new features such as text messaging capabilities to help recruiters engage candidates with a more personal touch. And with our recent acquisitions of Talemetry, RolePoint, and Canvas, we have an even deeper set of technologies to assist recruiters in the war for talent. The companies bring features including chatbots, text, deeper recruitment marketing and employee referral, internal mobility, and more to the Jobvite suite.
TDE: What's the one industry, sector or role that your technology is most relevant to?
Robert Tsao: The short answer is everyone! No matter the industry or sector, finding and hiring great talent is a crucial initiative for every company. Jobvite helps hiring teams at companies big and small (and old and new) improve their recruiting funnel efficiency and attract the best workers. However, our technology is most effective in those industry's where companies are competing for top talent. If delivering a top-notch candidate experience to win over the best candidates is a company's recruiting mission – that's the perfect company for Jobvite.
TDE: What are some of the common challenges your customers approach you with?
Robert Tsao: Finding great workers is never easy, especially as companies today become even more aware of its strategic value (CEOs consistently cite attracting top talent one of their top three challenges). With today's record low unemployment and the economy booming, there's a real crunch for talent that recruiters are feeling right now. We're always hearing questions like "how can we make the recruiting process more efficient?" or "how we can better engage passive candidates who aren't actively looking?" The answer right now is conversational recruiting tactics that put the candidate at the center of the experience, and that requires a technology platform that supports at every stage, enables deep engagement, and adds a layer of automation to the process. We've purpose-built Jobvite to seamlessly support these high-quality, meaningful and instant interactions with candidates.
TDE: Using technology to affect transformation usually starts with a transformation of beliefs and mindsets. How do you consult enterprise clients and help them make that important shift in mindset to move ahead on a particular project or implementation?
Robert Tsao: For our larger enterprise clients, we have a variety of services that map their talent acquisition goals to Jobvite's technology, crafting each implementation to meet the customer's needs. We also have a strategic services offering, known as the Evolve Model, to help recruiting teams develop in key focus areas. This includes assessing their current state, and building a plan to improve in the areas tied most immediately to the company's business objectives.
TDE: Give us an example of an enterprise meeting a digital transformation goal through your product?
Robert Tsao: Trek Bikes was one of our first customers to implement Jobvite Text to communicate with candidates. The company had a lean recruiting team working to fill 100+ roles at any given time, so the need to improve response rates and have interactive engagements with candidates was critical for them. Nearly every job seeker has a mobile device, and spends a significant chunk of their time using that phone. So, instead of waiting for candidates to respond to emails, Trek's recruiting team began texting to schedule interviews, follow up with candidates, and send offers. They believed texting would prompt more immediate responses from candidates, but what they didn't expect was the nearly 100 percent response rate they've had using Jobvite Text. Innovative tools like this helped them quickly connect with candidates at scale, and their small but mighty team is constantly hearing positive feedback at how fast they respond.
TDE: What present or upcoming technologies do you think have the maximum potential to accelerate enterprise digital transformation?'
Robert Tsao: Over the last few years, our company has seen cloud technology transform nearly every facet of our industry. The most noticeable impact was in our financials. Six years ago we adopted a cloud-based financial management solution, Sage Intacct, in order to support our global expansion as well as our up-market shift towards midsized and enterprise customers. Entering international markets and new industries was a complex initiative for Jobvite, but our financial management system removed barriers to growth by supporting our revenue recognition, multi-currency and multi-entity needs. It streamlined and automated processes that enabled our finance team to cut the monthly close time in half and increase our overall productivity by 25 percent. Before, 80 percent of our time was spent on basic financial transactions and data manipulation. With Sage Intacct, we now have real-time access to financial data and can dedicate more time to analyzing our key metrics and strategic planning for the company as a whole. From Jobvite's use of and growth from cloud technology, I know it is and will become the most important tool that an enterprise solution can have.
For more DX insights follow Robert Tsao on LinkedIn
Related
Our Digital Disruptors