Interview with Roxana Zaman, Co-founder & COO at Maple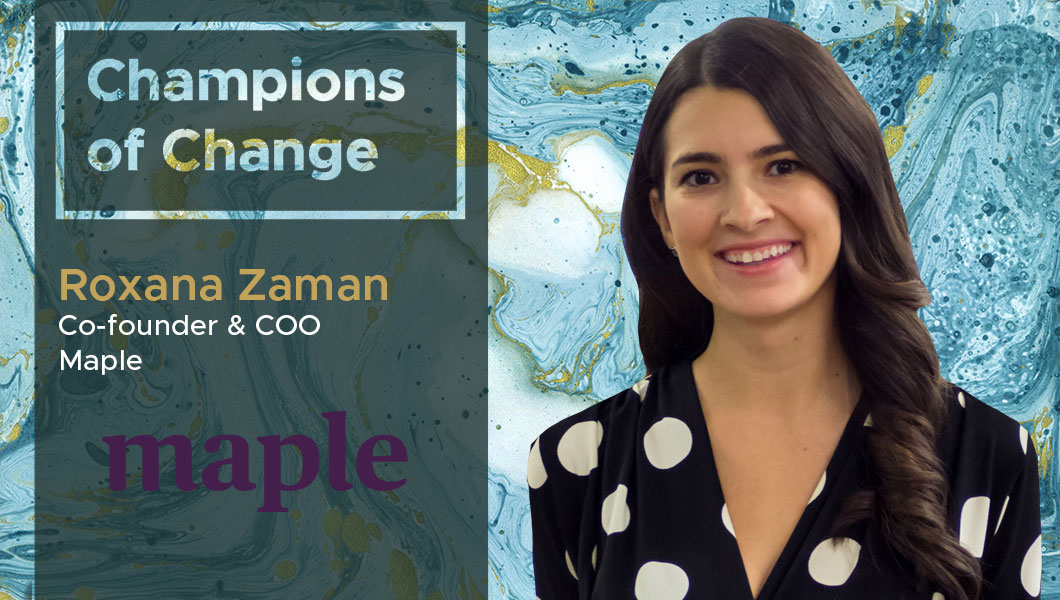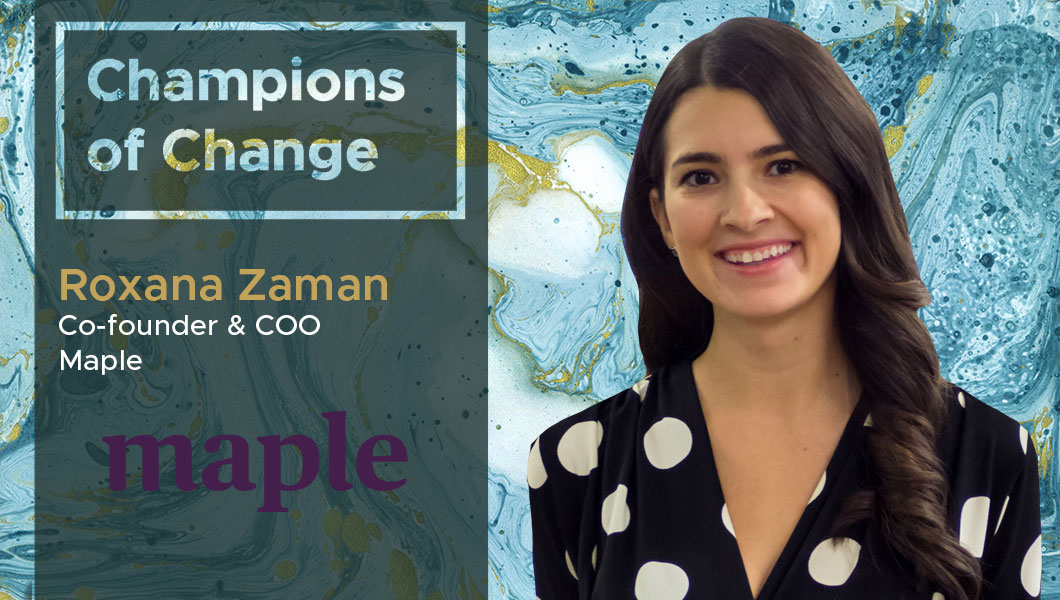 Roxana is a co-founder and Chief Operating Officer at Maple — a Canadian-based healthcare tech platform that connects patients with doctors in minutes, any time, 24/7. Roxana has a strong finance and business background, having worked as a seasoned Product and P&L manager at TD Bank in its real estate secured lending business. Roxana graduated from Simon Fraser University in 2010 with a Joint Major Degree in Finance and Economics
TDE: Thank you so much for taking our questions! Tell us a little about your business and its history?
Roxana Zaman: Maple is Canada's only app providing patients with 24/7 on-demand access to doctors by secure text or video for advice, diagnosis, and prescriptions. Patients simply tap a button to request a consultation, and they immediately get connected to a Canadian doctor. The types of conditions doctors can treat remotely include: eye and ear infections, cold and flu, urinary tract infections, allergic reactions, skin issues and rashes, vomiting and diarrhea, sexual health issues, mental health concerns, and many more, as well as providing sick notes and prescribing medications online as necessary. In some provinces, we can even connect patients with specialists like dermatologists, dramatically reducing the wait times for these specialties, which can be upwards of 90 days on average.
Maple also works with employers, insurers, benefit providers, and the government to provide its telemedicine services as a health and wellness benefit to as many Canadians as possible. More recently, Maple has started to work directly with hospitals, too. In 2018, Maple developed a first-in-Canada approach to hospital staffing and communications. Through a ground-breaking Electronic Medical Record (EMR) integrated digital platform, physicians across Canada are able to work remotely with nurses and other care providers in any hospital to manage inpatient recovery. This model has been effectively keeping the doors open at Western Hospital in Alberton, PEI since August 2018 and new implementations, such as a triage system to reduce ER wait times, are currently being explored. Maple is headquartered in Toronto, Ontario, and incorporated in 2015.
TDE: What are your thoughts on the current pace of digital transformation in your industry?
Roxana Zaman: Telemedicine (i.e. digital transformation in health care delivery/access models) is an industry that's growing very quickly. Canada is not the first country to adopt this concept of virtual care. It has already been proven to be an effective health care delivery system and is working in other developed countries, including the UK and United States. Technological advances in healthcare are leading to significant innovation, and online access to healthcare is quickly becoming a mainstream service. From a medical perspective, it's incredible how many diagnoses – over half — do not require a hands-on in-person consultation.  The demand for digital access to health care practitioners is rapidly growing – not just from patients, but also from employers, insurers, hospitals and more.
TDE: What do you feel is the one technology trend within your industry that cannot be ignored?
Roxana Zaman: The digitization & centralization of patient medical records. Right now, many Canadians don't realize that they actually own their health care data, and if they do, they're unclear how to access it. It's critical for this to change — so that the patient, not government-run health data repositories including hospitals, clinics, etc., own/control health records. By giving patients full access to their complete medical history, we'd expect to see an improvement in overall health care outcomes and efficiency.
TDE: Have you used technology for managing a) field team operations, b) sales/channel management, c) shipment tracking, d) employee engagement, or e) customer retention? What has been your experience?
Roxana Zaman: Yes, to all. Being a technology start-up, we're incredibly lean and efficient — we rely on 50+ software applications to run our day to day operations. For example, we use tools like Intercom for client engagement and marketing communications. On the corporate sales side, we use Pipedrive as our CRM platform. Automation and digitization of day-to-day processes is critical to thriving as an early-stage company.
TDE: How integrated is your customer experience- from sales to operations to delivery tracking? Do your customers have access to a common portal?
Roxana Zaman: The end-to-end customer experience is seamlessly integrated in the Maple app — patients can create an account, log in, request to a see doctor, have an online medical consultation, and receive any diagnosis and prescriptions right on the Maple app. Maple also allows patients to send their digital prescription to any pharmacy for fulfillment, and Maple notifies the patient when the medication is ready for pick-up. Our customer support team is also fully available via chat from within the Maple app, so users can easily access our support team for questions or troubleshooting.
TDE: How paperless are your operations? Do you feel any part could be digitized and if yes, which?
Roxana Zaman: The majority of our day to day operations are paperless, including many of our finance and accounting functions, which traditionally can be very paper-heavy. Beyond this, programs like our virtual hospitalist service in PEI are helping to digitize hospital processes that used to rely on hand-written notes. Doctors are able to update patient files, provide prescriptions and consult specialists all without a single piece of paper.
TDE: In the next quarter which part of your business are you focusing on? Which part of your business can be further optimized using technology?
Roxana Zaman: Our focus as a company is on digitizing health care interactions — something that has to be done in a safe and secure manner. We initially launched Maple to offer patients online access to primary care physicians. Now, we're focused on expanding our services by introducing direct online access to a number of medical specialists on Maple, like psychiatrists, oncologists, dermatologists, and so on.  We're also working on deeper digital integrations for hospitals, to further expand our tele-hospitalist programs.
TDE: Do you view & use a common management dashboard to check the health of your business
Roxana Zaman: Outside of financial reporting, we use many analytics tools and reports to check the health of our business, depending on the metrics in question. For example, we use tools like Google Analytics and Firebase to measure the effectiveness of our marketing efforts and user experience. We also tend to choose tools that have a comprehensive reporting infrastructure built directly into the back end. We have a compact team, so we want to spend as little time with raw data as possible, so that we can focus on what that data is actually telling us about our business.
TDE: How do you keep yourself updated? What are some of the websites or magazines or apps that you subscribe to or read regularly?  
Roxana Zaman: Internally at Maple, we use Slack for overall team communication — we have specific Slack channels dedicated to encouraging our entire team to share relevant articles/news related to our industry. Personally, I have a subscription to The Globe and Mail and to The Economist.
TDE: What's your favorite social network – Instagram, Facebook, LinkedIn or Twitter?
Roxana Zaman: I enjoy using LinkedIn the most — I personally like to stay connected with the professional community, and to keep up to speed with industry trends, and thought-provoking articles. At Maple, we also use LinkedIn for recruitment, and for engaging with potential corporate clients, including employers and government.
For more DX insights follow Roxana Zaman on LinkedIn and Twitter
Related
Our Digital Disruptors