Interview with Sofia Fenichell, CEO and founder at Mrs Wordsmith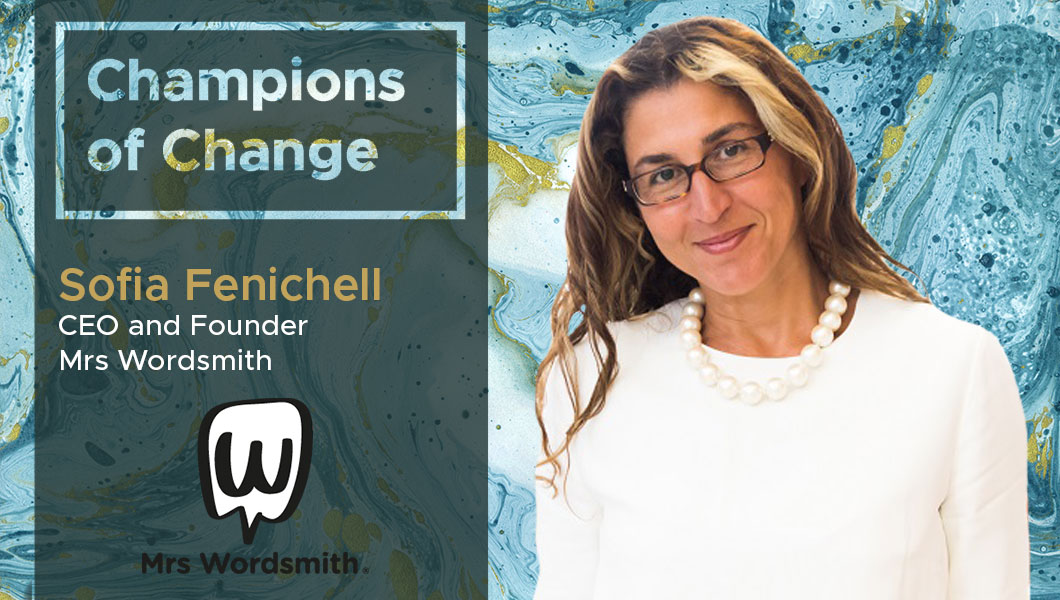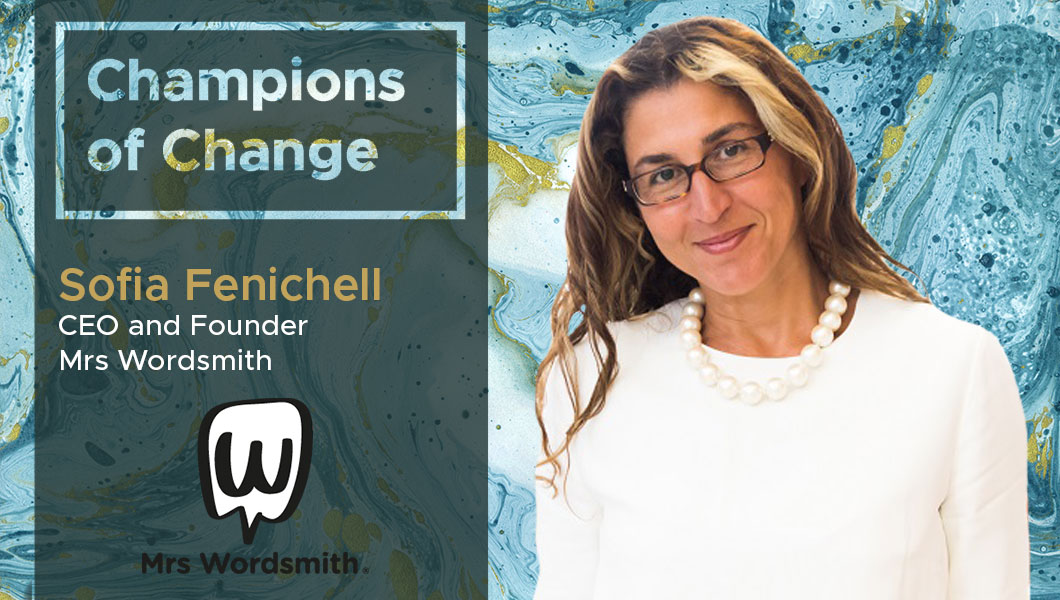 Sofia Fenichell is a self-confessed lover of words. She is a former technology analyst turned serial entrepreneur. As Senior Account Manager at DDB Needham, she has worked with General Mills and PepsiCo. Sofia was a highly regarded technology analyst working for Morgan Stanley, Merrill Lynch and UBS, and voted the Number One buyside analyst across all sectors by Institutional Investor. After retiring from her career in finance to raise her children, she became a serial technology entrepreneur launching video apps Rockpack and WonderPL that were heavily featured by Apple. She is currently CEO and founder of Mrs Wordsmith, a UK startup transforming how children learn new words. Sofia attended Northwestern University and Columbia Business School. She lives in London with her husband and two children
TDE: Thank you so much for taking our questions! Tell us a little about your business and its history? 
Sofia Fenichell: Mrs Wordsmith is a vocabulary and literacy company that helps children accelerate their reading, writing and language skills. It was founded on my kitchen table in 2014 when I couldn't find engaging products on the market to help my children. It has since gone on to become one of the fastest growing start-ups in the UK.
TDE: What are your thoughts on the current pace of digital transformation in your industry? Do you feel overwhelmed with the prospect of introducing technology solutions to manage & streamline parts of your business?
Sofia Fenichell: My industry spans edtech and publishing. We currently offer a print solution but are launching a digital solution in May. I call it a MineCraft for vocabulary. It's an exciting, animated 3D world. The pace of digital transformation in my sector is varied. On the publishing side, it's slow. This both creates opportunity for us to dislocate traditional providers but it also means that we have to navigate a sector that is still operating in traditional ways. On the Edtech side, the pace of change is accelerating. I believe we are at a tipping point in some countries driven by high device penetration in the US and an impressive cohort of edtech companies that are starting to get critical mass and traction with teachers and parents.
TDE: What is the one technology trend within your industry that cannot be ignored?
Sofia Fenichell: The technology will increasingly be used in the classroom in ways that are effective for teaching and learning. In the past, there has been an underinvestment in the sector both in terms of the types of technology solutions but importantly in the quality of content provided on those platforms. This is slowly changing. There is also considerable buy-in at the government level because in many cases it is cheaper to deliver education through a technology-based platform.
TDE: What has been the most significant technology integration/implementation so far, at your organization? Why? (could have impacted your employee efficiency, customer satisfaction, profit margins etc.)
Sofia Fenichell: We have a machine learning tool that underpins the curation of our content. In the past we did things editorially. We are one of a few companies in the world that actively uses ML to develop, assess and curate our literacy content. Typically it's done editorially and it hasn't changed much in decades despite the rapidly changing world context around us that impacts what children should be learning.
TDE: Do you have a dedicated in-house IT team? What are some of the challenges your IT team and employees faced before, during and after bringing in this solution? How did you resolve them?
Sofia Fenichell: We have a dedicated in-house IT team. You can't operate at maximum operational efficiency without an in-house team. We still have a way to go in this regard. And it's very hard to find affordable talent.
TDE: What's the internal technology challenge your organization aims to resolve in the immediate future? (could be internal workflow/workforce automation or having internal operations such as CRM, HR, Inventory powered by front end mobile apps)
Sofia Fenichell: Better operational efficiency for procurement and distribution of print. Better marketing operational efficiency.
TDE: From an external viewpoint are you considering using mobility solutions/mobile apps to promote/sell your products online, or to promote/sell your products to your dealers and allow them to order online?
Sofia Fenichell: We already do this.
TDE: How do you keep yourself updated? What are some of the websites or magazines or apps that you subscribe to or read regularly?
Sofia Fenichell: I am trying to bring down inbox clutter so I tend to operate on a search basis. Most of my reading at present is around educational research and neuroscience.
TDE: What's your favorite social network – Instagram, Facebook, LinkedIn or Twitter?
Sofia Fenichell: LinkedIn by far. I have been lucky to find great talent through it.
For more DX insights follow Sofia Fenichell on LinkedIn 
Related
Our Digital Disruptors