Interview with Tom Szaky, founder and CEO at TerraCycle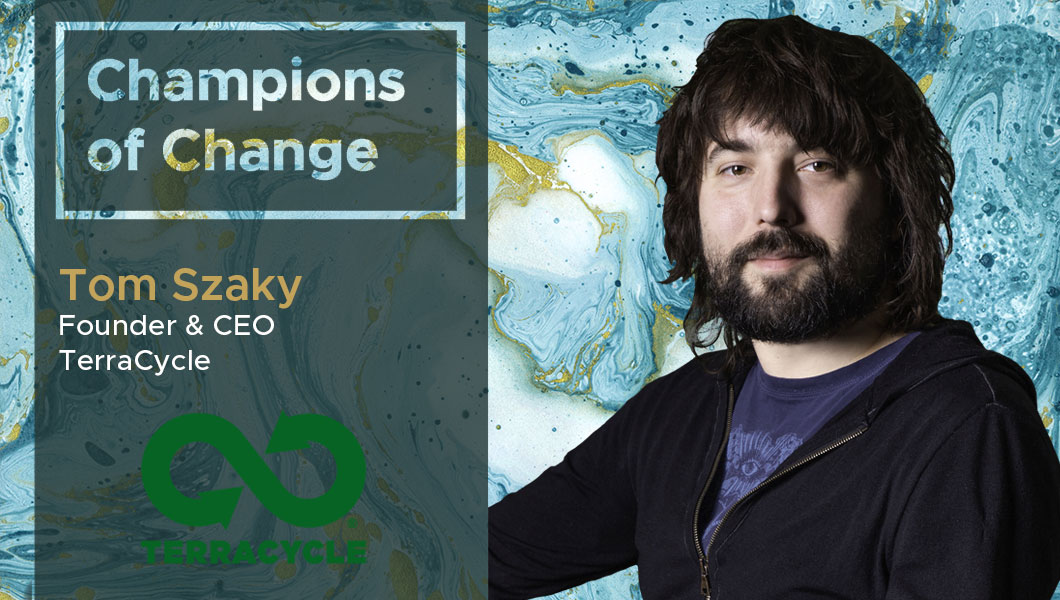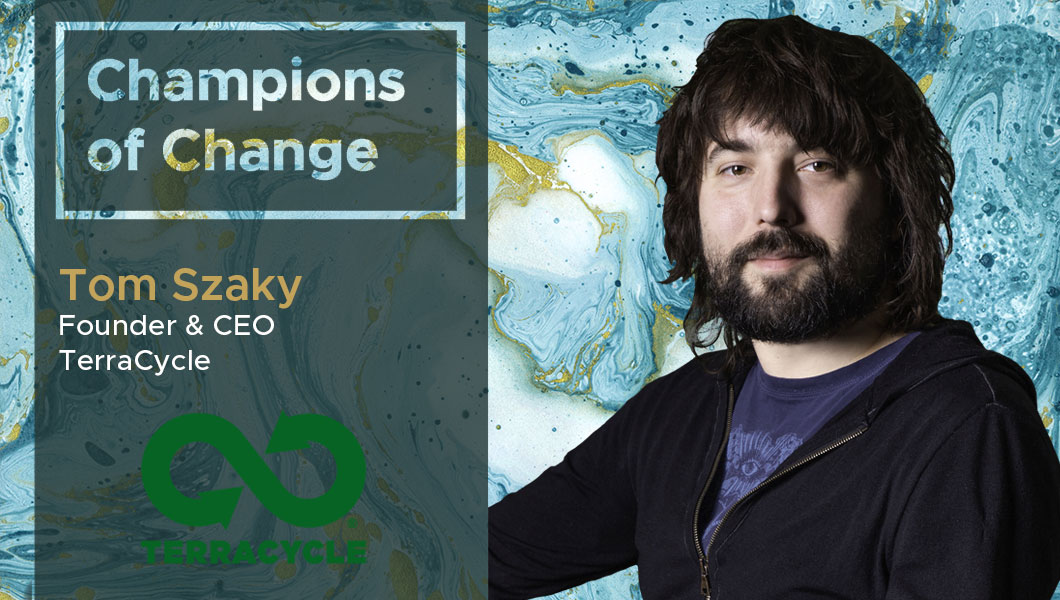 Tom Szaky is founder and CEO of TerraCycle, a global leader in the collection and repurposing of complex waste streams. TerraCycle operates in 21 countries, working with some of the world's largest brands, retailers and manufacturers to create national platforms to recycle products and packaging that currently go to landfill or incineration. Tom and TerraCycle have received hundreds of social, environmental and business awards and recognition from a range of organizations including the United Nations, World Economic Forum, Schwab Foundation, Fortune Magazine and the U.S. Chamber of Commerce. Tom is the author of four books, "Revolution in a Bottle" (2009), "Outsmart Waste" (2014), "Make Garbage Great" (2015) and "The Future of Packaging" (2019). Tom created, produced and starred in TerraCycle's reality show, "Human Resources" which aired on Pivot from 2014-2016 and is syndicated in more than 20 foreign markets on Amazon and iTunes
TDE: Thank you so much for taking our questions! Tell us a little about your business and its history?
Tom Szaky: For the past 15 years, TerraCycle has been in the business of recycling the waste streams that are not recyclable through conventional methods, like your town's curbside pick-up recycling program. The collected waste is then melted down, pelletized and shaped into hard plastic to be used in things like shipping pallets and park benches. Across 21 countries, TerraCycle works with some of the world's largest brands, retailers, cities, and manufacturers to recycle products and packaging that would otherwise be landfilled or incinerated. TerraCycle began as the dream of Tom Szaky, a college freshman turned social business pioneer. The business grew from humble beginnings after it was incorporated in 2003 as the manufacturer of a simple organic fertilizer. The process involved feeding leftovers from the Princeton University cafeteria to an army of worms and liquefying the resulting compost into a completely organic fertilizer. TerraCycle's initial product was then packaged in used soda bottles collected from recycling bins. This resulted in the world's first product made from AND packaged entirely in waste. While TerraCycle no longer makes the fertilizer that established its reputation, it is now an international leader in recycling the unrecyclable. The shift came when Tom realized he could make a bigger impact in the world by using product and packaging waste deemed to have no value to create new raw materials that are sold to manufacturers to produce the aforementioned new products.
TDE: What are your thoughts on the current pace of digital transformation in your industry?
Tom Szaky: Considering the rate of change in the waste management and recycling industry, increased capabilities for data collection and tracked chain of custody are becoming increasingly important. There is currently a pronounced disconnect between the digital capabilities of logistics companies verses standard waste management companies. Waste companies utilize systems effectively to manage route collection and waste movement metrics measured in tonnes.  In addition to basic routing software and weight tracking, systems standard to the logistic industry offer the ability to capture many data points through each step in the supply chain. When used for waste collection and recycling this data collection and management allows for increased visibility of waste from the point of generation through collection, consolidation and recycling.
TDE: What do you feel is the one technology trend within your industry that cannot be ignored?
Tom Szaky: In a climate where companies and consumers are highly concerned about where their waste goes and if it actually gets recycled, improved chain of custody and supply chain management tools and best practices are becoming increasingly relevant in the management of waste.  With highly-visible environmental issues like the Great Pacific Garbage patch becoming the poster-child for the world's waste crisis, consumers are becoming increasingly concerned with what happens to their garbage once its thrown-out or recycled. With highly-visible environmental catastrophes gaining increasing media-attention, there is similarly-increasing public support for initiatives that benefit the natural world.  This raising collective public awareness translates to a greater consumer demand for "eco-friendly" goods, like those made from recycled plastics, for instance. This creates the opportunity for TerraCycle to not only collect material not recycled today such as ocean plastic, but to then manufacture that material into a new plastic resin to be used in the creation of new consumer goods and packaging. It is critically important that claims made around recycling supply chains be proven and credible.  Data collection throughout the collection and recycling supply chain is heavily relied on to support life cycle analyses of these programs but also to support the claim that materials are indeed collected from waterways and then recycled into new products.  Management of waste as a raw material, utilizing standards used in supply chain management versus typical waste management standards allows TerraCycle partners to audit the recycling supply chain with increased visibility and confidence.
TDE: Have you used technology for managing a) field team operations, b) sales/channel management, c) shipment tracking, d) employee engagement, or e) customer retention? What has been your experience?
Tom Szaky: SAP has become one of the most important digital tools in our toolbox.  TerraCycle tracks waste as a raw material through SAP using inventory standards common to manufacturing versus waste management.  Each waste material collected is treated as inventory and tracked through its conversion to a new raw material. Mapping our business process to function through SAP for order to cash, purchase to pay, inventory and manufacturing functions has allowed us to grow existing business, launch new business units, acquire and integrate companies efficiently while creating continuous internal controls and audited financials. Additionally and in general we tend to evaluate business systems based on concrete value created versus brand recognition or perceived value.  It's important to us to prove the concrete value a digital system will create for our business rather than leaning too heavily on the perception that systems will solve all problems.  Technology can set your business up to operate and scale efficiently but if evaluated and setup improperly it can be a drain on your people and cash resources without the return on investment coming through.  We utilize a variety of free or low cost systems ranging from G-suite to Basecamp, Trello and Zoom which have allowed us to get setup to solve problems without a lot of time or cash investment which is important when you're innovating and changing frequently.
TDE: How integrated is your customer experience- from sales to operations to delivery tracking? Do your customers have access to a common portal?
Tom Szaky: TerraCycle has many different types of "customers." Customers could be the brands or retailers that are investing in a recycling program to make certain traditionally non-recyclable products recyclable. Customers could also be people of the general public who are participating, so collecting and recycling, in recycling programs that TerraCycle offers in partnership with a brand or retailer. As such, there are multiple entry points into the TerraCycle ecosystem, and integrating the customer experience is always a balance between making it easy for everyone (program participant or investing stakeholders), making an impact (both environmentally and socially) and making a platform that drives value for each and every very different stakeholder. Further, because TerraCycle is potentially the only company in the world that does exactly what we do, we have some parameters for "what's best" but we are also paving the way as we go. To that end, I would say yes, our customers have access to a common portal – TerraCycle's website. We endeavor to design our website to usher customers to the platform or information that will allow them to have a tangible beginning and end that leads to what they hoping for – either participating in a recycling program for the non-recyclable or creating one. But as with any product or service in today's age, in order to stay abreast of the digital transformation, we are always asking "what's next?"
TDE: How paperless are your operations? Do you feel any part could be digitized and if yes, which?
Tom Szaky: As a recycling company, we clearly treat sustainability as a high-priority in day-to-day operations. We have digitized most of our documentation, including all financial transactions (through SAP), expense reporting (through Concur) and HR (through Paycom).  While we do continue to file legal and financial paperwork in paper form, we also digitize all documentation and store primarily on internal networks or directly in SAP.
TDE: In the next quarter which part of your business are you focusing on? Which part of your business can be further optimized using technology?
Tom Szaky: We're currently coding an internal webshop to integrate ecommerce operations into our existing website.  The webshop will be built on the Spree platform, moving us from Shopify.  Shopify has worked very well for us over the years and allowed us to launch, grow and innovate our business very quickly and effectively.  The move will allow for more customization and a seamless experience for our customers.  As part of this launch we also will integrate the webship with SAP and UPS API to automate internal processes for our Zero Waste Box business.
TDE: Do you view & use a common management dashboard to check the health of your business?
Tom Szaky: SAP is really our primary source to check the health of our business.  All key decision making at TerraCycle is rooted in our financials and SAP has allowed us to access detailed information quickly and in the format needed for efficient analysis and decision making.
TDE: How do you keep yourself updated? What are some of the websites or magazines or apps that you subscribe to or read regularly? What's your favorite social network – Instagram, Facebook, LinkedIn or Twitter?

Tom Szaky: I tend to spend the most of my free-time on LinkedIn and Facebook.
For more DX insights follow Tom Szaky on Twitter, Facebook and LinkedIn
Related
Our Digital Disruptors