Interview with Venky Balasubramanian, Co-founder and CEO at Plivo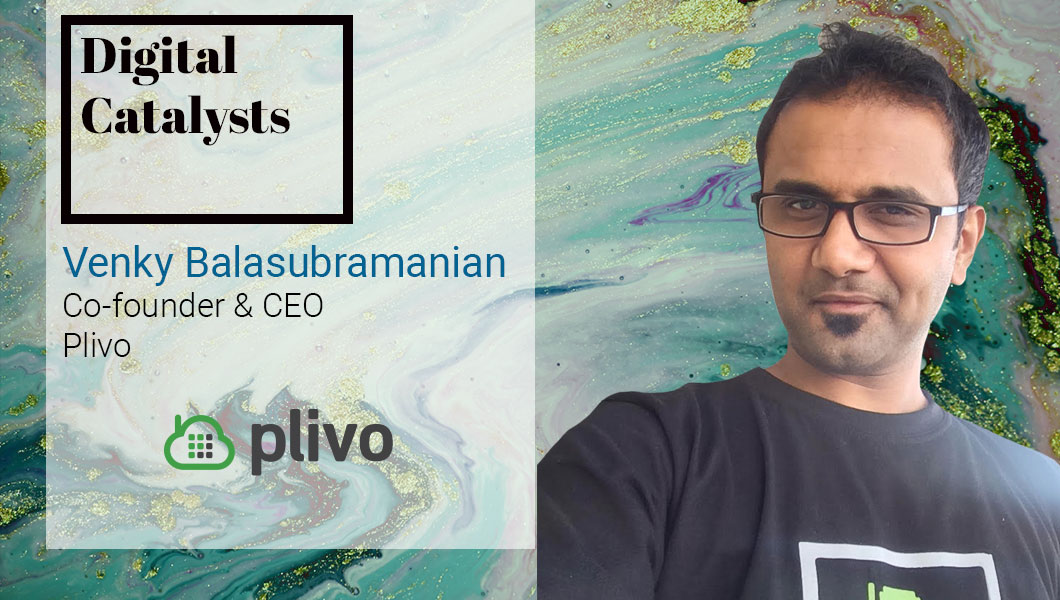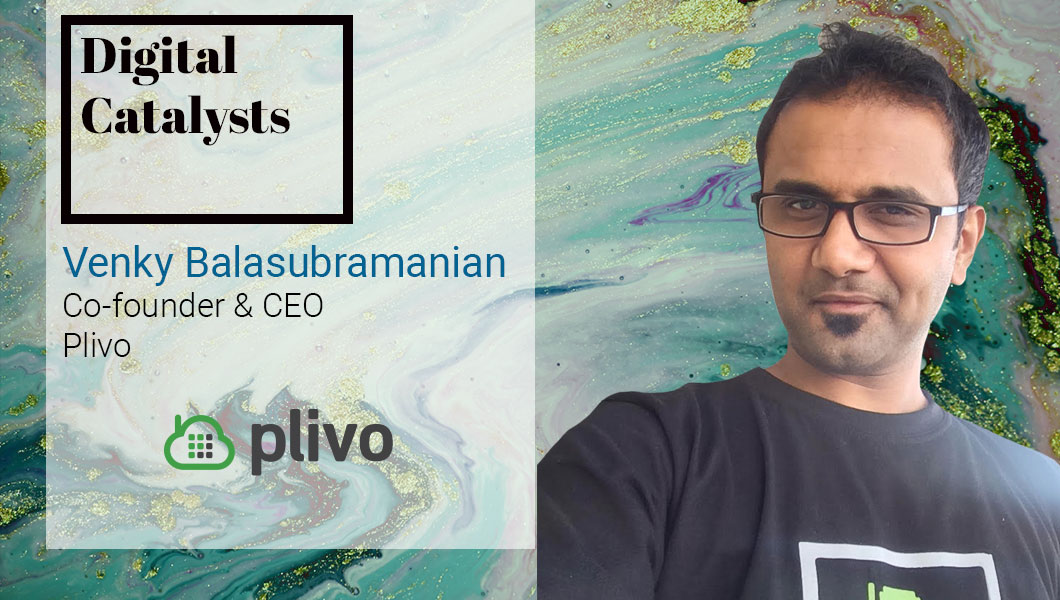 In this interview, Venky Balasubramanian, Co-founder and CEO at Plivo elaborates on how firms can digitally engage with their customers globally at scale and in a reliable manner and how IoT will be a key catalyst for digital transformation. Venky boasts over a decade of experience working with companies ranging from rapid-growth tech firms to global telecom giants such as Huawei Technologies
Tell us about your product/business and your specific role?
Plivo is a communications platform that enables businesses to connect, engage and interact with their customers. We operate in a space known as communications platform as a service – or CPaaS – and one of our core capabilities is enabling businesses to add voice calling and messaging to their apps with just a few lines of code. Think along the lines of text reminders for doctor's appointments, calls from ride sharing services or authentication codes from a service provider.
Our goal is to simplify the notorious complexity of telecom by offering simple and enterprise-grade building blocks. And I'm always happy to tout that, today, Plivo's infrastructure handles billions of voice calls and messages every year for over 70,000 businesses around the world.
Plivo
began in 2011 when my co-founder and I met on GitHub and, after failing to find a communications solution that met our needs, we decided to create our own. Our investors include the likes of Andreessen Horowitz, Qualcomm Ventures, Battery Ventures and Y Combinator, and we have more than 180 employees in our three global offices.
In terms of my role, I'm the co-founder and CEO and my main responsibilities are to oversee the company strategy and product direction, and generally to be a hands-on executive within the business. I founded Plivo after more than a decade of industry experience working with multinational telecom companies such as Huawei where I served in roles ranging from developer to solutions consultant.
What is the core issue your product/technology aims to address and what sets it apart from the other players in the market?
It really boils down to customers wanting to interact with and be serviced by companies in engaging and convenient new ways.
It's now almost mandatory for business applications to have integrated communications features, such as voice and SMS, and it makes processes more efficient for both parties. A doctor's office can send an automated appointment reminder via text instead of making time-consuming phone calls, and similarly, an online bank can authenticate their customer through a password verification delivered to their mobile device.
An important secondary issue we're addressing is providing app development teams with a ready-built framework for building real-time communications features, so they don't have to build their own and can develop customized applications at a low cost.
In terms of differentiators, we believe our global coverage, quality of SMS delivery and quality or voice calls is what sets Plivo apart from other players in the market.
What's the one industry, sector or role that your technology is most relevant to?
Plivo's technology best solves the need of the enterprise ecosystem, particularly those building and deploying customer-facing mobile apps. We find the most common uses for our platform is to integrate features such as two-factor authentication, customer activation, call tracking and sales automation into their apps.
What are some of the common challenges your customers approach you with?
Typically, the most common challenge for customers is the ability to reach and engage with their customers globally at scale and in a reliable manner. Many of the companies that we work with are global, and some operate within regulated industries such as healthcare and banking, adding another layer of complexity. As simple as it may sound, it's very difficult to address these issues, and our aim is to help them get started with a self-service approach.
Using technology to effect transformation usually starts with a transformation of beliefs and mindsets. How do you consult enterprise clients and help them make that important shift in mindset to move ahead on a particular project or implementation?
Most enterprises are used to dealing with highly complex telecom rules, high upfront investment costs and slow pace of innovation. At Plivo, we start with focus on the actual problem instead of how we solve it. Based on the problem, we typically show the advantages in terms of simplicity, agility much lower TCO. In some cases, we'll present a proof of concept that's similar to their situation to show them the value proposition.
Give us an example of an enterprise meeting a digital transformation goal through your product?
One of our customers powers the largest insurance enterprises in the country using a suite of sales and marketing enablement and automation tools. The legacy solution was an on-premise, hardware solution with manual effort required by the agents to coordinate and log all their day-to-day tasks into the CRM. Moving to Plivo's cloud-based communications platform coupled with browser-based calling for all of the agents (powered by WebRTC) has increased the organization's performance by 25 percent and lowered its total cost of ownership by 40 percent.
What present or upcoming technologies you think have the maximum potential to accelerate enterprise digital transformation?
WebRTC is an important technology that's really picking up steam right now because it enables rich communication (audio, video and screen share) from within a web browser without the need for any plugins or software installs. A lot of enterprises are digitally transforming their contact centers' sales & support solutions, as well as their internal collaboration solutions, using WebRTC. Combined with the move to the cloud, this is leading the digital transformation in the communications sector.
Also, as more and more connected devices and sensors come online, IoT will be a key catalyst to digital transformation across a wide variety of enterprises. It will allow for the collection of vast amounts of data from various devices and endpoints, which is a very valuable asset.
Technologies such as machine learning and deep learning, both of which form the basis for AI, will help make all the new data a lot more actionable by supporting predictive and prescriptive analytics. This will spur digital transformation by exponentially increasing productivity and creating new opportunities that were not previously possible.
What's your go to resource – websites, newsletters, any other – that you use to stay in touch with the explosive changes happening in the digital space?
 My go-tos are many of the analyst blogs and briefs, such as those by Forrester, Gartner and IDC analysts. I also keep up on news relevant to our industry by reading CIO magazine, No Jitter and other tech, telecom and business publications.
Related
Our Digital Disruptors