Interview with Vincent Bieri, Co-founder at Nexthink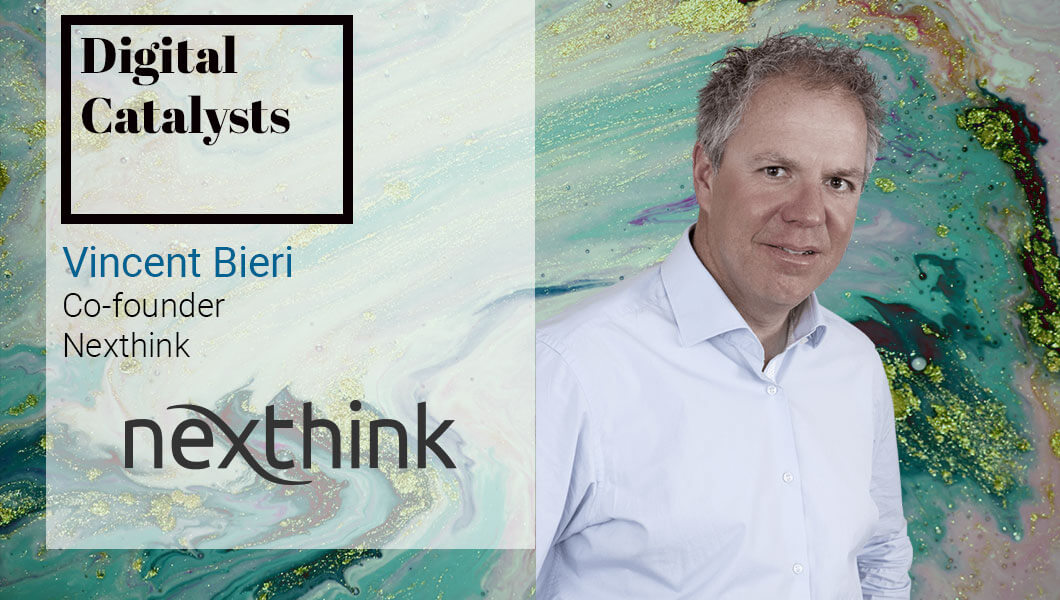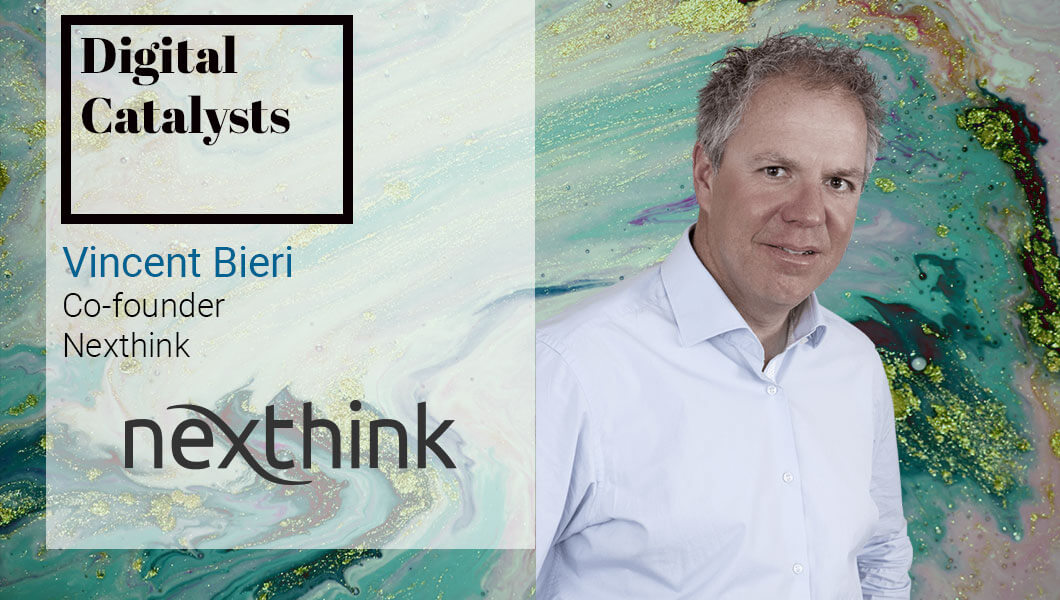 In this interview, Vincent Bieri, Co-founder at Nexthink elaborates on the critical role the digital employee experience plays on company growth, going beyond observations, diagnostics and recommendations and making the shift from experience "monitoring" to experience "management". Vincent is a world class skier and mountaineer, who spends his off-time racing against world champions, professional athletes and, even, the Swiss military in some of the most difficult cross-country races in the world. He applies strategies and lessons learned from these races to help enterprise businesses win during the unexpected and challenging conditions of digital transformation
Tell us about your product/business and your specific role?
Officially, I am the Co-founder and Chief Evangelist at Nexthink. Unofficially, I am the company's chief sport officer as I have participated in countless road cycling races against world champions as a professional athlete and numerous steep skiing missions and mountaineering expeditions in the Alps and Himalayas. My experience battling tough and ever-changing conditions in these races and adventures helps me in my official role of counseling and communicating Nexthink's value proposition, opportunities and successes to our customers.
No two journeys are the same, whether you're climbing up a mountain or facing the daunting task of digitally transforming your business, but by focusing on key elements that prepare you for success you can win regardless of what is thrown at you.
Back to Nexthink and the problem we solve: Have you ever experienced issues on your computer? Things like it running slowly, WIFI access not working, an application keeps crashing, and when you ask for help you hear back from IT support or a tech savvy colleague: "It should work. All looks green on my side. It works for me"? …Yes! No surprise. You are not alone. Irritating, isn't it?
At Nexthink we are helping companies ensure that situations like the above become a thing of the past. With Nexthink, not only can IT identify and fix reported issues much more rapidly, but you can also work in an environment where issues are taken care of proactively. Before they impact your work, and in many cases, before you even realize them.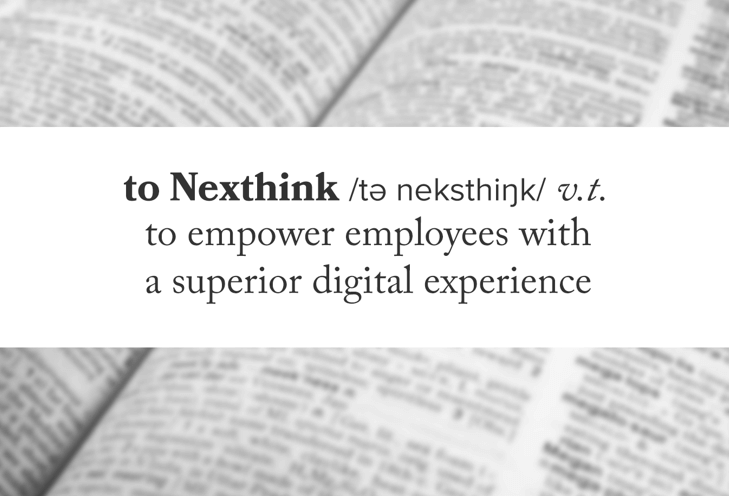 This is important because digital employee experience is directly related to business growth and company reputation. When employees can't get things done with maximum speed and efficiency, then the result is your business slowing down. When productivity is impacted, satisfaction declines and frustration builds on both the employee and customer sides. New applications (aimed to support business growth) are delivered late as IT teams must switch from innovation delivery to reactive firefighters fixing the numerous users' issues.
We've seen that enterprises who adopt Nexthink add back 100s of hours of productive time per year per employee.
What is the core issue your product/technology aims to address and what sets it apart from the other players in the market?
IT management and monitoring (where user experience fits) is a domain that companies have spent a fortune on over the past 10 years trying to obtain performance data about their networks, servers, databases and applications. Using data coming from these monitoring tools (Network Monitor, APM,…) companies have created service availability indicators and outage alerts (named SLA) to measure if a service or an application is running fine or not (in other words, if they are made available to the users). When looking at user experience from inside-out with these tools and techniques the results reported are 99.99% quality levels. Indeed, the servers, databases, applications, and networks are up and running in the data centers and/or cloud. Therefore, digital life of employees must be all good with that 99% SLA, right?
Well, not really. While data centers and clouds are up and running, employees are often waiting for their computer to boot, their applications to load, their browser to respond, or their wi-fi connectivity to work. 95% of IT-pros say they are operating without any way to see and detect user issues apart from getting a call into the helpdesk. The key is that they are missing the outside-in monitoring, the experience from the users' perspective and from the endpoints devices towards the data center.
What is seen at the helpdesk is only the tip of the iceberg and the reality of the situation is even worse. Over 50% of issues never make it into a support ticket, and users instead spend time either fixing it themselves or just living with the problem. The bottom line is that while it is nice to enjoy a green SLA of 99.99%, the truth is you don't see most users' issues unless they tell you about them. Adding more traditional monitoring and APM may enable you to make your SLA greener, but it won't show you more about your users and that means it's difficult to justify the energy or money associated with them.
At Nexthink we realized that technology no longer defines IT, as successful organizations have embraced digital employee experience as their IT benchmark and primary concern. We offer them unique software solutions capable of monitoring the full context of employees' digital workspace. Devices, applications, connectivity – everything – is observed to analyze availability, performance, reliability, security, and usage. We detect why a PC is suddenly slow, why it takes so long to boot, why an application is crashing so often, printing issues, the commonalities (ex: wrong DNS config) between devices that can't connect to the internet, and problems with critical business application and collaboration tools such as O365, SAP, Skype.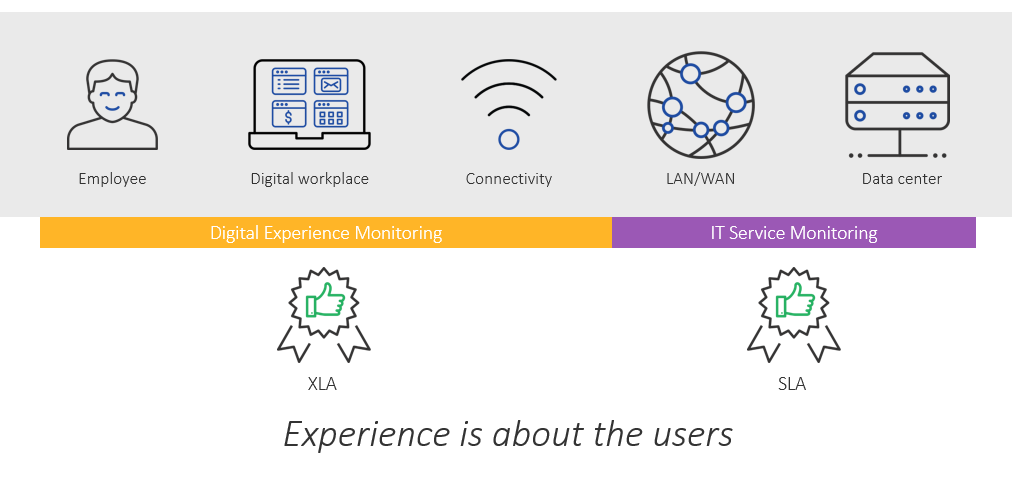 What sets us apart, beside this unique deep contextual monitoring of the users' digital environment, is our ability to go beyond observations, diagnostics and recommendations. We actually automatically execute the needed remediation such as configuration changes, installations or required patches and drivers, uninstallation of problematic software, reconfiguration of network settings.
Finally, because experience is a matter of people and not only systems, we work not only at the device instrumentation level, but also at the human level with employee engagement capabilities. This engagement adds essential contextual and subjective information to enrich factual monitoring to support decisions and actions to qualify, prioritize, suggest, decide, and improve. This is not simply a parallel activity to gather satisfaction feedback, but rather it's what makes experience monitoring become experience management (proactive action and decision)
What's the one industry, sector or role that your technology is most relevant to?
When employees can't get things done with maximum speed and efficiency it means your business is slowing down. Today, digitalization is not something happening in any single industry, it's everywhere. Years ago, while banking was already a fully digitalized businesses some manufacturing and services companies where still operating on pen and paper. There was a similar experience in healthcare, but now doctors and nurses have tablets and laptops to access patients' records. Therefore, Nexthink is relevant to all industries and public sectors and our customers highlight that. We have leading companies in finance, insurance, manufacturing and industrial, pharmaceutical, engineering, services, telecom, healthcare, and public sector/government.
What are some of the common challenges your customers approach you with?
Because they don't see 95% of the incidents coming from their users and their current monitoring (and even doing more of it) won't fix it.
They don't have any visibility into why users lose productivity because they lack employee feedback on how a technical situation impacts their work from a business outcome perspective.
They are wasting a huge amount of time on their end-user projects and they are late in delivery. This is simply because too many issues and uncertainties exist due to lack of visibility into the end-user computing infrastructure.
They can't be very proactive because they lack an easy way to engage at the right time, right device, right intention with the users.
They lack efficient ways to educate and communicate with their workforce about compliance, security, planned changes, outages, etc. in order to build a better collaboration with the business.
Even when they are fixing user issues, they have no good mechanisms to instantly verify whether the solution provided actually fixed the problem (10% of tickets that are closed are not resolved today).
How do you see the changes in technology impacting data analytics in the near future? How should enterprise IT teams get more proficient in enhancing employee experience by preempting various needs, redundancies and challenges of on-premise and remote teams and their customers alike?
Analytics are the future of modern digital workplaces.
With the choice of tools, apps, and devices to work from anywhere at anytime there will be a lot of analytics requirements to identify the right setup for an employee at any given time. We are moving into much more personalized and individualized workplaces, with more choices available to employees than ever before. Interacting with a customer from home, the office, or on the move nowadays is done in a different way with different devices, tools, apps every time.
However, there are expectations to get things done quickly and with the same level of access to needed data and operations/process. For example: discussing a price quote from home and not being able to send a PO right away because you are not at your office is no longer a valid excuse.
Great digital experience from anywhere, anytime, and on any device will only exist with great analytics combining technical (perf, latency, freeze, speed) and subjective/contextual (feedback, satisfaction, business impact, sentiment) data.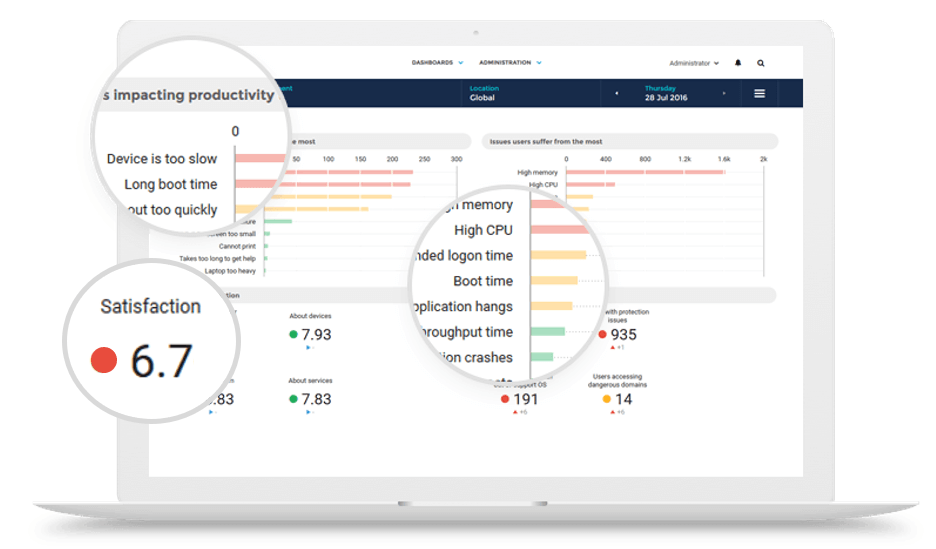 Give us an example of an enterprise meeting a digital transformation goal through your product?
Bunge
: Nexthink analytics provide better information to plan and manage complex transformation projects (Windows 10, Office 365/ Skype).
Many others are here.
How can SMB set-ups carve an effective roadmap for their digital transformation? What time frames should they expect to achieve an ROI from their digital initiatives and what are the key milestones they need to record in this journey?
1. Envision the end state
The end business model
The legal implication (contracts, general conditions; new and current customers)
Financial outcome (eg, revenue recognition)
How to operate under this new model
The skills needed at the end
The people/team to get these skills (new to hire, current to educate)
The optimal IT architecture and nessecary tools to support it
Data strategy + security/compliance
2. Determine where you are
Gap analysis
Strength assessment
Technology audit
Security/ compliance audit
Team skills audit
3. Define how and when to get there
Parallel tracks, small projects (quick wins vs. long-med terms)
Milestones for each
Timing for each
Dependencies mapping
Implementation plan
Success factors, how and when to measure
4.  Implementation
Above plan in action
Quick wins first (1-3 months)
Mid-long term later (6-18 months)
5. Realizing the benefits (hopefully 😉
Measuring results on success factors
Educating employees and customers
Share results
6. Growing
Improving where you are not where expected (need more adoption, make other choices, fix issues,…)
Gather feedback
Identify opportunities for more (and start evaluating from step 1)
Related
Our Digital Disruptors