Interview with Zach Goldstein, Founder and CEO of Thanx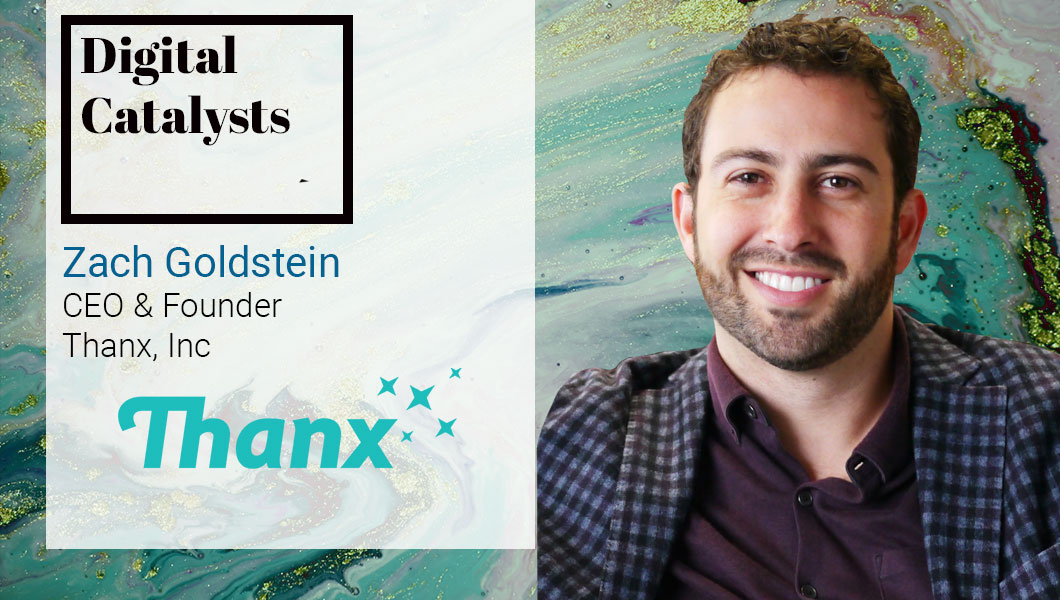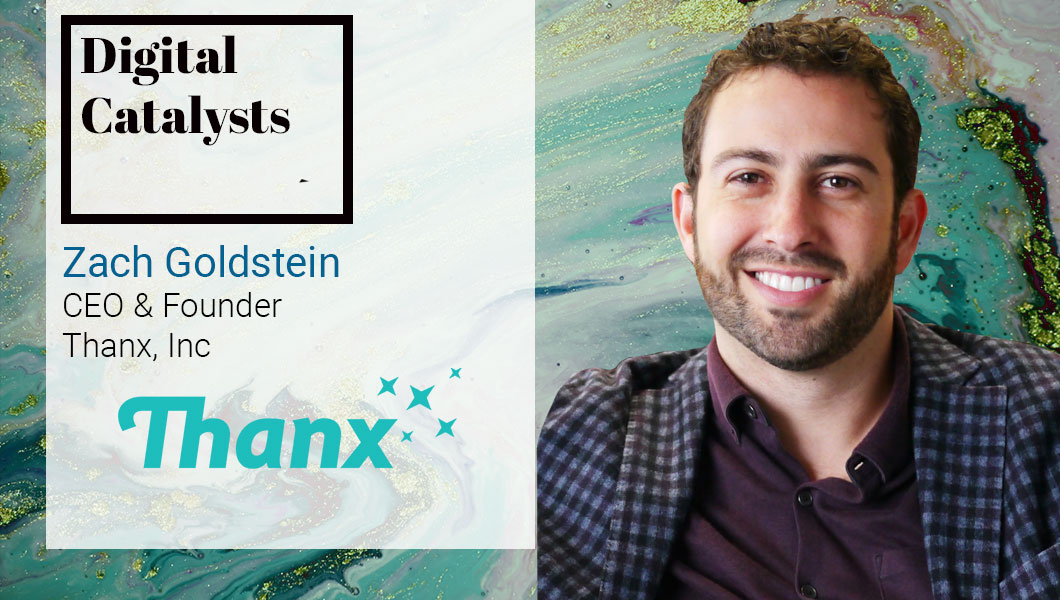 Zach Goldstein, Founder and CEO of Thanx, explains how businesses can add joy to the rewards experience, taking offline businesses beyond impressions to conversions and reiterates why it's critical to measure success in terms of incremental revenue. Zach founded Thanx in 2011 with the goal of helping merchants identify, reward and retain their best customers and diehard fans. Previously, Zach worked with retail and tech giants at Bain and Company, where he focused on customer satisfaction and retention. He has an MBA from Stanford and shivered his way to a BA at Dartmouth
TDE: Tell us about your product/business and your specific role?
Zach Goldstein: I'm Zach Goldstein, Founder and CEO of Thanx, a complete customer engagement solution for offline businesses; we pride ourselves on driving measurable incremental revenue for our customers. Thanx works with merchants who, by and large, cannot identify their best customers and cannot close the loop on their marketing spend — whether using traditional email or social media or even ancient plastic card rewards programs. Thanx combines loyalty, multi-channel marketing, customer feedback, and segmented, data-driven campaigns into a single system of record for customer data.
Our secret sauce is in direct integrations with the credit card networks (Visa, MC, AMEX, etc) that allow us to identify, engage and reward repeat customers and capture complete customer spending records without any hardware or integration and without hassling the staff or the consumer themself. As a result, we help merchants measure true incremental revenue for every marketing campaign they run; because opens and clicks do not equal revenue.
I'm the CEO so my role changes by the day but mostly I see my primary responsibilities as setting the strategic direction for the business, making sure everyone is "rowing in the same direction", and delighting our customers every day.
TDE: What is the core issue your product/technology aims to address and what sets it apart from the other players in the market?
Zach Goldstein: Thanx is the only technology on the market that can capture transaction data for offline businesses without any hardware or integration and without hassling the consumer with additional effort. This makes for joyful rewards experiences for consumers, but more importantly results in a powerful and meaningfully more accurate customer spending data set that can be used for detailed segmentation and targeted marketing. This comes from our proprietary credit card integrations at our core but we map additional data such as demographics and POS detail to develop the most complete record of a business' consumers that exist on the market.
Most marketing dollars for brick-and-mortar merchants are focused on "impressions" — screaming out a message and hoping lots of people see it. There is no way to measure who responded by coming in and spending money. Online advertising used to be like this too but now success is measured by "conversions". This is the innovation we bring to offline businesses — know exactly how much revenue you get for every marketing dollar (or hour of effort) you spend.
TDE: What's the one industry, sector or role that your technology is most relevant to?
Zach Goldstein: Our technology is currently most relevant to brick-and-mortar businesses across 20 industries including, but not limited to restaurants, specialty retail, entertainment, convenience stores and car washes.
TDE: What are some of the common challenges your customers approach you with?
Zach Goldstein: A few examples:
Many merchants we work with are spending a lot of money on customer sentiment or social listening tools without any data on who these customers are and their purchasing history. It makes it difficult to trust the feedback and impossible to successfully intervene on behalf of the customer. Thanx offers a private channel where brands can intercept customer feedback and measure satisfaction from confirmed customers with detailed purchasing histories.
Others have been building an email database for a decade and have hundreds of thousands or millions of consumers. Many of those emails are stale and the remainder have only received generic "mass" emails for years. Marketers report to their bosses on emails that receive higher open or click rates, but no one can determine how much revenue is actually generated and which customers responded — so the channel never gets more effective. Thanx measures success in terms of incremental purchases in-store so our customers can double-down on the things that are driving traffic (hint: personalization increases responses by 10x) and stop those that aren't.
Finally,
most businesses see the 80/20 rule in their data — the vast majority of revenue comes from a small number of unique consumers. Yet it's also true that 60% of consumers who purchase today will not be back in the next 6 months. Lost customers are expensive and largely an "out of sight" problem slowing growth and depressing traffic.
Thanx automatically identifies lost VIP customers and lassos them back into the business with our automated "Winback" campaigns, recapturing 40% of lapsed guests.
TDE: Using technology to effect transformation usually starts with a transformation of beliefs and mindsets. How do you consult enterprise clients and help them make that important shift in mindset to move ahead on a particular project or implementation?
Zach Goldstein: Accountability is a good thing. Even when offline stores from restaurants to retail are under attack from their online counterparts and costs are on the rise, many brands we talk to are scared to do something different with their marketing. The ROI on it is a big "I don't know." And we all know, that unknown ROI generally means no ROI. We advise these growing businesses that they need to embrace change and focus their efforts on the channels that are measurable and measurable in terms of bottom line revenue impact. Similarly, some brands wonder if this is a "must-have" solution, but in the same breath wonder why Starbucks, Panera, and others are seeing massive growth and why their companies are on the decline. They need to understand that those brands invested tens of millions in data analytics. If you're not doing it, you're already far behind.
TDE: Give us an example of an enterprise meeting a digital transformation goal through your product?
Zach Goldstein: Tommy Bahama restaurants is a fantastic case study. This is a remarkably strong brand across the country and their retail stores are very data-forward. They know who their best customers are and do a lot to personalize their shopping experience. But the same was not true with the restaurants (generally co-located with retail stores), who do very high average unit volumes but were completely data blind. They didn't know what percentage of customers dined and shopped retail on the same day versus the percentage who came just for the restaurants. Or who their VIPs were that deserved the extra love in restaurant. Tommy Bahama is undergoing an awesome transformation in the personal recognition of their best customers, 'Thanx' to the data and tools Thanx has provided.
TDE: What present or upcoming technologies do you think have the maximum potential to accelerate enterprise digital transformation?
Zach Goldstein: Machine learning will make advanced data analytics as big a competitive differentiator as the quality of product and service. We're already seeing it; Cava just bought Zoe's Kitchen and is proving to be a Fast Casual powerhouse. They have a team of data scientists on staff – you didn't hear that about mid-size restaurants a few years ago. Not everyone can do it but those who can't in-house will need partners to help them adopt and innovate.
TDE: What's your go to resource – websites, newsletters, any other – that you use to stay in touch with the explosive changes happening in the digital space?
Zach Goldstein: I got to and speak at industry conferences 10+ times per year where I learn about all the cutting-edge tech and strategies our customers and peers are rolling out. It's a travel burden but I find it well worth it. Our blog has great reading at Thanx.com too.
TDE: Read a good book lately on digital transformation that you'd like to recommend to us?
Zach Goldstein: No, but I did just re-read The Ultimate Question by Fred Reichheld on Net Promoter Score and the predictive power of customer feedback. We use NPS in our tools and its really true that high customer satisfaction defines winners.
For more DX insights follow Zach Goldstein on LinkedIn and Twitter.
Related
Our Digital Disruptors