Interview with Andrew Yeoman, Co-founder and CEO at Concirrus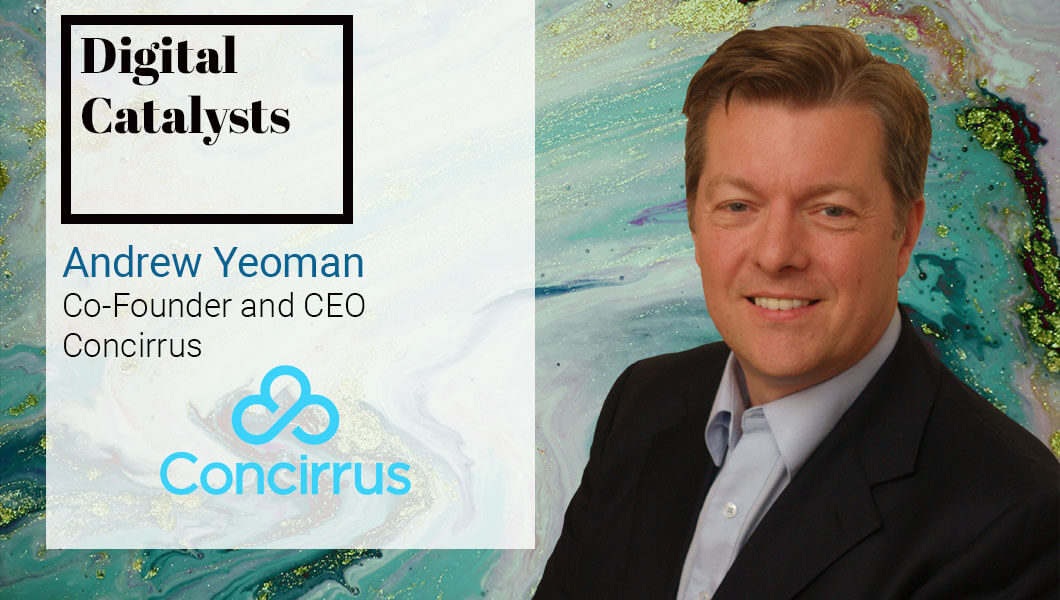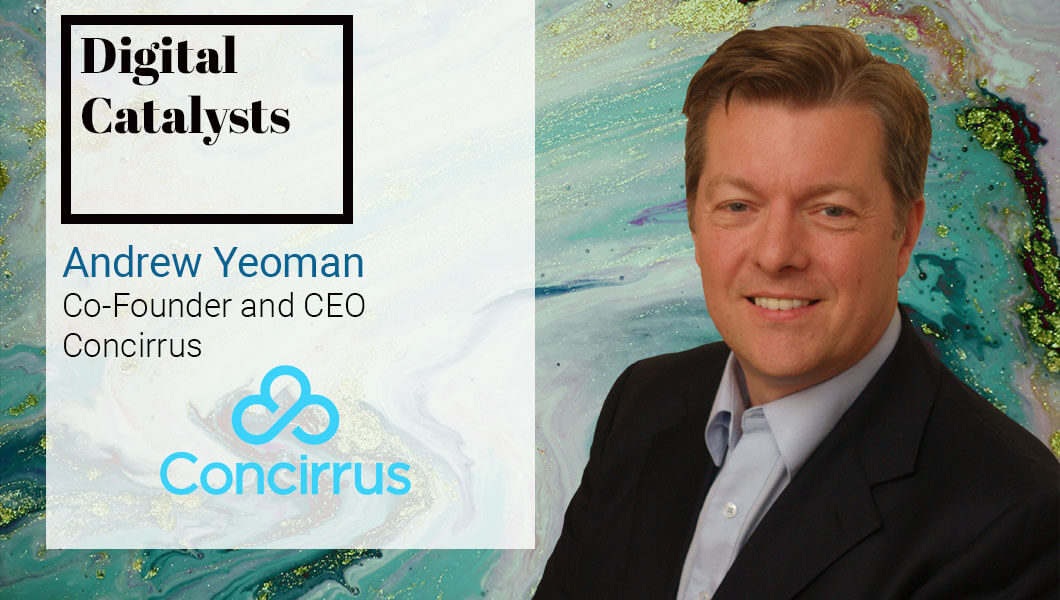 In this interview, Andrew Yeoman, Co-founder and CEO at Concirrus discusses the technology transformation for marine insurance and how technology is not a replacement for human intelligence. Andrew has a successful track record in telematics, big data and insurance. With extensive experience of fast-growth business strategies, turnarounds, and M&A. He's passionate about the new business models that technology can unlock for insurers and their customers
TDE: Tell us about your product/business and your specific role?
Andrew Yeoman: Concirrus is a London headquartered insurtech helping the insurance market to better understand their risk portfolio and actively manage their risks. Concirrus' software Quest is currently focused on the marine and motor insurance markets and is applicable to insurers, reinsurers, brokers and Personal and Indemnity (P&I) clubs.
My business partner Craig Hollingworth and I co-founded Concirrus in 2012 as an Internet of Things company but have since pivoted to focus solely on insurance. I'm the CEO, leading the strategy and direction of the organization.
TDE: What is the core issue your product/technology aims to address and what sets it apart from the other players in the market?
Andrew Yeoman: Insurance is traditionally written based on a number of static demographic factors. In motor, these are things like the age of the driver, where they live and how many kilometers they drive annually. In marine, there are five factors that all insurers use to assess risk – class (cargo ship, cruise liner etc), flag, year built, yard built and tonnage.
However, insurance is all about pricing risk and, we know inherently that actual behavior is a much better indicator of risk than these demographic factors. For example, a driver might live in an area but spend all their time commuting and parking elsewhere, or a ship might have been built in a yard that is considered risky, but the owner may be vigilant about regular maintenance.
All this behavioral data is available, but there is so much of it and, even if insurers do have access to it, it's the combination of all the data and the insights that this generates that is the most valuable.
Concirrus' software Quest accesses and interprets large sets of data and combines this with an insurer's historical claims information to provide insights into their portfolio for better underwriting, decision making and lower administration costs.
The marine market is very traditional and untapped with technology – there is no other player doing what we are doing. In the motor space, fleet telematics have been around for the best part of 20 years, so tracking movement and behavior of vehicles is not new, however combining this with driver data as well as environmental factors and providing real-time insights based on this data is.
TDE: What's the one industry, sector or role that your technology is most relevant to?
Andrew Yeoman: Marine and motor insurance and in particular underwriters and brokers.
TDE: What are some of the common challenges your customers approach you with?
Andrew Yeoman:
Underwriters wanting to understand their existing portfolio in more detail.
Marine risk has been measured in the same way for hundreds of years using the same static demographic factors – size of vessel, vessel flag, location it was built etc and in the current competitive market this offers no way for insurers to compete. Any additional insights into their portfolio will help them to price the risk more accurately, find new sources of risk to underwrite that they weren't aware of, as well as differentiate by offering more tailored insurance products. This holds true for motor insurance too and the competition is even tougher of course in personal lines.
Wanting to lower their administration costs.
Administration costs are at an all-time high and, in commercial insurance, the number of different players in the value chain who all clip the ticket is incredible. Our technology helps insurers and brokers to focus on the high value work and streamline their processes.
TDE: Using technology to effect transformation usually starts with a transformation of beliefs and mindsets. How do you consult enterprise clients and help them make that important shift in mindset to move ahead on a particular project or implementation?
Andrew Yeoman: While there are some outliers, traditionally insurance isn't an industry that's been quick to change. We've seen some great examples of innovation in personal lines, but commercial insurance hasn't had the same drive. Aside from that, any change is challenging for large organizations, so it's a long-term commitment to help the insurance industry go through this technology transformation.
First, our philosophy is not that we are going in to disrupt the industry, but we are there to partner and help the existing insurance industry to become more successful. This helps to start the conversation.
Secondly,
I truly believe that insurance is not just an industry, but a community, and we are here to help all players in that community succeed together. There will be changes in roles, but we are not advocating for technology to replace human intelligence.
Finally, it's about showing them tangible results. We can show them the results we have had from previous engagements with insurers and, when they can see the insights produced and the impact on the bottom line, this generally helps move things forward.
TDE: Give us an example of an enterprise meeting a digital transformation goal through your product?
Andrew Yeoman: A large commercial marine insurer approached Concirrus to understand whether behavioral and situational analysis of their portfolio could help them to operate more efficiently.
We took this customer's five-year claims history and combined this with the existing data in Quest to unearth behavioral insights and small changes they could make which would allow them to reduce their loss ratio by 7%.
For example, one of the insights was all the characteristics that made up a good quality account as well as the types of accounts that are a good fit with their portfolio. With these insights they could target new opportunities they were not currently insuring to increase their annual net earned premium.
TDE: What present or upcoming technologies do you think have the maximum potential to accelerate enterprise digital transformation?
Andrew Yeoman: There are many technologies entering the market today that will undoubtedly have an impact on the industry, but rather than focus on the technology itself, I'm perhaps more fascinated by the business model that it can enable.
If you look back to when the internet dot.com era was really booming, everyone was focused on how technology would be used to impact the existing industry; but when evaluating the most successful companies to emerge from the dot.com era, it was those that put technology at the core of their proposition and used it to be more customer-centric that emerged as the iconic brands we recognize today.
Successful online brands like Amazon recognized that it's much more than becoming "X but for the internet", it's about building a customer-centric brand that leverages technology to empower its value proposition.
Looking at an example in the insurance industry: when Direct Line developed their proposition to sell insurance products over the phone they did more than just employ larger teams at call centers — they re-imagined the entire purchasing experience and optimized it to be done over the phone; an approach that has proven wildly successful.
Technologies like AI, machine learning and blockchain will play a part in the future of the industry, but these are enabling technologies. The truly successful insurers of the future won't provide insurance 'but for' blockchain, or insurance 'but for' artificial intelligence, they will be companies that leverage these powerful technologies to redefine the insurance business model.
Alongside data and analytics technology, #blockchain is set to transform marine insurance. The new #Insurwave will bring online and automated placements, greater security, streamlined processes and much lower operating costs for insurers. https://t.co/fWImVkRya0

— Concirrus (@concirrus) May 25, 2018
As a comparison to the insurance market, the London Stock Exchange processes more transaction by midday on its second day of trading than Lloyd's does in their entire year. Stocks are bought and sold in open, digitized, and regulated marketplaces in real-time, and I believe that new technologies will facilitate the emergence of a new business model for insurance — one that allows risks to be written and placed in near real-time and traded like stocks.
TDE: What's your go to resource – websites, newsletters, any other – that you use to stay in touch with the explosive changes happening in the digital space?
Andrew Yeoman: I get my information from a whole variety of sources and probably the varied individuals and companies I follow on Twitter is the best source of information.
TDE: Read a good book lately on digital transformation that you'd like to recommend to us?
Andrew Yeoman: Without doubt the best book I've ever read on transformation is called Unlimited Wealth by Paul Zane Pilzer. It was written twenty years ago, but is still the most insightful book as it talks to business models not to technology
For more DX insights follow Andrew Yeoman on LinkedIn and Twitter. 
Related
Our Digital Disruptors