Interview with James Willett, Vice President at Neustar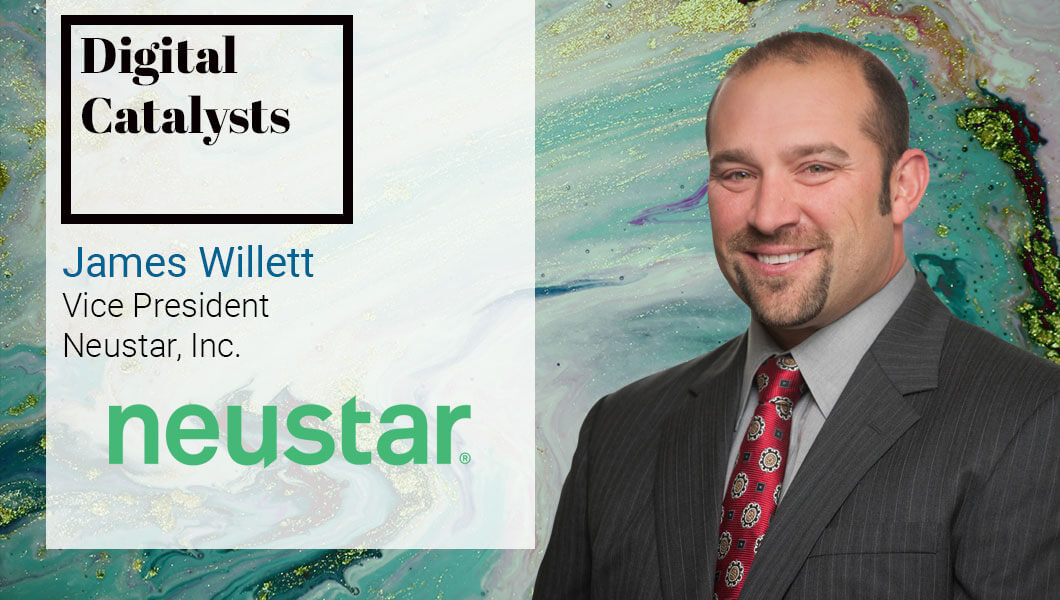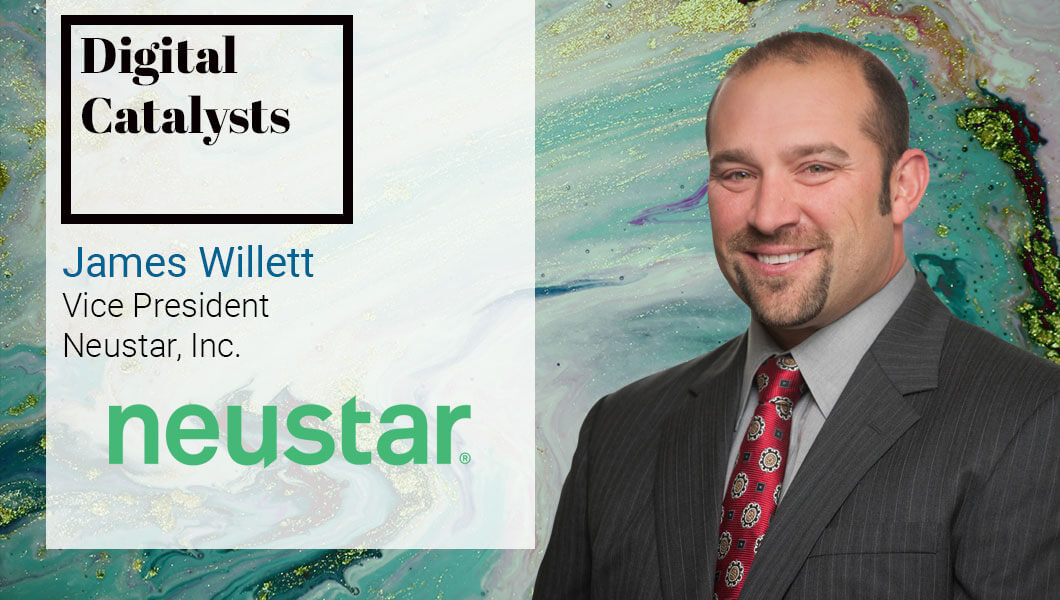 In this interview, James Willett, Vice President of Technology, Digital Defense and Digital Performance Solutions at Neustar, discusses 'restringing' the process of connecting to the web while making it safer, ensuring uninterrupted brand engagements for consumers and why reliability is a must for online businesses. James has over 19 years product management and professional services experience and executes winning IT strategies for Fortune 500 companies, their customers and partners, as well as critical infrastructure providers. James holds his BS in Information Technology
Tell us about your product / business and your specific role?
As Vice President of Engineering at Neustar, a global provider of real-time information services, I work across two key solution areas: digital defense and digital performance. Our digital defense solutions help clients defend their digital assets and provide clients with intelligence that works beyond the point of entry, resulting in increased resilience against disruptions and cyber attacks. Our Neustar SiteProtect NG solution offers 10 Tbps of DDoS mitigation, the largest dedicated data scrubbing network in the world—an optimal solution when attacks are volumetric in nature and larger than local network capacities, or when on-premise hardware becomes too cumbersome to manage. In addition, we offer Neustar NetProtect™, a solution that directly connects within our 61 datacenters for even stronger security. The Neustar Web Application Firewall (WAF) solution integrates with our DDoS solution, giving clients a comprehensive, layered protection stack quickly, preventing threats targeting the application layer, such as SQL, XSS, CSRF and zero-day vulnerabilities, as well as bot-based volumetric attacks.
To help our clients offer uninterrupted, more personalized experiences to their customers and to safeguard the stability of our client's digital enterprise and revenues, we offer a range of digital performance solutions. These solutions range from IP intelligence and website performance management to DNS and Registry services. Our aim is to provide our clients with a complete understanding of how their digital domain and applications perform.
Fortune 500 and Alexa 100 companies count on us for security, reliability and performance. With our recursive DNS solution, clients get a cloud-based service that is fast and reliable with built-in security and threat intelligence that is vital for online users and applications. Lastly, our authoritative DNS solution is an enterprise grade, managed authoritative DNS service that ensures 100 percent website and online application availability along with built-in security for superior protection.
I consider what I do as integral to re-architecting how we connect to the Internet, while also making it safer. More specifically on the digital defense side, I am responsible for leading a team of engineers to continuously innovate and update our solutions and services to ensure we are always providing the most advanced web-based security solutions and services possible to our current and prospective clients.
What is the core issue your product/technology aims to address and what sets it apart from the other players in the market?
At Neustar, we ensure our clients have the best web protection, user experience, configuration options and analytics at their disposal. While Neustar was the first company to deliver cloud-based information services and analytics to inform high-volume, high-value decisions in real-time, we have diversified our information services quite a bit to add to the critical data sets we manage. This includes using our advanced web technology to protect websites from increasing cyber attacks.
Our digital defense and digital performance solutions provide our clients with the protection and stability needed to maintain a competitive advantage:
Neustar SiteProtect NG: a cloud-based solution that secures against network and application-level DDoS attacks
Web Application Firewall (WAF): always-on approach to quickly stop the largest and most sophisticated web application cyber security threats
Neustar UltraDNS: a cloud-based authoritative DNS service that securely delivers fast and accurate query responses
IP Intelligence: provides the highest quality IP decisioning data available, ensuring customers enjoy consistent, uninterrupted, quality interactions online
The construction of our DDoS network with regionalized nodes is a game-changer for our clients.
We have the largest dedicated DDoS Network globally that matches our scrubbing centers to main locations for many of our clients, enabling us to meet and defeat new attacks head-on, with localized scrubbing, so clients don't feel the impact to their networks.
In complement to Neustar SiteProtect NG®, the NetProtect network is strategically situated directly inside data centers in order to address and mitigate or entirely avoid the concerns of latency, complexity and other anomalies commonly associated with legacy Generic Routing Encapsulation (GRE) and Virtual Private Network (VPN) tunnel systems.
Created specifically for demanding and advanced network requirements that require support beyond basic proxy or VPN services, NetProtect is focused on transmitting sensitive data quickly and securely. Neustar's strategic fortification of a vast data center ecosystem, in combination with Neustar's design and implementation of the new NetProtect solution, decreases system complexity. Such system simplification has traditionally presented a technical challenge because of the need to overlay networks on top of physical networks to transfer data between multiple locations.
We continue to add nodes to our SiteProtect NG network in North America, Europe and Asia to provide greater scalability for our clients. We plan to add more nodes in South America and Australia to give our clients even greater protection and reliability.
Neustar is also the largest provider of core registry and digital naming services, helping the most innovative brands in the world tap into the power and possibilities offered by today's new platforms for digital identity. We support nearly 300 of the .brand pioneers, helping them reinvent what it means to build a powerful brand in today's connected world. We also operate the marketing and technical solutions for the .US, .CO, .nyc, .au and .biz top-level domains.
What is the one industry, sector or role that your technology is most relevant to?
Our technology is relevant to any business connected to the web – be it on the internet or intranet. Despite the industry, our technology ensures that no matter the size or scale of a DDoS or DNS attack, our clients' websites are protected at all times and the end-user experience is not impacted – ensuring consumers remain uninterrupted, connected and safe as they engage with a brand.
There are industries where website reliability and performance are more critical than others, such as banking/finance, media and entertainment, e-commerce and gaming. Any compromise in the user experience in these industries could cause reputational damage and the loss of customers.
Additionally, our technology and infrastructure set-up is quite different from other vendors in the industry. Our solutions are uniquely designed to not just simply protect customers from web-based attacks, but also to guarantee the highest level of reliability and web-performance no matter how large or powerful a future attack may be, given the major advances in IoT and the proven insecurities that result. On top of this, our unique approach also positions us more strongly to protect online businesses that have more complex and challenging web-security needs, such as gaming businesses.
What are some of the common challenges your customers approach you with?
On the tactical side, clients approach us when they are experiencing denial of service issues on their website or online application – be it a DNS, DDoS or web-traffic issues. When you dig deeper, however, the underlying issue is really about their online availability to customers in order to maintain business operations and success both in the short and long term. As you start to peel the onion, our clients also want protection through web application firewalls to reduce website vulnerability exploits, as well as maximize web infrastructure availability. Our clients want to make sure their infrastructure is always available and we help by providing stable and reliable DNS. This is especially important to our clients because if your DNS availability is compromised, your entire organization is offline.
Using technology to effect transformation usually starts with a transformation of beliefs and mindsets. How do you consult enterprise clients and help them make that important shift in mindset to move ahead on a particular project or implementation?
When thinking about consulting enterprise clients, one word comes to mind: reliability. For customers using our solutions, this is often their top concern. Failing to demonstrate reliability can lead to very real business consequences, such as near and long-term customer loss, a decline in brand recognition and reputation, as well as a real impact to revenue results. The bottom line is if your website or application is offline, your customers will notice. While downtime may stop them from buying or using your service at that moment in time, it is possible you will lose them for good. The stakes to ensure a seamless experience for customers are high for businesses online today.
As more enterprises embrace digital opportunities to cut costs and improve efficiency, it's critical they focus not just on how to reach more customers, but also on what technologies or cyber security strategies they need to protect them in tandem.
Enterprises need to be realistic about their specific web application risks and the consequences of potential downtime. They should then use this to choose the right solution and strategy rather than simply assessing cost without the assessment of risk. This can be extremely detrimental as not all web-security solutions are created equal.
Give us an example of an enterprise meeting a digital transformation goal through your product?
Everything is moving digital – that is not news. What is new, are the threats that companies face against their online presence. In order to meet certain digital transformation goals, such as providing exceptional online customer service with no downtime, clients use our products to protect their web service and connection to their customers. If one of our clients has experienced a DDoS or DNS attack in the past, avoiding and preventing a future attack will be especially high on their list of priorities. Using Neustar's defense solutions helps to ensure that as our clients' business is transforming digitally, it remains a reliable business for consumers.
What present or upcoming technologies you think have the maximum potential to accelerate enterprise digital transformation?
From Neustar's view, the goal of the client is to be always-on with no downtime and maximize performance with a fixed budget. To do this, our product lines need to be best in breed and be affordable. At Neustar, we are not necessarily seeing new technologies improve web reliability; we are focusing on the breadth and reach of our global platforms, greatly increasing reliability and performance. At Neustar specifically, we address this digital transformation by expanding the reach of our nodes globally – we now have nodes in 61 data centers across 10 countries. To continue to accelerate transformation, Neustar has a responsibility to keep clients' presence online through our core infrastructure and to deliver insight on anything that could be a risk to them.
What is your go to resource – websites, newsletters, any other – that you use to stay in touch with the explosive changes happening in the digital space?
For many of my peers at Neustar and myself, the consortiums and associations we belong to are key to helping us stay up-to-date with the current threats facing our business and clients. Participation in these groups helps ensure we stay part of the core group of providers that help ensure the internet is as safe and as fast as possible. A few that come to mind include FIRST, ICANN, IETF, NANOG, DNS OARC and various industry ISACs. Neustar also formed the Neustar International Security Council with over 200 members worldwide, all of which work in cyber security and share trends, research and knowledge. For me in particular, it is all about relying on peers and industry participation to educate myself on security issues. In terms of industry news sites, Dark Reading is one of my favorite go-to websites.
Read a good book lately on digital transformation that you would like to recommend to us?
Digital Vortex: How Today's Market Leaders Can Beat Disruptive Competitors at Their Own Game
I like this book because it focuses on digital disruption and how innovation feeds this. As a technology leader with solutions that cross the mature and establish plane and others that are newer, focused on growth, I found this book full of ideas. In some ways, we've been able to adapt ideas through disruption, supporting our clients with their own transformation.
Related
Our Digital Disruptors