Interview with Alexey Khitrov, President and CEO at ID R&D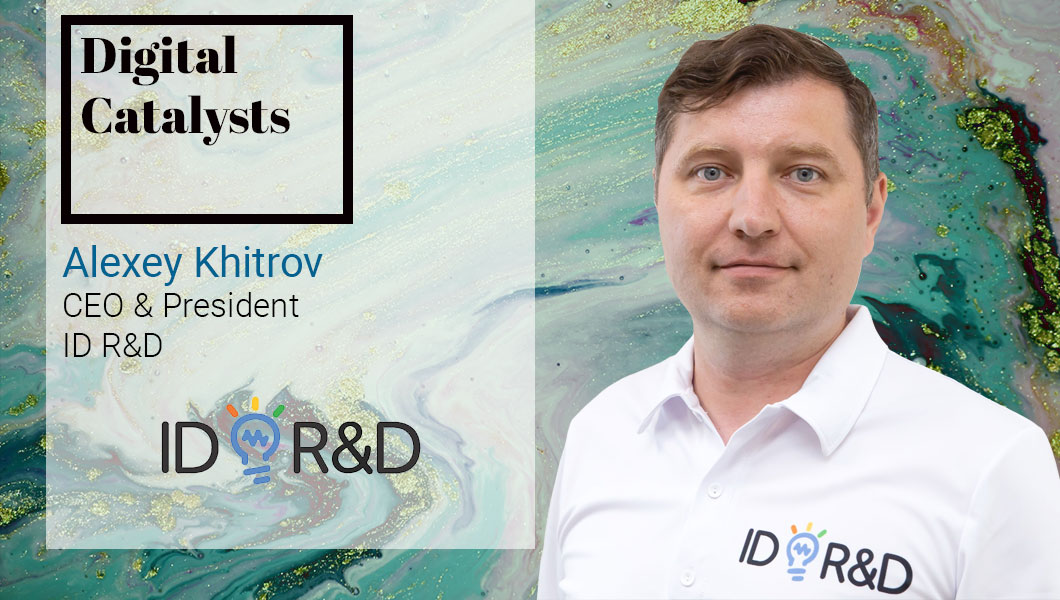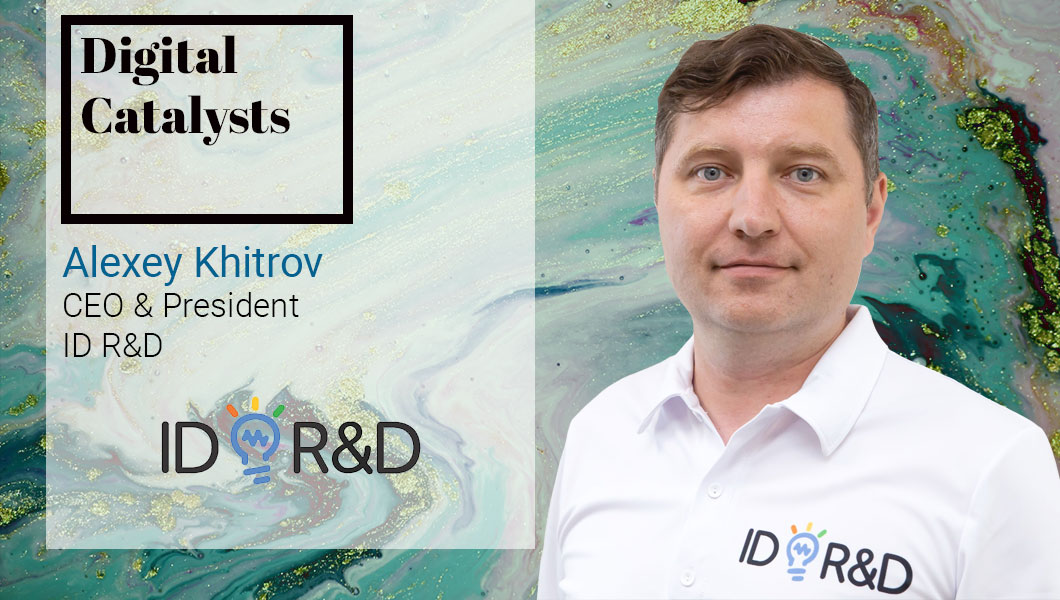 In this interview, Alexey Khitrov, President and CEO at ID R&D discusses robust security for a seamless user experience, eliminating user-based risks and why security should not trump experience but rather be aligned with it. Read on as he shares his thoughts on AI in IoT and the future when technology will understand us like a friend would! Prior to ID R&D, Alexey was the president and CEO at SpeechPro, a provider of speech recording, processing, analysis and voice biometrics. Alexey has also worked with BMO Capital Markets, a leading Canadian investment bank, where he handled a variety of financial products and client groups. Alexey holds an MBA from Schulich School of Business, York University in Toronto, Canada
TDE: Tell us about your product/business and your specific role?
Alexey Khitrov: As CEO of ID R&D, my role is to provide a vision for the company – where we are taking the technology and to build an effective leadership team. That team drives the strategic direction of ID R&D, distills best operating processes, and creates the right atmosphere that allows us to execute on our goals. When my co-founder, Konstantin Simonchik and I founded ID R&D, our mission was to deliver a frictionless authentication experience using a combination of voice, behavioral, facial, and anti-spoofing technologies and that's what we continue to work on.
TDE: What is the core issue your product/technology aims to address and what sets it apart from the other players in the market?
Alexey Khitrov: Simply put, we aim to deliver the most secure way for users to be authenticated that requires very little effort from the end user. We see two key elements that distinguish us from others: our comprehensive approach to security and our frictionless solution. Let me explain –
Biometric technology needs to answer two questions: 1 – Is this the right person? and 2 – Is this a real person in front in the device? For us, it's not enough to simply match a voice, face or a behavior. We see anti-spoofing capabilities as a crucial additional layer of authentication, in that someone shouldn't be able to gain access using a picture, video, recording or a computer-generated voice designed to sound like a user. Our solutions prevent those breaches.
Secondly, our goal is to deliver this robust security in tandem with the best user experience. To put it another way, our solution enhances the UX because it requires nothing from the user – they simply need to interact with the device as they normally would. So when we say frictionless, that's truly what it is for the end user in that there is no noticeable change in, or impact on, the way they would use their device. Older technologies prioritized security over experience, which was clunky for the end user and thereby led to slower adoption. We see the combined emphasis on security and UX as the breakthrough that is driving our growth.
TDE: What's the one industry, sector or role that your technology is most relevant to?
Alexey Khitrov: We have customers in a number of industries so it's difficult to choose one, but I'd say fintech is the area where we're seeing the most growth.
TDE: What are some of the common challenges your customers approach you with?
Alexey Khitrov: Our customers generally have two primary challenges. First, they want to make sure their security solution is truly secure. Password-based systems always carry the risk of the passwords being compromised, and once a bad actor has access, the sky's the limit. So our customers are intrigued by our solution, which limits access to an individual's extraordinarily unique bio-footprint. Second, they want to ensure that the integrated solution won't negatively impact their relationship with that consumer. It's no secret that users are often pretty poor at managing passwords, security questions, backup codes, etc. Our customers are looking for a solution that is not only seamless for their customer, but also takes user-based risk out of the equation.
TDE: Using technology to effect transformation usually starts with a transformation of beliefs and mindsets. How do you consult enterprise clients and help them make that important shift in mindset to move ahead on a particular project or implementation?
Alexey Khitrov: One big shift that has assisted with this transition is that conversational interfaces (virtual assistants, Alexa-like capabilities)  are on the rise in terms of how users interact with technology. Consumers now expect that they can obtain personal information and conduct transactions through this emerging channel. Once we are able to demonstrate how these increasingly familiar interfaces provide better security and a better user experience, it has been a pretty easy transition for enterprise clients to see the benefit of integrating our solutions.
TDE: Give us an example of an enterprise meeting a digital transformation goal through your product?
Alexey Khitrov: Sure. Device management and security gets tricky when you're dealing with thousands of them, distributed globally.  With our product, enterprises can wholly eliminate some of the common user-based risks.  For example, if an employee leaves a computer terminal but is still logged-in, no one else could use that terminal or leverage that employee's access because our solution would identify the imposter immediately as a non-authorized user.  Same with a cell phone that has been lost – even if a bad actor obtains the password, our solution would prevent access before that person could do any harm, intentionally or not. Simply put, our solution better secures the enterprise.
Facial recognition and intuitive UX
Another example would be allowing customers to conduct business through the convenient conversational channel in a secure and seamless way. Voice and dialogue based interfaces significantly simplify UX in a lot of environments and our technology brings security to this field.
TDE: What present or upcoming technologies you think have the maximum potential to accelerate enterprise digital transformation?
Alexey Khitrov: We're excited about the potential for AI in the IoT, in that soon, our technology will be able to know us, just like a friend would.  This will be a huge development, not only for security purposes, but also for the everyday enhancements this will lead to. It's really pretty amazing when you think about the potential it has.
Thinking of taking a flight from one country to another without having to wait in long queues or showing your passport multiple times? @WTTC has a pilot in mind.@BiometricAlli #Biometrics #SeamlessTravelerJourney program #facialrecognition #Fingerprints Easy #UX #Secure https://t.co/P3LqPYa0Bk

— ID R&D (@ID_RnD) October 31, 2018
TDE: How did you chalk out a growth path for ID R&D from its inception in 2016 to now where it has become the most sought after startup in the fintech security space?
Alexey Khitrov: Our executive team has over 25 years of experience in the biometrics industry, so we were well-equipped with a vision of how to integrate that experience into a security solution.  We are also committed to developing next-gen technology – that's why R&D is in our name – so it has been relatively easy to demonstrate the clear benefits of our biometric solution to potential customers in fintech, mobile, and other industries.
TDE: What are some of your key takeaways from this journey? Any interesting feedback from other startups or VCs that have become guiding principles for ID R&D?
Alexey Khitrov: Build the industry leading R&D team that can create new generation of technology that can provide new capabilities and technological barrier to the competition. From the start our goal was to bring to the market new level security and seamless UX and we are proud of where we are today. We believe that we have the potential to enhance the life of every connected person on the planet – to make their online or mobile experience more enjoyable and more secure.
TDE: What are some of the companies and their use of technologies that has impressed you in terms of their operations, how they have scaled, customer engagement etc?
Alexey Khitrov: There are certainly a lot of impressive companies, but I'd have to say I am really impressed with what some of the automakers are doing.  For example, Mercedes-Benz is incorporating AI to improve the passenger infotainment experience. It's capable of understanding complex speech, from words to full sentences, and can learn and adapt with each use. Mercedes-Benz has built its company on delivering a premium experience and they are integrating cutting-edge technology to continue to do that.
Mercedes-Benz User Experience: Revolution in the Cockpit
TDE: What are some of your projections for how AI will change the IoT and security landscape by the turn of the decade?
Alexey Khitrov: I touched on it a little earlier, but really, AI has the ability to shift everything about the way in which we interact with the IoT. AI will be integrated into our daily lives such that it will "know" us – and will adapt everything around us based on our preferences and needs.  Just like a best friend who may get us a glass of our favorite wine before we've asked, or a family member who buys a shirt because they know we'd love it – AI in the IoT will have the capability to deliver a fully personalized experience with no effort from the end-user in the not-too-distant future. It will also allow to change the way we communicate with the enterprise bringing a "friend" experience where security and authentication will be done in the background without any interruptions to the tasks in hand.
TDE: What are the biggest challenges slowing down the increased adoption of IoT in financial institutions in particular and the enterprise in general?
Alexey Khitrov: So security is the biggest issue, and rightly so. Obviously,
for financial institutions, the protection of sensitive data is the foremost concern and adoption will only go at the pace that a technology can prove itself.
From the authentication angle, we see increased adoption because we are part of a vital ecosystem that locks down sensitive communications and data and our efficacy is easy to prove. I think there's more doubt on the hardware side as the steady stream of stories about compromised or hijacked hardware devices indicate. There's also the privacy issue and the need to ensure that users feel comfortable with the handling of their data. We believe in full transparency for end users – that they be made aware of all the capabilities of the technology used, and that they have to right to opt out.
TDE: What's your go to resource – websites, newsletters, any other – that you use to stay in touch with the explosive changes happening in the digital space?
Alexey Khitrov: My Twitter feed is my resource for what's going on in the industry as it turns me on to news, products, people and more.
TDE: Read a good book lately on digital transformation that you'd like to recommend to us?
Alexey Khitrov: Deep Learning by Ian Goodfellow, Yoshua Bengio, and Aaron Courville. It's not a quick read, but it is great reading on one of the most exciting frontiers of technology.
For more DX insights follow Alexey Khitrov on Linkedin and Twitter. 
Related
Our Digital Disruptors