How Insurers Can Use IoT Data to Be Game-Changers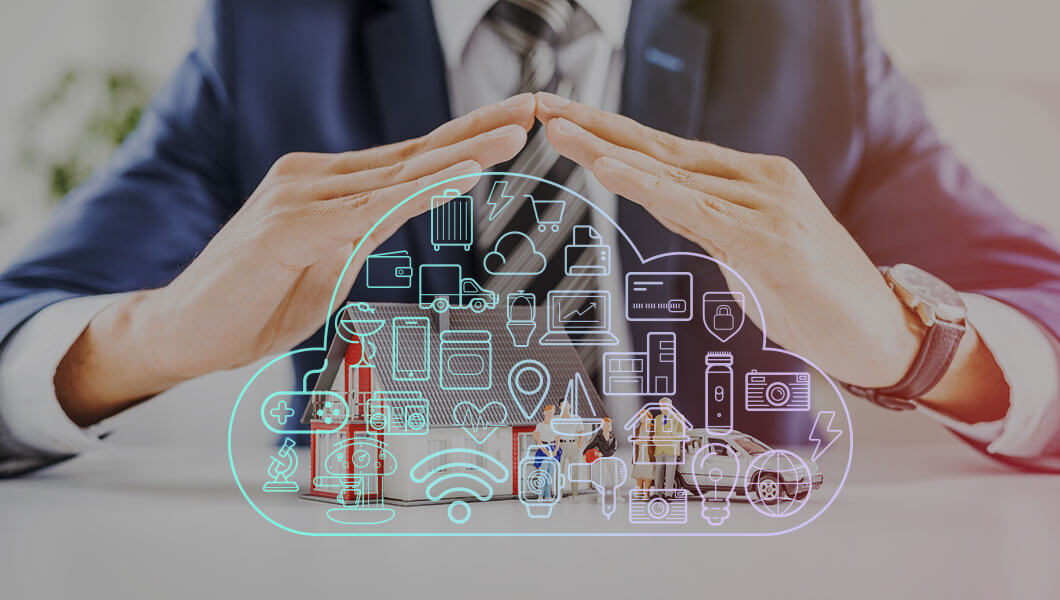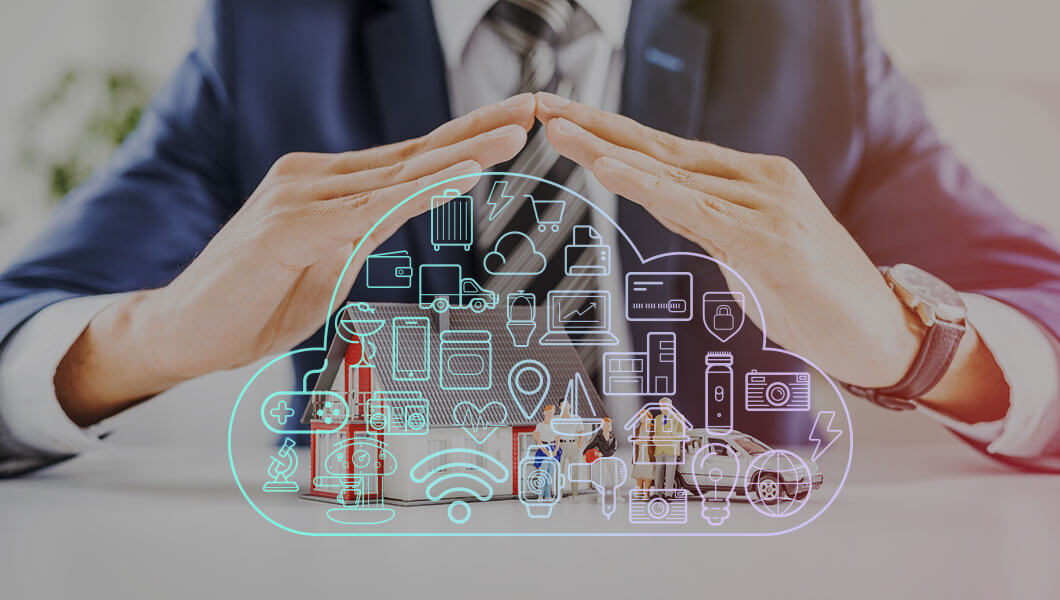 It's been nearly a decade since the Internet of Things has been around, and though it has much to offer the most traditional of industries – Insurance, the sector has not made the most of using IoT data. More so because of the lack the knowhow of working with IoT data and the potential it can offer insurance carriers with its real-time inputs from IoT sensors, a recent LexisNexis Risk Solutions survey reveals.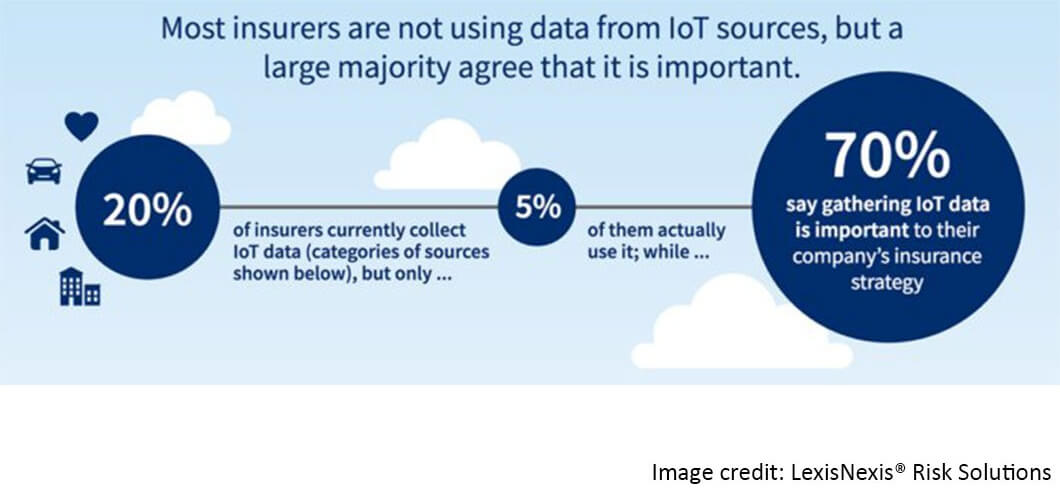 Data gathered from the Internet of Things (IoT) devices can support the insurance sector by facilitating the creation of personalized services and products. Smart objects capturing relevant user data is no longer a futuristic concept, and if insurers become early adopters of this technology, IoT can help them create compelling value products by gaining insights using this data.
Applying IoT Data to Insurance
Developments in telematics, for instance, have helped carriers decide car insurance rates based on driver data. Information from smart home sensors has helped make homeowner insurance more comprehensive. Wearable IoT devices can help health insurers gather critical medical data and provide relevant protection plans for their customers. With real-time data, IoT drives new business opportunities, enhances customer satisfaction thereby reducing attrition, and improves risk assessment.
Significance of IoT Data in Insurance
Thus, understanding what is the Internet of Things, and how it impacts the insurance industry is critical for insurers today.
Simplifying the Wiki description, The Internet of Things (IoT) is a network of physical devices including vehicles, home appliances, and other items embedded with sensors, which enable these things to connect and exchange data in real time.
Using this data helps insurers gain a better understanding of their customers and their needs to create customized product offerings.
IoT has the potential to reduce acquisition and policy administration costs substantially, by data-driven underwriting. To get the optimal benefits of IoT, insurers must transition from traditional models of business to proactive business strategy that includes data from this technology – to design products with risk coverage that are proportionate to the insured person's liabilities. New business models driven by data from smart devices can boost operational efficiency, enable precise products pricing, and improve fraud prevention. Eventually, it will help insurers to evolve into strategic partners, who can act as preventive risk advisors for their customers.
The Changing Face of IoT for Vehicular Insurance
The new data streams that IoT devices provide, when coupled with advanced analytics, have set the foundation of usage-based insurance (UBI) in vehicle insurance, also known as pay-as-you-live and pay-as-you-drive insurance. This allows insurers to tailor insurance based on specific driver behavior and usage patterns. According to estimates, UBI policies will reach almost 15% of market penetration by 2020 in most major global regions. Vehicle insurers have the scope of using drone assistance for vehicle damage inspection, telematics-based driver assessments, and use of beacon technology to support customers take better driving decisions. This helps the carrier to contain claims and helps the customer with reduced premiums.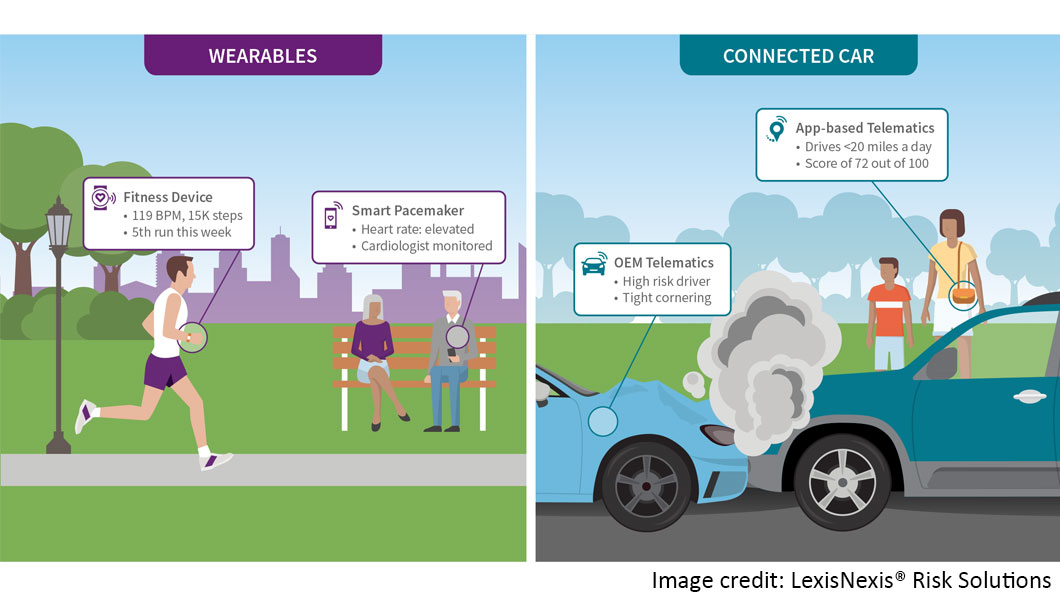 How IoT Data Assists Health Insurance
Similarly, the fast adoption of wearable technology allows better risk profiling, simpler and more affordable products in healthcare insurance. Health insurers can track data from wearables to know the risks of their customers, before customizing products. Interestingly, dental insurance company Beam Dental uses smart toothbrushes to get data inputs and then decide on premiums.
Home insurers and businesses too, can look at data from smart smoke and water level alarms or home security systems to help customers contain their risks and be rewarded with lesser premiums.
Factors for Insurers to Consider IoT Data
Despite IoT data providing crucial inputs for insurance companies, it seems carriers don't feel compelled enough to incorporate it into its offerings. So, what are the key factors that may change this scenario in the immediate future?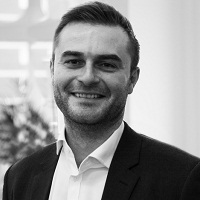 Mark Phillips, Head of Sales at Concirrus, lists 2 key factors that will be the pressure points for organizations to bring in IoT data in their products:
Downward pricing pressure and fierce competition
Consumer demand
About downward pricing pressure and fierce competition Mark elaborates, "In personal lines insurance, competition has always been fierce, and technology and comparison services have only made it easier to compare pricing and switch providers. A deep understanding of customer behavior in order to understand your exposure and losses, as well as offer outstanding customer experience, is the best and only way to remain sustainable in this environment.
"The way to gain this deep understanding is through behavioral data gathered from IoT devices – the easy example is in health insurance with wearables. Once an insurer has access to this information, they can differentiate and personalize insurance policies and, through technology, offer an individually tailored experience for each customer. They can also begin to understand the behavior that correlates to claims and suggest changes to behavior that might lower their exposure.
"In marine insurance – a major focus for Concirrus – it's really not that different. We are talking about streaming data from devices on ships that track things like movement, speed and machinery health, as well as environmental data such as hyper-local weather and port safety – all things which can indicate risk. With access to this data, not only can the insurer gain a much greater understanding of their risk and therefore mitigate losses and lower claims, they can also begin to offer their clients a much better customer experience through tailored policies.
It is also interesting to note that it's estimated only 10% of the world's risks are currently insured – much of the global risk is considered to be too small, or too risky. However, it is possible that insurers could turn these into profitable opportunities by bundling many of these risks together and pricing them appropriately dependent on the risk. – Mark Phillips, Head of Sales at Concirrus
This is only possible if the insurer has the ability to understand, on a large scale, the ongoing behavior of these fleets – the only way to do this is through harnessing IoT data.
About the second key factor that will push carriers to use IoT data – consumer demand, Mark adds, "In the age of Uber and Airbnb consumers, particularly those in younger generations, expect personalized products and services and a digitally powered customer experience. We have seen digitally savvy insurance companies crop up and dominate the market – companies like Vitality and Lemonade. These same pressures are beginning to translate into commercial insurance.
"Already in marine, ship operators are investing heavily in digital to manage things like engine performance, Co2 emissions, navigation, and cargo supply chains. All of this investment increases the safety of vessels and therefore lowers risk and, as a result, there is pressure from the ship operators for insurers to reward them for this safer behavior. Only through harnessing IoT data can insurers begin to understand how to do this."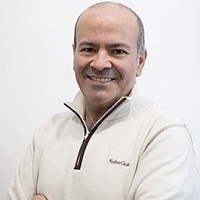 Antonio Grasso, Founder and CEO of Digital Business Innovation Srl, also reiterates this view when he says, "IoT devices are mostly related to people, directly or indirectly; every day we generate data doing normal activities and we will do it even more in the near future. Connected cars, wearables and mobile, are only some technologies that will generate something like our digital twin (as seen in the context of Industrial IoT).
Insurance companies need to harness this opportunity to collect IoT data that permits deep analytics to discover many aspects of consumer behavior. – Antonio Grasso, Founder and CEO of Digital Business Innovation Srl
They can then fine-tune the existing offering and / or create new products that better fit the customer's needs for greater benefits and enhanced customer experience. Hyper-personalization and predictive analytics using atomized IoT data, can bring a wave of new information to feed the decision process with a new, growing level of effectiveness."
Turning Challenges to Opportunities with IoT Data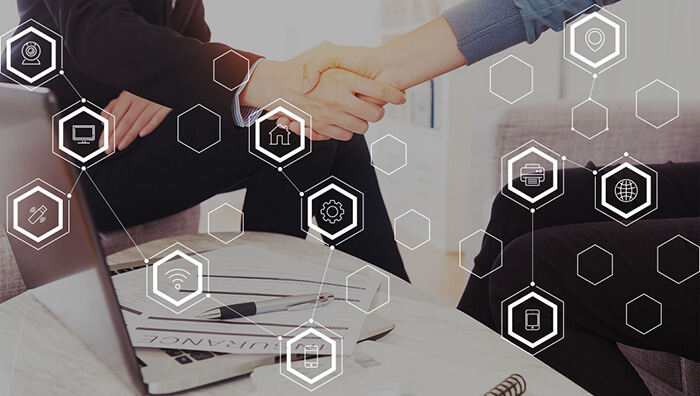 Insurers can use IoT data to ensure premiums are aligned to the risk profile of the insured
The insurance industry has witnessed underwriting losses, trust issues among customers, accelerated change, evolving consumer preferences, and growth and profitability issues. As insurers try to navigate a connected world, only those who bring down the expense-revenue ratio will survive. IoT will empower insurers to connect holistically with customers, accelerate claim payments once they are equipped with timely information, and improve customer experience.
Here's How #IOT Will Impact The #Insurance Claims Process #CustomerExperience #CX https://t.co/ojOe3gA8xy pic.twitter.com/2mBGSN1Z9U

— Blake Morgan (@BlakeMichelleM) May 16, 2018
Data from IoT devices will surely support insurers to achieve differentiation and a competitive edge in the industry that's now overcrowded with over thousands of players. This means, carriers will now show urgency to leverage IoT data to convert more opportunities for the business. According to Mark, the industry will need to accommodate IoT in their business approach very quickly. "Gaining insights from IoT data will give insurers a way to quickly understand the risk in their portfolio at a granular level and begin to make plans for mitigating their risk and identifying new profitable opportunities.
There is really no such thing as 'bad' risk; it is all about pricing accurately. So, with a deep understanding of the portfolio, insurers can price appropriately depending on the level of risk. – Mark Phillips, Head of Sales at Concirrus
Roadmap for Insurers to Adopt Internet of Things
The connected ecosystem, apart from creating opportunities for insurers, also drives engagement with consumers, who own cars and homes. Insurers need to focus on the connected car, the connected home, and the connected individual. By 2025, close to 50 percent of the U.S. households will be connected. Wearable devices that report the emotional and physical environment of the wearer can help develop independent living solutions for the physically challenged or the elderly.
To benefit from IoT, insurers need to update their IT operating model, bring down costs by simplifying the legacy systems, invest in building technology-driven capabilities, prepare the architecture for the connected world, and pay greater attention to IoT security to keep data breaches at bay.
From the technology perspective, they may have to build platforms that support better underwriting and pricing based on IoT data. Integrating IoT in day-to-day insurance functions has to be gradual, and in order to make it seamless and successful, companies must take the right measures to create a culture that is conducive to digital within the organization.
Antonio emphasizes, "As usual, if you want to focus on a goal, you need a broad vision! So, don't care only about technology – include in your mix people and process, and create a roadmap for all factors – knowledge, organization, and technology."
How C-Suite can integrate the Internet of Things in Insurance
Mark's suggestions for CDOs, CTOs or CIOs of insurance companies to help agents use IoT data in day-to-day functioning begins with redefining organizational culture.
He explains, "Culture change is the biggest hurdle to adopting a more digital approach and it has to start from the top.
"In the past few years, we have seen innovation labs popping up in insurers everywhere, tasked with driving the company's innovation and digital agenda, and working out how to either build internally or partner with Insurtechs. While there are some cases of successful labs, such as Munich Re's aptly named 'The Lab', we have also seen a number shut down in the past 12 months, for example Allianz X, after they've seen little success in changing the way their company drives innovation.
"The problem with setting up a separate innovation agenda is that it deflects responsibility and buy-in from business unit employees, who are the ones that need to change their behavior to truly embed innovation. The way to truly drive cultural change is making it everyone's responsibility, right from the senior executive team, through middle management to general staff.
"So, the suggestion for insurance executives is to embrace innovation as part of their business unit strategy, empowering all employees to contribute to and adopt digital and innovation strategies."
Mark continues, "Remember, it's less about the data and technology than the business model it enables.
Insurers needn't understand blockchain, AI, or machine learning to be able to reap the benefits of these incredible new technologies. What's important is that insurers focus on what they are very good at, understanding insurance, and work with technology companies that know the technologies. – Mark Phillips, Head of Sales at Concirrus
"If you look back to when the internet dot.com era was really booming, everyone was focused on how technology would be used to impact existing industry; but when evaluating the most successful companies to emerge from the dot.com era, it was those that put technology at the core of their proposition and used it to be more customer-centric that emerged as the iconic brands we recognize today. Successful online brands like Amazon recognized that it's much more than becoming 'X but for the internet'; it's about building a customer-centric brand that leverages technology to empower its value proposition.
"Looking at an example in the insurance industry – when Direct Line developed their proposition to sell insurance products over the phone, they did more than just employ larger teams at call centers. They re-imagined the entire purchasing experience and optimized it to be done over the phone; an approach that has proven wildly successful.
"Technologies like AI, machine learning, and blockchain will play a part in the future of the industry, but these are enabling technologies. The truly successful insurers of the future won't provide insurance 'but for' blockchain, or insurance 'but for' artificial intelligence, they will be companies that leverage these powerful technologies to redefine the insurance business model.
"As a comparison to the insurance market, the London Stock Exchange processes more transactions by midday on its second day of trading than Lloyd's does in their entire year. Stocks are bought and sold in open, digitized, and regulated marketplaces in real time, and I believe that new technologies will facilitate the emergence of a new business model for insurance – one that allows risks to be written and placed in near real time and traded like stock.
"The same can be said about data – it is not only having access to the data that will create competitive advantage, it is what an insurer does with this data. Therefore, insurers should be less worried about who has access to what data and, once again, focus on what they are really good at: using this data to drive product differentiation."
Antonio feels it's critical that the IoT data be used to customize offerings, adding, "Try to map the customer needs with your services portfolio and discover which data can help your organization to be more effective with your customer. Health data, mobility data and financial data, the Internet of Things brings all this information in addition to other new inputs. Understand what these data sets are saying about your customer and try to respond with your service, fostering a wave of innovation in the products portfolio.
But at first, talk with your people and shape this new intervention as an ongoing, sustainable innovation that your brand can benefit from. – Antonio Grasso, Founder and CEO of Digital Business Innovation Srl
Way Forward for Internet of Things in Insurance
As insurers gear up to harness the full potential of IoT, they must not lose sight of the customer. Policyholders measure value in terms of experience and not savings. And so, insurers should aim for a unified development environment that allows seamless rollout of data-driven products.
IoT is a promising concept and will only gain more significance, revolutionizing the insurance sector and further increasing the possibilities of expanding their business avenues. However, with the benefits that every technology brings, comes the responsibility of using it carefully. Kara Scarboro, an attorney in Saul Ewing LLP's Insurance Practice, succinctly sums up the concerns that insurers should keep in mind when using IoT data, "Insurers must keep in mind how to protect consumer data and how to keep it private. Consumers need to know that when they provide data about themselves, the insurance company is going to keep that data private and to protect that information from outside sources."
Related
Our Digital Disruptors