10 Inspiring Mother's Day Marketing Campaigns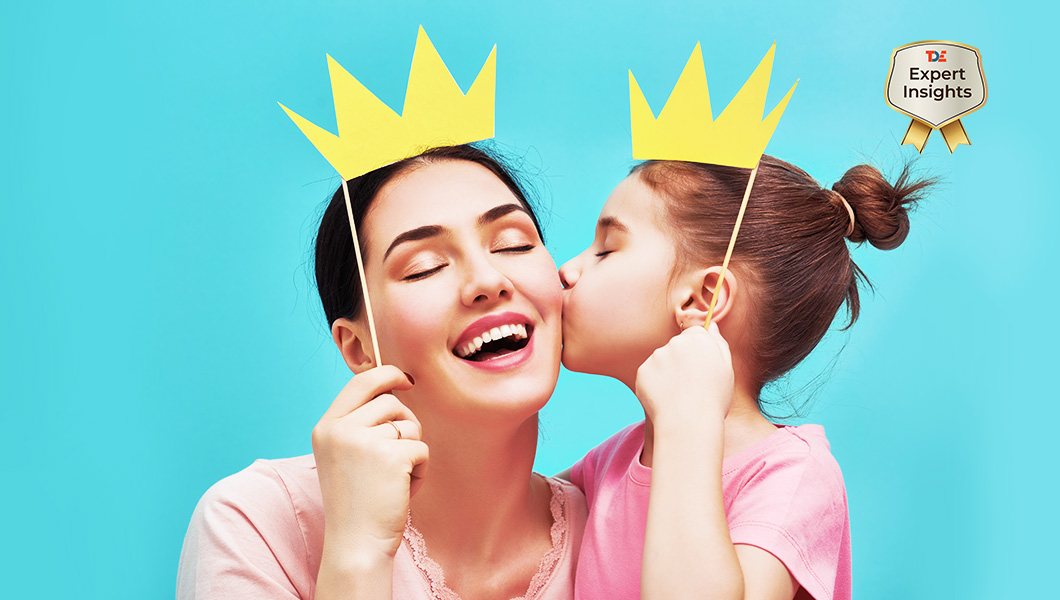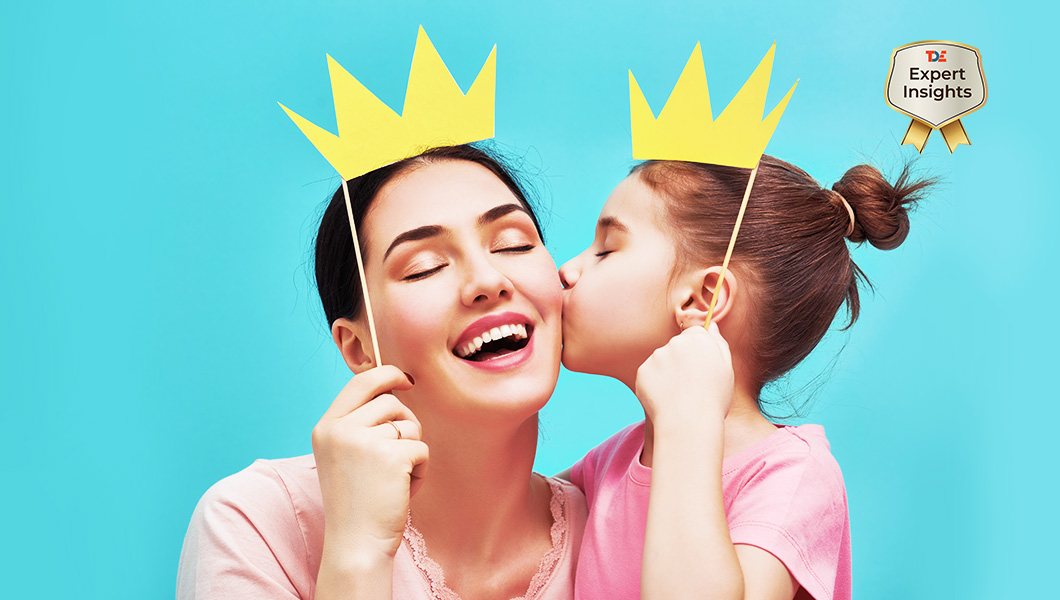 Mother's Day advertising can be a bit of a challenge for marketers. While pulling together a generic campaign is relatively simple, differentiating your brand from all the others isn't quite as easy. So, what do exceptional Mother's Day campaigns look like? In this article, Michael Del Gigante, Founder and CEO at MDG Advertising, highlights 10 inspirational instances of brilliant marketing campaigns for the occasion
Mother's Day marketing paradoxically can be both easy and difficult for brands.
On one hand, the holiday has so many well-established traditions – flowers, brunches, family celebrations, etc. – that pulling together an acceptable, innocuous campaign is relatively simple.
On the other, the flood of similar messaging makes it difficult to differentiate from the crowd. To stand out, a campaign either must execute perfectly on the standard approaches or add an original twist.
So, what do these exceptional marketing campaigns for Mother's Day look like? Here are 10 inspiring campaigns from previous years can be the playbook for every such special occasion marketing.
Budweiser: The Real MVP
This piece from Budweiser stands out because it's the Platonic ideal of a traditional Mother's Day ad. It starts with a grown man (NBA All-Star Kevin Durant) paying tribute to his mother in his MVP acceptance speech and then incorporates clips of other stars with their moms. The ad is funny (Durant's mom provides a great voice-over of motherly advice layered on top of basketball plays), moving (there's rousing music and tears aplenty), and at the same time pitch perfect.
Pandora: The Unique Connection
This ad from jewelry-maker Pandora is great because of its original premise: children are blindfolded and told to pick out their mother from of a lineup of women. The footage – kids doing things like reaching for hands and touching hair in order to find their mom – perfectly captures the little things that make the mother-child bond so special. The setup also smartly adds some tension, since viewers are unsure whether the kids will make the right choices.
Brawny: Once a Mother, Always a Giant
How do you add an original spin to a Mother's Day campaign? Brawny found a creative way by switching the point of view. In this ad, we see the world from kids' vantage points as they play, learn, and make terrible messes (which, of course, moms contain as best they can by rushing in with Brawny paper towels).
eharmony: Someone for You
The challenges of motherhood aren't confined to just the areas traditionally covered by campaigns (messy faces, diapers, tantrums, etc.). eharmony showed that they understood this by highlighting a difficulty that's rarely talked about in advertising: trying to date as a mom. The piece smartly doesn't sugarcoat the experience, but it also provides a beautiful, uplifting moment at the end.
Teleflora: #OneToughMother
This ad from Teleflora stands out because it brilliantly subverts convention: the brand took audio of Vince Lombardi's iconic "What It Takes to Be Number One" speech and overlaid video footage of mothers. The contrast of seeing tough women showcased, while Lombardi talks about the toughness of men is both captivating and thought-provoking.
Kraft Macaroni and Cheese: #SwearLikeAMother
This digital video from Kraft pushes the envelope in a fun way without getting into statement-making. A woman hilariously mixes the watered-down language mothers are expected to use – "What the frog? You're acting like flipping goose-nuggets." – with a torrent of curses that is much closer to how most moms actually speak (or at least think).
Allswell: #BantheBrunch
Of course, Mother's Day messaging isn't confined to video and traditional spots. Every year it floods digital channels as well. How can a brand stand out on these platforms? A good example is mattress-maker Allswell, which smartly launched #BantheBrunch – a social campaign that rallied moms to stay in bed rather than get roped into traditional Mother's Day brunches that they don't really want.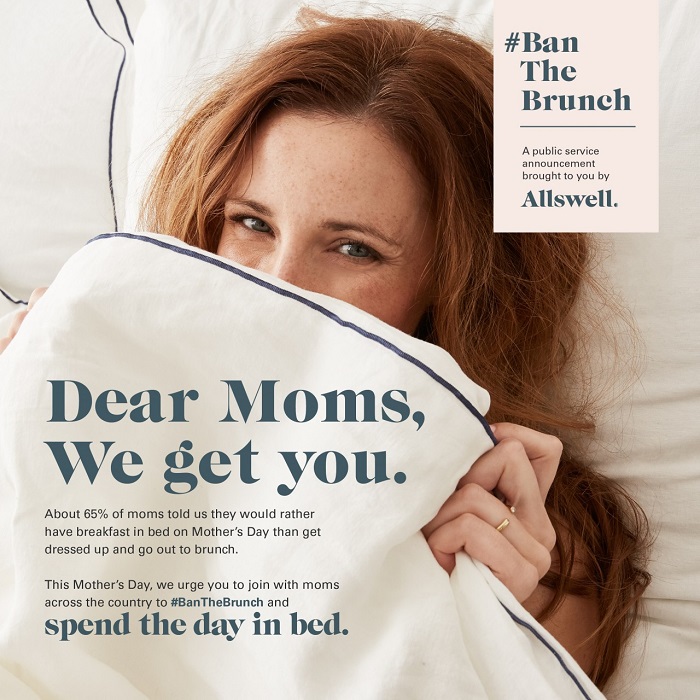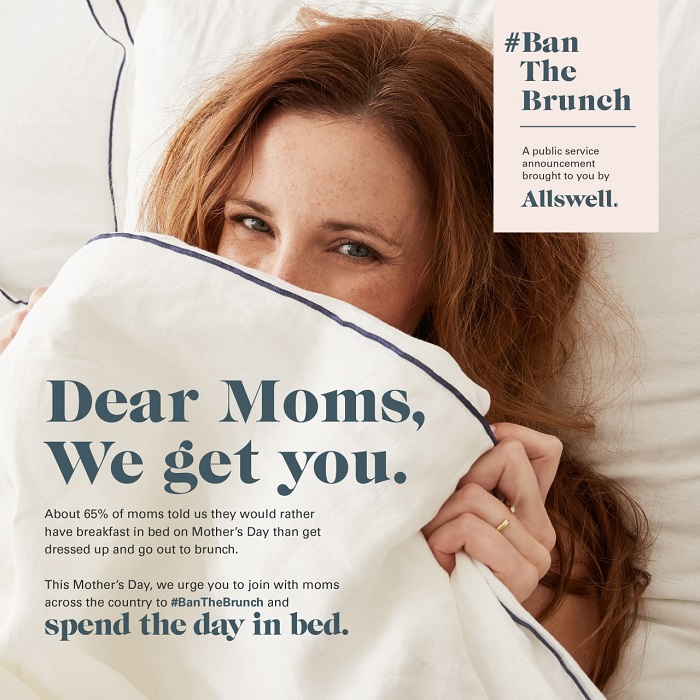 SeatGeek: Make It a You & Mom Day
Another good example of a successful digital Mother's Day campaign is SeatGeek's Make It a You & Mom Day. The theme of the email message wasn't especially groundbreaking – it simply encouraged people to use SeatGeek to purchase experiences for their moms – but the approach was original: the brand engaged recipients with an animated GIF that recreated a mother-child text exchange.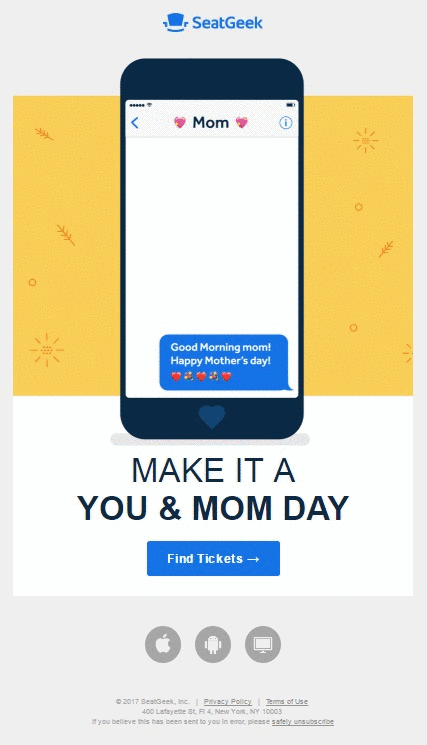 Ulta Beauty: #PamperHerWithPretty
This campaign from Ulta Beauty was a super-smart way to incorporate social media. The brand had customers share the best beauty tips that their moms had given and included the Instagram handle of each person featured. It then tied it all together in a hashtag – #PamperHerWithPretty – that encouraged people to indulge their mothers and themselves.
MRY: Moms Explain What Their Kids Do in Advertising
And this last Mother's Day campaign is for the marketers. Agency MRY has the mothers of its employees give an overview of their child's role in advertising and, not surprisingly, things get quite funny, as moms struggle to explain what their grown kids are doing. The piece is fun, not just because of its industry-specific humor, but also because it captures a universal truth: sometimes parents just don't understand.
Allswell
Brawny
Budweiser
eharmony
Instagram
Kraft
MDG Advertising
Mother's Day
MRY
Pandora
SeatGeek
Teleflora
Ulta Beauty
Marketing
Retail & E-commerce
Related
Our Digital Disruptors