Interview with David Gingell, Chief Marketing Officer at Seal Software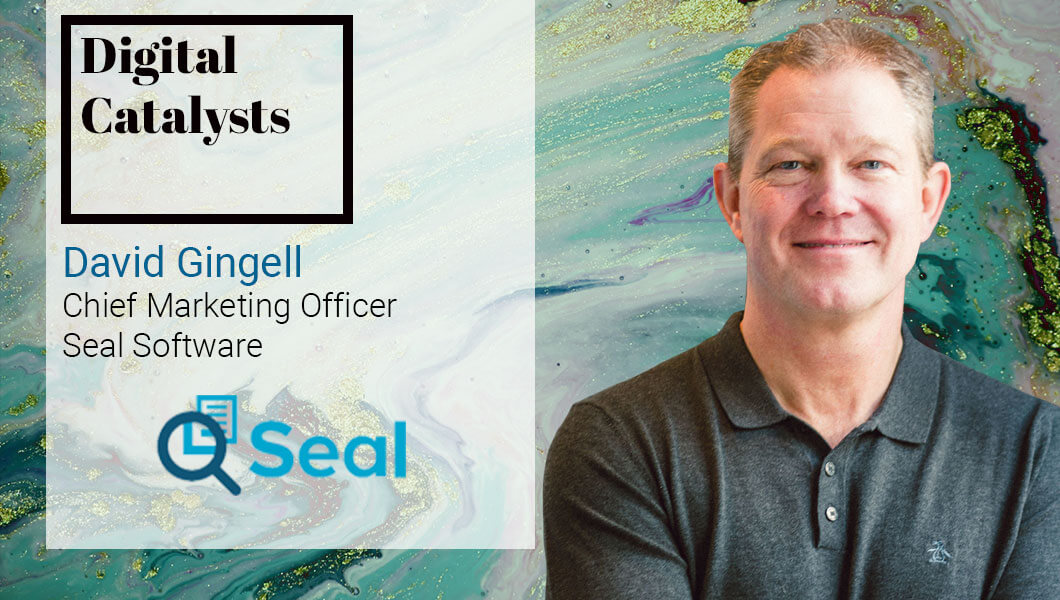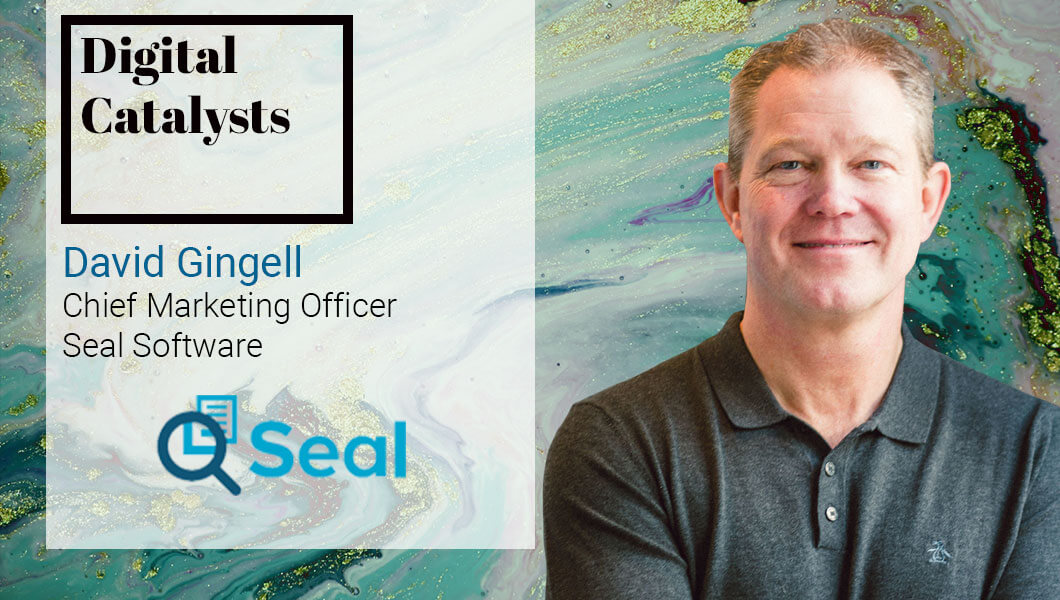 In this interview, Seal Software's Chief Marketing and Strategy Officer, David Gingell, discusses why it's imperative to stay focused on business outcomes and how AI and blockchain will accelerate digital transformation. David Gingell joined Seal Software after a successful career in technology marketing, most recently as the CMO of TeamViewer GmbH, the leading provider of remote access and control software.
Tell us about your product/business and your specific role?
Seal Software is a technology company in the vanguard of applying AI to the discovery and analysis of the unstructured content that businesses hold. Principally this is in text analysis and the most prominent use case is the understanding of that most fundamental business document – the contract. Seal's software provides the agility and flexibility to manage risk and exposure associated with tens of thousands of contracts and agreements.
My role is to drive the corporate brand and marketing of our technology to our target audiences – chief legal officers, chief procurement officers, chief revenue officers, CIOs and other C level executives who need to understand what is contained in their contracts to help them make money, save money or stay compliant within industry regulations. In addition, I work with the C staff to drive the strategy of the organisation as we seek to expand our offerings, capabilities and markets.
What is the core issue your product/technology aims to address and what sets it apart from the other players in the market?
Most enterprises do not know where all their contracts are and what is contained within them. Often there are specific events that require them to know what is in those documents, for example an M&A activity; a data breach; regulatory changes; responses to auditors or investigators and legal risk and exposure assessments, among others.
Using AI models such as NLP, Machine learning, Latent Semantic Indexing and Deep Learning, Seal is able to read and process millions of contracts and extract pertinent information. This is something unfeasible with a manual process and even outsourcing it to a third party, due to the volumes, cost and timescales.
Seal focuses on Fortune 500 and Global 2000 companies where scalability, extensibility and rapid time to insight are prized and required. Seal is the market leader in content discovery and analytics and the technology is proven and adding significant business value to our clients. Most of the other players in the space focus on very narrow use cases like document review only and do not scale or deliver the same levels of precision and recall over large data sets.
What's the one industry, sector or role that your technology is most relevant to?
The technology is suitable for pretty much every industry as all businesses and institutions have contracts. However, within that broad scope Seal tends to be most implemented in large enterprises and those with more than 10,000 contracts. Given some of the banks have upwards of 2 million contracts then they require a very scalable solution to contract analytics. If I had to select a single industry then it would be financial services, but Seal is equally prevalent in telecoms, hi-technology, healthcare and pharmaceuticals, and both process and discrete manufacturing. The largest use cases are in procurement departments, legal operations and regulatory functions.
What are some of the common challenges your customers approach you with?
As explained earlier, drivers to implement Seal vary from those who are addressing some sort of compelling event, like a regulatory change or reporting requirement  (eg GDPR, IFRS regulations, Ringfencing) or an imminent M&A transaction, to those who genuinely don't know where their contracts are (they could be all over an organization in cloud storage systems, content management systems, shared drives and so on) and want to get a handle on them and understand what they contain, especially as it pertains to exposure and risk. Equally some companies are looking to see how they can identify revenue recovery or revenue opportunity tied up in their contracts such as unrealized incentives, hidden auto-renewals or volume pricing thresholds.
Using technology to effect transformation usually starts with a transformation of beliefs and mindsets. How do you consult enterprise clients and help them make that important shift in mindset to move ahead on a particular project or implementation?
Like any technology implementation the key is not to get too carried away with the cool tech but to focus on business outcomes.
Digital transformation is a necessary process these days in order to achieve substantial business improvement. Especially where an implementation involves using leading edge technologies such as Artificial Intelligence, Machine Learning and Blockchain, there is likely some fear, cynicism and concern so the vendor needs to focus on the outcome and show successful implementations in like sized companies and use cases. Seal has more than 70 global 2000 customers who have deployed this technology, so those fears and concerns can be put to bed early on.
Give us an example of an enterprise meeting a digital transformation goal through your product?
A major US healthcare provider was going through a very comprehensive digital transformation exercise involving a multiyear sourcing and procurement initiative with the aim of improving efficiency and expanding those functions. Lack of contract visibility and understanding of obligations and opportunities contained was identified as a significant area for improvement. The company was able to identify over $400m savings in working capital attributable to payment terms disparities between thousands of contracts and actual spend data. Seal was used to surface that insight.
What present or upcoming technologies you think have the maximum potential to accelerate enterprise digital transformation?
In my opinion the two broad technologies that will substantively facilitate digital transformation are AI and distributed ledger technology (DLT), aka blockchain. The former will drive massive insights across all disciplines which will allow opportunities for transformation to be identified. This is not necessarily about robotic process automation but about all aspects of allowing machines to do some of the function that a human formerly did, and to do it at scale, with precision and with no degradation. This will drive digital transformation significantly. The latter, DLTs, are transforming whole industries already and this will only accelerate. More and more Dapps will appear that take friction out of supply chains and take the trust paradigm onto a different level, all based on an immutable, distribute ledger. The future for transformation has never been more healthy and exciting.
What's your go to resource – websites, newsletters, any other – that you use to stay in touch with the explosive changes happening in the digital space?
For me probably the most important resource of all is surprisingly LinkedIn, assuming you have a good number of connections and follow the groups that matter to you. That way you effectively crowdsource your information and can follow the topics you want to more easily. I keep up-to-date on blockchain through various sites like CoinDesk.com, legal AI through artificiallawyer,com and legalitinsider.com and general business on forbes.com, which is a great source for digital transformation stories. Of course, the big daddy of management education, The Harvard Business Review, remains a high-quality source of original thought and best practice advice in the area of digital transformation
Read a good book lately on digital transformation that you'd like to recommend to us?
Yes, I thoroughly recommend The Digital Helix by Michael Gale and Chris Aarons. As their blurb says "The Digital Helix is a Wall Street Journal and Amazon bestseller and has the framework for thriving in the digital age. Through extensive research and interviews with digital leaders, The Digital Helix shows what drives performance for digitally transforming organizations as well as the key components and mindset skills needed to lead in this digital-first world".  I couldn't have put it better myself. The examples they use are extensive, and they identify 7 markers which are attributes of companies who are successfully digitally transforming. Not surprising whilst 80% of organisations claim they are digitally transforming, as few as 25% are actually seeing any ROI. Gale and Aarons set out the framework to become one of those that do.
Related
Our Digital Disruptors