Interview with Brian Berns, CEO at Knoa Software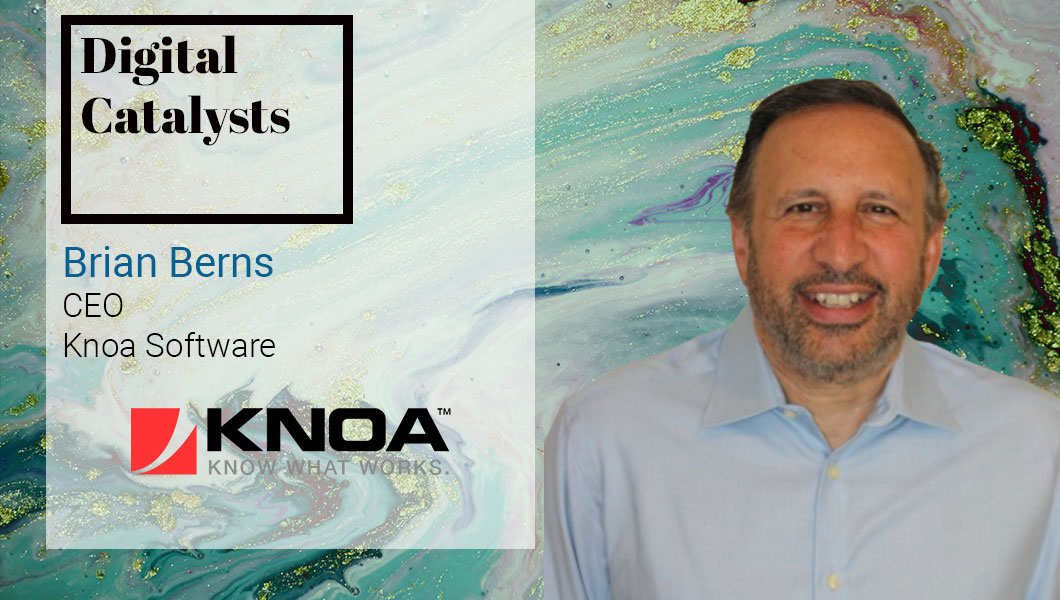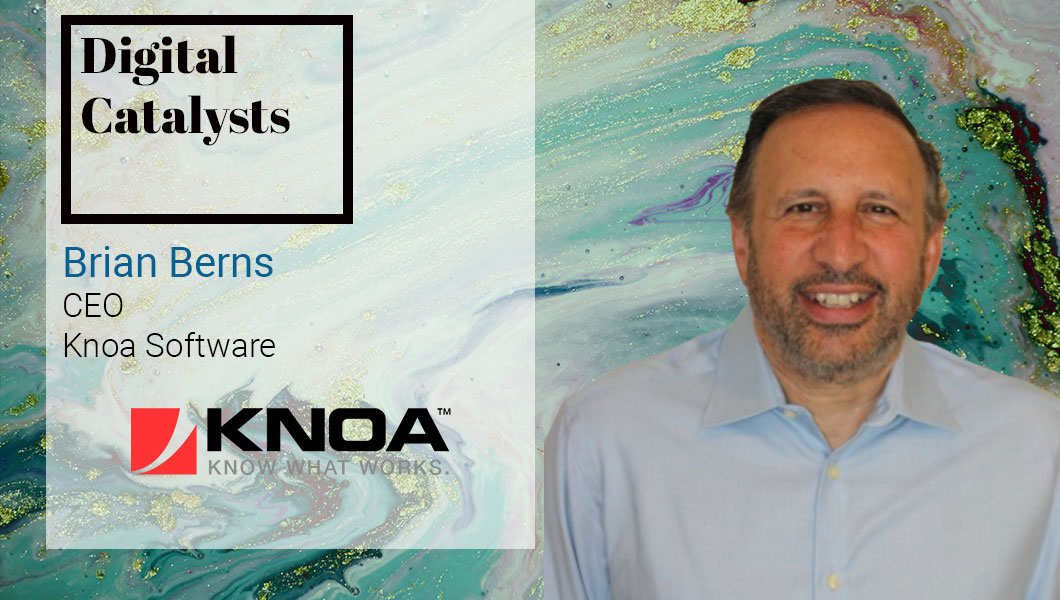 In this interview, Brian Berns, CEO at Knoa Software, discusses visibility into employee interactions for improved productivity and how technology plays a crucial role in the daily lives of employees. Brian is a successful software industry veteran with over 20 years of executive experience. Prior to Knoa, Brian served as the President at Ericom Software, Division VP at FICO and SVP (North America) at Brio Software. Additionally, Brian has been the founding member of several successful software start-ups including Certona and Proginet. Brian has a BA from Yeshiva University and an MS from NYU 
Tell us about your product/business and your specific role?
Knoa Software is a leading provider of user experience management (UEM) software. Knoa UEM (sold by SAP as SAP UEM by Knoa) provides full visibility into employee interactions with enterprise software, shedding light on application usage, adoption and workflows. By enabling businesses to measure exactly how their employees engage with their applications, Knoa UEM helps identify process bottlenecks, slow and clunky software, and inefficiencies that impact productivity. We achieved record growth in 2017 and continue to see great success in 2018.
I joined Knoa as CEO in January 2014.
What is the core issue Knoa aims to address and what sets it apart from the other players in the market?
Honestly, there are no other players in the market! As hard as it is to believe, ours is the only solution that provides complete visibility into employees' interactions with the enterprise applications they use every day.
The core issue we address is the employee user experience. Technology plays a key role in the daily lives of millions of employees worldwide, as they perform their jobs using different devices and applications. Clunky, outdated software causes process lags and errors that can greatly impact productivity, not to mention leading to low morale and increased turnover. By using Knoa, organizations can learn exactly how their workforce is using their software suites and determine whether each employee is engaged and productive, frustrated and checked out, or confused. There may be a need for additional training, workflow/process redesign, updated User Interfaces, or a variety of other remedies.
 What's the one industry, sector or role that your technology is most relevant to?
Knoa is most relevant to large enterprise companies, as those are the organizations most likely to invest in enterprise software suites by companies like SAP and Oracle. We have had great success across industries including, manufacturing, pharmaceutical, government, distribution, manufacturing, utilities, etc. While larger firms certainly see a greater impact due to the large employee population, Knoa also has many mid-size organizations as customers.
What are some of the common challenges your customers approach you with?
Right now, we are seeing increased interest from companies that are migrating to the SAP S/4HANA platform. SAP UEM by Knoa is extremely useful for ensuring successful migrations, because it provides value  through every step of the implementation. Before migration, it enables you to identify existing issues and pain points and map out critical processes; during migration it allows you to identify user personas for new applications and streamline existing processes; and following deployment it helps you proactively address new issues and identify adoption gaps.
Other customers come to us with problems related to workforce inefficiency, system and performance errors, poor system adoption, unengaged employees, or because they are investing in IT transformation and want to ensure project success and user adoption.
Using technology to effect transformation usually starts with a transformation of beliefs and mindsets. How do you consult enterprise clients and help them make that important shift in mindset to move ahead on a particular project or implementation?
We engage with companies which make significant investments in technology and innovative solutions to transform their businesses.
The typical organization wants to do "more with less". To us, that means empowering their employees even more than they are today.
We always ask these executives, from the CEO to the head of IT Operations: how do you know if your employees are truly empowered? How will your transformation project impact their experience and productivity? What happens if your people do not fully adopt changes in technology? And how do you know if that happens?
A new tech category is emerging – employee productivity analytics, spearheaded by @SAP and @Microsoft. Knoa CEO Brian Berns on how this data can help companies engage their workforce, via @TLNT_com https://t.co/0WMNBSO5Ux #employeeengagement

— Knoa Software (@KnoaSoftware) October 10, 2018
Once organizations realize the importance of understanding how their users interact with technology, they elevate user analytics to the forefront of every digital transformation project.
Give us an example of an enterprise meeting a digital transformation goal through your product?
In 2016, Arizona power utility Salt River Project (SRP) set out to improve its employees' experience with SAP applications, but had no way to gain insight into how the workers were interacting with the software. By using SAP UEM, SRP gained full visibility into every aspect of application use and workflows, and insight into which business transactions had the most user activity, highest error rates and longest response times. These user analytics enabled the company to resolve usability issues through training, business process modification and new application screens, ultimately reducing inefficiencies and improving workflow.
What present or upcoming technologies you think have the maximum potential to accelerate enterprise digital transformation?
Our experience has shown that organizations go through a "maturity cycle" in leveraging user analytics across different functional areas. The most advanced organizations are those that embed this type of analytics in their day to day operations, to create a holistic view of their business performance. We believe that the next frontier for such organizations is to fuse user behavior data with their AI, machine learning, and automation initiatives.
As automation takes hold in the enterprise, companies can begin to shift focus from enabling employees to perform repetitive tasks to empowering them to perform higher value tasks. Understanding user behavior in that context becomes even more important. This insight, in turn, will supercharge every digital transformation project.
What's your go to resource – websites, newsletters, any other – that you use to stay in touch with the explosive changes happening in the digital space?
SearchSAP and other TechTarget sites are great resources to see all the latest news and learn about the latest developments in the digital space. They also offer newsletters that summarize the most relevant stories of the day which can be useful when short on time.
Read a good book lately on digital transformation that you'd like to recommend to us?
I am reading a biography of Alexander Hamilton who was a true pioneer in the establishment of the fundamental institutions of our country. While the transformation was not "digital", he demonstrated the value of creativity and innovation, along with process in transformation projects.
Related
Our Digital Disruptors