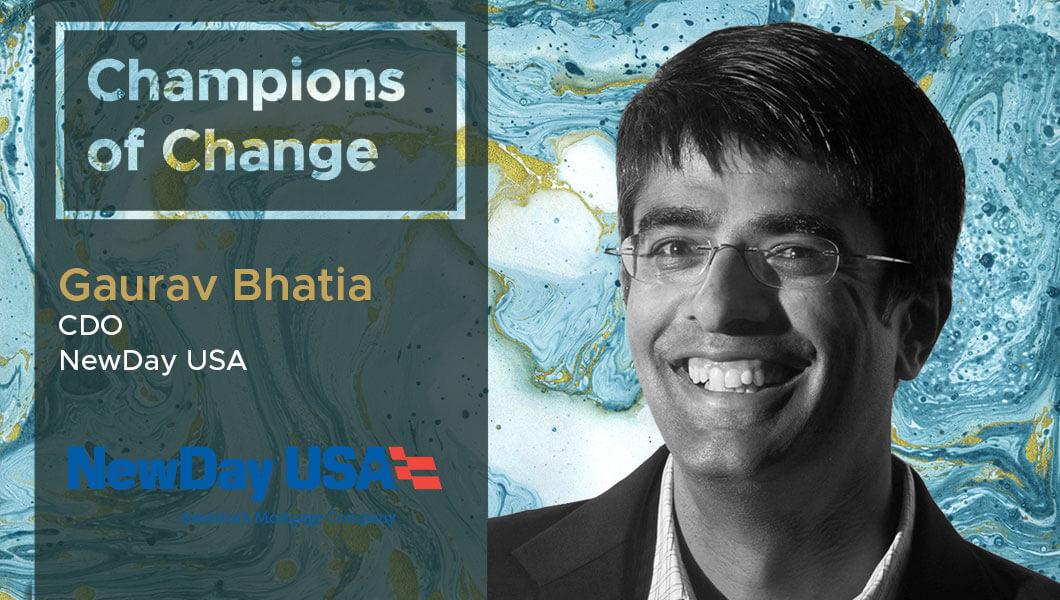 In this interview, Gaurav Bhatia, Chief Digital Officer at NewDay USA explains their motivation to go 'digital' owing to changing customer preferences and the steps involved in this. He also suggests how understanding the customer journey is the key to identifying gaps and developing processes while leveraging martech and adtech platforms. Gaurav has over 15 years' proven experience in using technology and data for marketing across banking, finance, and travel industries. In his senior leadership roles at Capital One, Sabre Holdings, NIIT Technologies and most recently, at AARP Services, Gaurav has helped integrate digital marketing with traditional marketing, while expanding digital capabilities in various functions for these companies. A speaker/moderator at digital tech industry conferences, Gaurav has also been a guest speaker on Digital Marketing and Innovation at Northwestern University. Gaurav has an MS in Information Systems and an MBA in Strategy from the University of Texas at Arlington
TDE: Thank you so much for taking our questions! Tell us a little about your business and your specific role?
Gaurav Bhatia: NewDay USA is a nationwide VA mortgage lender focused on helping active military personnel, veterans and their families achieve their financial and housing goals. It is headquartered in Fulton, Maryland, 25 miles from Washington DC. The company employs best practices in mortgage lending and career growth for mortgage professionals. Consistent with its mission, NewDay USA is a philanthropic partner of numerous organizations focused on assisting military veterans and their families in need.
I am the Chief Digital Officer for the company helping grow the digital capability of the organization, create new digital experience for our prospective and existing customers
TDE: When did you first realize that you had an issue that needed a digital solution? What was the nature of the problem you set out to solve?
Gaurav Bhatia: Typically, our customers are veterans that are over the age of 55. They have interacted with our brand through television advertising and direct mail. We have seen a shift in behavior and expectation and, our customers are finding us digitally and interacting with us through those channels as well. We need to be able to meet our customer expectations, and as a result we have been expanding our reach through digital channels.
We continue to invest in TV and Direct Mail and now are enhancing those with digital, email and social media. Digital allows us to serve our customers where and how they choose to interact with us. It also allows us to service them outside the traditional working hours.
TDE: What were the challenges you faced at the time as you began the process of evaluating solutions?
Gaurav Bhatia: We first defined use cases and customer journeys, so that we have a full view of how the customers choose to interact with us. We then evaluated the processes, technology and the organizational capability that we had currently. We wanted to ensure we take a strategic view of the business and execute our marketing program based on our customer needs. We developed the capability in the marketing channels that needed to grow and used the marketing technology that would help us leverage the data to develop a program that would be a win-win for the customer and the business.
We had to run the business on a day to day basis, so we continued to enhance our existing program while we built the new capability and enhanced the existing channels. It was a partnership with our agencies, internal teams to make sure we are creating a futuristic program that was leveraging our core business and the foundation we had for the past two decades.
As we put together the program, we realized that we had to look at all the possible internal and external marketing and technology solutions, data, legal and compliance requests to create something that would help us achieve the business objectives. It was more of taking a 360-degree view of the customer. We had to be agile, since we did not have all the details, and as we procured more information we made decisions. It was not perfect, but we need to continue the momentum and move forward.
TDE: What did the final solution look like and what were the broad benefits that it delivered?
Gaurav Bhatia: We created an integrated digital and data ecosystem, where we could identify the channels customers were using to interact with our brand and begin the process of starting the mortgage with us. With the integrated data, we could also see the areas we were doing well in and the areas which needed improvement. The business decision became easier since we had most of the information we needed to make marketing decisions as well as improve the customer experience.
TDE: What were some of the key elements that were responsible for the project's success? What processes have you found useful for implementing digital technologies?
Gaurav Bhatia: I would say developing the use cases and understanding the customer journey was an important step. That allowed us to see the customer interactions and allowed us to develop the internal processes, identify the gaps and eventually create the processes and leverage the martech and adtech platforms to fill in the gaps.
We used the agile process internally, so that we could go to market faster, make the changes we needed to, and tested along the way.
TDE: What was your biggest takeaway from this project?
Gaurav Bhatia:
One would not have 100% of the answers when you start the project.
We have to start (without things being perfectly defined), be adaptable, make changes along the way, communicate as much as possible with core and extended teams and measure the performance.
TDE: What's next for you on your digital roadmap?
Gaurav Bhatia: We will continue to evolve our digital capabilities, integrate the ecosystem, leverage machine learning and invest in digital channels that the customer are using most to interact with us. We also want to make our digital experience simple and easy to use for our end customer.
TDE: What's your go to resource – websites, newsletters, any other – that you use to stay in touch with the explosive changes happening in the digital space?
Gaurav Bhatia: When I started my journey, I started by talking to a lot of industry leaders and experimented and built our own technology stack. For the last big transformation I was leading at AARP, I spent some time with Scott Brinker and got his input and thoughts on the state of martech and adtech. I would recommend his blog and email newsletter as a good resource to really understand the existing landscape and the future trends. Of course, you will have to apply this to your own industry and company and take the pieces that work for you – there is no one size fits all.
TDE: Read a good book lately on digital transformation that you'd like to recommend to us?
Gaurav Bhatia: Two books I would recommend. They are not about digital transformation.
I believe the biggest challenges besides the technology is the mindset to change. As leaders, we must provide the roadmap and a path for the teams for change and make it easy for them. Eventually, it is the people that make transformation happen.
The first book is :
Switch: How to Change Things When Change Is Hard
by by Chip Heath and Dan Heath
We also have to stay true to our beliefs and values since transformation takes a lot of effort and courage, a code of conduct. So, I would recommend this second book:
The Four Agreements: A Practical Guide to Personal Freedom
 by Don Miguel
For more DX insights follow Gaurav Bhatia on LinkedIn and Twitter.
Related
Our Digital Disruptors