Interview with Mike Christensen, EVP at MarketSource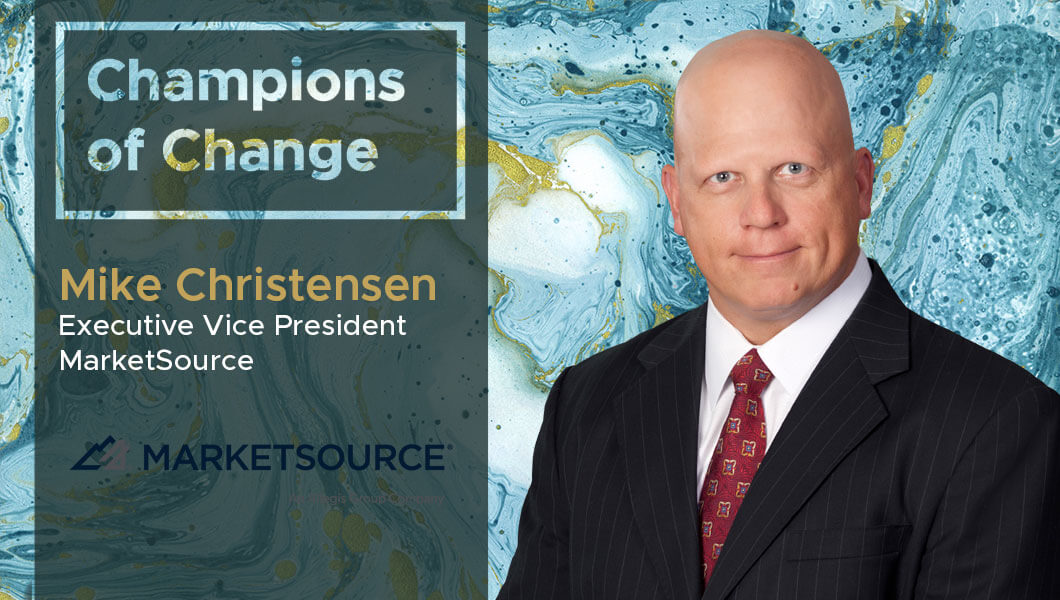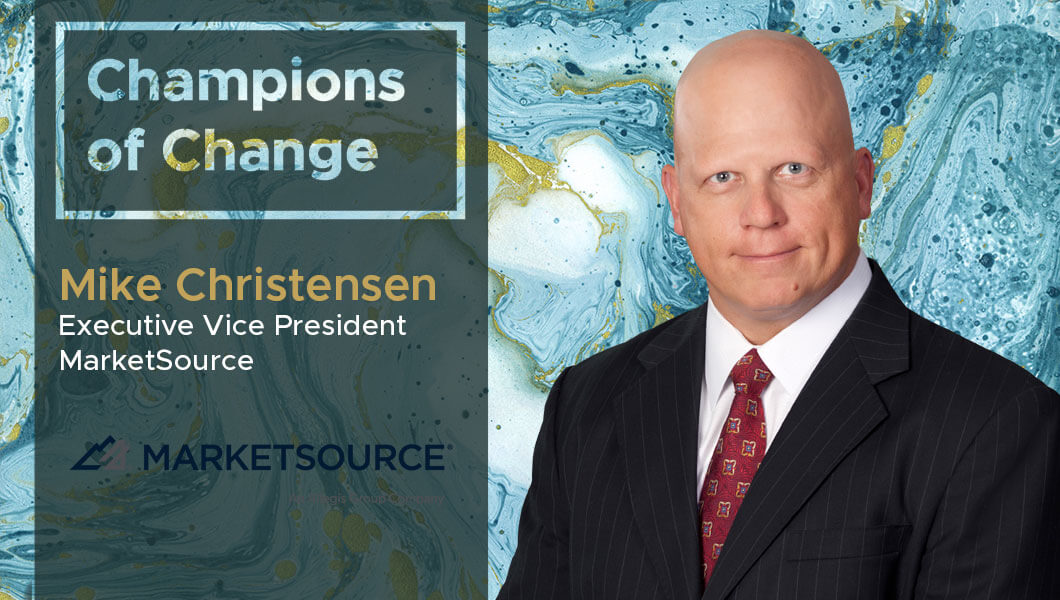 In this interview, Mike Christensen, EVP at MarketSource elaborates on engaging the predominantly millennial/ Gen Z workforce via digital solutions, the challenge of integration with numerous technologies in the market and why attempting to tweak technology to fit existing processes may not always be ideal. With more than 20 years of sales and delivery strategy development and implementation experience, Mike has been instrumental in building and developing a world-class team of sales and operations professionals who are focused on delivering maximum value to MarketSource customers. Mike holds a bachelor of science degree in business administration from Central Michigan University and has been with the Allegis Group family of companies since 1996
TDE: Thank you so much for taking our questions! Tell us a little about your business and your specific role?
Mike Christensen: Thanks for the opportunity to share what we've been doing, because we do think it's exciting and unique. I'm the Executive Vice President at MarketSource, where I oversee all aspects of our retail channel. First and foremost, we are a people business and we provide sales solutions for both retail and commercial, across multiple industries.
Ultimately, our goal is to improve the experience for retail customers and we do this in two key ways: we either represent the retailer or one of their key brands by selling their products directly to consumers, or we teach retail sales associates how to better engage and sell those products to consumers. We have thousands of people nationwide performing millions of hours of customer engagement and sales services on an ongoing basis.
TDE: When did you first realize that you had an issue that needed a digital solution? What was the nature of the problem you set out to solve?
Mike Christensen: It was evident that we needed to engage our people through a digital solution and previously we used different technologies to do so. A couple years ago, we realized that to remain best in class at what we do, we needed to address how to better engage our team members, who are predominantly millennials and Gen Z. We needed a solution that simplified their lives and made working for us easier and more productive; a cleaner way to engage them via mobile phone which is their preferred method of communication.
TDE: What were the challenges you faced at the time as you began the process of evaluating solutions?
Mike Christensen: We were utilizing multiple technologies to allow our reps to see their schedules, complete reports on their work, execute merchandising tasks and capture images of retail fixtures, products and displays. Again, thinking of this with simplicity in mind, we initially looked to see if any one technology could do everything we needed, but discovered that that type of solution didn't exist.
So instead, we started looking at things through a new lens by asking ourselves – In today's environment, couldn't we find partners who had proven to be the best at what they do and integrate them seamlessly? That's when we engaged Phobio who introduced us to Rodio – the workforce communication tool that manages and reports employee engagement.
TDE: What did the final solution look like and what were the broad benefits that it delivered?
Mike Christensen:
We came to an important conclusion that we needed to not only build this on our people's platform of choice – their phone – but also engage them digitally through their forum of choice – a social network.
We realized that utilizing a social network to communicate to our people and enabling collaboration between our leaders and their teams could be the basis for the other technologies we needed to integrate.
This concept would allow team members to log into our company's social network not just for collaboration and communication, but also as a vehicle for seeing their schedule, routing their work, remaining current with training, completing reports on their work, receiving tasks, capturing images of retail displays and more – all while never leaving the same system and by leveraging one login and on a mobile interface. The system will also prompt them with reminders of their next shifts, facilitate their compliance with local labor laws, remind them to take their breaks and let them know if we have additional work shifts in their area.
TDE: What were some of the key elements that were responsible for the project's success? What processes have you found useful for implementing digital technologies?
Mike Christensen: With executive oversight for this strategic initiative, we assigned a team of leaders to be responsible for identifying and selecting the right partners as well as shaping the right overall direction. Approaching all of this with an organized process was crucial.
We outlined our key business requirements first, ensuring that we didn't dictate how, but focused on what we wanted to accomplish with each requirement.
We realized that in some cases, we would need to change our internal processes to fit the technologies rather than trying to bend technology to fit our processes. Next, we took an agile approach – aiming for the minimum viable product first and then iterating and building from there. That allowed us to operationalize the process, and then improve the product as our people were using it and giving us feedback. To them it was first a social and collaboration tool that evolved with added features and capabilities to ultimately make their lives easier in all aspects of their job.
TDE: What was your biggest takeaway from this project?
Mike Christensen: The digital world has adapted to be more flexible. With API's and how people are creating their online tools in the cloud, integration seems simple, but often it takes a lot of work to truly understand what the tools can do and how technology can solve your challenges. In some cases, software companies don't even realize some of the problems their products can solve.
You must be persistent, forward thinking and creative to discern how software can adapt to your needs, and on the converse of that, how to adapt your processes to the software.
This is incredibly difficult, but it is possible with the right resources applied.
TDE: What's next for you on your digital roadmap?
Mike Christensen: We are almost halfway through the initial launch of integrating our entire suite of software products and partners into what we call our Representative Engagement Platform or REP for short. By the way, our people are most often referred to as reps, so the acronym is fitting in more than one way. We will continue to look at the outputs and results of engagement, team member utilization, productivity, client satisfaction as well as our operational efficiency to determine the positive impacts of deploying this platform.
Next on the actual product roadmap will be to add other key features into our solution: Omni-based features connecting our team members in the real world to the e-shopper who hits the web researching or shopping online and turning the journey online to in-store through a smooth and seamless experience from our REP solution. We see real value in helping our client brands and retailers tie this online and offline customer experience together.
TDE: What's your go to resource – websites, newsletters, any other – that you use to stay in touch with the explosive changes happening in the digital space?
Mike Christensen: At MarketSource, we have a team of Retail Practice Leads, whose role is to stay current with what's happening in retail and advise and consult with our current and potential clients. Most of them have news alerts that identify articles regarding omni-channel, IoT and other digital trends. So most of our sites, newsletters, and other sources are drawn from those alerts.
If we're specifically going out to get a general pulse on what's happening, we of course hit your site at thedigitalenterprise.com. Then also look at our own trades for retail like NRF, TWICE, and Retailwire.com. For trends in the tech space, we would go to CNET, TechCrunch, Gizmodo, and Digital Trends.
TDE: Read a good book lately on digital transformation that you'd like to recommend to us?
Mike Christensen: I recently read and really enjoyed "Digital to the Core" by Mark Raskind and Graham Waller. This book is worth a read to better understand how to prepare yourself and your business for the digital revolution.
For more DX insights follow Mike Christensen on LinkedIn. 
Related
Our Digital Disruptors