Interview with Steve Andriole, Professor at Villanova University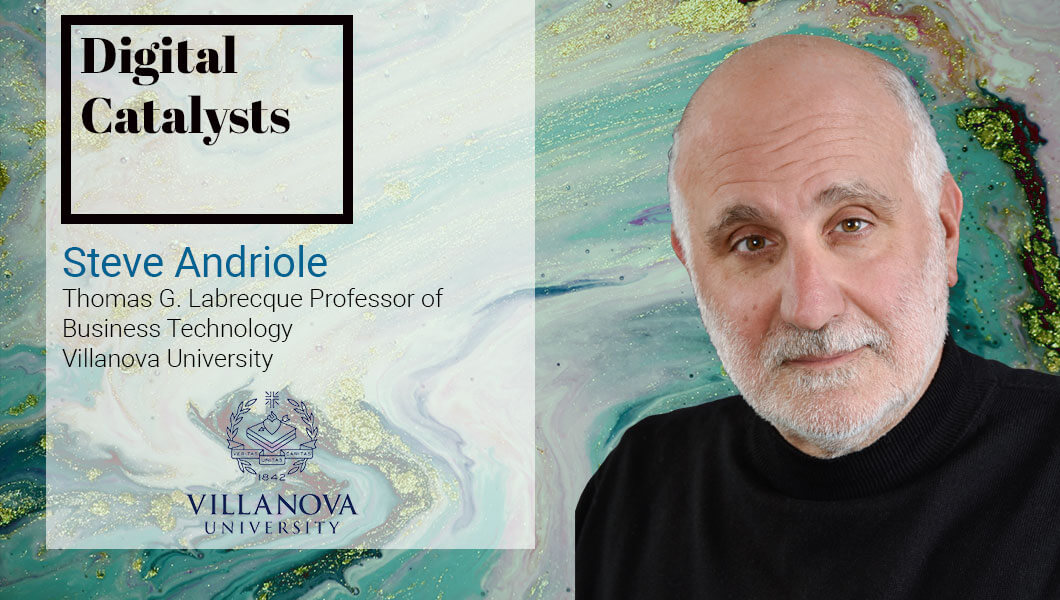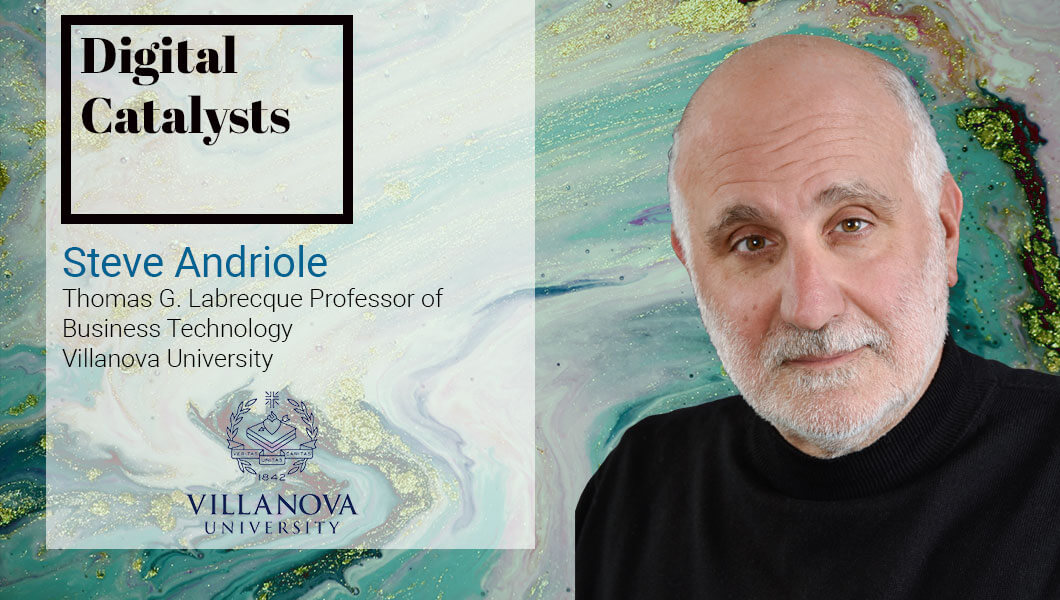 In this interview, Steve Andriole, Thomas G. Labrecque Professor at Villanova University elaborates on the major drivers for digital transformation – fear and failure, the necessity to 'see'  and uncover inefficiencies and how existing tech infrastructures may actually impede DX. Steve is the Thomas G. Labrecque Professor of Business Technology in the Villanova School of Business at Villanova University where he teaches strategic technology, innovation and entrepreneurialism. He is also the author/co-author/editor of 35 books on information technology, technology trends and business technology management 
TDE: Tell us a little about your business and your specific role?
Steve Andriole: I am a professor in the Villanova School of Business at Villanova University where I research and teach emerging business technology and digital transformation. I have also helped companies, government organizations and even universities adopt emerging technology to transform their business processes and whole business models. I have worked in industry as a Chief Technology Officer and a Chief Information Officer, and have consulted with companies, government organizations and universities whose business processes and business models need emerging digital technologies to stay competitive.
TDE: What is the typical nature of challenges you encounter from enterprises looking to move the needle on digital transformation? 
Steve Andriole: The most powerful motivation (to engage in digital transformation projects I've encountered) is fear. Many companies and organizations see digital technology as a weapon that can be used against them – or by them – to capture market share. But the same companies and government organizations are usually constrained by organizational change, cost and challenges integrating new technologies into existing (and resistant) technology architectures and infrastructures: many companies and organizations are constrained by massive investments in "older" technologies architectures and infrastructures, such as enterprise resource planning (ERP) systems and other applications that are decades old.
Digital transformation is by nature disruptive and many companies, government organizations and universities are intimidated by change on any level, especially change that requires new investments and re-engineered business processes. There's also often a lack of knowledge about emerging technologies – like AI, RPA, distributed ledger technology, Regtech, cryptocurrency, virtual/augmented reality and even IOT. When combined with only a modest modeling of existing business processes, the lack of knowledge about emerging technologies places many companies at major competitive risk – even if they fail to understand the nature or severity of the risk.
TDE: Using technology to effect transformation usually starts with a transformation of beliefs and mindsets. How do you consult clients and help them make that important shift in mindset to move ahead on a particular project or implementation?
Steve Andriole: My approach generally begins with opportunity costs – what organizations are losing by failing to adopt new technologies. Yes, I deliberately leverage the "fear card" because it's effective:
leaders and managers never want to be outflanked by competitors who know how to exploit emerging digital technologies.
Once they're scared enough, the "pitch" shifts to opportunity gains with preliminary transformation ROI models. All of that said, if the key decision-makers suffer from a severe case of "if-it-ain't-broke-don't fix-it" the fear/opportunity approach will fail. So the "best" opportunities for digital transformation ironically often come from the most distressed companies and organizations.
TDE: What processes have you found useful when implementing digital technologies for these clients?
Steve Andriole: The most powerful technique is business process modeling and management (BPM) – and now robotic process automation (RPA) – where companies see exactly where their inefficiencies lie, and where digital technologies can improve their processes and maybe even transform their whole business model. It's important for organizations to actually "see" where and how their processes are sub-optimal – or worse. They also need to see what their competitors are doing.
BPM/RPA can help concretize opportunities, threats, risks and constraints. Especially powerful are the simulation capabilities of BPM/RPA tools that demonstrate the SWOT of alternative transformation strategies and tactics.  Decision-makers are often skeptical about digital transformation (for a million reasons, not the least of which involve their own positions) and therefore need easily understood, highly graphic, empirical business cases for investments in digital transformation.
TDE: Tell us about your most recent successes with a DX project?
Steve Andriole: There are two. The first involves a financial services company stuck somewhat in the past. Opportunities to tighten up the infrastructure and architecture to enable digital transformation were undertaken followed by selected investments in emerging technologies that changed the technology acquisition, implementation and management processes.
The second was a university – not mine! – that needed to rethink its overall technology strategy. Here too changes in the technology acquisition, implementation and management process were made to enable new investments in emerging technologies that changed the way the university found and serviced students. It also led to new investments in cybersecurity.
TDE: What's your biggest takeaway from these projects?
Steve Andriole: Leadership – clearly.  In both cases leadership was committed to analysis and change. In both cases, leadership felt that technology was not contributing as much as it should to the organizational mission. In both cases, there was a strong sense that the competition was optimizing technology in some very enviable ways.
Another takeaway was how existing technology architectures and infrastructures can impede digital transformation.  In both cases, the existing technology base had to be upgraded to enable digital transformation – a not uncommon phenomenon.
TDE: What present or upcoming technologies do you think have the maximum potential to accelerate enterprise digital transformation?
Steve Andriole: Digital leverage depends on the vertical industry in which the client lives.
Digital marketing and gaming, for example, will require virtual and augmented reality.
Financial services will require distributed ledger technologies (like blockchain) and cryptocurrency.
Artificial intelligence (AI) will impact just about all transaction processing but especially routinized deductive inference-based transactions.
The Internet-of-Things (IOT) will contribute to manufacturing and distribution efficiencies as will location-based and mobile technologies.
That said, there are emerging horizontal technologies – like cybersecurity and Regtech – that will impact all flavors of transactions.
TDE: What's your go to resource – websites, newsletters, any other – that you use to stay in touch with the explosive changes happening in the digital space?
Steve Andriole: I still leverage RSS feeders as well as sites like Slideshare. I track what the consultancies and technology vendors are saying all the time, though the latter always have a purposeful point of view. I have some favorite bloggers – like Dion Hinchcliffe – as well. I track CB Insights and Business Insider closely – and, of course, Mary Meeker's annual technology tome from Kleiner Perkins. I also regularly read the Sloan Management Review and the Harvard Business Review for insights and cases into digital transformation.
TDE: Read a good book lately on digital transformation that you'd like to recommend to us?
Steve Andriole: It would be professionally irresponsible of me and the work we do at Villanova if I failed to mention our new book – The Innovator's Imperative:  Rapid Technology Adoption for Digital Transformation – published in late 2017 by CRC Press – which describes research I conducted with students – Thomas Cox and Kaung Khin – at Villanova University on the adoption of emerging technology.
I believe that David Rodgers' The Digital Transformation Playbook:  Rethink Your Business for the Digital Age (Columbia Business School Publishing, 2016) is a pragmatic guide to digital transformation. I still like Leading Digital:  Turning Technology Into Business Transformation by Andrew McAfee, Didier Bonnet, and George Westerman (Harvard Business Review Press, 2014).
For more DX insights follow Steve Andriole on LinkedIn and Twitter.
Related
Our Digital Disruptors