Interview with Tony Carne, Managing Director at Urban Adventures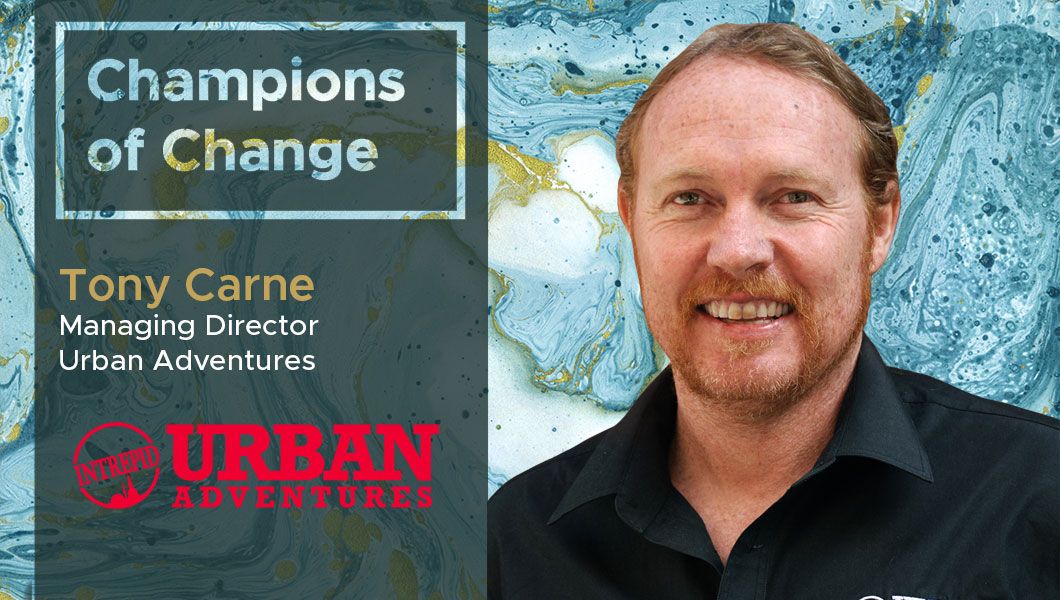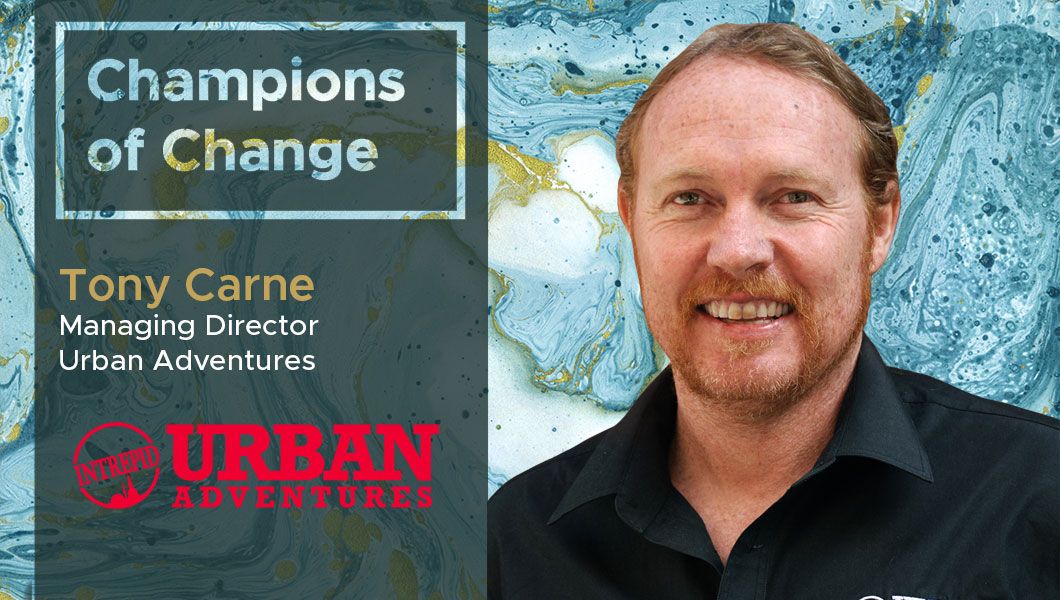 In this interview, Tony Carne, Managing Director at Urban Adventures, discusses the need for a laser focus on customer experience, being disciplined when it comes to choice of technologies  and the value of mobile apps. Tony's journey from backpacker to industry leader is a tale of adventure and risk-taking. After travelling the world, he became a tour guide in the Australian outback, where he found his passion for delivering amazing experiences in the most remote of settings. After another backpacking adventure through South America and leading tours in Egypt for five years, Tony returned to Melbourne to lead Urban Adventures. Tony's real passion is around helping the world's best guides and customer service providers to create sustainable and lucrative businesses of their own – supporting the communities in which they operate in turn
TDE: Thank you so much for taking our questions! Tell us a little about your business and its history?
Tony Carne: On the surface, Urban Adventures is a global experience business in the tourism sector with a core product of locally led, small group tours that take travelers to discover the things that locals themselves love the most about where they live.
Underneath however we are on a mission to change the way people see the world and in particular to ensure that the type of tourism we do has a positive impact (economic, social and environmental) in the places where our customers are hosted by communities. We believe that tourism can play a major role in achieving the UN's Sustainable Development goals and so our model is set up to ensure that we are exchanging local community benefits in return for amazing and unique experiences. It is this all-win scenario that sits at the heart of what we do and keeps purpose in balance with profitability
We turn 10 years old this year (and boy that went fast!), operating in over 150 cities globally and are currently maintaining a CAGR of 60%+ which will see us carry close to half a million travelers in 2019 on unique "Best. Day. Ever." experiences. The most exciting recent development is that many of those new customers aren't travelers at all but rather groups from local businesses looking to explore a side of their own city and in turn make a positive local impact, alongside team building outside of the office environment. The other growth area is in helping meeting planners create experiences that make their conferences really stand out. We do this by creating experiences that both stick in the memory of participants as a highlight but also which facilitate the networking opportunities that come with conference attendance. These two things combined are the things that are most likely to drive repeat attendance and so that is the solution we focus on with meeting planner partners to help them stand out and build their own businesses.
TDE: What are your thoughts on the current pace of digital transformation in your industry? Do you feel overwhelmed with the prospect of introducing technology solutions to manage & streamline parts of your business?
Tony Carne: The pace hasn't really changed over the past 10 years and it remains relentless with infinite options. For us the key is to zero in on what it is that we can most likely achieve ourselves and with the help of SaaS providers and which things whilst theoretically great, we need to be realistic about achieving on our own with the current level of resourcing we have available. Probably the general rules of business haven't changed that much despite the level of options available exploding, so it comes down to the critical planning – "what are our goals and how do we achieve them" paradigm. Everything else outside of that is just noise.
Internally we are laser focused on the customer experience from start to end, so a highly functioning CRM that allows for smart and personalised automation in communications as well as intelligence gathering around our performance (reviews and NPS scoring) are the areas where we've decided we need to focus most. One on one chat and down the track chat bots to take on the more repetitive initial conversations are next in our pipeline.
We get pitched all the time on things like VR/AR and the like and whilst there are some interesting potential applications – for now those are the opportunities we need to ignore as part of the general noise. Once you've set that level of discipline – you feel less overwhelmed.
TDE: What is the one technology trend within your industry that cannot be ignored?
Tony Carne: Our industry is still in the infancy of being brought online from a state of chronic fragmentation despite the whole pie being considerable (estimated by PhocusWright at approx. $180B). For us the critical issues are connectivity with distribution via API's. It is estimated that still over 80% of experience purchases happen offline and in the hours before the experience takes place. It is commerce by serendipity.
Fortunately that was our starting point 10 years ago to begin API-ready and it turned out we were a bit too early, but over the past 3-4 years, that early preparation has paid off in spades. Being ready meant we were able to connect fast with partners we had already established our strong operating credentials with over a number of years. API's are just the ultimate in efficiency and the pathway to the elimination of burdensome admin on all sides. Our product sells very late so it is also critical for anyone wanting to sell at scale to have that last minute availability and API's are the only way to do that and still maintain operational control. Despite this we still occasionally have to fight and beg with new marketplace players about this reality despite being one of the few suppliers of any size and scale.
TDE: What has been the most significant technology integration/implementation so far, at your organization? Why? (could have impacted your employee efficiency, customer satisfaction, profit margins etc.)
Tony Carne: There is basically nothing usual about the Urban Adventures business. We run a model that no-one else runs and we've always looked at recruitment with geography being the least important factor. As a global business – it didn't seem that important where people worked from. As we've ramped up the hiring, having people spread across multiple time zones definitely has its challenges for ensuring we are all on the same page and in the same conversation. The big change for us came from wholeheartedly adopting Microsoft Teams alongside Sharepoint and One Drive. I know this isn't a very cool answer – but for us, it actually just works and that is really the thing that ultimately matters.
At the start of 2017, we banned internal email. If there are only internal people you need to contact – you have to put it in the channel for those people in Teams only. This had the dual effect of both significantly decreasing time spent in inboxes by everyone plus gave a higher level of accountability for the remote teams. Read something and put a "like" on it or comment if you can add to the conversation/conclusion. The conversations continue through the 24 hour cycle, everyone can see everyone else has acknowledged the information and often the answer is there by the time you log back in. Everyone is aware of not only the conclusion but how we got there. Dropbox was killing our PC's so to take the time and what we'd learned using Dropbox and building out a file structure that made sense, just made everything easier.
TDE: Do you have a dedicated in-house IT team? What are some of the challenges your IT team and employees faced before, during and after bringing in this solution? How did you resolve them?
Tony Carne: We use a couple of shared sources for our IT. For the above we were basically the guinea pig for our larger corporate organization for this radical shift in work practices. We didn't have much resistance to change in our team and I think people could see the immediate benefit. Over communication, building up some solid rules and then gently correcting if there were slips got things on track pretty quickly. Most people worked out pretty quickly that no-one was going to respond to their email. This wasn't really a big IT challenge so much as a cultural change.
TDE: What's the internal technology challenge your organization aims to resolve in the immediate future? (could be internal workflow/workforce automation or having internal operations such as CRM, HR, Inventory powered by front end mobile apps) 
Tony Carne: Our next goal is to bring the community we've created more into the conversation about our combined mission, given they are the critical part of us achieving that mission. In other businesses this would be what is called Loyalty but for us it more akin to Collaboration. We don't necessarily need our customer to be loyal to us as a business but instead we'd rather them be committed to our joint mission of allowing their travels and experiences to have a meaningful impact on where they are visiting, without of course impacting the nature of the experience they actually have there. Our side of the bargain is to make sure it is actually a better experience than they can or would get elsewhere and the positive impact is an added bonus. That is what we (hopefully) share as a common goal.
To build the structure for that conversation to take place takes a lot of planning and execution via the CRM. We've got a lot of different touch points, the most significant of which is actually offline when hanging out with the passionate local when out on experience, so tying all that up and ensuring we are taking what we know about the customer to ensure when we do communicate, that communication adds value for them, is a complicated thing and not done very well in most industries across the board. Like anything else we do, we want to be the best at it.
As a startup we've been used to just hacking bits and bobs together to make things that work at the current level of scale but we'll be carrying over 1 million customers in 2021 and having 10's of millions more interacting with our digital properties and when you hit those levels and the things you've hacked together don't effectively talk to one another – you aren't going to get a premium result. Dumping the majority of one's legacy systems is a daunting thing and a little nerve wracking but if well planned with the right advice, the result we are looking for should be well within our reach. There is definitely some complexity to the IT side, but the main change again is cultural.
TDE: From an external viewpoint are you considering using mobility solutions/mobile apps to promote/sell your products online, or to promote/sell your products to your dealers and allow them to order online?
Tony Carne: I think in the right situations,
Apps are an incredible tool for creating a walled garden around a robust and committed community that has already been built.
The utility inside an App is almost always better than a mobile web experience so from that point of view it is a better user experience for the customer. The ultimate benefit is that if you can get your community inside Your app as their always first touchpoint then you are removing the need to rely on search etc. If your customer continually starts at search, sometimes they'll end up somewhere else!
In our industry Airbnb has done a great job of this. They held off being distributed by anyone else and used their funding and great product to build a huge, loyal audience who they then push all communication through their app. For a smaller business like us without the funding to ramp up a gigantic audience and funnel them into a closed environment, I see less value. As we are ultimately a licensing and training business I do see opportunities for our licensee customers to have better tools to run their businesses that could be delivered in the App environment and that is where we are likely to head first.
TDE: How do you keep yourself updated? What are some of the websites or magazines or apps that you subscribe to or read regularly?
Tony Carne: In general I like to read long form over short for my own knowledge and growth but my regular readings/listenings are:
Skift – Tourism vertical specific daily news site
The Story of Telling – 30 seconds a day of value on what marketing really is all about
Masters of Scale Podcast – great production, great content. Always relevant and always something to take away from those who have already done it.
TDE: What's your favorite social network – Instagram, Facebook, LinkedIn or Twitter?
Tony Carne: I've set up my Twitter so it gives me the best feed of information about what is happening in my industry. It is my skim on the train into work to see what has happened in the past 24 hours in the Tours and Activity sector of travel. I also try to give back via @tonycarneua
In terms of actually doing business, it is hard to go past LinkedIn. 80% of new collaborations start there. Find me here if you found something in this article you thought might be worth a conversation about.
I only participate in Closed/Secret Facebook groups which is where general conversations with our Licensees take place.
Instagram is where I store my own travel memories but don't really ever look at it from a feed perspective.
For more DX insights follow Tony Carne on LinkedIn and Twitter.
Related
Our Digital Disruptors