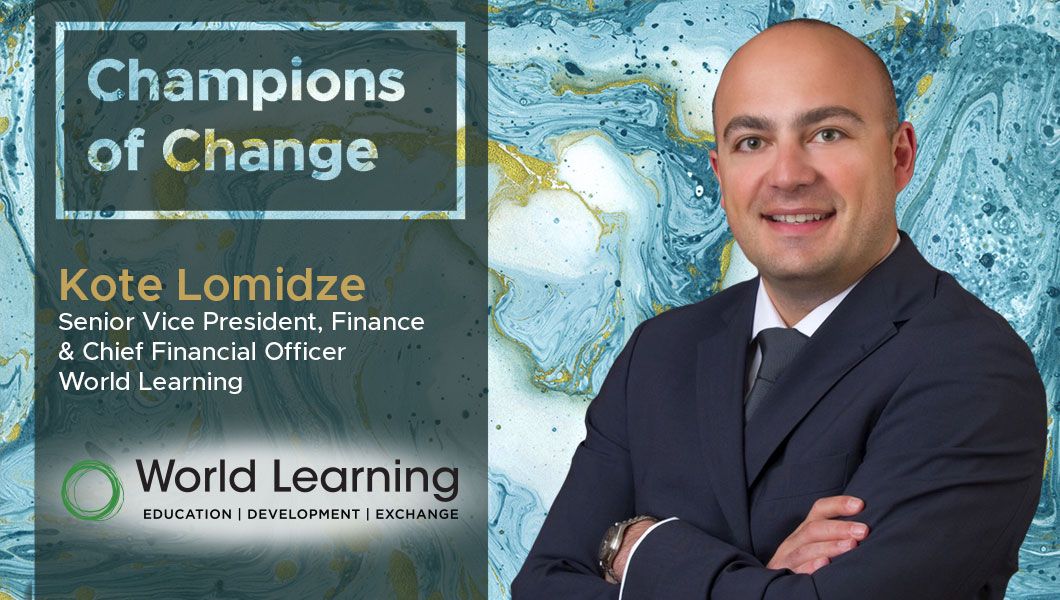 In this interview, Kote Lomidze, Senior Vice President for finance and Chief Financial Officer at World Learning, discusses how a cloud solution helped improve their decision-making and contributed to growth. Prior to joining World Learning, Lomidze spent 11 years working in finance at World Vision in his native Georgia, Russia, Zimbabwe, and the United States. A certified public accountant, Kote holds a bachelor's degree in mathematical economics and a law degree from Tbilisi State University and an MBA from Georgetown University

TDE: Thank you so much for taking our questions! Tell us a little about your business and your specific role?
Kote Lomidze: World Learning is an international nonprofit organization operating in more than 60 countries with the mission to create a peaceful and just world. Our organization works with people and institutions to find ways to solve some of the world's most pressing challenges through education, exchange programs and sustainable development initiatives. At World Learning, I am CFAO and the SVP of finance, overseeing all global financial operations and activities. I originally joined World Learning in 2009 and spent my first three years at the organization serving as finance director for international development and exchange programs, and then deputy CFO.
TDE: When did you first realize that you had an issue that needed a digital solution? What was the nature of the problem you set out to solve?
Kote Lomidze: Our organization has various branches, offices and subsidiaries around the world all working together to execute our education and exchange development programs. Because of the geographical dispersion, we needed a solution that was not only capable of managing the complexity of our financial data, but would also allow us to fluidly share and communicate the details. Along with being able to track and complete reports in their own country's currencies to report to local tax authorities, we needed to be able to consolidate reports under one master currency to get a global view on the state of our organization.
TDE: What were the challenges you faced at the time as you began the process of evaluating solutions?
Kote Lomidze: A few years ago, we were sifting through stacks of paper to manage our financials, relying on a seemingly endless trail to complete essential reports. It was difficult to see our data from multiple dimensions and this inhibited our ability to create reports for our stakeholders. Projects became more and more of a hassle to manage as our organization grew and finally we knew it was time to move to the cloud. It was then that I knew there had to be a better way.
TDE: What did the final solution look like and what were the broad benefits that it delivered?
Kote Lomidze: We ended up going with a cloud-based solution called Sage Intacct. With a more robust financial management solution, each team – no matter where they are in the world – can view accurate and up-to-date financial data, as well as gain detailed insight into the state of the organization. We also use it for capturing timesheets for payroll reporting. Prior to Sage Intacct, we had to enter and re-enter vendor data by hand and faced the risk of human error. Potential errors included reporting the wrong information to the IRS or sending money to the wrong number or bank account. We do thousands of these transactions every year, and with Sage Intacct, we not only save time, but are also completely confident in our numbers. Now we also close each month faster and with more accuracy, saving time and hundreds of thousands of dollars due to the increased efficiency of our finance teams.
TDE: What were some of the key elements that were responsible for the project's success? What processes have you found useful for implementing digital technologies?
Kote Lomidze: With Sage Intacct, we can easily track revenue and expenses for projects and share updated reports with donors. We can access data in real-time, know financials are accurate, and also know where money is going and if we are overspending or underspending. It removes nearly all of the risk and burden associated with working with such a massive amount of financial data. If we need to go back to donors and ask for more funds to complete a project, they also have a strong understanding of how we are using their money. This way, we can go back and evaluate if we need more or fewer funds, or if we can finish a project earlier than expected.
TDE: What was your biggest takeaway from this project?
Kote Lomidze: It has been remarkable to see the ripple effect that switching to the cloud has had on our company. Our finance team no longer has to spend time answering questions from non-finance departments because these teams can access and understand the information themselves. And with the system being available from any device, in any country, our travelling staff can approve expenses, timesheets and other electronic documents on the go. This makes day to day operations extremely efficient.
With dependable software that provides timely and accurate data, our organization confidently makes strategic decisions, and that has fueled our growth these last five years.
TDE: What's next for you on your digital roadmap?
Kote Lomidze: We have several projects in development, which will be implemented inside Sage Intacct's Platform Services. Specifically, we are developing a payroll module in Sage Intacct to allow us to process payrolls for International expat employees from a centralized system. We also recently deployed a participant system through Sage Intacct's platform services which allows new participants for certain programs to apply online to our programs. Both systems are expected to save a significant amount of time compared to current processes.
TDE: What's your go to resource – websites, newsletters, any other – that you use to stay in touch with the explosive changes happening in the digital space?
Kote Lomidze: I use Gartner to stay up to date on new systems and their capabilities. I also like to read the technology articles in The Economist, which covers a wide spectrum of digital and non-digital innovations. Lastly, attending conferences and meetups, like Sage Intacct's Advantage gives a good coverage of what's out there as an additional tool for our ERP.
TDE: Read a good book lately on digital transformation that you'd like to recommend to us?
Kote Lomidze: Yes – "The Future of Nonprofits: Innovate and Thrive in the Digital Age" by David J. Neff and Randal C. Moss. It will be an interesting read for any CFO, CMO or CIO of a non-profit.
For more DX insights follow Kote Lomidze on LinkedIn.
Related
Our Digital Disruptors