Digital Manufacturing Update: 3D Printing Game on!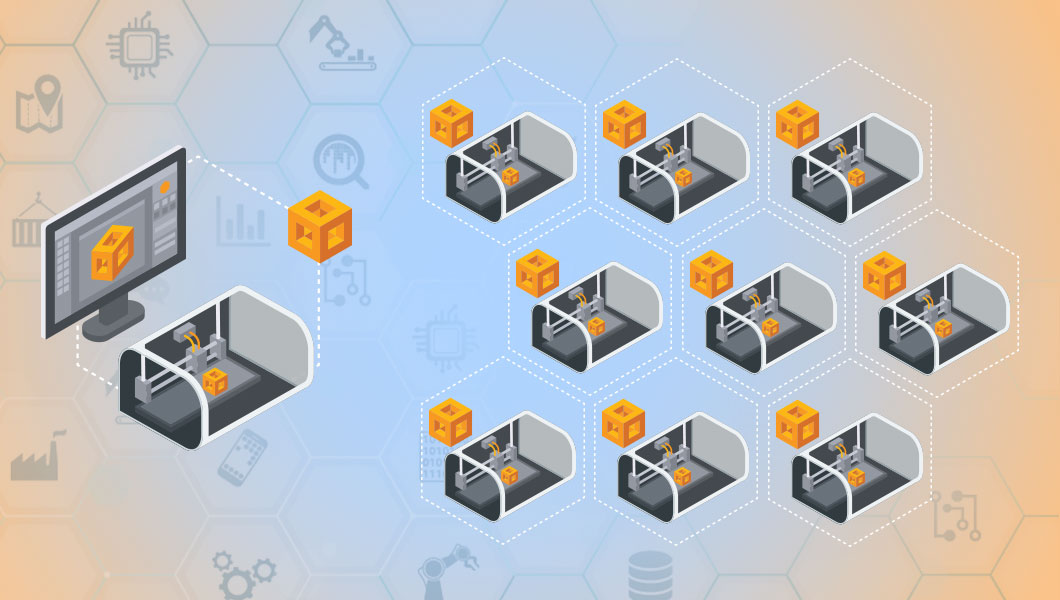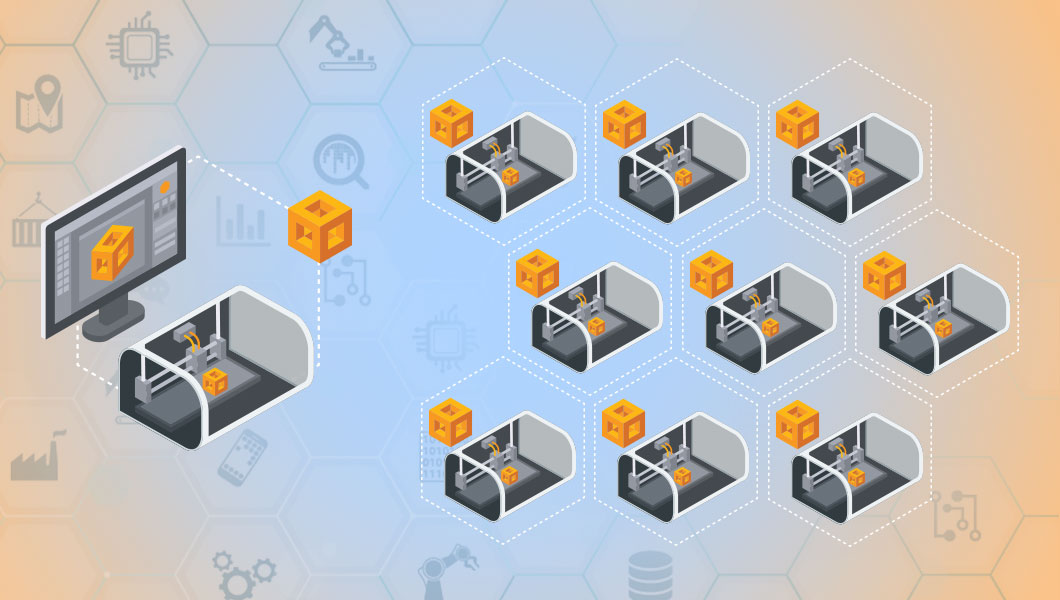 3D printing in large-scale manufacturing is moving right along reveals a new study. Joanne Moretti, Founder and CEO at JCurve Digital, analyzes these findings in detail to uncover the hurdles that are keeping production units from reaching their true output potential
Recently, I caught up with Dr. Blake Teipel, the Co-Founder and CEO of Essentium 3D, one of the hottest and fastest growing 3D Printing companies in the additive manufacturing space. Naturally, Blake was smiling just having received a $22 mn funding round from investors like BASF and Materialise. This event really peaked my curiosity about the real state of the "factory of the future" and the digitalization of manufacturing in general. So, of course I jumped at the opportunity to ask this guru in material sciences, the $64,000 question:
 "What's holding 3D printing back from large-scale production?"
As it happened, he had just completed an extensive study posing that exact question, and he was happy to share the results with me and my audience. The study – 3D Printing at Scale: A Survey of 3D Production Manufacturing Stakeholders –surveyed key decision-makers from large manufacturing companies that use 3D printing for cases beyond simple prototyping. More than 100 stakeholders, with direct responsibility for evaluating or purchasing solutions for a 3D printer in a production environment, were asked the following questions:
How do you currently use 3D printing?
What are your plans for scaling 3D printing in the future?
What are the key obstacles 3D printing must overcome to achieve large scale manufacturing?
How do you foresee 3D printing impacting manufacturing 5-10 years down the road?
You can find both the survey and the infographic here.
Key Takeaways
The stakeholders in the study report said that a significant percentage of their 3D printing applications cover more than simple prototyping (though prototyping does still account for the majority of applications). Today, large companies mainly use 3D printing for manufacturing and tooling aids (60%), limited run production parts (45%), and complex prototyping (43%). Notably, limited run production parts accounts for almost half of all 3D printing applications.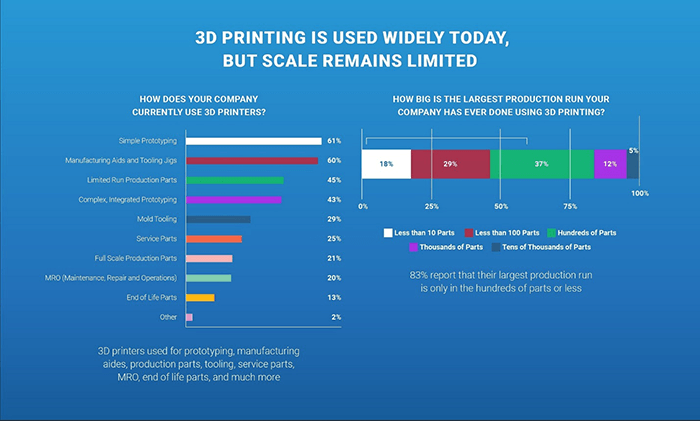 Nearly all stakeholders surveyed (99%) expect to increase their use of 3D printing for production. However, 83% noted that, currently, their largest production run using 3D printing never reached volumes into the thousands. 45% reported that, while they use 3D printing for production, they've never used the technology for volumes greater than 100. Only 17% had used 3D printing for volumes in the thousands, with even fewer (5%) saying they'd used 3D printing to manufacture volumes in the tens of thousands.
 Key Obstacles Preventing 3D Printing from Reaching its Potential
According to the stakeholders surveyed, the main obstacle preventing 3D printing from becoming a viable solution to large-scale manufacturing boils down to one thing: Cost. The expense of the technology itself are what 42% respondents listed as the main inhibitor to scaling 3D printing. Thirty-five percent said that the price of materials remains their largest obstacle to scaling.
In addition to cost, 30% of those surveyed say they lack expertise in the technology and processes. Twenty-two percent say their existing staff need training. This, too, falls under a cost category. There is an investment that must be made to train workers to become skilled in using the technology to its full potential.
However, these current obstacles aren't dampening stakeholders' plans for 3D printing. Eighty-eight percent agreed that 3D printing has the potential to save the manufacturing industry billions of dollars in the future. 91% believe 3D printing will reach that future – and become viable for mass manufacturing – within the next 5 to 10 years. While they recognize today's obstacles, they feel confident in the technology for a few key reasons.
How 3D Printing Will Impact Manufacturing in the Next 10 Years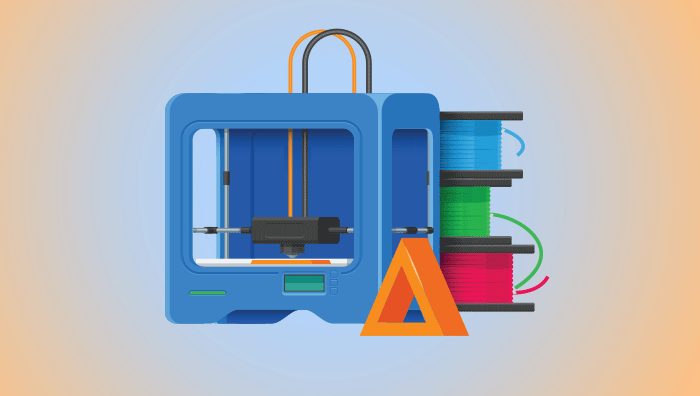 The stakeholders surveyed revealed insights into the value they place on 3D printing in the future. While the majority (56%) of respondents are excited for the potential of 3D printing to significantly reduce manufacturing costs – a long understood benefit of 3D printing – 43% are mainly looking forward to a future where they can deliver mass customization. They foresee 3D printing as providing them with the means to deliver products tailored to the individual. In addition to these goals, stakeholders foresee that, once 3D printing overcomes obstacles to large-scale production, it will help companies gain market share, bring manufacturing closer to customers, win more business and increase customer satisfaction.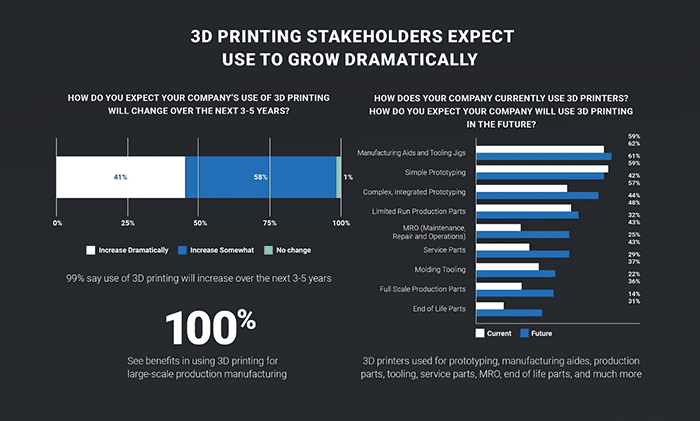 Together, these impacts have stakeholders feeling confident that 3D printing at a larger scale will save costs in the long run and increase revenues for their companies. While they are realistic about the obstacles they face today, they are optimistic about continuing to invest in 3D printing technology, increase their use of it, and work towards their goals of scaling 3D printing to large-scale production in the future.
Related
Our Digital Disruptors