Ready for Robot Room Service? Envisioning Digital for Hotel Industry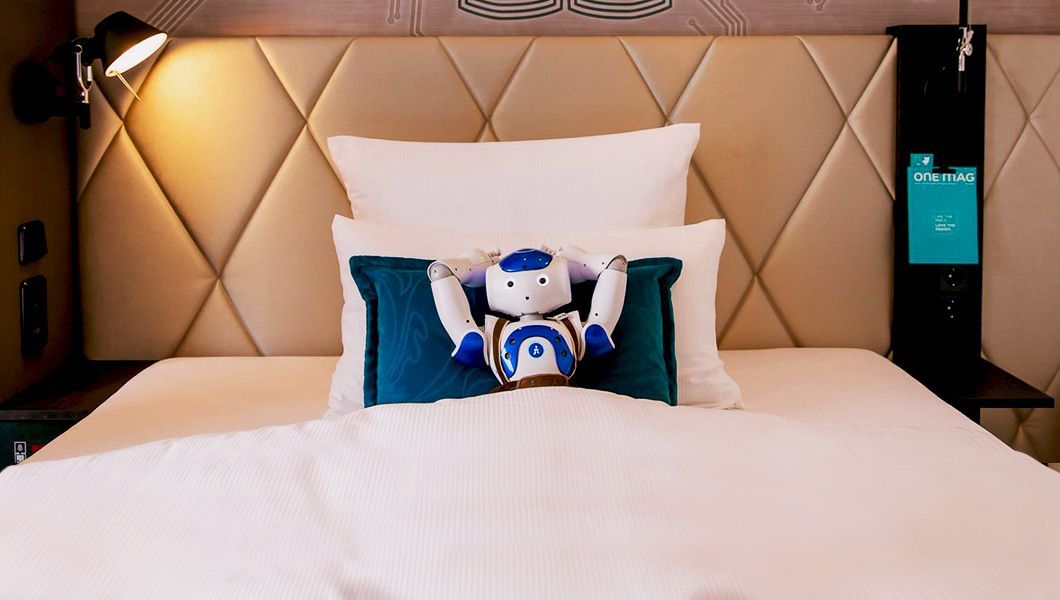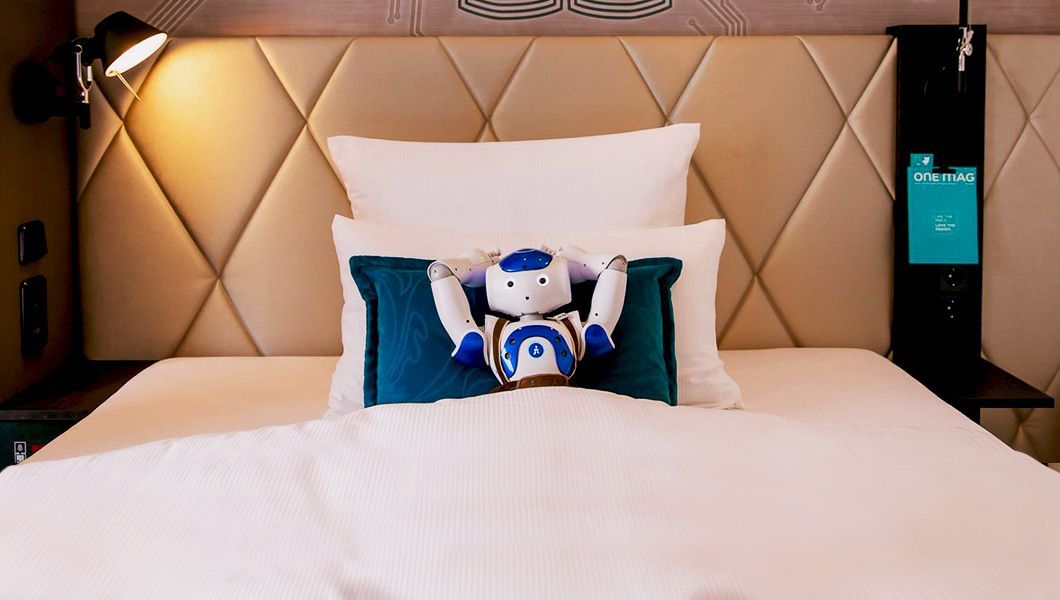 The hospitality industry has evolved manifold over the last 20 years, with an impressive growth of around 6% growth projected throughout 2018. With emerging technologies paving the way for the travel and tourism value chain of new possibilities in redefining customer experience shows that innovation is alive and well in this industry. Technologies that support IoT (Internet of Things), AI (Artificial Intelligence), big data analytics, mobile integration will be part of mainstream operations for the hotel industry by 2025 to stay relevant to their customers. So, how exactly are these digital transformation trends impacting the hospitality industry.
Robotic Process Automation (RPA)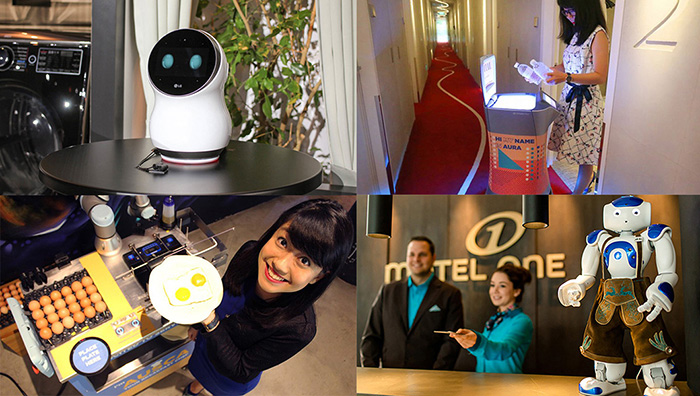 Top l to r: LG unveiled CLOi at CES; M Social's Aura brings bottled water to guests in their room Bottom l to r: M Social's Ausca cooks eggs for a patron; Motel One Munich's concierge robot Sepp greets people and helps answer their questions like directions to a bar
Imagine a robot performing room services like delivering water, toiletries and towels, besides answering your general questions and serving you breakfast. This is already a reality. In Germany, Motel One Munich uses a robot called Sepp that not only enthrals guests by answering both personal and general questions but keeps them engaged. In Singapore, the M Social hotel is using Ausca that cooks eggs in the morning and another front-of-house robot known as Aura is used for customer services. Further, the future for hospitality industry looks brighter with LG revealing a gamut of hospitality robots called CLOi at this year's Consumer Electronics Show. These robots are capable of handling luggage, payment during check-in and check-outs, cleaning and serving food and beverage and provide directions.
The Internet of Things (IoT)
In this industry, the more you know your guests, the better you can serve them and the acceptance of tech-based hotel lobbies are a green signal for hotels to increasingly make sense out of connected devices. According to Gartner, around 26 billion IoT connected devices will be in use by 2020. IoT data helps to know about the customer tastes and preferences and travel frequency habits. For instance, it can automatically proactively send a message to the customer asking if they would like to make another booking soon. This lets them know about room availability without even making an effort to find information. IoT information can be harnessed to know about food preferences, in-room service demands, excursions and more. This drives opportunities for up-selling and better customer experience.
AI and Chatbots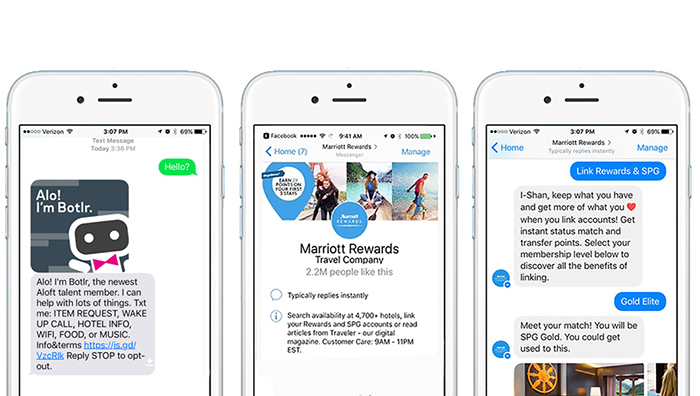 AI-powered chatbots are helping hotel chains like The Marriott enhance customer experience
With AI powered technology and apps, guests can access information they require anytime, anywhere on their mobile devices in the form of e-concierge. Also, guests can send a text message to a robot at any time 24/7 to which the robot will find a quick way to cater to the request. Further, chatbots are expected to be used in full-fledged as customers will feel more comfortable interacting with a 24/7 bot that will give them accurate answers. For instance, Marriott uses AI-powered chat bots at about 5,000 of their hotels to perform things like check on account balances or voucher redemption, make reservation changes and more.
Virtual Reality
Gone are the days where customers are handed over a brochure with fancy pictures of the hotel. Digital transformation brings in virtual reality that gives customers a detailed virtual tour of the hotel, where prospective customers can take a look without even leaving their living room. This adds to the customer experience and support them to make more sensible decisions, hence, increasing the possibility of sales conversion.
Mobile Integration
In 2017, 40% of travel sales came from mobile, which is predicted to touch 50% by 2021. Also, when planning a trip, 50% travellers do not have a predetermined destination in mind; and 60% of them will search their upcoming trip via a mobile device. It is evident from these metrics that mobile integration already occupies a significant slice of this domain. And hoteliers understand that mobile is here to stay and thereby, are harnessing mobile integration to offer better services. Right from checking-in to unlocking the door itself to ordering room service, open the curtains your entire stay can be done without interacting with a hotel staff, using mobile applications.
What to expect next beyond 2020?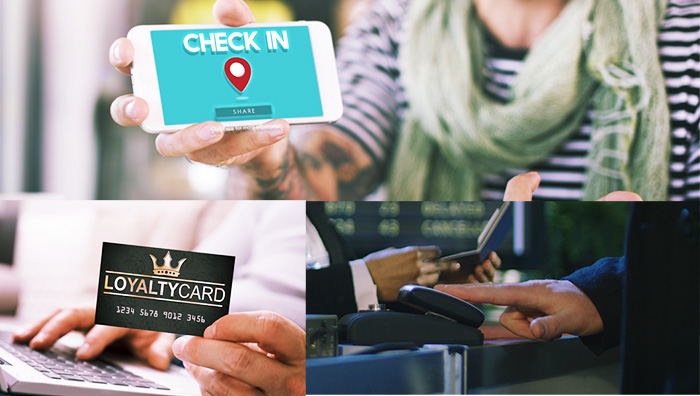 Beacon technology, loyalty programs and biometrics will redefine hospitality at the end of the decade
The question is will digital transformation remain sustainable in the hospitality industry in the long run. Will customers have something new in store? In a couple of years from now, strategies to retaining existing customers is expected to take a new turn. It would be no surprise in 2025 to see hoteliers going beyond the typical room booking and additional services. Resorts would look to collaborate with airlines, retailers, restaurants to retain customers.
Further, loyalty programs will grow in a collaborative way, overcoming the present lack of interoperability within domains. One of the challenges that will be faced would be meeting the expectations of travellers in 2025 with regard to instant transfer of loyalty points. This will drive hoteliers to find solutions to replace heavy redemption processes by immediate redemption.
The role of biometrics will bring a massive change in security and personalization. By 2025, onsite experience will predominantly feature biometrics with facial recognition to identify guests, fingerprint scans to secure access into rooms and amenities. Going by the increasing leverage of IoT by hotels, it is expected that by 2025, beacons and facilities in lobbies will shape relevant offers based on customer's physical location. Also, robotics will automate processes in housekeeping and conversational AI's ability would free staff from the front-desk, which would make independent travellers (especially the introverts) exceptionally happy.
Way Ahead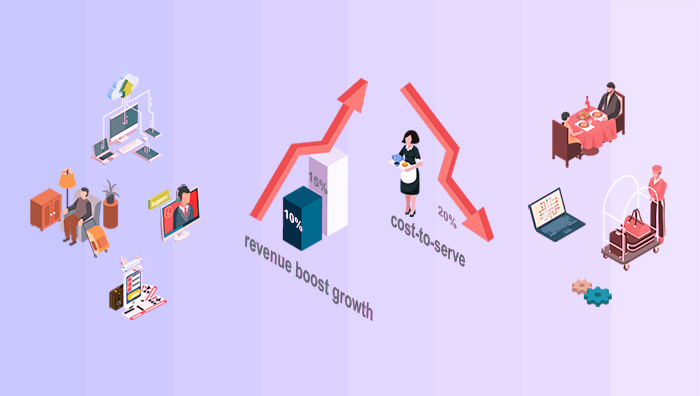 McKinsey estimates revenues for hospitality are expected to grow from 10 to 15%, while cost-to-serve is expected to be reduced by about 20%
The virtual concierge is set to become one of the norms in the hospitality industry. For hoteliers, personalization by leveraging modern technologies would be profitable. McKinsey estimates revenue boost growth from 10% to 15% and a fall of about to 20% in the cost-to-serve. It's time to expect "hyper-personalization" morphing into the hospitality domain, ensuring a fantastic customer experience like never before.
AI
biometrics
chatbots
IoT
Robotic Process Automation
virtual reality
Hospitality
Related
Our Digital Disruptors