The Values and Motivations Driving Today's Baby Boomers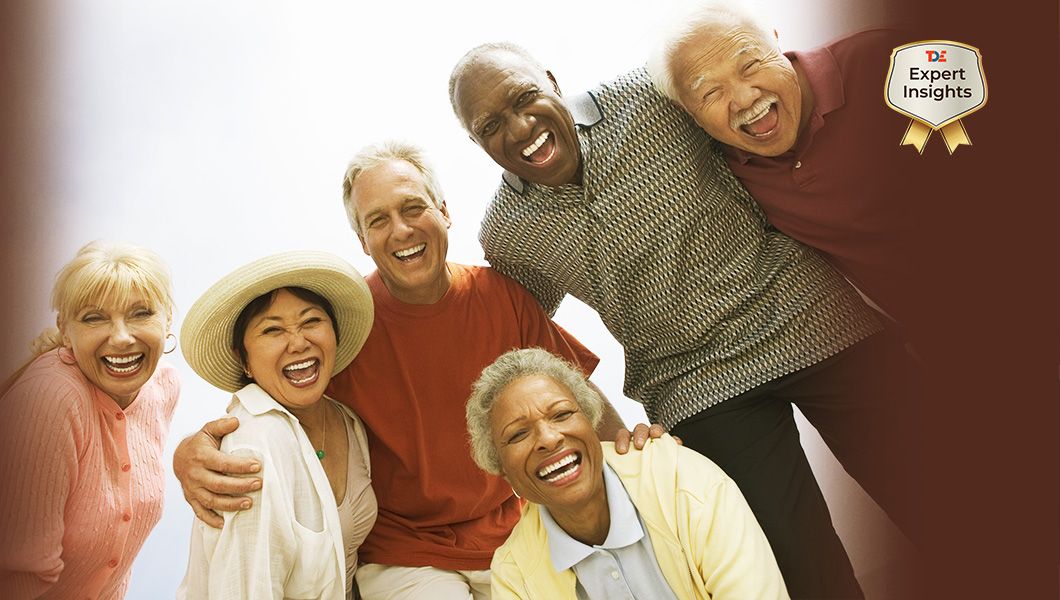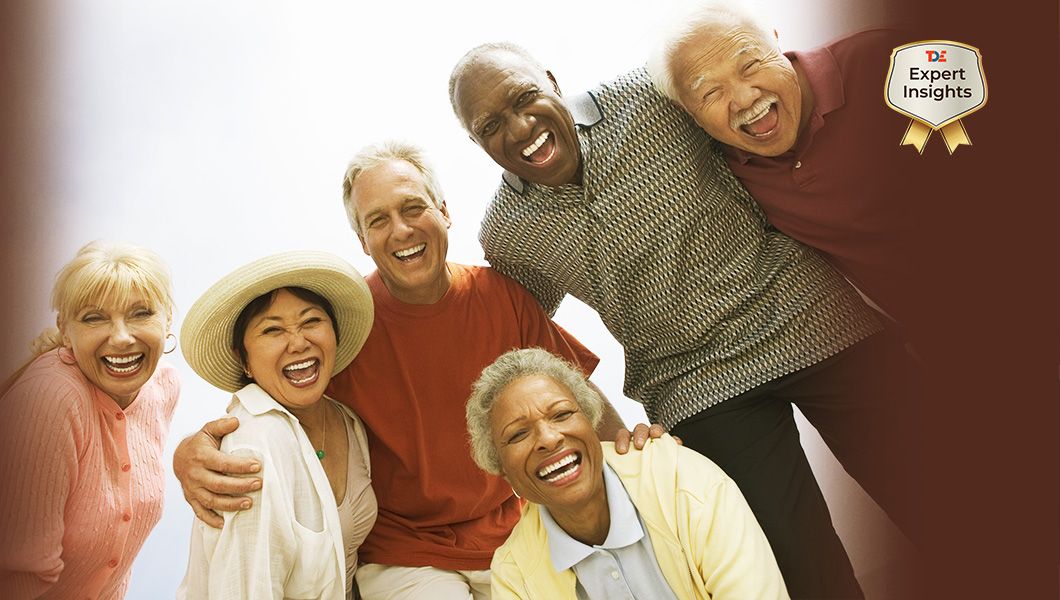 The spending power of the Baby Boomer generation is irrefutable. Dave Jeyes, Senior Product Manager at Resonate shares a recent analysis derived from their consumer insights platform, which reveals the "why" behind this generation's purchasing habits
Today's Baby Boomers are transforming the very notion of generational marketing. We've never seen an older segment of consumers with such active and powerful spending. In fact, spending by Americans age 50 and up is expected to rise 58 percent to $4.74 trillion in the next 20 years.
Given the importance of Baby Boomer consumers, Resonate studied the 50 million people on their platform in the 54 to 72 age group. Beyond mere purchasing habits, the aim was to understand the "why" behind their daily decisions and buying behaviors in order to get a clear picture of what we can expect from them in the future. Our analysis was derived from the Resonate consumer insights platform, which has more than 10,000 attributes representing 185 million US adults. Key insights of our analysis include the following.
Baby Boomers' Motivations are Rooted in Tradition
In seeking to uncover the "why" behind Baby Boomers' decision-making, we found that this generation's top personal value is "fulfilling obligations and obeying rules and laws". Baby Boomers tend to be more self-disciplined, obedient, organized and dependable than younger generations. Their second highest personal value is "safety in one's community and nation", which includes stability of society, national security and social order. For them, life is about a strong state and a stable society. Their third personal value is "maintaining and preserving cultural, family or religious traditions".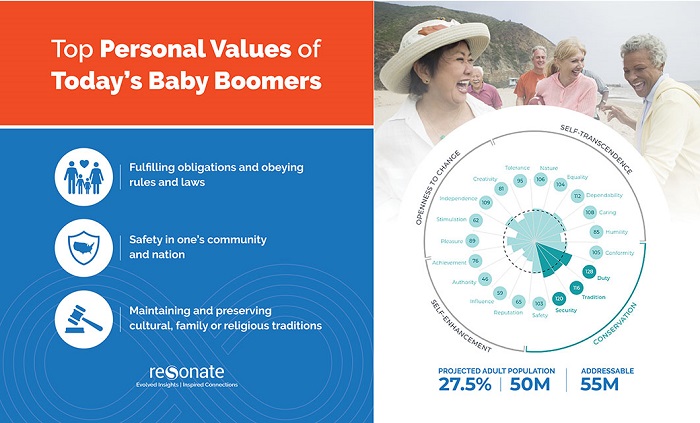 Baby Boomers may be inclined to do things in a way that maintains continuity with the way they've always been done. When it comes to their daily routine, prayer is an integral part of their day, and they feel that their life is grounded in religion. The best messaging for Baby Boomers should include a focus on being proper, lawful, accountable and decent, as well as themes of national safety, defense, freedom, preservation, social order and stability. Messages that touch on themes of family, religion, appreciation for culture and traditional practices and beliefs would also resonate with these consumers.
Baby Boomers are Fiscally Conservative and Media Diverse
The generation whose parents lived through the Great Depression is 7 percent more likely than the average consumer to believe the stock market will go up in value over the next year. But, they're also 8 percent more likely to believe that the US will not see a repeat of the 2008 financial crisis. Baby Boomers are also 25 percent more likely than the average consumer to consider themselves "very fiscally conservative".
Baby Boomers are also spending their days consuming a wide range of media. Nearly 40 percent of Baby Boomers spend around 20 to 40 hours online per week. Even though most Baby Boomers are retired, or near retirement, their top social media network is LinkedIn, followed by Facebook, Pinterest and YouTube. The top three TV networks they're watching are Hallmark, MSNBC and National Geographic Channel. Their top TV shows are Antiques Roadshow, Criminal Minds: Beyond Borders and PBS TV shows. Such outlets represent prime targets for connecting with this generation via messaging tailored to their values and motivations.
Baby Boomers Buy Based on Brand, Trust and Ease of Use
With Baby Boomers ranging in age between 54 and 72, we cut the generation in half and looked at the preferences of "younger Baby Boomers" (age 54 to 63) versus "older Baby Boomers" (age 64 to 72). The most significant differences were in how they choose what products to purchase. They both want energy-efficient products, but older baby boomers want products that are trustworthy and practical or basic.
Younger Baby Boomers choose products that are dependable and easy to use. Both say their primary influence to purchase a product is the brand. And, both age groups choose to buy from companies that are honest and trustworthy, have truthful ads and price products fairly.
The shopping behaviors of older Baby Boomers and younger Baby Boomers are very similar, with both groups using coupons and pre-written lists when they shop. However, 41 percent of older Baby Boomers are shopping at a warehouse or club store, and 58 percent of younger Baby Boomers gravitate to mass merchants. Both groups choose where to shop based on familiarity more so than price and convenience. Both, older Baby Boomers and younger Baby Boomers are still not as sold on buying their groceries and household goods online.
In general, although enterprises have traditionally focused their marketing on younger consumers, companies must recognize the incredible opportunity that exists among Baby Boomers. After all, they still control 70 percent of the country's disposable income. By aligning messaging with the values and motivations that drive today's Boomers, marketers can better tap into this vital consumer group.
Related
Our Digital Disruptors